Pulitzer Center Update June 26, 2012
Journalist Security: Front-End Preparation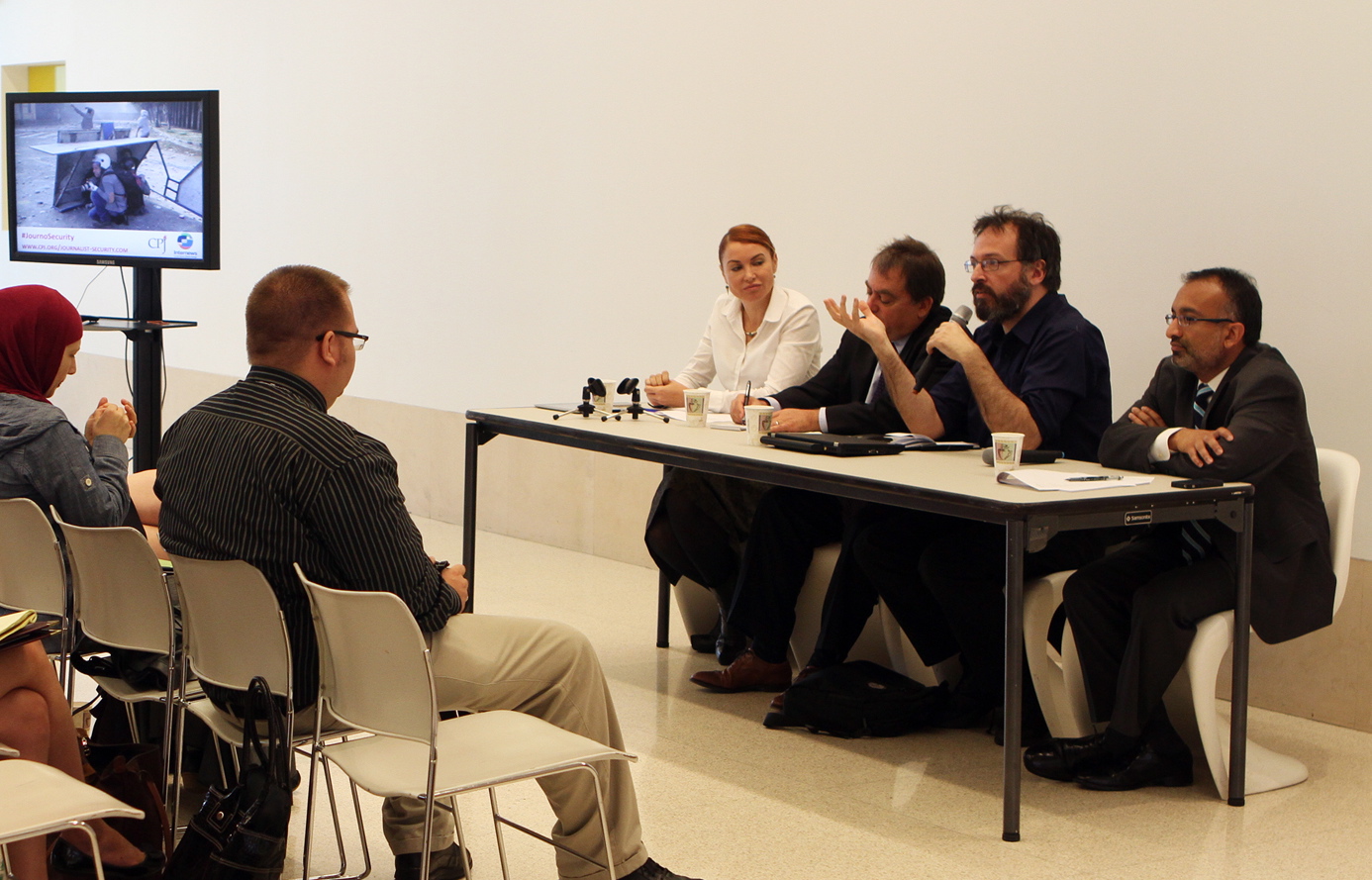 In a world where journalists are increasingly targeted and are experiencing a decrease in institutional support, journalist security more than ever requires greater attention. On June 13, 2012, Internews and the Committee to Protect Journalists (CPJ) presented a panel discussion to address the growing dilemma of journalist safety and to promote the recently released CPJ Journalist Security Guide.

The CPJ guide is a resource for local and international journalists who need to take greater responsibility for their own security, despite the "dive right in and think on your feet" correspondent tendency, said panelist Frank Smyth, CPJ's senior advisor for journalist security and founder of Global Journalist Security, a consulting and training organization.

In addition to the physical threats, panelists addressed the online and technological threats for journalists especially as the world rapidly shifts towards greater digitization.

Panelist Danny O'Brien, CPJ's internet advocacy coordinator, said that in the digital realm, journalists must foresee an attacker's objectives and treat sensitive information as, just that, sensitive. The panel warned that with the large "unknown" associated with online security, individuals should assume that outsiders can access their data. To protect information and involved parties, "segregate material," O'Brien suggested; place information in different locations based on sensitivity, and, perhaps, circumvent technological threats completely by simply writing information down.

Rajiv Chandrasekaran, senior correspondent and associate editor of The Washington Post, advised journalists to always "prepare for the worst case scenarios," stressing the significance of knowing how to protect one's self, colleagues, data, and sources, while emphasizing the importance of basic first aid knowledge. Smyth agreed, advocating the implementation of a plan for when something goes wrong—because it will.

Recently, Pulitzer Center grantees Stephanie Guyer-Stevens and Mae Azango similarly touched on the subjects of journalist preparation and safekeeping. In "Telling Stories in the Land of Faraway," published on the Pulitzer Center's Untold Stories and at Transom.org, Guyer-Stevens echoed the panel's theme of preparation. She reminded journalists to research the history and current events of an intended destination before departure. She also advised them to establish a local "gatekeeper" who is "in the know" and will serve as a guide upon arrival.

Experiencing the dangers of journalism on a more personal level, Azango can attest to sudden challenges in the field: her life was threatened this spring while reporting in Liberia on the taboo subject of female genital cutting. The threats forced her into hiding, and she lived in fear for nearly a month. Azango's reporting however led to significant change of Liberian policy. Soon after Azango's coverage, the Liberian government banned all activities of the Sande, a secret women's society in Liberia responsible for the forced cutting.

This year's deaths of numerous journalists, including New York Times reporter Anthony Shadid, who served on the Pulitzer Center's Advisory Council, reminds us that tragic situations blindly strike. All one can do is prepare before entering the field.