Pulitzer Center Update August 12, 2021
Journalism and Justice in Chicago: Celebrating Our Spring 2021 Teacher Fellows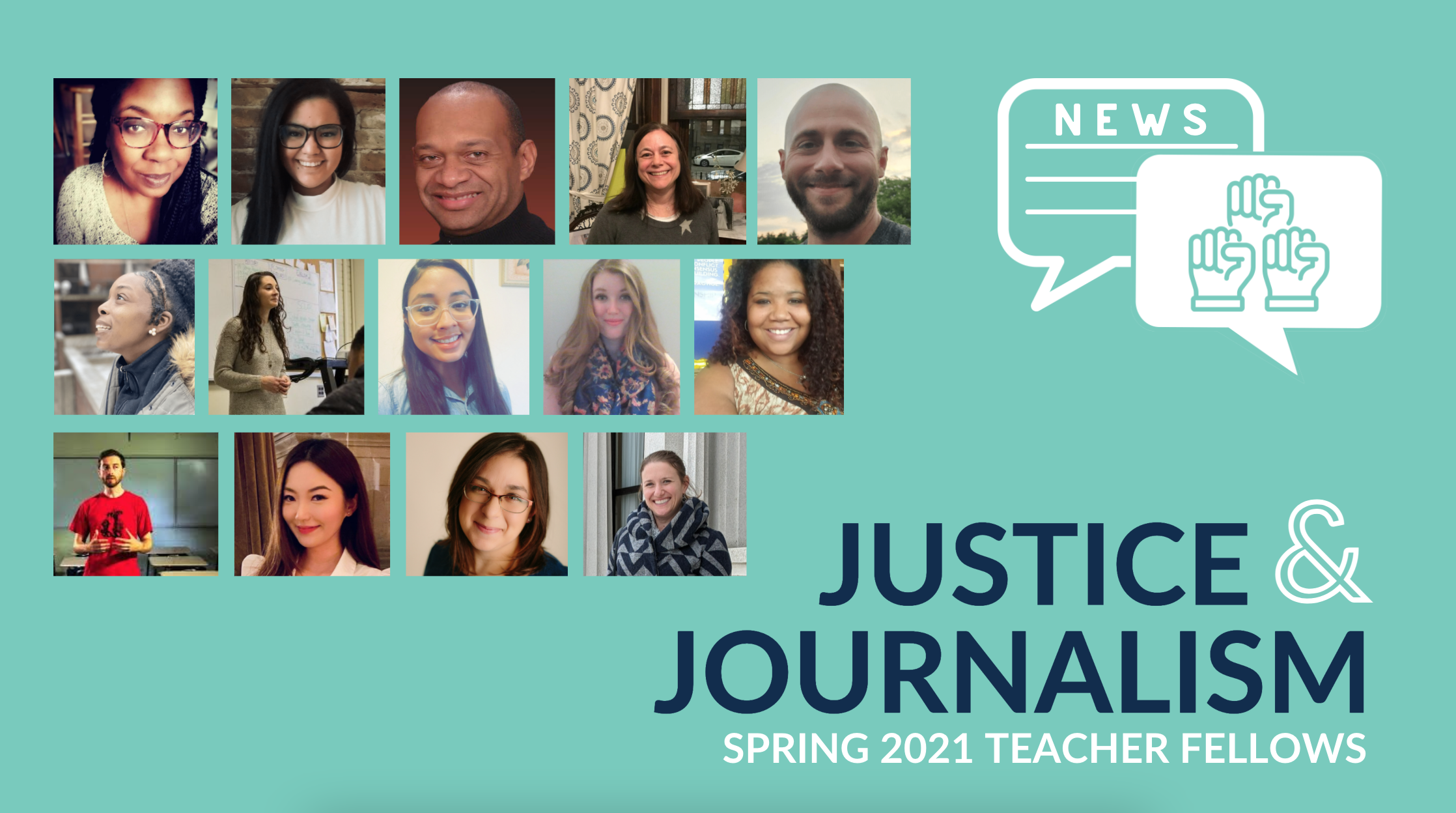 This Spring, 31 educators from K-12 schools across the United States joined the Pulitzer Center Teacher Fellowship—working with each other, the Pulitzer Center education team, Center-supported journalists, and their students to engage curiously, critically, and empathetically with the world through underreported global news stories. The 13 Fellows in the Journalism and Justice cohort, all of whom were based in Chicago, introduced underreported stories to over 1000 students in their city. Fellows developed original units that guided students in exploring and making local connections to underreported stories through research, writing, visual arts, interviews, and more.
Join us in celebrating these educators—and keep reading to explore their units, reflections, and how they spent their time with us throughout the Fellowship!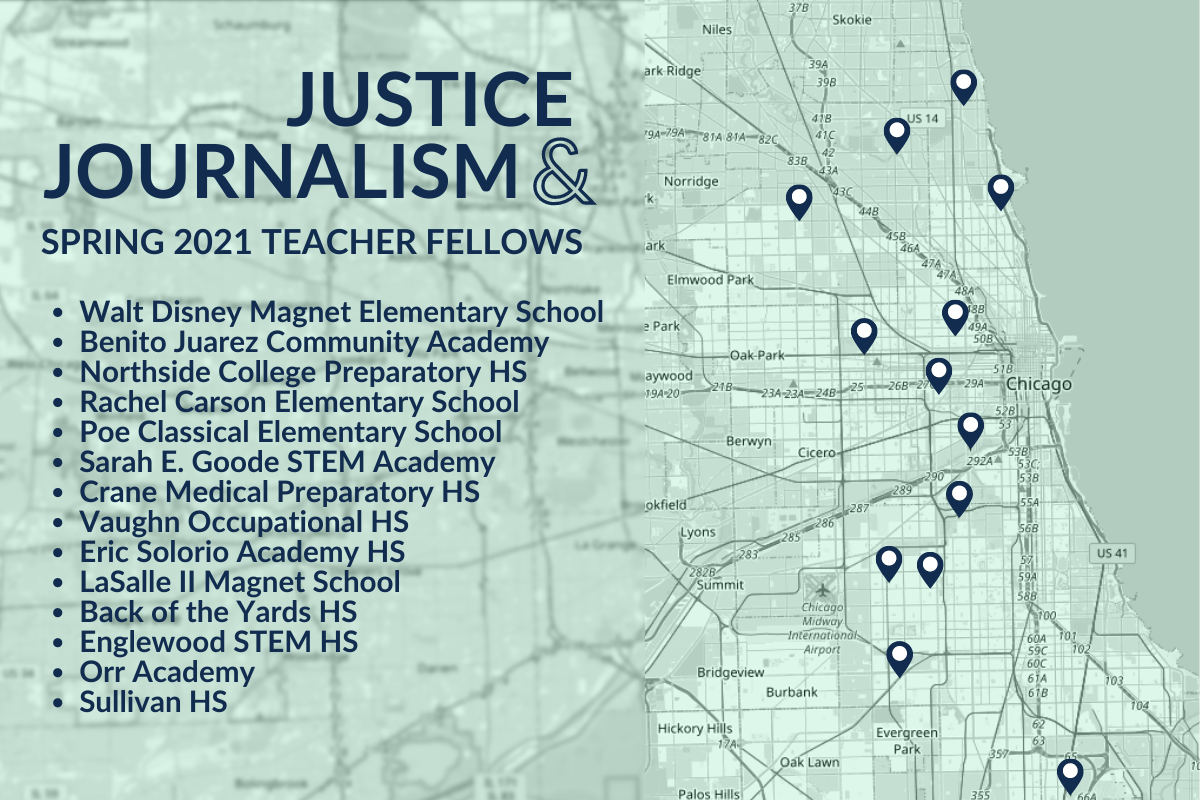 Fellowship Orientation and Professional Development Workshops:
On Saturday, March 6, 2021, all 31 Teacher Fellows came together for an orientation led by the Pulitzer Center's associate director of education Fareed Mostoufi, education manager Hannah Berk, and education coordinator Jaya Mukherjee. Mostoufi and Berk guided the Stories of Migration: Going Beyond the Headlines cohort for teachers based across the U.S., while Mukherjee supported the Journalism and Justice cohort for teachers based in Chicago.
The orientation opened with words from executive editor Marina Walker Guevara, who introduced the Fellows to the Center's mission of supporting underreported stories. After her presentation, Walker Guevara answered questions from Fellows about the role of journalism in the world today, the critical work of countering misinformation, and the scope of journalism as an instrument of justice. The role of journalism in society and its potential as an educational tool echoed themes that were present throughout the orientation. 
Later in the day, the group was joined by fall 2020 Teacher Fellows Cortnie Belser and Vincent Pham, who shared the Fellowship's impact on their professional development and on their students, introduced the units they created and implemented in the fall, and answered questions about how to make the most of the Fellowship experience. For the remainder of the orientation, teachers explored different ways to bring underreported stories into the classroom and developed personal goals for their time in the Fellowship. 
"My goal as a Spring 2021 Pulitzer Center Teacher Fellow is to continue centering students as global citizens...to help them understand and walk in their power. More specifically, to provide them with tangible and intangible tools to harness that power," wrote Heather Ingram, a high school English teacher at Goode STEM Academy.
"My passion for enriching not only the lives of my students [but also] myself is one reason why I've been teaching for the last 16 years. I never want to grow moss and become stale. [I am] always evolving, always modifying," wrote Raven Nicole Althimer a Social Science teacher at Englewood STEM High School.
"[My goal is] to provide a safe space for students to tell their own stories, relate them to locally-rooted global stories, reflect and learn from their peers. I would also like to explore new mediums where students can develop their analysis," wrote Kelly Fischer, a Social Science and Civics teacher for diverse learners at Vaughn High School.
"I hope to gain more knowledge on how to research and document primary resources through journalism. I think that it is a skill that should be shared more in the secondary school systems. It could be used for other applications such as researching and interviewing for jobs, schools, and professional contracts," wrote Tracy Johnson, a high school Visual Arts teacher at Orr Academy.
"My goal for this Fellowship is to collaborate with fellow Chicago educators in order to empower our students to take transformative action that moves our communities towards justice and liberation. I want to develop strategies to help students read, write, and think in the context of understanding power, privilege and oppression. How can we help students not only interrogate the world around us in order to name and critique injustice but also help them develop the agency to build a better world?" wrote Rebecca Coven, a high school English and Social Studies teacher at Sullivan High School.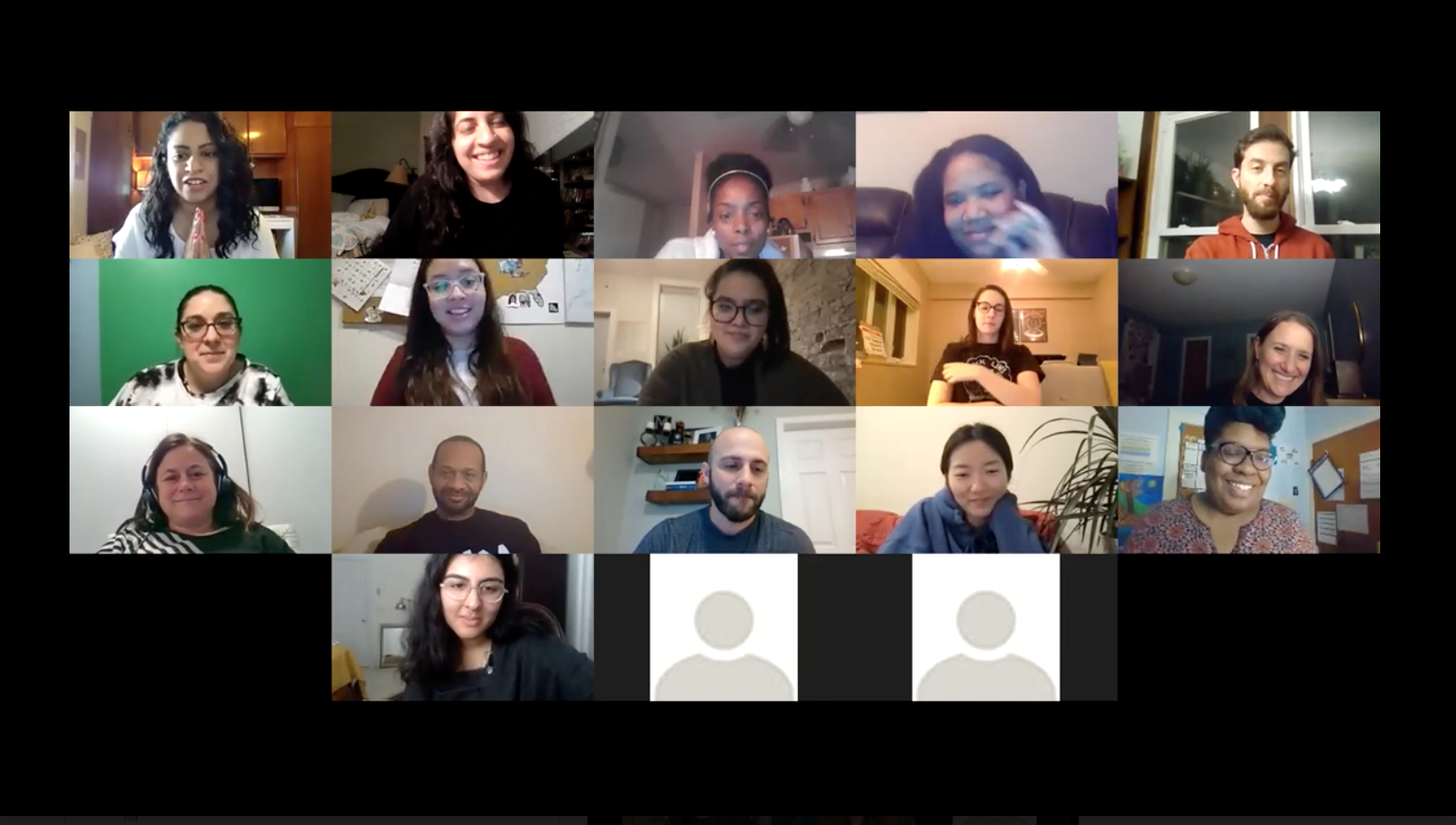 In the weeks following the orientation, the Journalism and Justice cohort met for six workshops in which they connected with journalists, brainstormed ideas for their short units, and received feedback on their work from their peers and members of the Pulitzer Center Education team.
Workshop 1: Analyzing Pulitzer Center reporting on justice with Maria Zamudio

Workshop 2: Exploring issues and narratives of migration and how these stories connect with the experiences of students with Amrita Chandradas

Workshop 3: Reflecting on underreported issues surrounding governance, technology, and civil liberties and considering how underrepresented voices shed light on fractures in systems of power with Joanne Cavanaugh Simpson

Workshop 4: Considering the connections between civic engagement civic action and discussing the ways these principles can be brought into the classroom

Workshop 5: Examining environmental racism and its impact on the Great Lakes region with Tony Briscoe

Workshop 6: Connecting for a final peer review of units and celebrating the Fellow community
Over six weeks, the workshops became a springboard for creativity and collaboration. As the first ever cohort of Pulitzer Center Teacher Fellows to be located in one city, the Chicago Fellows developed strong collaborative relationships with one another. Throughout the entire Fellowship, the cohort returned to themes of civic engagement and civic action as avenues to justice, and emphasized these principles in the units they designed.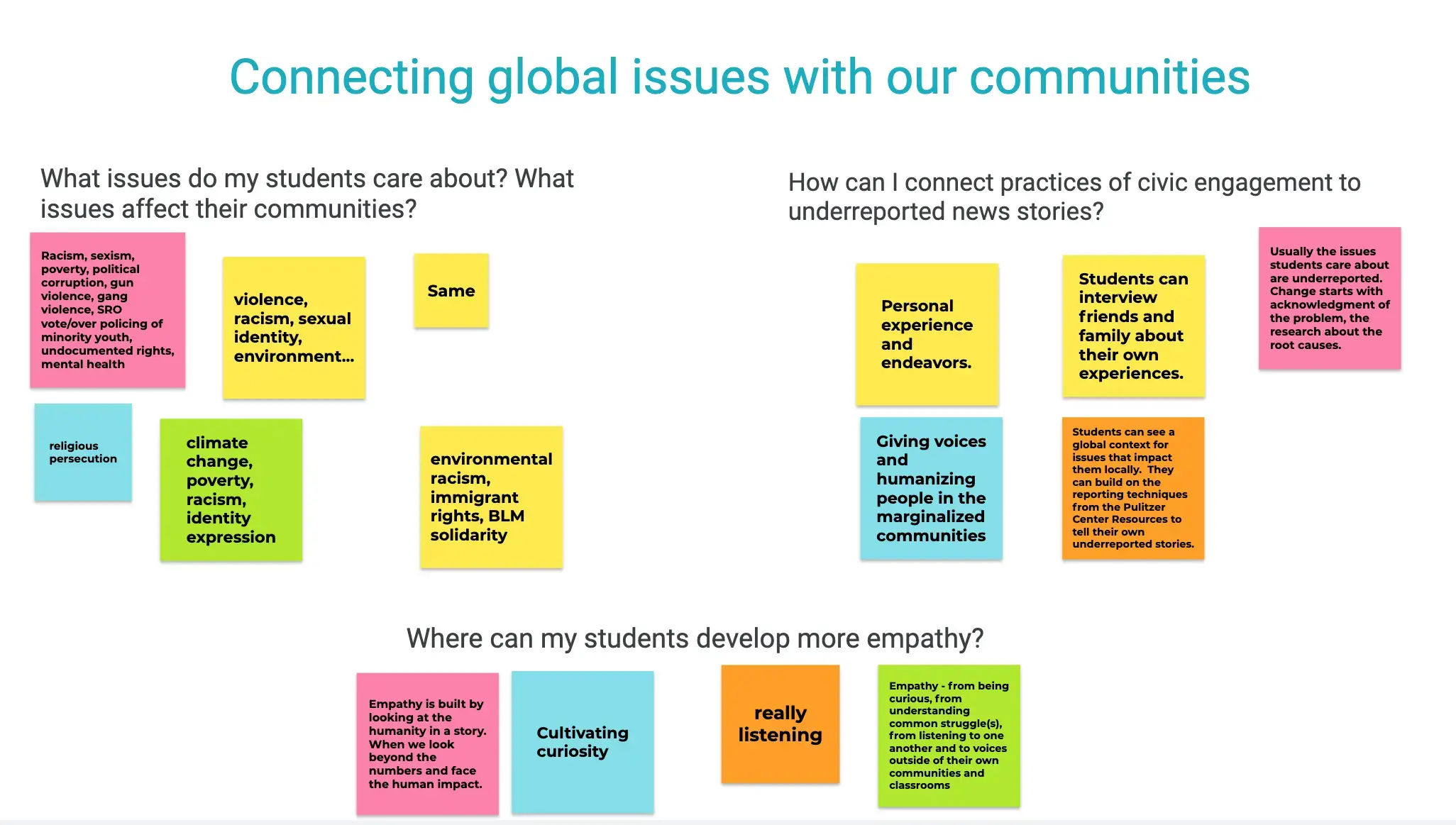 In the final workshop, Fellows created an empowering and celebratory space in which they reflected on their experiences as a cohort. Some of these reflections were captured in a collaborative community Jamboard garden, from which a few notes are highlighted below:
"From Ida B. Wells-Barnett and Jovita Ivar to Michael Harriot and Nikole Hannah-Jones, conscientious journalists speak truth to power on the people's behalf. For that, we are grateful."
"I've had to explain what I'm doing on Thursday nights to a handful of people - and I found myself getting excited describing the importance and value in underreported journalism. This is something that needs to have a bigger role in society."
"[The Fellowship] has expanded my thinking about what sources of information to use with my students (expanding beyond just articles/written sources) and the necessity of helping my students navigate the media they consume."
"I know journalism is incredibly important in keeping our society honest and moving us forward. I have really enjoyed hearing the perspectives of other teachers in the cohort and have learned much from them."
"It is a confidence gainer to know that you are not alone in the fight for justice."
Fellows' Units and Student Work:
Units created by the Journalism and Justice Fellows represented elementary to high school grade levels, and covered a broad range of disciplines that touched on themes of social justice, equity, economic justice, science, community, and empathy. Units culminated in a range of action-oriented performance tasks. From composing photo essays to share with lawmakers, to capturing narratives of immigration from members of their communities, to creating public service announcements highlighting issues of environmental justice in Chicago, to drawing and painting their own richly detailed portraits, the students of this cohort's teachers engaged with underreported stories in unique and exciting ways.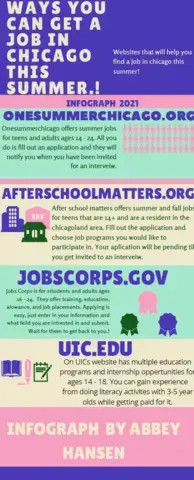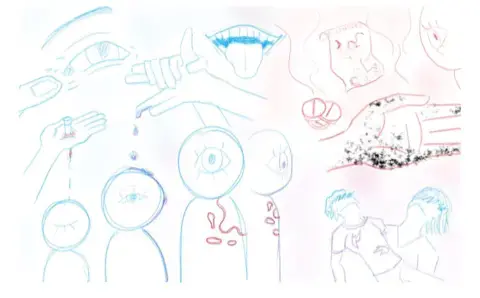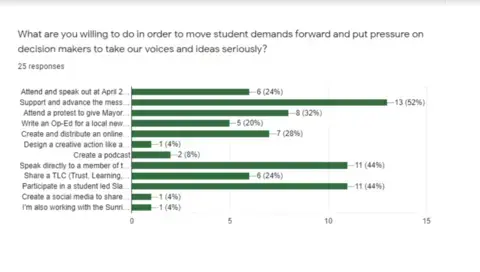 All units featured journalism centered on justice, with the definition of that single word expanded and deepened over the course of the Fellowship period. In engaging with the reporting, students were encouraged to more closely examine their own communities and the underreported stories that lay therein. In finding spaces for civic engagement and action, the students learned of journalism and justice as active processes and spaces in which their voices could be heard. 
All units include examples of student work and downloadable PDFs that contain lesson plans, teaching materials, and evaluation rubrics.
Fellowship Closing and Reflections:
The Journalism and Justice cohort concluded their Fellowship with a virtual celebration. Each cohort had a chance to share their units, reflect upon what they learned, and leave feedback and advice for the education team and future cohorts.
"I've come away with a wealth of knowledge and inspiration. I think that this unit creation has helped me be able to apply common core standards to topics that will resonate with my young people and how to extend my current curricular resources. Also, including journalists and other experts into my students' learning...This was powerful and memorable experience for my professional journey," wrote Comfort Agboola, a fifth grade teacher at Poe Classical Elementary School
"One thing I learned that may not seem as directly relevant was just the idea of constantly changing or evolving curriculum as it relates to current events and journalism. Teaching a world language can be tricky in this aspect, as there is the need and the desire to combine elements of social studies and science with learning about cultures where the language is spoken while also being mindful of students' language proficiency levels. I think, though, that this fellowship really spoke to trying to teach students about WHERE they are, not just about a theme, and I really appreciated the localness/ push to keep things local. I feel inspired to try this unit again, as well as to begin to include more local elements related to nature and our city in other grade levels as well," wrote Cara Bucciarelli, a K-8 Spanish teacher at LaSalle Language Academy
"I learned so much from my colleagues in the fellowship program. I think that hearing everyone's ideas and stories has made me even more reflective of my other units throughout the year to include more underreported stories throughout the year. I am excited to weave in many more Pulitzer Center resources in other units I teach...I loved the collaboration with teachers across the city. I think we become too focused in our own classrooms and schools that we forget that there are like-minded educators across the city (and country!) that are excellent resources for collaboration," wrote Vanessa Carcanaquez, an eighth grade Writing and Civics teacher at Rachel Carson Elementary School
"I learned that there is so much more than just teaching the curriculum materials. I am grateful I found the Pulitzer Center community for the lesson plans and resources that I can use when teaching underreported stories that my students can resonate with. The fellowship also reminded me the goal of education is to educate students to become valuable citizens by having a critical lens on issues that impact us," wrote Adelaida Jiyun Kim, a fourth grade teacher at Walt Disney Magnet School
For a more in-depth look at the Stories of Migration: Beyond the Headlines cohort, click here!
Interested in becoming a Pulitzer Center Teacher Fellow? Apply to our Teacher Fellowship! Contact [email protected] with any questions.