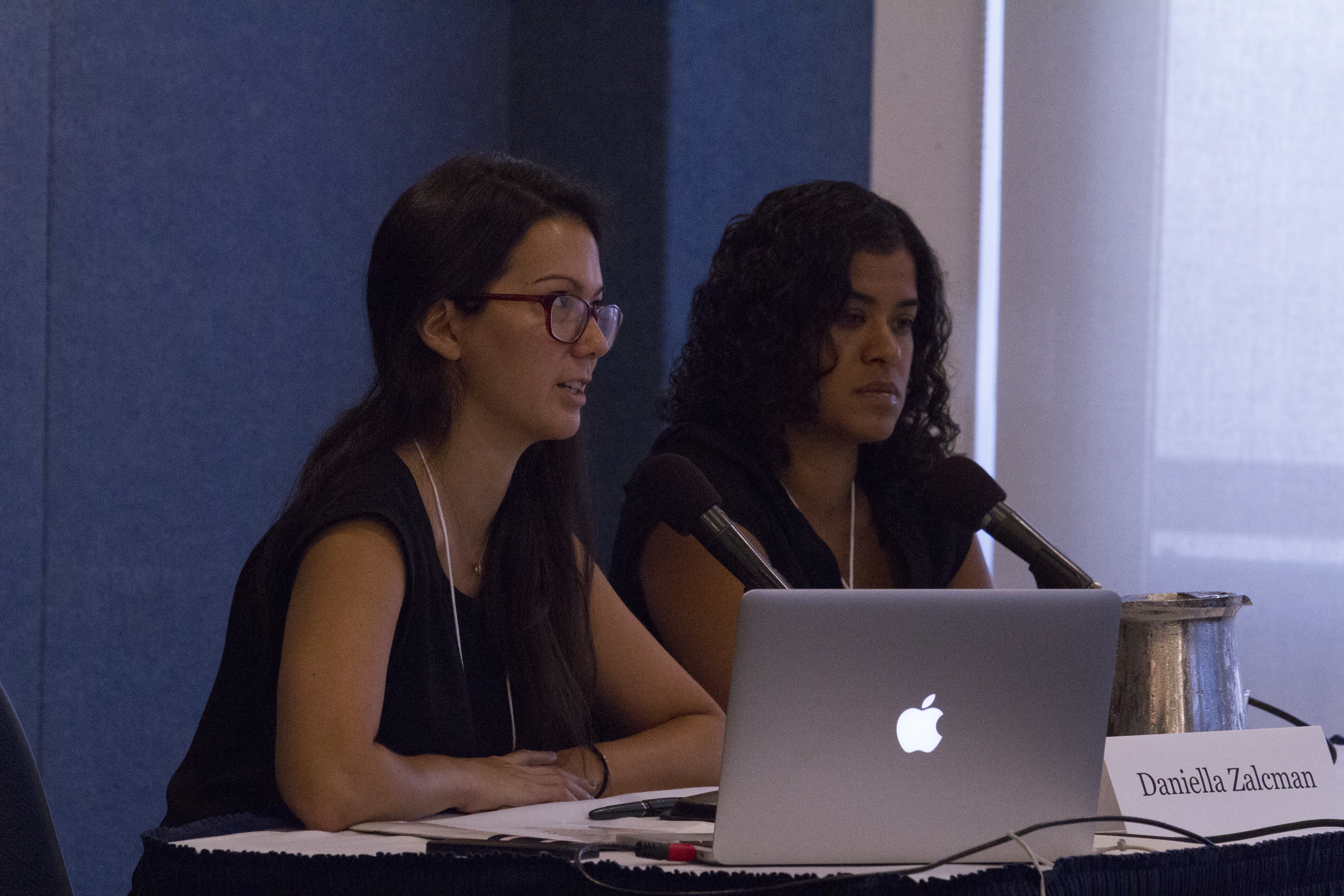 During concurrent workshops on day two of the Pulitzer Center Gender Lens Conference, June 4, 2017, photojournalist grantee Daniella Zalcman and Jennifer Samuel, associate photo editor at National Geographic, discuss diversity in a world where the climate of journalism is shifting rapidly and outlets turn more often to visual storytelling.
"We need to be more consciously and intentionally changing hiring practices in newsrooms at newspapers, magazines and elsewhere. We also need to provide resources for anyone here who might work with commissioning editors," Zalcman said.
"We are all accountable, we are all part of changing this. That is 100 percent our responsibility, it is the only way to change the landscape, it is the only way to change storytelling," she added.
Zalcman and Samuel recently curated databses that list female photographers and photographers of color. These private databases are to be used by photo editors to support diversity in small and major international outlets.
Working with a team of female photojournalists to gather data throughout 2017, Zalcman compiled statistics on how many women photographers are working and how many are being published at 20 major international publications. Samuel worked to do the same for photographers of color. Women Photograph's private database representing photographers from 87 countries, is available upon request and has now been circulated to more than 300 editors, nonprofits and agencies. Eight newspapers in America have distributed the database to their photo editing desk. The Photographers of Color database has, in the past five months, had 1600 responses from people of color in the U.S.
The panelists discussed barriers induced by privilege, limits due to tokenization, and the continuing impact of colonization within journalism and education.
"The problem with equality is that for people in positions of privilege, it feels like a loss of status, and that is a reality. But if we actually believe in equality and egalitarianism, some of us have to lose things to make sure we are lifting up others," Zalcman said.
Samuel pointed out the barriers emerging photographers face related to gender, race, and socioeconomics, even if they are accepted into journalism programs.
"There is still funding needed. Once you get into these great workshops, how do you pay for it? If there is not a skills-based barrier, is there an economic barrier to getting yourself to the table? Getting to the table to build relationships, that is the key that will allow you to send your work to editors over time and eventually get an assignment. The databases that we are working on is one aspect of providing resources. The other aspect is getting more funding for getting people into workshops, mentorships and training," Samuel said.
Through Women Photograph, Zalcman has launched a series of grants for workshops, mentorship programs, and travel to journalism training—offering tangible solutions to providing opportunities for genuine diversity in the photojournalism newsroom.
Zalcman urged, "If you are thinking of covering a native story, please think about hiring a native journalist also who knows the history of the land, who doesn't have to go through a learning curve, who can be sensitive in listening to the stories of subjects."
Addressing questions regarding tokenization, Zalcman admitted, "It's a hard line to walk. To some extent, one of the most powerful reasons we become journalists is because we want to solve the ways in which our own communities are represented. But it doesn't mean it is all you are capable of doing. It comes down to figuring out that the balance is truly insider and outsider voices. Overcorrection is a good thing to solve historic oppression and historic sexism."
The conversation later moved to education and providing resources to students to learn about U.S. history through a more accurate lens.
"It comes down to reframing the narrative—and decolonizing. Thinking about this country, this to some extent great place, that was built on stolen land by slave labor. That is a reality in American that is not often enough part of the framework of how we discuss the history of this country," Zalcman said.
When the panelists asked the audience for suggestions to help diversify photojournalism, Mallory Benedict, photo editor at National Geographic with Samuel and on the board of Women Photograph with Zalcman, noted the importance of closing the confidence gap. Holding each other, as well as publications, accountable is extremely important. "We do have to think about what steps we can take to incorporate different voices into our storytelling and to make your own voices heard in storytelling," she said.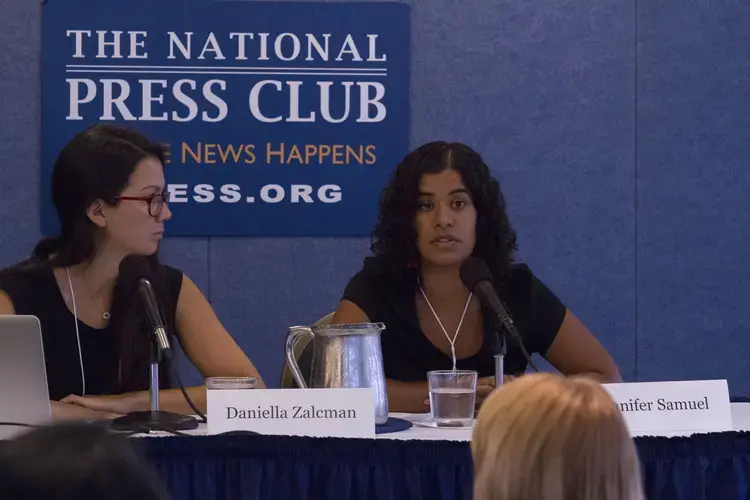 The two-hour workshop offered the time and space for people who were seeking allies to help editors and supervisors in newsrooms understand what journalists of minority need to feel secure in westernized and largely white newsrooms.
One young woman asked, "When it comes to diversity, when we talk about mental health and going out into the field, what does the support system look like, and what more can be done for the women of color and people of color who are out covering these touchy subjects?"
Zalcman responded, "Solidarity and community is huge. Having a safe space to talk to allies and people who do not just empathize with what you are going through but understand what you are going through is crucial.
She offered resources to that end: A private Women Photograph group where members can discuss topics ranging from pitching to different publications and understanding the ethics of quoting subjects, to addressing instances of sexism. She also noted the support of organizations such as National Association of Black Journalists, National Association of Hispanic Journalists, and Native American Journalists Association, among others.
"We self-segregate sometimes out of necessity for our mental health. Please reach out. But this is an absolute cost of feeling like an 'other' in any space. In journalism when you are not only having to look internally at your working environment, but also how that filters throughout the world, and throughout the representation of your community as well, we all can imagine how complicated that is."
RELATED ISSUES