On November 15, 2022, Pendarvis Harshaw and Brandon Tauszik visited Pomona College on an education tour following the publication of their Pulitzer Center-supported project, Facing Life. Facing Life profiles formerly incarcerated people reintegrating into society after serving long sentences.
Without adequate support, to live an ordinary life as someone who was incarcerated is extraordinary. Harshaw and Tauszik sought to understand the "hurdles people face when they reenter our society and [...] yet another failure of the justice system—incarceration that only leaves the individual further behind than the rest of society."
Harshaw is a renowned journalist, writer, and educator. He is the host of the podcast Rightnowish and a show on KQED-FM, a columnist at KQED Arts, and the author of OG Told Me, a memoir and blog which collects the wisdom of elders in Black Oakland, California.
 
Tauszik is a visual artist and producer based in the Los Angeles area. His notable projects include Pale Blue Dress, portraits of Civil War reenactments; White Wax, a visual interrogation of the difference in how America values lives lost to gun violence; and Facing Life.
Harshaw wrote the stories for Facing Life, and Tauszik created the interactive visuals. Harshaw's prose is sparse and lyrical; he amplifies the voices and experiences of formerly incarcerated subjects. Tauszik created the "cinemagraph," a video loop which sways subjects in slowed time. Through visual storytelling they reanimate connection, family, and community.
In their visits to colleges and universities around the country, Harshaw and Tauszik extended their project's reach and impact. Students at the University of North Carolina, MIT, Notre Dame, UCLA, and Pomona College, among others, attended presentations and roundtable conversations. 
At Pomona College, Harshaw and Tauszik participated in three events: an "Inclusive Storytelling Workshop" observed by students from all five undergraduate Claremont Colleges and staff from the student newspaper, The Student Life; a Scripps College class visit with professor of philosophy and gender studies, Susan Castagnetto; and a marquee presentation and panel discussion in the evening, followed by a reception at the Pomona College Studio Art Building.
Image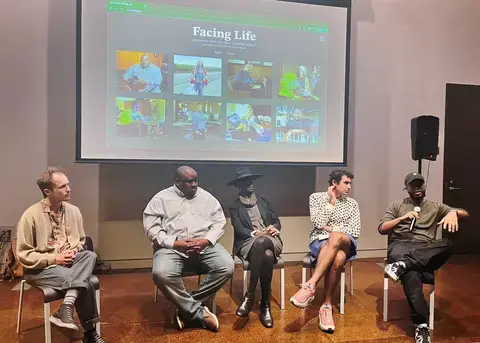 From left to right: Brandon Tauszik, Travielle Pope, Romarilyn Ralston, Ethan Widlansky, Pendarvis Harshaw. Image by Emma Jensen/The Student Life. Edited by Brandon Tauszik. United States, 2022.
At this final event, Romarilyn Ralston, director of Project Rebound at Cal State Fullerton, and Travielle Pope, an ordained minister and subject and collaborator in Facing Life, joined Harshaw and Tauszik for the panel discussion. Project Rebound supports "higher education and successful reintegration of formerly incarcerated individuals." Pope preaches at God's Place of Worship. 
Ethan Widlansky, Pulitzer Center intern and Pomona College senior, moderated their conversation, covering the meaning of freedom, the ethics of presenting stories which are not one's own, and walking the line between advocacy and reporting.
Image by Emma Jensen/The Student Life. United States, 2022.
On stage, Harshaw called the night a prototype for "solutions journalism," whereby a publication provides policy possibilities for the conflicts they often portray. Freedom, Ralston reminded, is "hard-won and fast-lost."
It is programming like this, supported by the Pulitzer Center, which inspires young people to make a difference. If you're interested in learning more about the Pulitzer Center's Campus Consortium initiatives, click here.
RELATED ISSUES

Criminal Justice

Racial Justice