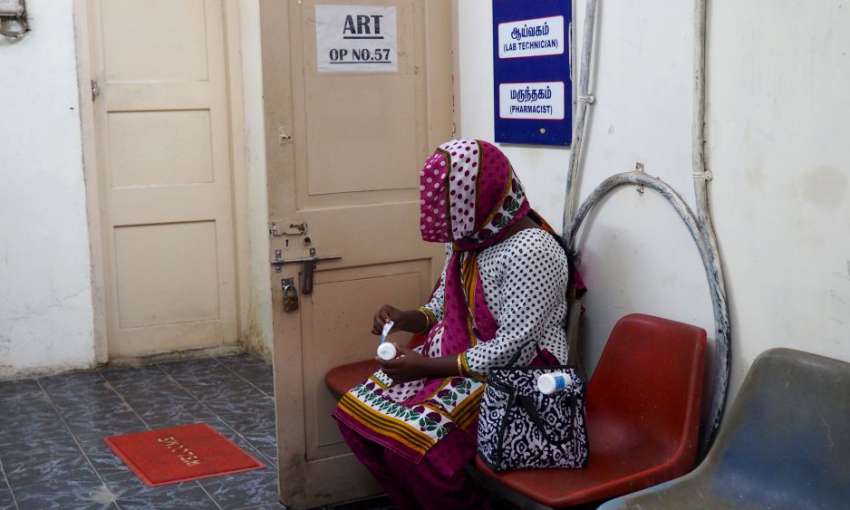 [Read this Q&A on the Global Health Now website, published by Johns Hopkins Bloomberg School of Public Health.]

Many Pulitzer Center on Crisis Reporting grantees have delivered exceptional reporting on HIV/AIDS—immersing themselves in their stories to provide in-depth reporting on under-covered areas of the crisis. Now, the Pulitzer Center has pulled their broad array of stories, photographs, and video into a new e-book: To End AIDS.

Pulitzer Center Contributing Editor Kem Knapp Sawyer, who oversaw the e-book production, told GHN's Dayna Kerecman Myers about the project, which puts a human face on the crisis—from sanitariums in Cuba to Donbass, Ukraine, where pro-Russian separatists have obstructed efforts to assist the thousands of people living with HIV. But all of the stories share several elements in common, including sharp writing and stirring, heart-wrenching photography. You can download a copy of the e-book for free on Atavist or iTunes.

Who should read this book and what impact do you hope it will have?

We created To End AIDS to reach a broad, diverse audience. Our contributors explain tough and complex issues clearly—touching the hearts and minds of those within and outside the scientific community. This e-book can also be used as an educational tool both at the university and secondary school level. We've produced a lesson plan to accompany To End AIDS and engage students in these issues. As for impact, it's our hope readers will see that although many medical advances have been made in the fight to end AIDS much more must be done to erase stigma, change behavior, and ultimately save lives.

Did last July's International AIDS Conference in Durban, South Africa inspire the project or was it already in the works?

Our e-book was already in the works before the Durban conference. After commissioning several projects on HIV/AIDS in the last year we recognized that all the work that was being produced was of such high-quality: a 6-part PBS NewsHour series on ending AIDS spearheaded by Jon Cohen who reported from Atlanta and Zimbabwe (and places in between); Misha Friedman's photographs of women from South Africa as well as Ukraine, a country with one of the highest HIV/AIDS rate in Europe. Science writer Amy Maxmen had looked at young women in South Africa who became infected by older men and others who resisted PrEP—antiretroviral drugs that prevent infection. Ana Santos was profiling those who are making a difference (one a monk, another a midwife) while writing about the stigma associated with AIDS in the Philippines.

Three of our university student fellows also did stellar original work on HIV/AIDS. Aditi Kantipuly, our Johns Hopkins Bloomberg School of Public Health fellow, traveled to India to investigate CMVR—a secondary infection; our Boston University student fellow Rebecca Sananes looked at the role HIV sanitariums played in Cuba, and Jen Stephens of The George Washington University's Milken Institute of Public Health writes about young women in Malawi who were born with HIV—but may not have discovered this until they were in their late teens. They learn to deal with the medical implications as well as the emotional challenges—finding a sense of community in teen clubs.

Their stories have been published in various outlets such as Science, BuzzFeed News, Nature, Scientific American, Global Health Now, NPR's Goats and Soda, and The Guardian.

Which of the stories was most difficult to report?

None of these stories were easy. Our journalists are dealing with sensitive issues. Getting to know their subjects—building trust—is essential. That takes time—and persistence. In 2016, Misha Friedman returned to South Africa to photograph subjects he had interviewed 3 years previously—women who were living with HIV and multi-drug resistant tuberculosis. Other reporters ran up against sources who wanted to speak off the record. And then, in addition to privacy concerns, there were visa issues (not to mention spotty Internet).

The book includes a diverse array of topics and journalistic approaches. Did a common theme emerge, uniting the pieces?

The journalism—text, video and photography—was all quite strong. Although there was great variety—we covered 9 countries, multiple forms of treatments, and diverse experiences among those affected by the disease—we found one unifying element: This disease can be brought to a to a halt—if communities will come together to make it happen.
RELATED ISSUES