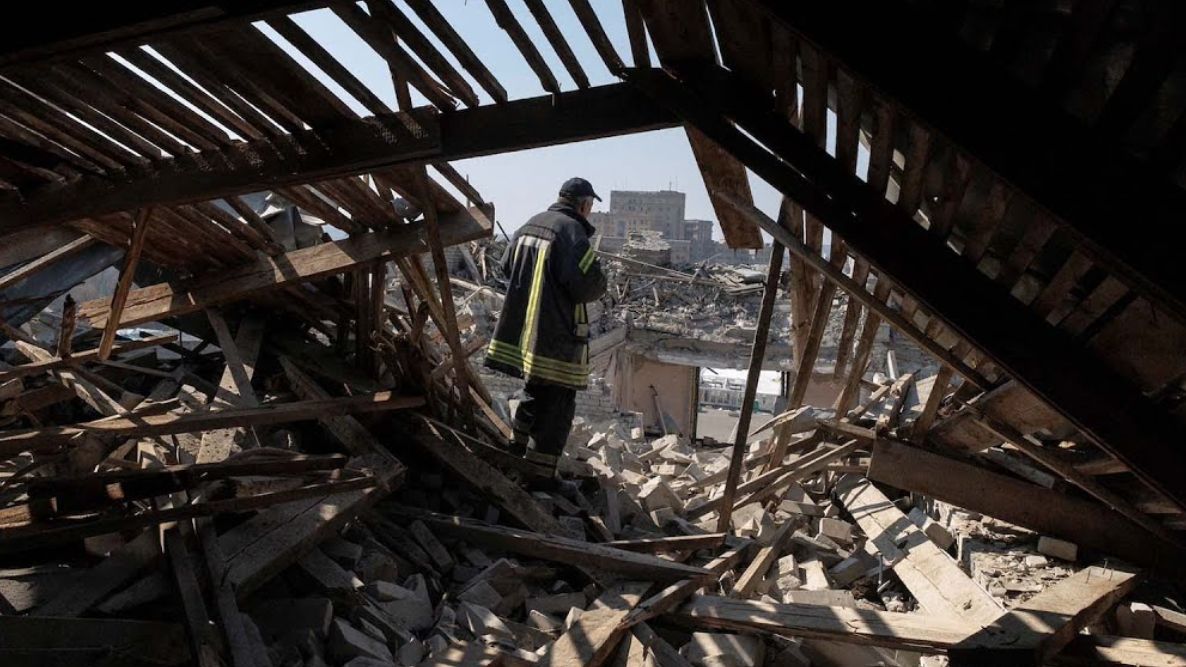 In an interview broadcast on PBS NewsHour last week, grantee Simon Ostrovsky asked Dmytro Kuleba, Ukraine's foreign minister, if his government was willing to make territorial concessions to Russia in order to achieve a peace settlement. Kuleba's response was remarkably explicit, and grimly determined:
"No, Ukraine will not make territorial concessions to Russia in order to achieve a peace settlement," he said. "I'm copy-pasting your question in my answer to avoid any misunderstandings or double interpretations."
Ostrovsky noted that many observers believe Ukraine will have to cede some territory to end the war. Kuleba held his ground, noting that many of those same observers had made the same arguments in 2014, when Russia's president, Vladimir Putin, seized the Donbas region in eastern Ukraine and then Crimea.
"Make a concession here, and Putin will step back," Kuleba said, referring to the position at the time of the United States and other Western powers. "Make a concession there, and it will pacify Putin. And it never worked. Stop looking for excuses why to not help Ukraine, and stand by us to make Putin concede, not Ukraine."
Expert interviews like this and searing front-line reporting have made the NewsHour essential viewing since the war began. We are proud to support its work, and that of multiple other news organizations and freelancers, as we seek to assure accurate, comprehensive, and safe reporting on an issue that affects every one of us.
We're grateful to all who have responded to our own call for help, for the donations that help us support coverage and outreach not just on Ukraine, but on conflicts across the globe. A reminder of the breadth of that work, and of the challenges involved, came with the announcement last week that grantee Jane Ferguson is a finalist for the Peabody, one of broadcasting's most prestigious awards, for her NewsHour coverage of another tragic conflict, the war in Yemen. She and NewsHour have also been recognized for their coverage of yet another conflict, the war in Afghanistan, with a Gracie Award and the Peter Jennings Award from the Overseas Press Club.
The OPC judges said students of history will be looking at NewsHour's segments from Afghanistan for years to come, "to understand what happened in the final year of America's longest war. Throughout 2021, as most Americans' attention turned away, the team returned again and again to capture the final arc of the story."
Paying attention is a key part, perhaps the key part, of our own mission. Thanks again to all of you, and especially to journalists like those at NewsHour, for helping us do that work.

---
Impact
The Association for Business Journalists' Society for Advancing Business Editing and Writing (SABEW) announced the winners of the 27th annual Best in Business Awards. Several Pulitzer Center and Rainforest Investigations Network (RIN) colleagues, Fellows, and grantees were honored for their business and supply-chain investigations.
In the category recognizing excellence in business reporting on energy and natural resources, several of the RIN team and Fellows won in the large division for what judges acclaimed as an "exceptional collaboration" with NBC News, PCIJ, and The New York Times on a series of projects on how U.S. consumers' supply chains have origins in rainforest destruction in Brazil, Indonesia, and the Philippines.
Pulitzer Center Senior Editor Susan Ferriss and Climate and Labor Editor Christine Spolar also received recognition for their past work at the Center for Public Integrity and Kaiser Health News, respectively. You can read more about the awards here.
---
This message first appeared in the April 15, 2022, edition of the Pulitzer Center's weekly newsletter. Subscribe today.
RELATED ISSUES