Pulitzer Center Update November 9, 2023
Announcing the Third Year of Eyewitness Photojournalism Grants
Image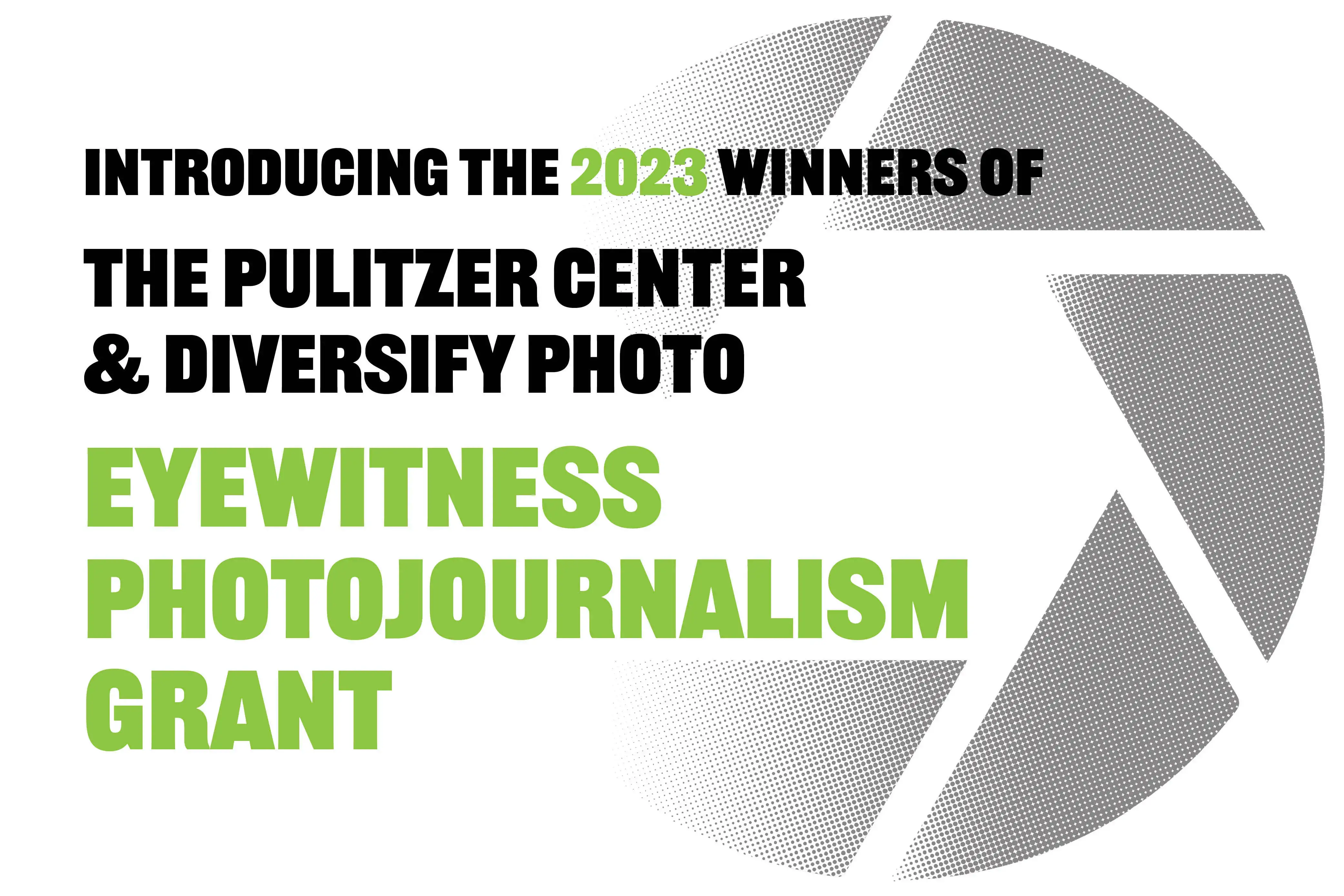 The Pulitzer Center and Diversify Photo are pleased to announce the winners of the 2023 Eyewitness Photojournalism Grant. Awarded annually, the Eyewitness Photojournalism Grant supports projects by independent photojournalists historically underrepresented in the global media landscape. In its third year—and second year of accepting international applicants—we are excited to announce our three recipients. 
The grant winners are Juan Arredondo (U.S./Colombia), Nitashia Johnson (U.S.), and Tatsiana Chypsanava (New Zealand). Each grant winner will receive $3,000 and mentorship to support their projects throughout the year. A juror team convened by Diversify Photo included Robert Miller of The Washington Post, Whitney Matewe of TIME, and Jillian Kumangi of Reuters. From their list of finalists, a small group of jurors from the Pulitzer Center's editorial and engagement teams gathered to select the winners.
"The Diversify Team is excited to once again collaborate with the Pulitzer Center," said Alex Sanchez, program manager at Diversify Photo. "We know that having this support for independent journalism is crucial to our community of journalists to create impactful and insightful work. We hope to continue this opportunity for years to come and help it to grow."  
As we continue to expand the engagement opportunities for this grant, our past Eyewitness fellows have shown their work at the Photoville Festival in New York, spoken on panels at journalism conferences, won global photography awards, hosted open mics and gallery shows, and worked with youth in Chicago on documentary projects. We look forward to seeing what this next group of photographers will bring.
Learn more about our 2023 Eyewitness grantees:
Juan Arredondo is a Colombian-American photographer and filmmaker exploring social inequality, human rights, and conflict. Most recently, he was covering the war in Ukraine with his colleague Brent Renaud when he was wounded in an attack at a checkpoint near Kyiv, which also resulted in Renaud's tragic death. Arredondo is a regular contributor for The New York Times and National Geographic. 
His photographs have been featured in The Wall Street Journal, Newsweek, ESPN, and Vanity Fair, among others. He is a graduate of the Columbia University School of Journalism, where he is also an adjunct professor. View his portfolio here.
For the Eyewitness grant, Arredondo's project, The Uncounted, will take an up-close look at the challenges of recording the basic metrics of the two bookends of life: birth and death. He will focus on rural regions of Colombia, where inadequate registries are widespread, including the lack of documentation of Indigenous and Afro-descendant communities. Arredondo will weave personal narratives of people living 'invisibly' to the societies they belong to while also documenting the impacts of the lack of these fundamental metrics in their lives and communities.
Nitashia Johnson is a multimedia artist and educator from Dallas, Texas. She has undertaken the photography project The Beauty of South Dallas, documenting the rapid transformation of a historical neighborhood impacted by socio-economic shifts. Her accomplishments include being one of the first women selected for the Sony Alpha Female Creator-in-Residence program in 2019, receiving the Juanita J. Craft House Artist Residency Project in 2021, and participating in the Talley Dunn Gallery Equity in the Arts Fellowship. With a strong passion for using her creative talents to create positive change, Johnson has dedicated the past year to her non-profit organization, The Smart Project, which provides an after-school program for teens and aspiring mentors in North Texas.
Her freelance photography and videography has appeared in outlets such as The New York Times, The Dallas Morning News, NBC, The Washington Post, and CNN. Explore her work here.
Johnson's Eyewitness grant project, The Faces That Face, will delve into the stories of seven individuals, including herself, who have resided near the Dallas GAF roof manufacturing facility. Through this project, she will seek to intertwine their narratives with compelling imagery and thorough research to shed light on the severe and often overlooked consequences of environmental degradation on our communities. This project will serve as a stark reminder of the human toll exacted by profit-driven practices and will emphasize the urgent need for systemic change to address climate injustices. 
Tatsiana Chypsanava is a photojournalist and documentary photographer based in Aotearoa, New Zealand. Born in Belarus and a descendant of the Komi peoples of the Siberian North-West Ural, she focuses on Indigenous rights, migration, and environmental issues.
Chypsanava has been a grantee of the Wellcome Trust and a contributor to The New York Times and New Zealand Geographic magazine, among other publications. She has exhibited her work at Photoville Festival. Explore her work here.
The Ngāi Tūhoe Indigenous iwi (tribe) has always been staunchly independent. When New Zealand was colonized in the nineteenth century, the iwi remained set apart. Despite the New Zealand government's often-violent attempts to assimilate them and dispossess them of their land, Tūhoe retained their strong Māori identity, language, and some of their traditional lands. In 2014, a world-first law ended government ownership of Te Urewera National Park and recognized the Ngāi Tūhoe people as the rainforest's legal guardians. It also recognized the rainforest as a legal entity with the same legal rights as a person. Chypsanava's Eyewitness grant project Te Urewera will document Tūhoe's relationship with Te Urewera during the 10th anniversary of the government returning the land, their challenges, and their plans to reopen the rainforest to the public with a new vision for the future. 
Arrendono, Chypsanava, and Johnson's projects will be published throughout 2024. The Pulitzer Center offers general journalism grants, fellowships, and photojournalism opportunities throughout the year. Visit our grant information information page to learn more.