Pulitzer Center Update June 8, 2022
Three Journalists Win $2,500 Eyewitness Photojournalism Grant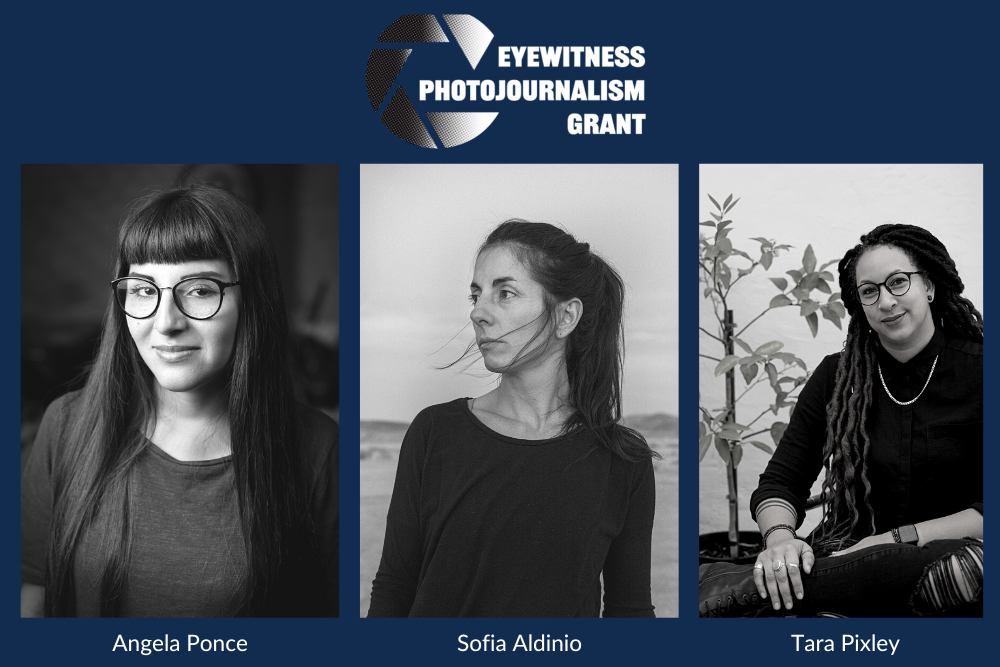 The Pulitzer Center and Diversify Photo are pleased to announce the winners of the 2022 Eyewitness Photojournalism Grant. The Eyewitness grant seeks to support projects by photojournalists from backgrounds historically underrepresented in the media. In its second edition, the initiative expanded its scope by accepting applications from journalists from around the world.
The grant award winners are: Tara Pixley (U.S.), Angela Ponce (Peru), and Sofia Aldinio (Argentina/U.S.). Each journalist will receive $2,500 to support a reporting project. They will be recognized during the Pulitzer Center's annual conference on June 10 at the National Press Club in Washington, D.C.
Sandra Stevenson, Yukiko Yamagata, and Roberto "Bear" Guerra served as the panel of jurors who did the initial review of all applications and presented a list of finalists. To select the winners, members of the Pulitzer Center's editorial and communications teams reviewed the final candidates alongside Kainaz Amaria (formerly with Vox and now with The Washington Post.)
"The caliber of this year's winners and the ambition of their projects are outstanding," said Marina Walker Guevara, Pulitzer Center's executive editor. "They will report on systemic environmental crises that affect livelihood, culture, and identity of communities across the American continent."
Diversify Photo shares, "We are excited for these upcoming projects that were handpicked by our judges. We believe these works will help continue the dialogue forward as diverse creators are given the opportunity to share the stories needed to change narratives and shed insight into communities all over the world."
Here are some more details about the three 2022 winners:
Tara Pixley, Ph.D., is a queer, first-generation Jamaican-American photographer, curator, and educator based in Los Angeles, where she is an assistant professor of journalism at Loyola Marymount University. She was a 2021 IWMF NextGen Fellow, a 2020 awardee in the inaugural World Press Photo Solutions Visual Journalism Initiative, and a 2016 Visiting Knight Fellow at Harvard University's Nieman Foundation for Journalism. Her writing and photography have appeared in The New York Times, The Wall Street Journal, NPR, Newsweek, ProPublica, HuffPost, Nieman Reports, ESPN magazine, CanonPro, and The Black Scholar, among many others.
Her filmic and photographic work intersect with her scholarship and advocacy, each addressing the intersectionality of race, gender, class, visual rhetoric, and the potential for visual media to reimagine marginalized communities. She is on the board of stock photo co-op Stocksy United and serves as secretary of the National Press Photographers Association (NPPA) Board. She is also a co-founder and director of Authority Collective — an organization dedicated to establishing equity in visual media — and she is currently working on a book chronicling the move to decolonize the visual journalism industry.
Angela Ponce is a documentary photographer and photojournalist based in Peru. She focuses on long-term projects that address Latin American political conflicts, the rights of people with disabilities, and environmental issues. Ponce has been awarded in the POY Latam Sports Series category; Women Photograph and The Women's Equality Center grant, ICRC Humanitarian Visa d'Or, the Sony Latin American Professional Award, among others.
Ponce is a frequent contributor to The New York Times, Bloomberg, and Reuters.
Sofia Aldinio is an Argentine-American documentary photographer and multimedia storyteller. She is currently based between Portland, Maine, and Baja California, Mexico. Her work uses collaborative practices to tell stories about home, immigration, climate change, and preserving natural and cultural heritage through an interdisciplinary process that uses photography, archival materials, illustrations, motion, audio, and written narratives.
A large part of Aldinio's documentary work focuses on amplifying stories of immigrants and refugees arriving in the U.S. Northeast. She was twice awarded a grant through the Maine Arts Commission to develop community-based projects where immigrants explore what it means to belong in a foreign place. In 2022, she received the Kindling Fund Grant to develop an interdisciplinary storytelling workshop and exhibition within the immigrant community in Portland, Maine.