By Francisco Sarmiento-Fernandez
7th grade, Greene Street Friends School, PA
Honorable mention
With lines from "Until We Are Gone" by Sofia Aldinio, a Pulitzer Center reporting project
*Translated by Hannah Berk. Click here to read this poem in the original Spanish.
Do you remember
the forest palms and
the mango trees
that produced mangoes as pure,
as fresh as if you had the
sun
in your hands
ready to eat?
And those cork oak trees that rose up until you couldn't see them
like they touched the moon?
And remember when
we ran
barefoot
and
made mud cakes?
We were the happiest kids on Earth
with a smile
that ran
side                    to                    side
connecting the ears like a bridge.
Now there is no mud
nor feet to run
nor any smile.
Only dry and desolate land
with cracks in the ground as if it were going to break
itself in half.
Do you remember when we could look up
and see the clouds blocking the sun,
ready to release their army of rain?
Well now it seems the sun has won
the war against the clouds.
It doesn't let them rain
even one
drop
like a shut off tap.
And remember,
remember
when we bathed in our wells
and leapt over
our waterfalls?
One day
as if mimicking the water that left,
many
disappeared.
And what happened?
They all left for a better life
and I am here alone
trying to live
trying to recreate what was
once my
home.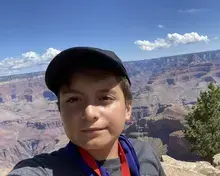 Francisco Sarmiento-Fernandez is a rising eighth grader in Philadelphia, Pennsylvania. He loves science, math, reading, magic, playing with his cats, soccer and, above everything, having fun with his friends. As a Latino, Francisco enjoys celebrating the rich traditions of his cultural heritage, traveling and learning about all cultures. He is honored to contribute to raise awareness of social and environmental issues around the world through poetry and other means.
Read more winning entries from the 2023 Fighting Words Poetry Contest.