By Francisco Sarmiento-Fernandez
7th grade, Greene Street Friends School, PA
Honorable mention
Con frases de "Until We Are Gone" por Sofia Aldinio, un proyecto de periodismo apoyado por el Pulitzer Center
*Click here to read an English-language translation of this poem.
¿Te acuerdas
las palmas selváticas y
los árboles de mango
que producían el mango tan puro
tan fresco como si tuvieras el
sol
en las manos
listo para comer?
¿Y esos árboles de alcornoque que iban arriba hasta que no los
podías ver
como si tocaran la luna?
¿Y te acuerdas cuando
corríamos
pies descalzos
y
hacíamos bizcochos de barro?
Éramos los niños más felices en el planeta
con una sonrisa
que iba
lado                    a                    lado
conectando las orejas como un puente.
Ahora no hay barro
ni pies para correr
ni una sonrisa.
Solo tierra seca y desolada
con grietas en el piso como si se fuera a romper
por la mitad.
¿Te acuerdas cuando podíamos mirar arriba
y ver las nubes bloqueando el sol
listas para echar su ejército de lluvia?
Pues ahora parece que el sol ha ganado
la guerra contra las nubes.
No las deja llover
ni una
gota
como un grifo cerrado.
¿Y te acuerdas
te acuerdas
cuando nos bañábamos en nuestros posos
y saltábamos
nuestras cascadas?
Un día
como imitando el agua que se fue
Muchos
desaparecieron.
¿Y que paso?
Todos se fueron a una vida mejor
Y yo aquí solo
tratando de vivir
Tratando de recrear lo que era
una vez mi
casa.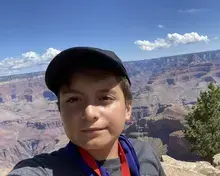 Francisco Sarmiento-Fernandez is a rising eighth grader in Philadelphia, Pennsylvania. He loves science, math, reading, magic, playing with his cats, soccer and, above everything, having fun with his friends. As a Latino, Francisco enjoys celebrating the rich traditions of his cultural heritage, traveling and learning about all cultures. He is honored to contribute to raise awareness of social and environmental issues around the world through poetry and other means.
Read more winning entries from the 2023 Fighting Words Poetry Contest.