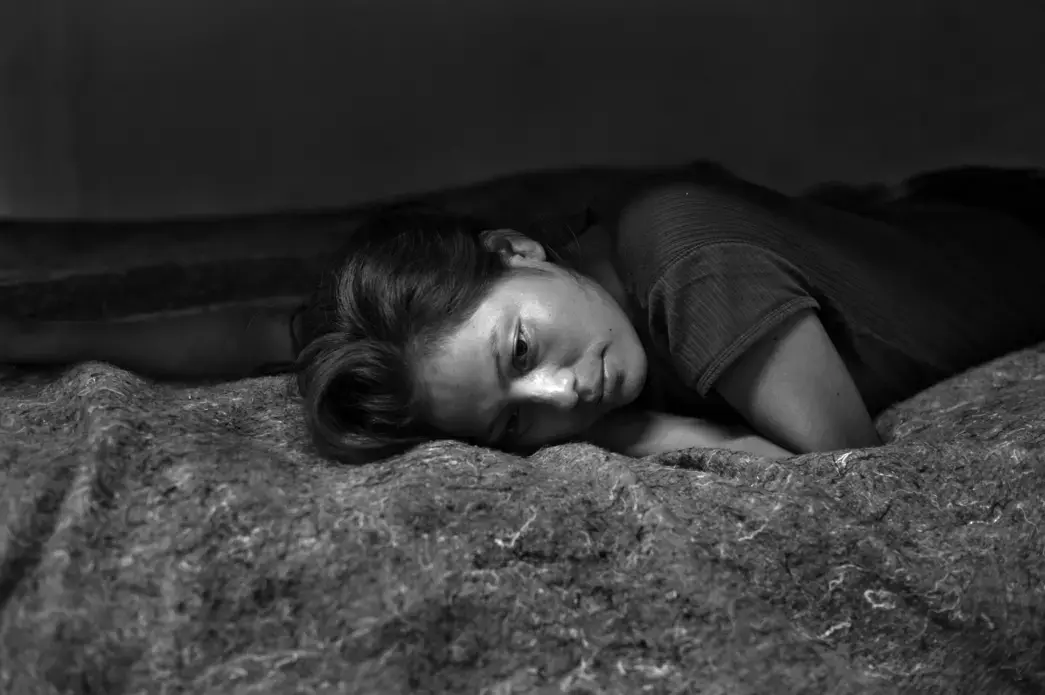 Marisol Espinoza, a 20-year-old woman from Chiapas, Mexico, in a shelter for deportees and migrants the night after she was deported from the United States. She crossed into the United States and walked through the Arizona desert for six days before she was arrested by the U.S. Border Patrol. Image by © Louie Palu/ZUMA. Mexico, 2012.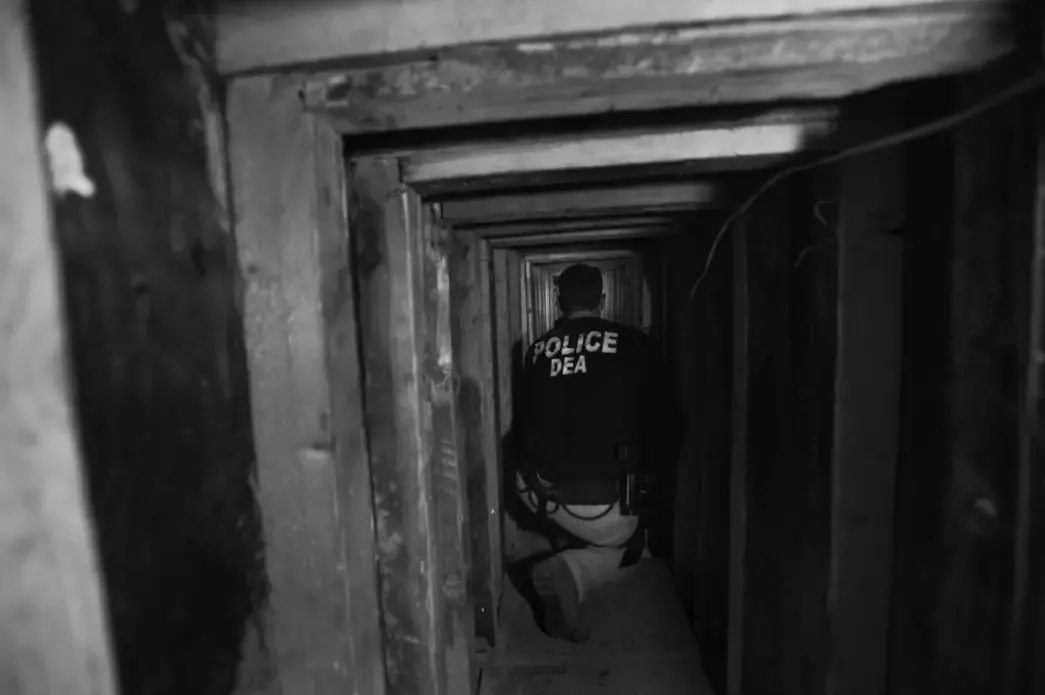 A U.S. Drug Enforcement agent aims a flashlight down a 240-yard long drug smuggling tunnel. It is 55-feet deep under the U.S.-Mexico border and was cut through a floor of a small industrial unit south of Yuma, Arizona, in the town of San Luis. It is estimated that the tunnel built by a Mexican drug cartel cost up to $1 million and took one year to build. Image by © Louie Palu/ZUMA. Mexico, 2012.


My first day in Arizona begins in Yuma, where the U.S. Drug Enforcement Agency (DEA) is holding a press conference about a cross-border drug smuggling tunnel found south of here in San Luis. An agent carries out a medium-sized box of methamphetamine that was seized in an investigation leading to the tunnel's discovery—it's worth over $1 million.
It must have taken sophisticated engineering to complete the well-ventilated and well-lit tunnel. According to a DEA press release, in the last 10 years, 89 cross border tunnels have been discovered in Arizona and 50 in California, but some veteran agents comment that they have never seen anything like the Yuma tunnel.
I drive down to San Luis where the DEA allows me to go down into the tunnel, located in a small industrial unit. There is a neatly cut square hole in the tiled floor, where a 55-foot deep shaft with a built-in ladder leads to a 240-yard long tunnel to Mexico. Agents estimate that it took one year to construct and cost more than $1 million. It will eventually be handed over to the U.S. Border Patrol and sealed.
Click on the markers for more information.
The next day I make my way toward Nogales, Arizona, where the desert terrain is vast and unforgiving. A storm hits and many roads are flooded and washed out. I arrive at the border—there is no more unpleasant section of the rusting border fence than what exists in Nogales.
I cross over to Mexico for the first of two visits to the San Juan Bosco shelter for migrants and deportees. I meet two men who were just deported. They have severe blistering on their feet from walking through the desert—a common injury among migrants. One of them from the state of Guerrero says he came to the U.S. because there's no work in Mexico. He laments that organized crime controls most of the countryside. After three days he was so overwhelmed by the heat that he stopped. Left behind by other migrants, he hoped the U.S. Border Patrol would find him, which they did--and then arrested him.
One of the goals of a Mexican migrant is to get to either Tucson or Phoenix where there are safe houses for further safe passage to cities throughout the U.S. I go through two U.S. Border Patrol checkpoints to a town called Arivaca. I drive on to Sasabe, a small port of entry. Later that night I re-cross the border on foot through the Nogales port of entry and walk right through Mexican customs. I don't see anyone even guarding the entry into Mexico. The border is wide open on this side.
I return to the San Juan Bosco shelter before deportees are dropped off. Mexican authorities deliver them to the shelter. Most are Mexican, but I also meet men from El Salvador and Guatemala who are deported not to their respective countries but to Mexico. I spend most of my time with several of the deported women—two of them walked for six days in the desert before the U.S. Border Patrol appeared and their coyote (a person who facilitates an illegal crossing of the border) abandoned them in the desert. They were held for three days before being deported to Mexico. The women, one from Veracruz and the other from Chiapas, say the reason they and everyone they know try to get into the U.S. is that they can make more money in the U.S. than in Mexico. In addition, the security situation in Mexico continues to deteriorate--they no longer feel safe.
Organized crime also profits from the many migrants who gather in Altar, Mexico, directly south of the area between Sasabe and Nogales, Arizona. They not only approve who crosses but they also extort a cut of the fee. Migrants cross the border in groups ranging from 14 to 32 people, paying a fee of $3,000 to $5,000 per person. The migrants understand that even if they reach their destination and get a job, they would risk being fired if they ever asked for better pay or work conditions. As illegal immigrants, they have few rights. Their families back in Mexico are also subject to further extortion from the coyotes, and those who are not able to pay their coyote up front must send money back to Mexico to complete the payment.
On my last day I visit a maquiladora, which is essentially a factory with a special customs status. I tour a factory where workers make electronic parts for the auto industry. The conditions in the factory are as clean and modern as almost any factory in the developed world that I have seen. The factory contributes to the approximately $20 billion trade economy and the 33,000 manufacturing jobs in Nogales. However, when I ask how much the company makes in revenue or how much their employees are paid, the company representative is not permitted to tell me.
According to Juan Cordero, director of economic development for the City of Nogales, Sonora, Mexico, the average wage in factory work is approximately 500 pesos ($38) a day. The pay for entry-level unskilled workers averages 100 pesos ($7.60) a day.
Louie Palu is a Bernard L. Schwartz Fellow with the New America Foundation.
RELATED ISSUES