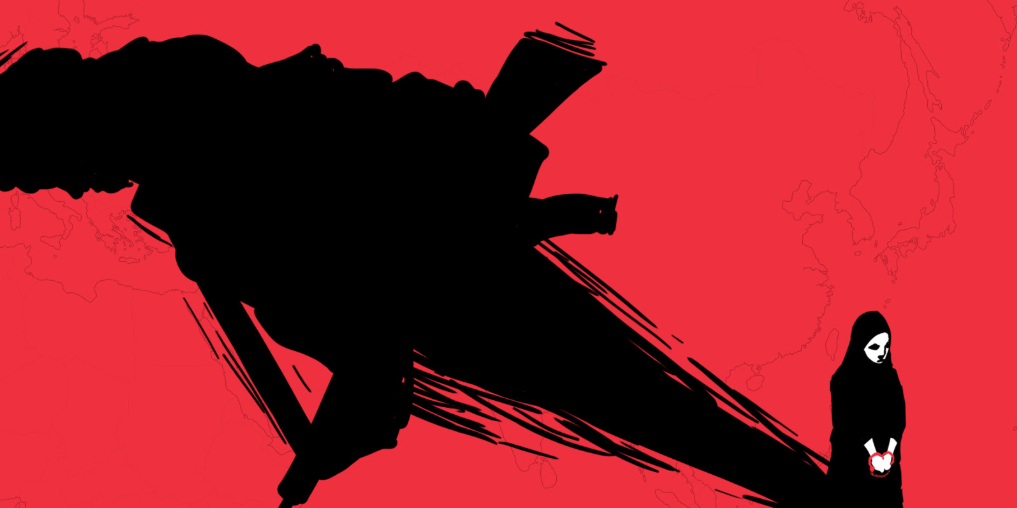 It was the men who manned the trenches in the battle for Marawi and the establishment of the Philippines as an Islamic State (ISIS) hub in the East, but it was these women who held down the fort.
In the last of this two-part series, Rappler analyzes the influence of the "soft power" women wield in war and violent extremism. The role of a mother is elevated to that of a matriarch-leader who provides the psychological and emotional ammunition needed to brave months of fighting. Brides are married as tactical strategies to unite battalions fragmented by tribal lines. Later, these allied troops would come together under one extremist ideology and fight under ISIS.
The men they are associated with are better remembered but these women have their own war stories – forged by blood and marriage.
Matriarch and Kingmaker: Farhana Maute
MANILA, Philippines (UPDATED) – Farhana Maute was dressed in a deep yellow abaya decorated with small colored beads that formed peacock feather patterns. Her face was covered with a black scarf and she wore hip beige sneakers.
The other detainees who were sitting around her were dressed in yellow T-shirts plastered with the word, "DETAINEE" in thick black letters.
Even in a courtroom where she was going to be tried for rebellion, kidnapping, illegal possession of firearms, serious illegal detention with murder, there are some rules that do not apply to Farhana, now in her 60s.
Her two sons, Omar and Abdullah Maute, led the armed unit that bore their name but it was the Maute matriarch who was pulling the strings, managing the two key lifelines of any war – logistics and money.
Farhana comes from the influential Romato clan in Central Mindanao. Her pedigree gave her political connections, social capital, and the economic resources to establish various business ventures that included furniture businesses in Lanao del Sur, a bazaar in Novaliches, and homes in both Manila and Mindanao. According to reports, she used her business in Surabaya, Indonesia to launder terrorist funds flowing into the Philippines.
Her relatives were members of the Moro Islamic Liberation Front (MILF) who broke ranks with the leadership and joined the Abu Sayyaf Group (ASG). Government intel sources said her husband had long been known to be coddling Jemaah Islamiyah (JI) fighters. "Dati mga utusan lang ang mga Maute ng JI," said the military source. (The Mautes used to just be the goffers of the JI.)
That was until they started to crawl their way up from obscurity to notoriety one terror attack after another. (FAST FACTS: What you should know about the Maute Group)
Before they led the Marawi siege, the Maute Group was involved in the kidnapping of 6 sawmill workers in April 2016. Four of the sawmill workers were released while two, Jaymart Capangpangan and Salvador Janubas, were beheaded dressed in orange jumpsuits, a signature of ISIS execution.
The Mautes were also held responsible for the September 2016 Davao night market bombing and in November of the same year, they clashed with the military after they occupied the Butig Municipal Hall and raised the ISIS black flag.
According to court records reviewed by Rappler, one of the surviving sawmill workers said that Farhana wanted the two victims to be killed because they were "military informants." He added that he recognized Farhana from when she had bought lumber a few days before they were kidnapped. His testimony is part of the evidence in the case of serious illegal detention with murder that Farhana is charged with.
"Matapang talaga 'yan si Farhana (Farhana is really fierce)," the government intelligence source told Rappler, recounting how Farhana assailed police officers when her children were detained.
Terrorism runs in the family
When terrorism expert and political analyst Rommel Banlaoi outlined the Maute family tree in relation to the Marawi siege, it looked like an organizational chart – each family member had his or her own respective duty. Abdullah headed military operations while Omar handled political affairs. Another brother, Mohammad Khayam, oversaw operations and intelligence while their other brothers were also fighters. Their parents were in charge of finance and logistics.
"Blood ties make recruitment easy and betrayal or defection difficult," said Banlaoi.
It also helps bring down the organization when you topple the main leader.
A senior military officer who was involved in the Marawi siege said that there had been one or two women who participated in insurgency movements, but it was through Farhana that he saw the kind of influence that women wield. He asked that he not be named because he no longer has the authority to speak on the issue.
"Hindi mo talaga pagkakamalan ang babae kasi traditional ang mga gawa – asawa, tiga-aalaga. Ang tingin talaga sa terrorista, lalaki," he said. (You really wouldn't suspect women because their roles were traditional – wives, caregivers. When you think of a terrorist, you think of a man.)
According to the military source, after Farhana was arrested on June 9, 2017 in Lanao del Sur while on her way to buy vehicles to help wounded soldiers escape, the military began to feel the Mautes losing ground.
Their own intel told them that factions and fights began to break out among the brothers and the groups they had allied themselves with.
Because of her political stature and status in the community, Farhana's arrest weakened community support for the siege. Without her network and connections, logistical supply chains crumbled.
"The influence of a woman is psychological and emotional. To her husband, she provides psychological support that makes them a powerful radicalized couple working as a team. To her children, she is a source of morale and psychological support," he said.
"Her arrest affected their stability. It dampened their spirits. Sa giyera, ang labanan (in war, the battle) is keeping up the will to fight," the source added.
Another senior intelligence official confirmed this. "Matriarchal pa rin ang society natin (Our society is still matriarchial)." He added that Filipino Muslim women appear to be quiet and in the background but their men – husbands and sons – always look to them when it comes to making decisions.
It was the additional boots on the ground provided by foreign terrorist fighters who have no attachment to Farhana or the Maute family that gave the rebels the tenacity to engage the military in battle for another 4 months.
Cayamora, the Maute patriarch, was also arrested in June 2017, but according to the military source, Farhana's arrest was more devastating "from a soft power" point of view.
Farhana is currently detained in Camp Bagong Diwa in Taguig.
The family terrorist enterprise: Juromee Dongon and her sisters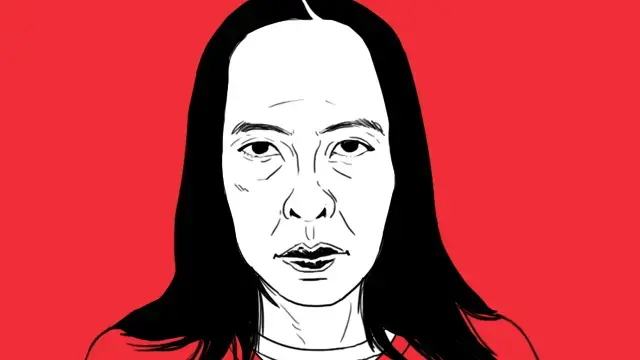 When Juromee Zainab Dongon was arrested for illegal possession of firearms in Lanao del Norte in February 2018, news headlines tagged her as the widow of Marwan, the notorious Malaysian terrorist and bomb maker who was killed in the 2015 Mamasapano shootout with the police.
Less known is that Juromee was previously married to another ASG chieftain and that her sisters were all married to other ASG leaders.
Juromee married Khadaffy Janjalani in her teens. Janjalani's older brother founded and organized the ASG back in 1991. Janjalani took over as head when his brother was killed. Juromee was his wife until he was killed in a military operation in 2006.
Then she married Marwan, a once-elusive Malaysian terrorist wanted for staging the only successful Al-Qaeda-linked attack in Malaysia. Marwan was also wanted in Indonesia for his involvement in the 2002 Bali bombings carried out by Jemaah Islamiyah (JI), the Indonesian extremist group bent on establishing an Islamic State in Southeast Asia.
Marwan found his way to the Philippines in 2003 to evade arrest in the wake of the crackdown after the Bali bombing.
Over his years of hiding, Marwan made the Philippines his home. It was his marriage to Juromee and at least two other Filipino women that facilitated Marwan's assimilation into the community. He passed on the JI ideology of violent extremism and reportedly trained at least 300 militants in bomb-making and detonation.
Cesar P. Garcia, who was former director-general of the National Intelligence Coordinating Agency (NICA), said that women were not considered major players during the nascent years of terrorism in the country. He said that during that time, terrorists used women as sex slaves and errand girls.
"The only time women actually became an interest to us was when the Dongon sisters cropped up," Garcia recalled. He told Rappler he had once interrogated Juromee after Janjalani was killed – when she was widowed for the first time.
"If my memory serves me right, we just reached out to her, hoping she could be of service to us because of the links of her brother, Rejivan Dongon alias Abu Tariq, and her sisters with other jihadists," Garcia said.
He admitted not asking why she had married Janjalani, how many children they have, and other questions that would involve a wife.
"I focused on the principals," Garcia said, referring to the top jihadist leaders.
Marriages and alliances
Garcia recalled that Juromee looked "very plain." He added: "There was nothing spectacular about her. She did not look like a wide-eyed fanatic. She had very ordinary ambitions. If she did imbibe radicalism, she didn't show it. Parang kawawa pa nga eh." (She seemed rather pitiful.)
During the interrogation, Juromee asked Garcia if the Philippine government could find her a job in Saudi Arabia. Garcia said her request was not granted as it might be construed as the Philippines sending jihadists and sympathizers to the Middle East.
"Little did we know at that time that she would end up as the wife of Marwan. We thought she just wanted to go to Saudi to be an OFW," Garcia said.
Government intelligence officers confirmed that Juromee's parents were both migrant workers in Saudi Arabia who converted to Islam. When they came back to the Philippines, they were likely to have been influenced by their spiritual leader, Ruben Lavilah, who was linked to ASG and the Rajah Sulaiman Movement (RSM), a terrorist group whose members are Islam converts.
Juromee's sisters, Aminah and Norain, were all married to top terrorist leaders.
Aminah Dongon was the wife of Jainal Antel Sali, also known as Abu Solaiman, a trusted aide of ASG chieftain Janjalani and sister Juromee's first husband. Norain Dongon is married to Ahmad Santos who handled the media arm of the ASG. Santos is a balik-Islam or Muslim convert who later founded RSM.
Intelligence sources told Rappler that the significance of the Dongon family is how their marriages "cemented the alliances between the Abu Sayyaf, RSM and the JI – and solidified the extremist ideology of ISIS."
Under a unified ideology and no longer divided by their tribal factions, the 3 groups staged attacks with the terrorist trademark of targeting mass casualties in a public space like the 2004 SuperFerry bombing that killed 116 people. Aminah's husband, Abu Solaiman, was tagged as the brains behind the bombing. Before the Marawi siege, the SuperFerry bombing was regarded as the deadliest terror attack in the Philippines.
"There is honor for these women to be married to mujahid or Islamic guerrilla warriors. Since in their culture, women are second class citizens, marrying a mujahid with power and influence is considered 'marrying up.' There is a higher social status to it," said the government intelligence source.
Marriage to a mujahid transcends physical attraction and romantic embellishments. "It is spiritual. When your objective is the consolidation of (military) resources and wealth, love in marriage is secondary," the intelligence source said.
Sleeping with the enemy
Juromee, Aminah, and Norain unified battalions through the tactical strategy of marriage. Other members of their family straddled both sides of the battlefield through their romantic involvement with law enforcement agents.
When authorities arrested Juromee Dongon in February 2018 in Lanao del Norte, they also arrested another sister, Lorilie Dongon Atta, and her husband, Senior Police Officer 4 Andy Atta.
In a separate operation, police arrested Juromee's father, Romeo Dongon, alias "Faisal" and sister, Norain, for possession of illegal firearms. The Dongon patriarch was also a member of the ASG.
Bombing equipment and firearms were found in their possession and they were charged with associating and providing support to terrorist groups.
It was not only Lorilie who was involved with law enforcement.
Another brother, Renierlo "Ren-Ren" Dongon, was a terrorist who reportedly had a love affair in 2013 with a police official, Superintendent Cristina Nobleza.
According to then-Philippine National Police (PNP) chief Ronald dela Rosa, the male Dongon was detained on suspicion of bomb-making. Nobleza, who was then assigned to the presidential anti-crime commission, was in charge of interrogating him. Nobleza is a balik-Islam convert who was the deputy regional chief of the PNP Crime Laboratory in Davao.
Nobleza, 49, and the Dongon brother who is in his late 20s, were arrested in April 2017 in Clarin, Bohol. By this time, the Marawi siege was already a month in and ASG militants had reportedly traveled via pump boat from Sulu to Bohol to raid a resort and kidnap tourists.
The duo and their companions were caught while trying to evade a checkpoint on their way to provide reinforcements to the ASG members who were cornered in military operations.
A day after the arrest, security forces conducted raids on two properties listed under Nobleza and confiscated firearms, bomb-making materials, and "subversive documents pertaining to terrorist activities."
The Dongon family united rebel groups in danger of splintering and they blurred enemy lines all through their marriages and romantic dalliances.
"The Dongons are an example of family terrorist enterprise," the military intelligence source told Rappler.
---
Women in jihad: We have just barely scratched the surface
Jihadist networks, with ISIS taking the lead, are opening up their ranks and encouraging women to stake their rightful place, navigating the underground in covert operations or from the frontlines as suicide bombers.
The graphic below shows how each of the 4 women contributed to jihadist movements by engaging in different activities from recruitment to marriage around Southeast Asia. Click or tap on the women's names to see their activities and the extent of their influence:




According to Sidney Jones, executive director of the Jakarta-based think tank, Institute for Policy Analysis of Conflict (IPAC), "Women are now a permanent part of the jihadi structure."
Jones cautioned against simplifying the reason women join jihad within the context of male influence or romantic attachment. "It is a mistake to think that a woman's participation in jihad is dependent on her relationship with a man. The decision to engage in terrorist activity was already there – without reference to a man."
A footnote in the United Nations Development Programme report on Preventing Violent Extremism pointed out that while more men are involved in radicalization than women, "the pattern seems to be changing."
The number of female suicide bombers has significantly increased. Since 2000, 40% of the suicide bombers of Chechen rebels in Russia have been women called the "Black Widows." West Africa's Boko Haram has been deploying more and more female suicide bombers.
While mostly present in active conflict zones, suicide bombers are also creeping into peace zones and creating terror in urban areas.
In 2018, the Indonesian city of Surabaya was rocked by suicide attacks carried out by an Indonesian family of 5. Currently, a number of radicalized Indonesian women are serving prison sentences for plotting suicide bomb attacks. The bombing of the Jolo Cathedral in Southern Philippines at the beginning of this year was also carried out by an Indonesian couple – and the first to be carried out in part by a woman.
The 2019 coordinated suicide bomb attacks on churches and hotels in Sri Lanka were also carried out by family networks.
In the Philippines, the Filipino women identified as ISIS supporters were mostly involved in recruitment and money transfers. But terrorism experts warn that this is no indication that they will be confined to backend supporting roles.
"In Southeast Asia, the women have been progressive compared to many other regions in the world. Women have participated in the terrorist campaigns in a very major way and this trend is going to expand. In the future, we are likely to see greater participation of women in terrorism in the Philippines," said Singapore-based terrorism expert Rohan Gunaratna.
The following graphic shows how the women (their names in red banners) fit into a larger network of the eastern caliphate and further to other parts of Southeast Asia: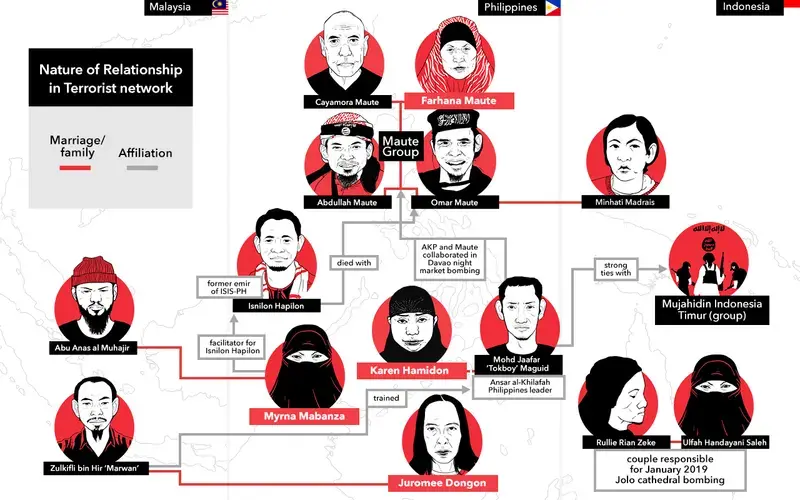 The fall of ISIS-held territories in the Middle East and the killing of ISIS leader Abu Bakr al-Baghdadi has created a need to decentralize operations to wilayats (or provinces) like the Philippines. The role of women will increase as there is a need to replenish male combatants who were either killed or arrested.
Women are likely to emerge in terror cells and move from the traditional role of moving resources and combatants to more active roles. Currently, the Philippine government is monitoring the activity of women in certain terror cells.
Sword of honor
Intelligence sources told Rappler they believe the suicide bombing attempt by a foreign woman in Indanan, Sulu in September was a way to encourage more jihadist women, including Filipino women, to be fighters, too.
"Suicide bombing is a display of commitment and if it is successful, they get more support from like-minded individuals," one of them explained.
The Indanan suicide bomber was recently identified as Reda Mohammad Mahmud.* The military said she was involved in the 2017 Palm Sunday church bombings in Egypt, which killed at least 43 people and wounded 126 others.
She was the wife of another foreign jihadist allied with ISIS Philippines leader Hatib Hajan Sawadjaan. She was supposedly also the stepmother of her husband's young children.
A female government intel specialist has been studying the role Filipino women play in jihad since Farhana and her daughter were arrested.
She goes to the south quite often as part of her work and most recently learned that the narrative used by recruiters to convince others to take up jihad is the act of "parang sabil" (sword of honor) or a valiant attempt to wage war and attack the enemy.
"Parang sabil" is the Tausug concept of defending one's freedom and liberty from colonizers. The connotation of "magsasabil" is the courage to defy and fight the enemy.
"Recruiters are actually having a difficult time convincing people to join so they resort to different narratives," the female intelligence specialist said.
Government intelligence sources, interviewed separately, repeated the same message: in these abnormal times for ISIS, with their goal of establishing a caliphate constantly being frustrated, jihadists are looking for men to recruit but the women are ready.
The participation of women in jihad will grow, the female intel specialist said, as extremists are rebuilding the group. Women are now well-represented in society and that will also be reflected in the jihadist movement.
"We have only begun to scratch the surface of the role of women in jihad," she said. 
– with reports from Michelle Abad/Rappler.com
RELATED ISSUES

Issue
Migration and Refugees
Migration and Refugees

Issue
Conflict and Peace Building
Conflict and Peace Building