Elisavet Ticona, right works with her crew of women construction workers repairing a sidewalk in La Paz. The women say construction work pays far better than domestic labor and gives them newfound confidence and independence. Image by Noah Friedman-Rudovsky. Bolivia, 2015.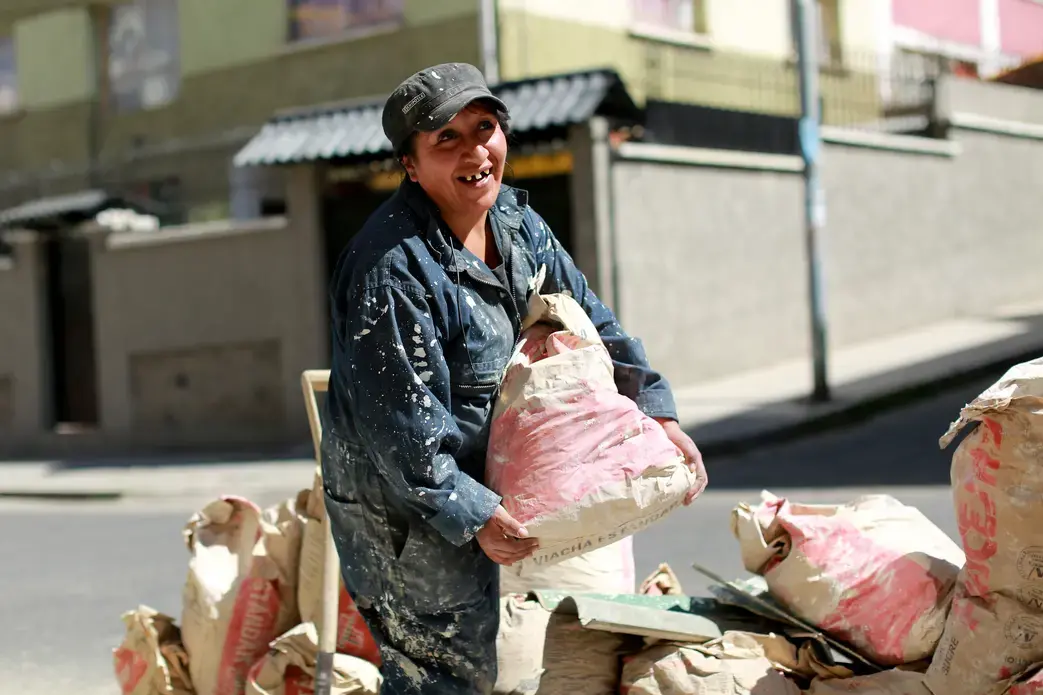 Nevy Chacon works with her crew of women construction workers repairing a sidewalk in La Paz. Image by Noah Friedman-Rudovsky. Bolivia, 2015.



In the high-altitude neighboring cities of La Paz and El Alto, there is demand for a skilled workforce that can plaster and paint the growing cities' seemingly endless construction projects. Demand, combined with the relatively high wages these jobs offer, meant that women were already making forays into this typically male field–albeit at the very lowest levels of the labor ladder. It's a situation that caught the attention of a local non-governmental organization called Red Hábitat.

Anelise Melendez Lundgren, who managed Red Habitat's Women Builders project, says there are jobs in both the flourishing private and public construction fields in Bolivia, but that the mining sector draws men away. "The construction boom found itself without much workforce, and that is the opportunity that women have to get into the construction sector." She points out that a woman working construction or painting can earn two, or even three times a housekeeper's daily wage of $10 to $12.

On a sunny afternoon, Sonia Quispe Ventura and two other women are tiling a mural in a neighborhood perched high on La Paz's dizzying slopes. Wearing coveralls and a broad hat, she carefully measures and cuts ceramic tiles.

"I love to work outside," says Quispe Ventura, who left behind her studies as a nurse's assistant for construction. She says that in construction, she was often expected to do the most menial jobs and experienced workers resisted teaching her new skills. "They would send me away to clean, like a maid." When the Mujeres Constructoras program offered her an opportunity to participate in workshops and gain expertise in work including painting, Quispe Ventura was eager.

Red Habitat began by cooperating with the government of La Paz and recruiting women from its municipal workforce, where they are a fairly common sight repairing roadways and parks across the city, and later expanded to include women working with private contractors, or who had never worked in construction at all. Between 2010 and 2014, Mujeres Constructoras, or Women Builders, offered training in construction and painting to 380 women and 23 men. Today, some of the program's graduates are forming their own guild.

Sonia Soria de Torrico, who specializes in painting, wishes that she had begun this work years ago, instead of spending most of her adult life as a vendor in a kiosk on a busy La Paz street. "I'm earning better now–and I regret that I discovered this work so late," she says. Soria de Torrico is 61 years old, but says working as a painter several days a week less exhausting than her former job.

Red Habitat's program, funded by international organizations, consisted of a month of general construction training and a month of specialized training in painting, a job many of the women gravitate toward. But the organization's baseline studies of women working in construction found people who need much more than technical training and better wages to increase their quality of life. That's why the course also included a month on leadership, self-esteem and rights–especially the right to a life free of violence in their own homes. "There are laws, but they're laws that people don't know, and a right that someone doesn't know about is a right that isn't exercised," Melendez Lundgren says.

These women face many challenges as they try to find steady work in construction, including making themselves known to clients, consolidating their organization, finding long-term contracts and gaining health insurance–problems that affects both men and women in the field–and battling wage inequality and sexism on the job. Soria de Torrico recounts her first day on the job, painting a large wall downtown. "There were some bricklayers across the street and they yelled 'How are you going to work? Women go home go home to wash clothes!' and 'You don't have money to buy milk? I'll give it to you.'" But as the days went on the mood changed, and when the job was finished "the men were veeery quiet," she says with a small smile.

For her part, Quispe Ventura is itching to finish the tiling work, which is a Red Hábitat sponsored job, and move on to a private painting contract she already has lined up. She says pushing forward and growing the Association of Women Builders, which today has around 35 members, is important to her, and to the thousands of other women who work in construction around the country. "I want to get our legal standing and for more women to join us, because many women are exploited by contractors," she says. Quispe Ventura also believes an organization exclusively devoted to women in construction is key, because men's work, and income, is widely regarded as more important than women's. "There is an organization that wants to join with us, but it's mixed with men and women. And who are they going to defend more? Obviously the men."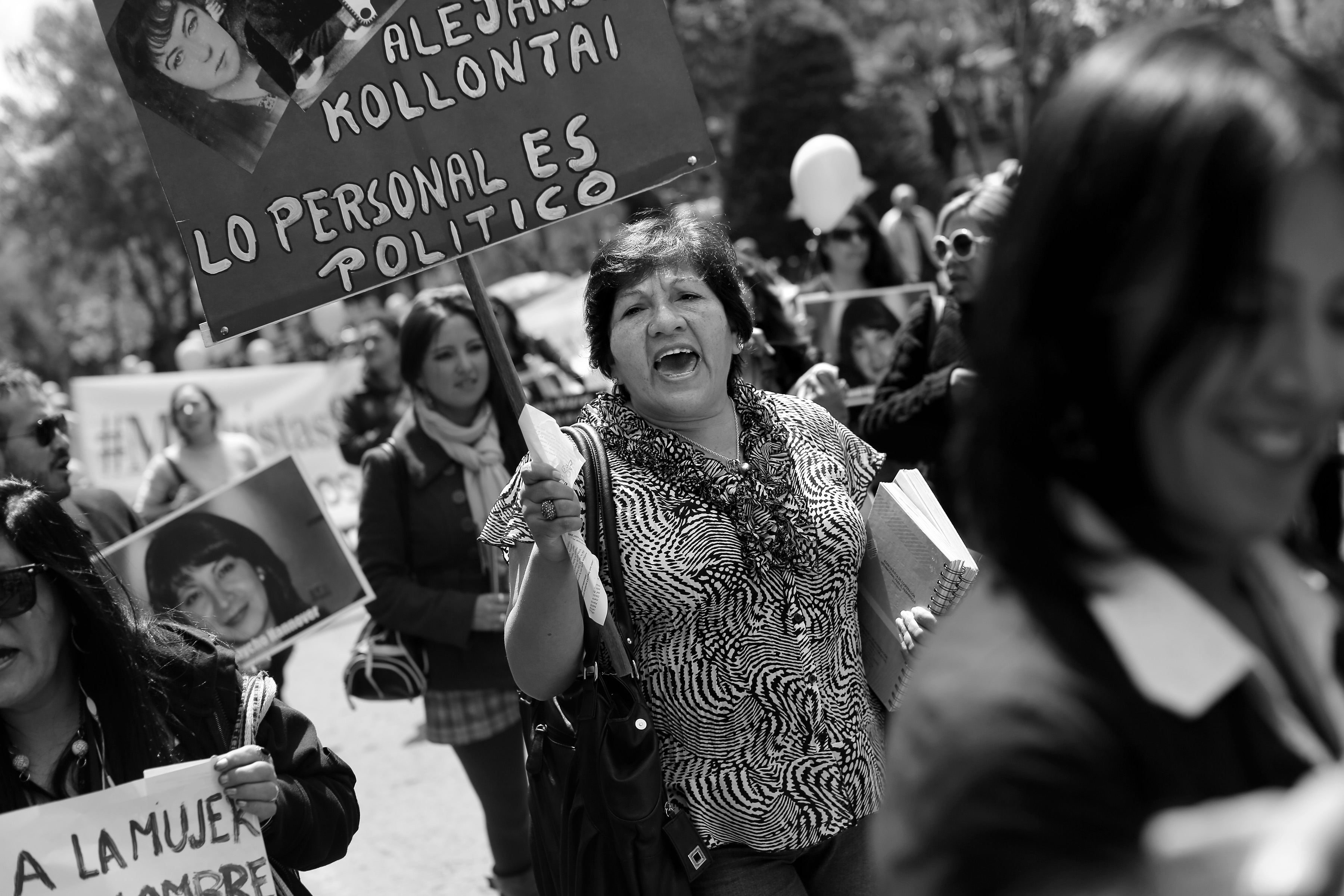 In this video, Sara Shahriari and Noah Friedman-Rudovsky, both freelancers who have lived for many...