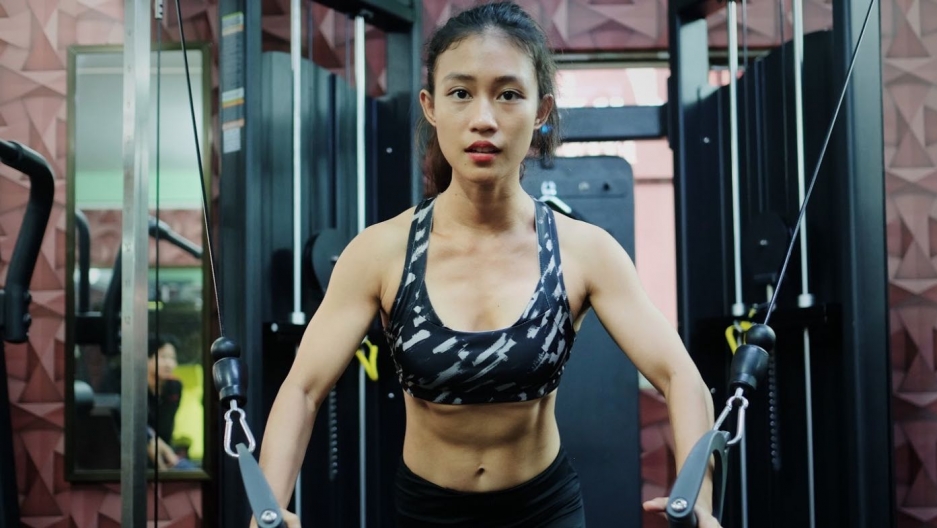 Facebook is Myanmar's main digital communication platform. In recent months, UN investigators, US senators and Myanmar civil society leaders have blamed Facebook for fueling ethnic tension and violence against Myanmar's Muslim minority, including the Rohingya. But many women in Myanmar are also using the platform to organize and amplify their voices as they call on parliament to issue harsher punishments for rapists.
That includes women like 21-year-old Thet Thet Wai. 
At a small gym in downtown Yangon on a summer day, Thet Wai bench pressed nearly double her body weight. Thet Wai is tiny, but she's strong. She wore a sports bra, spandex tights and bright red lipstick. She joined the gym about a year ago. "I'm going against what Myanmar culture tells me is the way a woman is supposed to be," Thet Wai said. 
A Myanmar woman, she says, is supposed to stay inside, keep her opinions to herself and wear modest clothes. But when Thet Wai is lifting weights, she feels strong.
"At home, I feel very oppressed as a woman, and sometimes I start to internalize and think that I'm weak. So, when I'm lifting weights, it's one of the only times I feel strong," said Thet Wai. 
A few months after she joined the gym, Thet Wai quit her public relations job to train full time for Myanmar's female bodybuilding competition. She walked away from that competition in third place, with a glass trophy. Afterward, she started getting a lot of attention from other Myanmar women on the internet. In a matter of weeks, Thet Wai got some 20,000 new followers on Facebook, where she started uploading videos of herself lifting, squatting and showing off her abs. (Thet Wai's personal page has since been deactivated.)
She wasn't just interested in her own posts, though. She started paying more attention to things others were posting. And what she saw was shocking: picture after picture of maimed and bloody women who were victims of assault.
A recent Myanmar government report says the number of rape cases in Myanmar increased by nearly 30 percent from 2016-2017. Hnin Yee Aye, a spokesperson for a group called the Women's Protection Organization blames a "lack of law enforcement, freeing rapists from prison after a short time and occasional government amnesties for rapists," she said in a Myanmar Times story. 
One day in February, Thet Wai checked her newsfeed to see countless posts about a young girl who was raped, beaten and found dead in a banana plantation outside Mandalay. This case became part of a national conversation about harsher punishments for rapists.
"From what I've seen, the majority of these people are repeat offenders, and they'll do it again. The reason I want to have the [death] penalty is not just to punish the person who's doing this crime, but to make sure other men who might do this are too scared to do it," she said. 
Thet Wai was horrified by the young victim of rape found in a banana plantation. She signed a petition circulating on Facebook calling on parliament to issue the death sentence for rapists.
"Even if someone [rapists] is given the maximum jail time, which is 20 years, they can come out and do more crime," Thet Wai said. "There isn't proper record-keeping, so you don't know when someone's a repeat offender. And there's no consequences in the future."
Thet Wai believes that the death penalty will at least stop rapists from attacking in the future. After she signed the petition, the Women's Protection Organization approached Thet Wai for a statement of support, and she became one of many internet celebrities — including models and singers — leading the campaign to advocate for the death sentence for rapists. (They called it the Punish Rapists With Death Campaign.) The death sentence exists under Myanmar law, but hasn't been imposed in decades. Campaign members organized online and then took to the streets of Yangon and Mandalay. 
Thet Wai says she became involved in the campaign because fear of sexual assault is part of her everyday life.
"This is something I see; this is something I live — it's something I see all around me. A lot of the people involved in this [campaign] are people in my life, people I know," she said. "They are all reacting to something that is part of their everyday lives."
Even when she posts her workout videos to her Facebook page, she gets comments from strangers that say things like: "If a woman is dressed like you, of course there's going to be raped in this country." 
Thet Wai says fear has been instilled in her through Myanmar culture.
"Before, when I was young, I would never dare to go outside with a short skirt because I was scared — this is something that's part of Myanmar culture, to teach girls to be scared," she said. "People talk about the way women dress but they don't talk about the way our culture is changing, and rape has increased over the years."
Evelyn Yu Yu Swe, 24, has a different opinion about the movement. Yu Yu Swe is a radio host, DJ and founder of a women's self-defense class.
"I'm really annoyed by the report that there are more rapes in Myanmar," she said. "The data shows that more women are reporting rapes. That may be because all the work that amazing women's organizations are doing to be like, 'Hey, be vocal — speak up about what's going on around you.'"
When a media organization asked her for a statement on the death-sentence-for-rapists movement, she said no. 
"I was not on board with that whole thing," Yu Yu Swe said. "There's not really a discussion about implications of implementing the death penalty."
For one, Yu Yu Swe says, it's not always the case that the attacker is a stranger. An attacker can be a family member, and the rape survivor might not want their attacker to get the death penalty. Besides, she says, Myanmar's judicial system is too corrupt to manage the death sentence for rapists. And, she says, the death sentence doesn't help anyone.
"It doesn't do anything for the person who has been raped or violated," she explained. 
Yu Yu Swe teaches a writing class in her free time. In a recent lesson on how to write proposals, Yu Yu Swe gave her students the option to work on any topic. The entire class wanted to write proposals for the death sentence for rapists. So, Yu Yu Swe decided to restructure the course. She had a class coming up on "writing with integrity and fact versus opinion," so she went with that curriculum instead. She taught her students about how to extrapolate information from data, and the class brainstormed a list of all the factors that could lead to rape.
The list included: "People not having good education, children not knowing how to talk about their bodies, adults not listening to children, not enough sex education, bad reporting for assault and violence, and not enough deterrence for violence," Yu Yu Swe said. "When we came to proposal writing, everyone decided we didn't have enough data to ask for [the] death penalty."
In the end, the class developed a proposal to canvass a low-income neighborhood to find out more about how and why rape happens.
"So, they decided to turn it into a fact-finding mission rather than a 'kill rapists' mission," Yu Yu Swe said. 
Khin Lay, director of the nongovernmental organization, Triangle Women Support Group, isn't sure if rapists should get the death sentence in Myanmar. But she says the death sentence campaign has put women's voices in the spotlight. When the campaign went viral, Lay scheduled a meeting with members of parliament and told them: "It is the right time for you to consider the people's voices. Politically, you should consider that [in the case of rape] because a lot of people are shouting for [the] death penalty."
They're shouting, Lay says, on Facebook.
"Facebook, you can use from anywhere," Lay said. "You are uneducated or educated, you use it, and we can raise our voice."
Lay says social media has united women across Myanmar's rural and urban divide to challenge how the government addresses rape and domestic violence.
"It's the right time for us to educate and agitate [the] community because more and more rape cases are happening on the ground very repeatedly." 
In response, she says, women are calling for more protection against rape.
"Now, people more and more realize that rape violence happens daily. They now realize it's an emergency issue. So, that's why they want to have a protective law."
In June, a motion on the death penalty for child rapists was brought to Myanmar's House of Representatives. It was a close call — over a third voted in favor of the motion, which will be kept on record as parliament draws up a separate bill to address violence against women and children.
Back at the gym, Thet Wai says she's proud of the campaign. "The thing that makes me the happiest is that we've all been able to work together to make this movement," Thet Wai said. 
Even though rapists in Myanmar won't be subject to the death penalty anytime soon, Myanmar's people and its government are talking about rape.
As for Thet Wai, she'll keep updating her Facebook status with selfies from the weight room as she trains to be Myanmar's strongest woman.
"I'm fighting not someone who will rape me, but I'm fighting the gender roles women are put into ... and I'm encouraging others to do this kind of thing so women aren't seen as weak victims and are less likely to have this kind of thing happen to them."
Additional reporting by Aye Min Thant.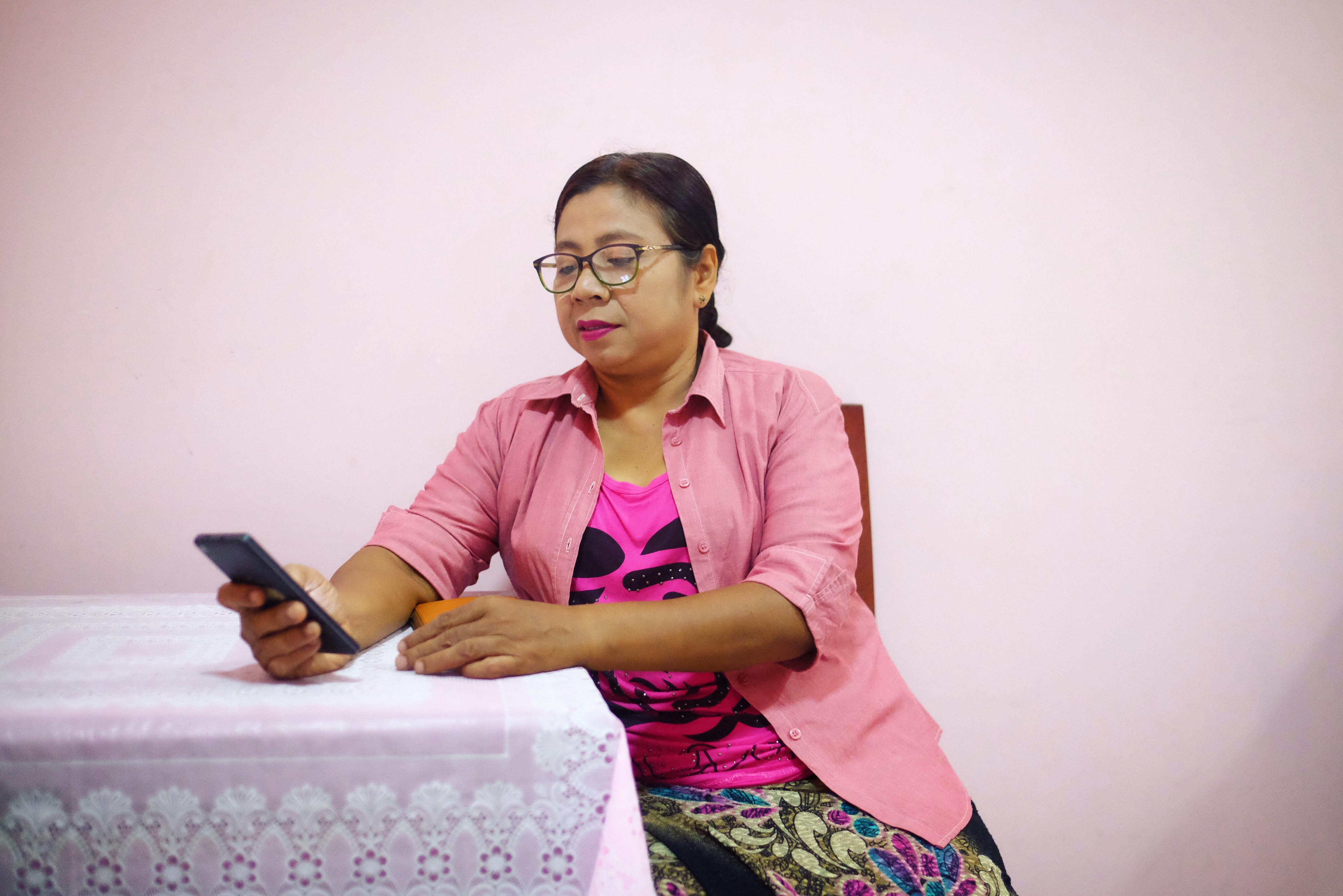 Facebook is the primary digital communication platform in Myanmar, and in 2018, there was a lot of...
RELATED ISSUES

Women

Issue
Migration and Refugees
Migration and Refugees