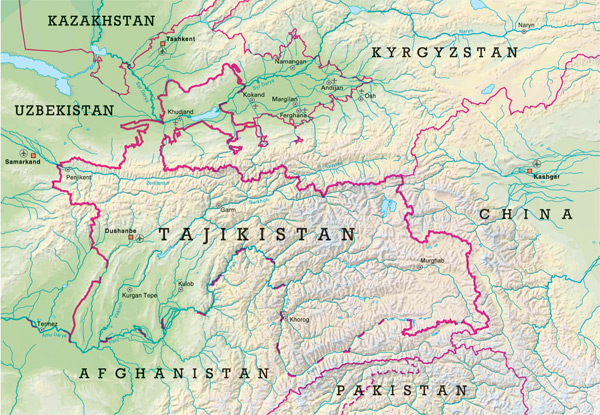 Since the start of the war in Afghanistan, the northern alpine border with Tajikistan has been the border that mattered least. In the last few weeks, however, Tajikistan has started to play a much bigger role. The end of Russia's building boom could cause more problems on Afghanistan's borders.

Taking a car from Dushanbe, Tajikistan's easy-going capital city, to the Afghanistan border requires special permission from government authorities. I didn't have it. Which was why I found myself near the border in a town called Vosay, drinking tea and cognac with a local man after we had aborted his harebrained plan to take his special "short cut" over the mountains to a string of border hamlets where the Tajik police rarely go.

A half-hour earlier, I had been in a car spinning dangerously over treacherous mountain overhangs on a soft road of loose gravel and dirt. The temperature dropped, and it had begun to drizzle. Cell phone coverage had evaporated, and goats kept getting in our way. At one point, the car skirted both edges of a precipitous drop, and in the fading light we were having more and more close calls on the switchback turns. The local man had gripped his hat and airily observed that the rain could turn the dry river bed crossing the road ahead into a swiftly moving creek. That's when I told the driver to turn around.

Back in Vosay, which had zero electricity and no clean water, women stood around large earthen kilns baking flat bread. Rail-thin children scrambled around ramshackle buildings. A passing sheepherder flung his stick at the legs of laggards in his flock. And at the mouth of the village, a large group of men just stood around.

At first sighting, Vosay appeared to be an innocuous pastoral tableau, impoverished and eerily quiet but a comforting destination after our attempt at the back road to Afghanistan. But for anyone concerned with regional stability and near-term developments in Afghanistan, the scene in Vosay is far more worrying than any broken-down mountain border road. It all starts with those idle men.

Since the start of the war in Afghanistan, the northern alpine border with Tajikistan has been the border that mattered least. True, little Tajikistan (its population is less than 7 million) became a significant conduit for drug trafficking, and a new U.S.-built bridge provides Afghanistan with an important northern trade link, but generally speaking, Tajikistan has been more like a bit player in the Afghanistan conflagration. The real drama was down the road over by the big outside actors in the conflict, Pakistan and Iran.

In the last few weeks, however, Tajikistan has started to play a much bigger role.

The trouble starts at Russian construction sites. Tajikistan derives a full half of its total GDP from remittances, according to International Monetary Fund statistics. Most of this money is earned by Tajik men working jobs generated by Russia's fevered building boom. But the financial crisis is poised to put an end to all that, potentially sending upward of 1 million young, restless, broke, and mostly male Tajiks home to a nation without electricity and bereft of jobs, impoverished and misgoverned, where half the population is under the age of 18. Like sharks returning to an irreparably damaged coral reef, these restive former migrants are heading to a country in an advanced stage of decay.

In every village, town, and city I visited in Tajikistan, there were men standing around. They had returned from Russia to visit their families and wait for the spring construction season to begin.

Many returnees told me they intend to go back to Russia—they had no alternative—but several already had disturbing stories. Among the dozen or so men in Vosay, half said they had been ripped off by their bosses in Russia. They received only a fraction of the money owed to them. One man said relatives had to send money for his train ticket home. Others said they had borrowed money from other Tajiks in Russia. "I would prefer to deal with the skinheads in Russia if I can make money," said a 30-year-old migrant squatting against a piece of junk sheet metal. "What can I do in Tajikistan?"

Criminal networks and radicalism could quickly fill the void. In a recently released report widely cited by Western diplomats here, the International Crisis Group concluded that Tajikistan is at risk for massive social unrest and is no longer a "bulwark against the spread of extremism and violence from Afghanistan." Rather, it is a potential source for both.

Alarming statistics back up the report. The Tajik government reports that this year crime is up 6.5 percent (and that's probably a low-ball estimate), while, according to the IMF, remittances are already down by 24 percent. Almost none of the Tajik countryside receives electricity or water in the winter, while three-quarters of rural residents live in what the International Crisis Group characterized as "abject poverty." The report adds, "[H]unger is now spreading to the cities." The country's two biggest industries, cotton and aluminum, have tanked.

Not that long ago, Central Asia—all those opaque countries ending in -stan that used to be part of the Soviet Union—was diplomatic flyover country. Other than as a source of oil and the site of the odd U.S. military base, Central Asia has not registered as a priority for the security mandarins commanding U.S. foreign policy. This may soon have to change. This mostly Muslim region, marinated in oil, uranium, and a full periodic table of other important commodities, is in a position to undermine the Obama administration's emphatic aspirations for success in Afghanistan. From failing banks in Kazakhstan to angry and unemployed men loitering in the shadows in Tajik villages, the financial crisis threatens to disrupt Central Asia's fragile political and social stability.

Having failed to reach Tajikistan's southern border with Afghanistan, I decided to check out the country's northern boundaries with Kyrgyzstan and Uzbekistan. I flew into a northern city called Khojand, which dates its municipal history to Alexander's conquest. On the sidewalks, dirty little Chinese-built gas generators powered the lights in stores and offices. And on the streets, cars imported from Eastern Europe and purchased with money earned in Russia maneuvered for advantage to cross intersections made chaotic by an absence of working traffic lights.

In the city, I hired a car and a translator and headed for the border with Kyrgyzstan. Again I met with total failure. This time, a couple of police officials stopped me. Citing a dormant uranium mine nearby and employing Central Asia's standard interrogation method (bad cop/worse cop), the police claimed I had entered a "closed" town. I was promptly relieved of my press credentials.

Utterly defeated, I returned to Khojand, where I had lunch with Aziz, a university student whose parents are both doctors in a village bordering Uzbekistan. Aziz wore a suit and carried an old-fashioned briefcase. He spoke English, so he was able to find a part-time job working as a security guard in a hotel.

I told Aziz about my problems reaching his country's borders.

"These borders are a problem for everybody. But I can tell you, they do not matter." Aziz picked at his grilled meat and continued. "On all sides of our borders you will find the same thing: angry people with nothing to do."
RELATED ISSUES