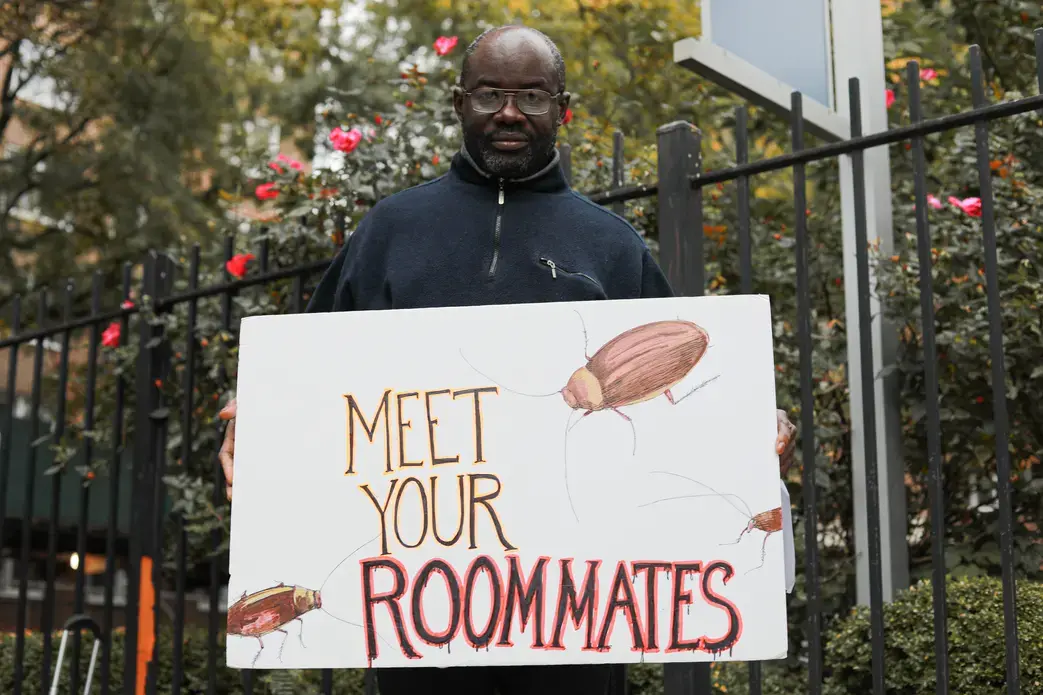 Mbaye Lo immigrated from Senegal to Harlem. He has been living in his Harlem with his wife and seven children for 18 years and is now facing eviction. He wants New York to cancel rent. Image by Kayla Hui. United States, 2020.


Within a day of being inaugurated as the 46th President of the United States, Joe Biden signed a myriad of executive orders in an effort to control the pandemic's impact on the economy. Among them was an extension of a national eviction moratorium, which was set to expire at the end of January 2021. Renters who have fallen behind now have until March to catch up or risk getting evicted.
Back in October 2020, organizers and protesters chanted "cancel rent" in the streets of Harlem. Among those protesters was Mbaye Lo, a former bag and watch salesman and immigrant from West Africa. For more than 18 years, Lo has lived in Harlem with his wife and seven children. Due to the pandemic, he lost his job and is no longer able to afford his rent. Now, in the second year of a global pandemic, Lo faces the threat of eviction.
The pandemic has had a devastating impact on immigrants across the United States especially in New York, the epicenter of the virus and home to over 3.1 million immigrants.
In March 2020, Governor Cuomo announced a state moratorium to ensure that no tenant was evicted during the public health crisis. A few months later, in June, Cuomo signed the Tenant Safe Harbor Act, a protection that prohibits courts from evicting residential tenants who experienced financial hardship for non-payment of rent during the COVID-19 period. However, eviction moratoriums have done little to alleviate rent burden.
"The New York government has done nothing to genuinely protect tenants," Ben Rosenfield, tenant organizer at MET Council on Housing says. "They'll say that they passed x or y legislation, but ultimately, they've been bandaids over serious wounds. Cuomo keeps kicking the can down the road and having these little extensions here and there. People have rent debt now in the tens of thousands."
Although the New York moratorium exists, immigrant tenants in New York are still receiving eviction notices. Garland, Lo's landlord, sent Lo the eviction notice and is suing for $9,354. "I feel very disgusted, very bad because I live in this apartment for almost 15 years," Lo says.
Michael Anderson, director of Housing Trust Fund Project of Community Change says that just because legislation is in place, doesn't mean that evictions won't happen. "When the first wave hit, the eviction stopped because the courts were closed. When the courts opened up, eviction started happening again," Anderson says.
If the eviction were to go through, Lo, his wife, and seven children would not have anywhere to go during the brutal winter months and would be left homeless.
Lo immigrated to Harlem from Senegal in January of 1986 in search of a better life. When he first came to the United States, he didn't get to choose his occupation because he didn't have his green card. "That time, no green card. No work," Lo says.
"If you don't make much money to start with, then your unemployment is a fraction of the low wages you are making. It's going to put you in an imbalance," Anderson says. "Immigrant families, people with unclear legal status are in a vulnerable part of the job market."
According to the Pew Research Center, the United States unemployment rate skyrocketed from 6.2 million in February to 20.5 million in May 2020, surpassing the unemployment rate of the Great Recession.
The Pew Research Center reported that among those most vulnerable were workers in the service sector. Foreign-born workers were more likely to be employed in service, construction, maintenance, and material moving occupations, according to the United States Department of Labor Bureau of Labor Statistics. The service sectors paid lower wages and, during the pandemic, services workers saw dents in their wallets with losses from $394 to $956 dollars a week in January 2020.
When work vanished, Lo relied on unemployment benefits to get him and his family through, receiving just $159 per week, all of which went to feeding his children. "No work. Before I get a little money from the government to feed my children. Now, they cut the thing," Lo shares. That's when Lo began to fall behind in rent.
"I never owe them the rent. I pay the rent all the way. Now the pandemic. I am five, six month behind," Lo says.
When Lo could no longer afford the rent, his landlord continued calling. "All the time, they call ask about money. Send me the money. I don't have any money to send now. Now they want to take me to court," Lo explains.
One of the barriers that immigrants face during the eviction process is language, especially when reading legal documents. Wolof is Lo's native language. When Lo received his eviction notice in English, he could read parts of the letter, but didn't understand it in its entirety. "I struggle with English. I can read a little bit, but don't know how to see it closer," Lo says. "I don't understand the eviction notice. I have my son read it."
Lo tried to demonstrate what he could read by reading a text message. Pronouncing each word, he read, "You. Give. Me. A. Call. Back."
In addition to language barriers, immigrants may have less familiarity with the legal culture, according to the Harvard Civil Rights Law Review. As a result, they have difficulty interpreting their eviction notices, understanding court documents, and representing themselves effectively throughout the eviction process.
"The big concern is that they will be subject to what we call extraducial evictions," Kate Walz, attorney at the National Housing Law Project, says. "Despite the eviction moratorium from the CDC, they may still threaten tenants who don't have full legal status in the United States."
The anti-immigrant rhetoric didn't help with the landlord's behavior to threaten tenants. "Under the Fair Housing Act, you cannot engage in national origin discrimination," Walz explains.
Despite this law, immigrants' nationality status put them at risk for deportation, so undocumented people may be less likely to fight eviction in order to avoid the legal system.
Because immigrants make less compared to non-foreign born people, they are not able to afford legal representation which disadvantages them in the courts. A study conducted by researchers at the University of California-Irvine found that legal representation helped tenants secure more favorable judgements and reduced court burden. Final judgements were made against only 22 percent of represented clients, compared to the 51 percent of tenants without legal representation.
Not only are immigrants vulnerable to eviction, they have to pay rent to live in buildings with abhorrent conditions. When Lo was protesting, he held a sign that said "meet your neighbors." The words were surrounded by images of cockroaches to show the living conditions that Harlem residents have to put up with.
"Building is a problem. Like lot of rat. Sometimes no hot water. Elevator no work. Building is very nasty," Lo shared. In addition, roughly 22 percent of New York immigrants live in overcrowded households, making it hard to practice social distancing. Lo, his wife, and seven children live in their three-bedroom apartment.
New York has been known as one of the most expensive cities in the world. In a Deutsche Bank report, New York ranked as the 3rd most expensive city in the world with the average two-bedroom costing $2,909 per month. Rent costs have risen over the years. Lo used to pay $1,100 for his three-bedroom apartment. As rent increased $75 a year, Lo found himself paying $1,830 monthly after a few years.
When rent prices soar, housing becomes a commodity, only accessible to those who can pay the exorbitant prices. "Housing should be a human right. It's taken the pandemic to really put more spotlight because it existed before," Rosenfield explains.
New York's moratorium is set to expire on May 1, 2021, making immigrant tenants fearful of the future. With no income coming in, Lo and other tenants across New York are asking for the state to cancel rent.
While the New York moratorium is supposed to prevent evictions, it doesn't protect renters who have been unemployed for months. Lo, who has been unemployed since the start of the pandemic, would owe thousands in back rent to his landlord. "We don't want people in debt for years. And so, we're not just concerned about the immediate future, there needs to be a solution that is forward looking," Rosenfield says.
One major argument that people have about canceling rent is that it will keep landlords in a vulnerable position because mortgages still need to be paid.
"Sometimes you'll hear that things aren't fair, but things haven't been fair for decades. It's unfair against tenants," Rosenfield says. "Canceling rent is by far the best way to put that concern to rest, where people don't have to worry."
Anderson says that massive government intervention is needed. "I think we need to experiment with direct cash payments to people who aren't working or have had work reduced for the length of duration," Anderson suggests. "The reason I'm so in favor of putting cash in people's hands as a way to deal with this problem, landlords do need to be paid because they all have mortgages. There are smaller mom and pop landlords who are at risk of having their families destabilized because of the lack of income coming in."
In order to fund cash payments, Anderson suggests a reallocation of funds. "In Portland [Oregon], 56 percent of their arrests in the last year were for people experiencing homelessness. And we're paying the city of Portland to have police harass, criminalize them as opposed to redirecting money to house and stabilize them."
Research shows that homelessness is associated with health inequities and drives poorer health outcomes. People experiencing homelessness are less likely to access primary care services and have an increased risk of getting diagnosed later for diseases. These issues could become a reality if the moratorium ends on May 1, 2021.
If cities like New York do not help pay to help immigrants with housing now, payment will be due decades to come, as stated by Anderson. "We're talking about all sorts of people who are going to end up homeless or already have," Anderson explains. "We need a system that doesn't put people who are already vulnerable in something that's only going to compound and reverberates throughout the community."
As the rent that will be due accumulates, immigrants will face an uphill battle. Although Lo doesn't know what the future has in store, he looks to God for hope that he and his family can remain housed. "God is good. Hope they fix the building nice. Hope everybody live good." Lo's fervent wish is that he will have a place to call home when May comes.