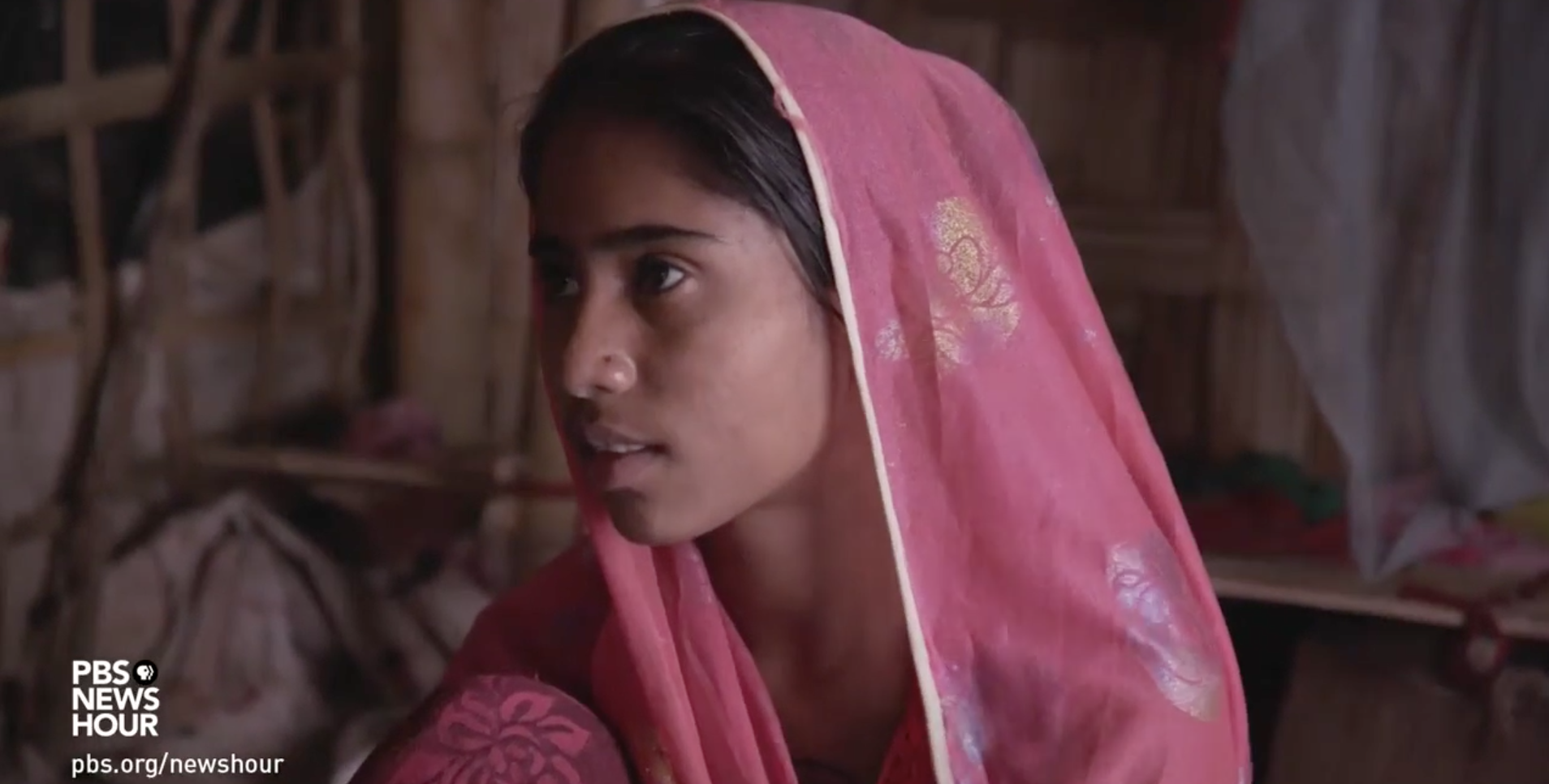 Read the Full Transcript
Judy Woodruff:
Now we return to the Rohingya crisis.
Last night, we explored the plight of hundreds of thousands of refugees trying to return home to Myanmar from camps in neighboring Bangladesh. More than half of those refugees are female, and among that population, young women and girls are often forced into marriage to much older men.
Tonight, again in partnership with the Pulitzer Center on Crisis Reporting, special correspondent Tania Rashid and videographer Phillip Caller report.
Tania Rashid:
For the Rohingya women who've fled terror in Myanmar, there's a brief moment of celebration. They live in the squalor of a refugee camp, without sanitation or enough to eat.
The majority of refugees here are women and girls. And for girls like 13-year-old Noorkais, all too often, they are married off young. Child marriage is common among the Rohingya, but insecurity and poverty is pushing many families to marry off their daughters even earlier.
The women dance, because soon young Noorkais will wed a man she has never met before.
Noorkais (through translator):
If I don't get married now, I will be too old. They will call me a useless, bad woman. And the community will think I'm sleeping with other men. People will tease me and talk bad things about me, so my mother is marrying me off quickly and young.
Tania Rashid:
She fled Myanmar six months ago after soldiers attacked her house in Rakhine State.
Noorkais (through translator):
It was the middle of the night, and we were fast asleep at home. All of a sudden, we heard that Myanmar troops had surrounded our neighborhood. They started shooting at us with their guns and set my house on fire. We ran away as fast as we could into the jungle.
We didn't have any food or water with us and walked for 15 days through the jungle to get to Bangladesh.
Tania Rashid:
Despite the horrors she witnessed, she reflects on happier times back home.
Noorkais (through translator):
When I was younger, I used to go to school. I learned to read and write a bit of Burmese and Arabic. I enjoyed playing jump rope with my friends.
Tania Rashid:
Noorkais' mom, Hasina, says it's tradition to marry very young. She was married at 12 and is passing the rite of passage down to her daughter.
Hasina (through translator):
Islamic law says it's a sin to send the girls to school, and the tradition says it's compulsory to marry our daughters off between 12 to 14.
Tania Rashid:
But that is a practice that must stop, says Rohingya Islamic teacher Abul Hashem. He runs a madrasa in the camp which teaches both boys and girls.
Abul Hashem (through translator):
Girls that get married at 12 years old end up having very bad lives. Before they get married, they need a good education and understanding of the Koran.
A girl should get married when she is 18, when she's an adult. These Rohingya Muslims who marry their daughters underage are damaging the reputation of our community.
Tania Rashid:
Girls are often forced into marriage because their families can't afford to feed them. And by marrying them off, they create new households to secure more food aid handouts.
Rehana was married at 12 to a 30-year-old man who promised to support her and her four sisters after her father fell ill and was unable to work. But a few weeks after the wedding, she discovered the truth.
Rehana (through translator):
My husband lied to me. He said he was from Myanmar, but, actually, he was from Bangladesh and was already married to another woman with two kids. One morning, he went to work as usual and didn't come back. He's been gone now for six months and hasn't contacted me once. I think he's gone back to his other wife.
Tania Rashid:
Rehana is six months pregnant with his child. It is illegal for Bangladeshi men to marry Rohingya refugee women, but there is little enforcement in the camps.
Rehana (through translator):
I'm always in pain. My whole body aches and I find it hard to move. I chose not to have an abortion because I want my child to have a good life. I will beg for money if I have to. But I still hope my husband will return someday, so we can build our own family.
Tania Rashid:
On the morning of Noorkais' wedding, the family prepares food for the guests.
Her mom, Hasina, is cooking curry. She's pleased to marry her daughter off. It's one less mouth to feed. But Noorkais is anxious. She sits alone, away from the family. These are her last moments as a child.
Her sister, who is 11, plays with her phone in the next room, unaware that she is next in line to be married. Meanwhile, the groom, 18-year-old Habib, is looking forward to trying on his new clothes bought by the bride's family. Most Rohingya don't have the money to buy new clothes.
The relatives watch curiously as he gets dressed. It's a rare sight.
Habib says he is excited to marry a young girl.
Habib (through translator):
It's much better to marry a girl when she's really young.
Tania Rashid:
He plans on having children with Noorkais as soon as possible.
Habib (through translator):
A woman's role is to cook and clean, to look after the children and read the Koran. After marriage, I will work and do my best to provide for her. And if Allah wants me to be a father, it will happen. After marriage, I will find more peace.
Tania Rashid:
Noorkais' aunts dress her up in her wedding clothes. She puts on a taman (ph), a traditionally patterned skirt, and a scarf.
This is the first time Noorkais has put makeup on, and she grimaces as her aunt paints her face. The last step is the foundation stripes across her face, the symbol of a Rohingya bride.
Her look is complete. Outside, the festivities continue. Her uncle is dancing to Rohingya songs to celebrate the wedding, while Habib selects the music on his phone.
The imam arrives, but the bride is nowhere to be found. Her mom goes to finds her. Noorkais is hiding in another room.
Hasina (through translator):
Hey, get up. You need to get in there.
Tania Rashid:
She takes her into the main hut for the wedding. In traditional Rohingya Muslim weddings, the men and women sit separately.
Noorkais hangs her head. She told me she was resigned to her fate. Habib also appears anxious. The imam recites a few verses from the Koran. He asks the couple if they agree to be married.
Habib (through translator):
Yes, I accept.
Tania Rashid:
Habib agrees, but Noorkais doesn't utter a word.
Despite not agreeing, the marriage is officiated. Her opinion doesn't matter. Her aunt insists that she go and sit with her husband. But Noorkais will not move.
Her grandmother finally pushes her into the room to meet her new husband for the first time. But Noorkais could only stay there for a moment, and runs away.
The reality of being a wife has dawned on her. She's no longer a child, but a married woman.
For the "PBS NewsHour," I'm Tania Rashid from the Kutupalong camp in Bangladesh.
Judy Woodruff:
Tomorrow night, in the final part of the series, Tania Rashid takes us inside the disturbing world of human trafficking in Bangladesh.
RELATED ISSUES

Issue
Migration and Refugees
Migration and Refugees

Women

Issue
Conflict and Peace Building
Conflict and Peace Building