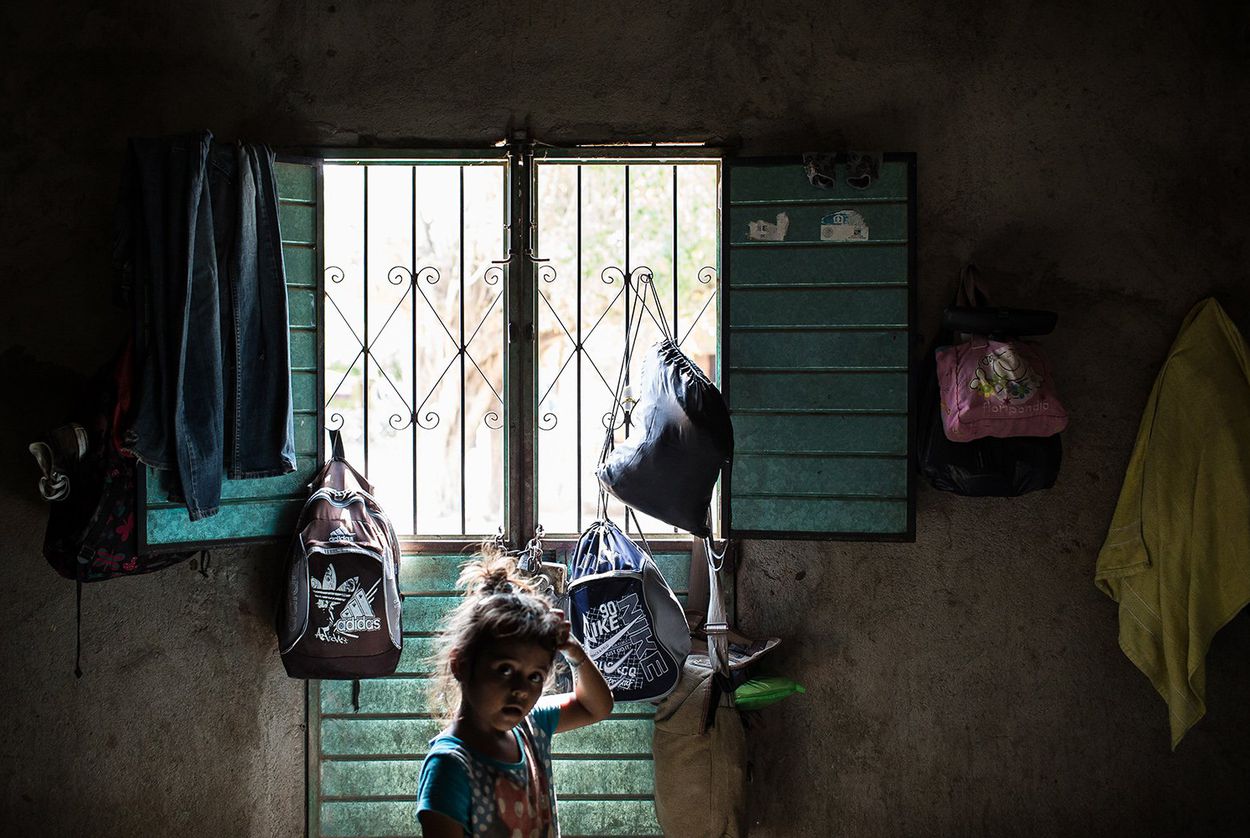 For nearly all of its history, the United States has welcomed the world's most vulnerable: men, women and children fleeing violence, persecution and death in their home countries.
But under President Donald Trump, immigration lawyers and historians say, the legal path to safety in this country is being systematically narrowed, a process that started long before family separations drew international attention to the nation's southern border.
As federal officials clamp down on asylum, citing a need to root out abuse — and as Trump himself complains of drawn-out court proceedings that grant legal rights to migrants — concerns are mounting that the administration is undermining the country's long-standing commitment to sheltering the helpless.
Immigration officials have set up de facto blockades at government-sanctioned ports of entry, where asylum-seekers attempting to enter the country the "right" way have been delayed or turned away. Women seeking refuge from domestic abuse are reportedly being denied asylum because the U.S. attorney general decided they rarely qualify for safe harbor. A federal "zero tolerance" policy mandates criminal prosecution even for those seeking asylum — a perfectly legal process. And some asylum-seekers have been detained for so long awaiting court hearings that they're giving up on their claims altogether.
Those changes "all add up together to a major effort to close down the asylum system," said Denise Gilman, director of the immigration clinic at the University of Texas at Austin. "... And I think the result will be that many legitimate asylum-seekers — people who are in grave danger — will in fact be returned to their home countries and risk beating, torture or death."
U.S. Attorney General Jeff Sessions has said the administration's efforts target widespread abuse of the asylum process, citing the nearly tenfold increase in the number of U.S. asylum claims made by apprehended border crossers in the last decade — from less than 13,000 applications in the 2010 federal fiscal year to more than 119,000 last fiscal year. He's also bemoaned an increase in migrants failing to show up to their asylum hearings after being released into the country; deportation orders in such cases doubled between 2012 and 2017.
"The system is being gamed," Sessions said in an October speech. "The [asylum] process was intended to be a lifeline for persons facing serious persecution. But it has become an easy ticket to illegal entry into the United States."
But to immigration lawyers and advocates, the rising number of asylum claims is far from proof of abuse. Instead, it's an indication that the process is working.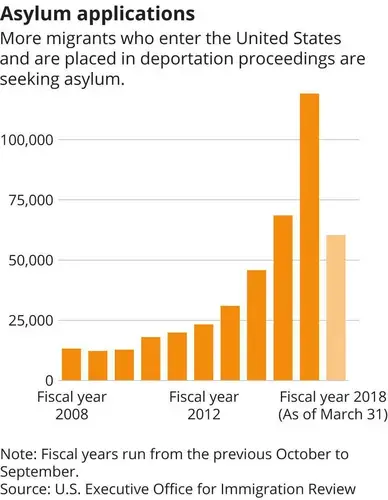 Among the influx of families seeking asylum are thousands of Central Americans from the violence-ridden countries of El Salvador, Guatemala and Honduras. They are fathers, mothers and children who are desperate to escape the bloody gang conflict that's swallowed up their streets and the death sentences many would face if they stayed.
"If the numbers get too big ... they start saying, 'Well, this isn't legitimate. These aren't real asylum-seekers,'" said Michelle Brané, director of the migrant rights and justice program for the Women's Refugee Commission, a national advocacy group. "Anytime you have an actual serious conflict or crisis, the numbers are going to be high. Those high numbers are exactly what that process was created to address."
The asylum process was in the Trump administration's crosshairs months before millions of international eyes were trained on the family separations at the U.S.-Mexico border. Since the early days of his presidency, immigrant rights advocates say, Trump has been working to steadily limit a well-established, legal path to refuge in the United States.
Take it from his own tweets: Trump has suggested migrants do not deserve due process under U.S. laws.
On June 24: "When somebody comes in, we must immediately, with no Judges or Court Cases, bring them back from where they came."
On June 30: "When people come into our Country illegally, we must IMMEDIATELY escort them back out without going through years of legal maneuvering."
And on July 5: "When people, with or without children, enter our Country, they must be told to leave without our Country being forced to endure a long and costly trial. Tell the people 'OUT,' and they must leave, just as they would if they were standing on your front lawn."
"Credible fear"
For more than a century, the United States has offered some form of refuge to individuals facing persecution in their home countries. But the current procedure for seeking asylum wasn't codified until four decades ago, when Congress passed the Refugee Act of 1980. That law ensures migrants can make their case by demonstrating persecution or fear of persecution on the basis of race, religion, nationality, membership in a particular social group or political opinion.
The asylum process involves a maze of detention centers and courtrooms:
But since Trump took office in January 2017, that process has begun to devolve.
It started at the bridges. Federal officials instructed asylum-seekers to cross the border at those sanctioned ports of entry, telling them if they did it the "right" way, they wouldn't be separated from their children the way other migrants were after illegal border crossings. But recently, families who went this route have been forced to wait for days, sometimes in inclement weather, often sleeping on sheets of cardboard. Border Patrol agents reportedly told them there was no room on the other side. And in at least some cases, families that managed to make it across were still split up.
When asked about these discrepancies, a Customs and Border Protection spokesman was brief: "The number of inadmissible individuals we are able to process in a day varies."
The situation is even worse for migrants who cross the border illegally between ports of entry. Under the "zero tolerance" policy, everyone who crosses illegally is to be criminally charged, even if they're coming to seek asylum. Those criminal charges delay the asylum process, meaning migrants spend longer stretches in detention contending with their criminal charges before advancing to the civil asylum system. Until the Trump administration's recent decision to stop splitting up families, "zero tolerance" also meant the separation of border-crossing parents from their children.
By law, once asylum-seekers are across the border, they're entitled to a timely interview to determine whether they have a credible fear of persecution in their home countries. But that process has also been corrupted, according to lawyers who work with asylum-seekers.
Migrants who enter the country illegally almost immediately face deportation proceedings. If they can't quickly articulate their credible fear — especially tricky for Central American migrants who only speak indigenous languages — they are sometimes deported without review.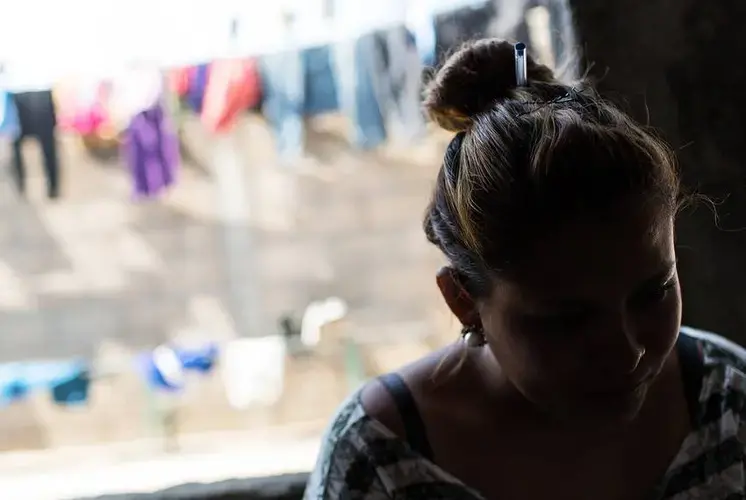 And migrants who do make it to their "credible fear" interview are often unable to speak to legal counsel beforehand, greatly reducing their chances of demonstrating a credible asylum claim.
When migrants do make it to the "credible fear" interview, most are successful. In the last full fiscal year of Obama's presidency, nearly 80 percent of migrants passed that initial screening. Under the Trump administration, the pass rate hovered at around 76 percent through January 2018, according to the most recent data available.
But attorneys and advocates working in immigration detention facilities believe that pass rate has dropped fast. Some say they've observed increased denial rates among separated families. Others point to a recent Sessions decision that has made it far tougher for victims of domestic or gang violence to seek refuge in the United States.
Last month, the attorney general ruled that "the mere fact that a country may have problems effectively policing certain crimes — such as domestic violence or gang violence — or that certain populations are more likely to be victims of crime, cannot itself establish an asylum claim."
Katy Murdza, who works with asylum-seekers in Texas, said she has already seen that June 11 ruling affect her clients' chances for asylum. Murdza said in the few weeks since June 11, 25 of her organization's clients have failed to demonstrate "credible fear" in their initial interviews — nearly half the number of rejections the organization's clients saw in the previous six months combined.
"We've definitely had waves of negatives before, but it is significant to see this many," she said.
The domestic and gang violence edict isn't the Trump administration's only recent blow to asylum-seekers:
In April, Sessions announced new quotas for immigration judges, requiring them to complete 700 cases each year to earn a satisfactory job rating. That mandate, which takes effect Oct. 1, is meant to reduce the backlog of pending immigration cases that have dragged the system to a near halt, Sessions said. But immigration judges panned the plan, saying it would bring the court's judgment into question and increase appeals — adding to the backlog instead of reducing it.
In May, Sessions barred immigration judges from the previously common practice of taking asylum cases off their calendars and putting them on hold, often while awaiting other legal proceedings. Judges said the move would "overwhelm the system" and dramatically increase the case backlog.
"They have a right"
Family separations have also been leveraged to deter migrant families from seeking asylum, advocates say.
Between "zero tolerance" criminal proceedings and the recently reversed policy detaining parents apart from their kids, asylum-seekers have been "abandoning or been coerced into abandoning their claims" in hopes of being reunited with their children, said Dree Collopy, who chairs a committee of the American Immigration Lawyers Association focused on asylum-seekers.
"We have heard that in order to accept a plea deal, some people are being told they have to waive their right to seek asylum," Collopy said. "That's especially troubling given there's a strong legal argument to support that these people are not illegally crossing the border. ... They have a right to seek asylum."
But even immigrants who came to the United States without their families have been deterred from the asylum process by what some describe as interminable wait times before court proceedings begin.
Historically, asylum-seekers who demonstrated a credible fear of persecution in their home countries were typically released from detention as their cases wound through the system. Under Trump, there is evidence many of those individuals are being detained instead — for increasingly long stretches of time.
Martin Mendez Pineda, a journalist who fled Mexico fearing for his life after exposing corruption in his reporting, gave up on his own asylum case and returned to Mexico after being held for three months.
And the ACLU successfully claimed in a lawsuit this year that five Immigration and Customs Enforcement field offices, including one in El Paso, unlawfully detained asylum-seekers for months or even years after they demonstrated a credible fear.
"The administration is wielding indefinite detention as a weapon to deter future asylum-seekers, which is both cruel and unconstitutional," Michael Tan, an attorney with the ACLU's Immigrants' Rights Project, said in a statement.
That tool seems to have been taken out of the box. On July 2, a federal judge in Washington, D.C., ruled that the U.S. government may not arbitrarily detain migrants seeking asylum. As part of that ruling, the government has been ordered to individually review more than 1,000 cases in which asylum-seekers have been denied the right to leave detention pending their court proceedings.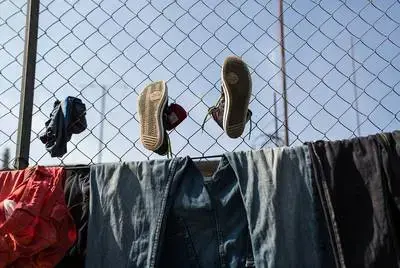 The road ahead
Meanwhile, there are efforts in Congress to change asylum in a way that advocates fear could make it even worse.
A long-awaited Republican compromise bill on immigration has yet to pass. But one option on the table, a measure introduced by U.S. Sen. Ted Cruz, R-Texas, would expedite the asylum process to 14 days, which he says would shrink the backlog of cases without compromising migrants' due process.
Asylum cases that make it to a court hearing generally take years to complete. As of May, more than 700,000 cases were open in U.S. immigration courts; they had been pending for an average of nearly two years. In Texas, where there are more than 100,000 open cases, that average extends another six months.
Immigration lawyers say the shortened timeline could be devastating for migrants, putting an even tighter squeeze on a system that will be unduly rushed thanks to Sessions' new case quotas for judges. Asylum cases take time to do right, they say, from poring over thousands of pages of documents to gathering evidence to conducting interviews.
Some Republican leaders want to deploy more immigration judges to ease that backlog. But Trump has resisted those efforts, arguing, "We have to have a real border, not judges."
There have also been reports that the Trump administration plans to go even further, implementing new rules that would bar anyone who entered the country illegally from winning asylum.
Advocates for asylum-seekers at the border say a long-difficult process has become increasingly unjust. And the Trump administration shows no signs of changing its tune.
While the president can't unilaterally do away with asylum, he has great power to erode it.
"The opportunity to seek protection in this country is becoming less and less realistic," Collopy said. "We're turning our backs on who we are as a country."
RELATED ISSUES

Women

Issue
Migration and Refugees
Migration and Refugees