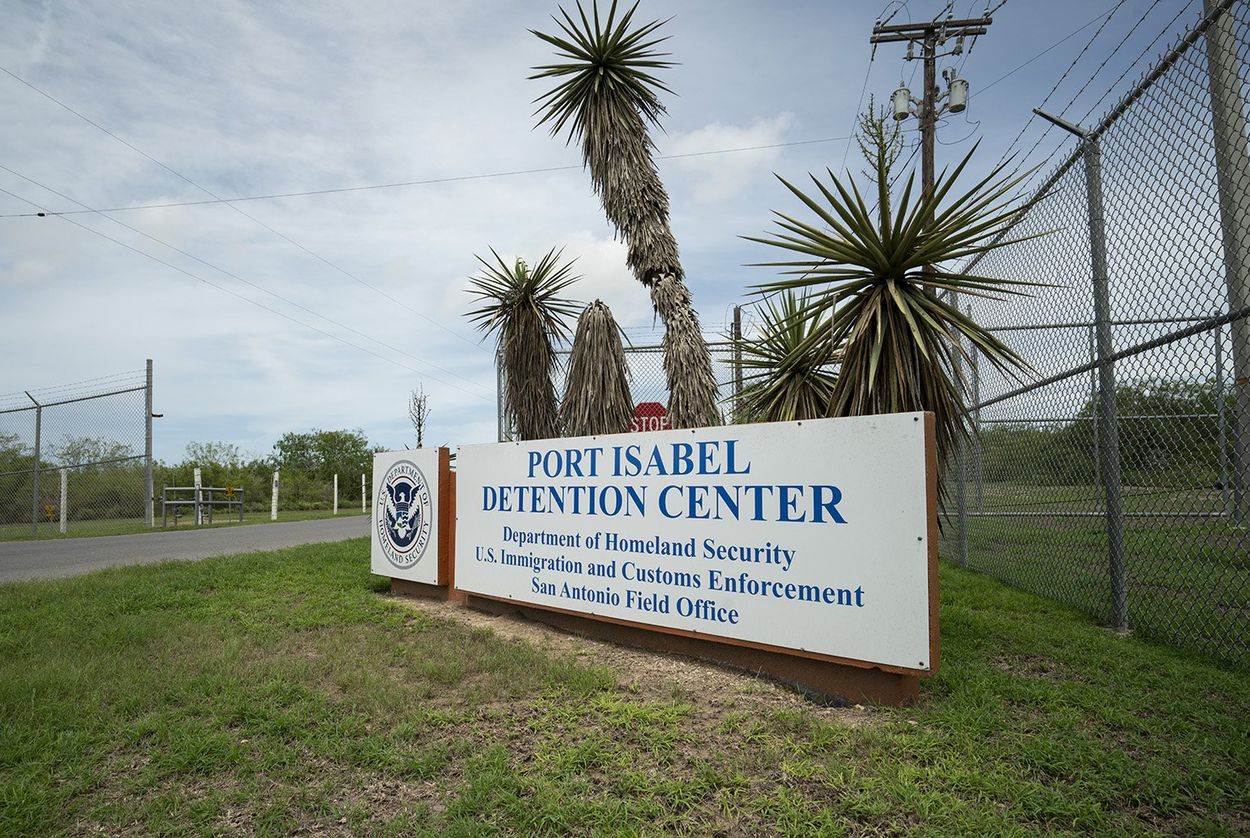 PORT ISABEL—When Mike Seifert heard that the federal government had chosen an immigration detention center in this South Texas town as the site to reunify children with their parents after weeks or months apart, his immediate thought was: "Sorry, this place fails."
The Port Isabel Service Detention Center, which occupies 375 acres in a remote part of South Texas just a few miles from the Gulf of Mexico, has an operational capacity of 1,175 adult detainees. And even though a large portion of the detainees held there are awaiting decisions on their asylum requests and have never been charged with a crime, it looks and operates like a prison, according to Seifert, a strategist for the American Civil Liberties Union.
"You're gonna see a bunch of people in prison jumpsuits" at the facility, he said. "There's no way this thing can be described as child friendly."
Lawmakers and others who visited the detention center over the weekend had similar concerns. "There are guard towers, there are double rows of razor wire, there are … very high fences," said Elizabeth Esty, a Democratic congresswoman from Connecticut who went to Port Isabel with a group of other lawmakers on Saturday. "So make no mistake … it is a criminal detention facility."
Yet on Saturday night, U.S. Immigration and Customs Enforcement announced the Port Isabel detention center "as the primary family reunification and removal center for adults in their custody."
By Tuesday afternoon, after getting questions from reporters about how family reunifications would occur there, ICE changed that description — and appeared to change plans. Its official statement on family reunification now says that the detention center is "the primary facility to house alien parents or legal guardians going through the removal process. No children will be housed at the facility."
A spokesman later said that statement can be interpreted to mean that children will not be there "even for short periods," but did not answer further questions. ICE did not respond to a list of questions sent by The Texas Tribune on Tuesday. 
The statement went on to say, "PIDC is intended to serve the unique needs of detained parents and legal guardians of minors in [government] custody by helping to facilitate communication with their children and to help parents make informed decisions about their child."
"El Corralón"
The detention center is off a rural road dotted with small, wood-framed houses, many with horses and roosters in their yards. A long driveway lined with palm trees leads to a guard station at the compound's entrance, where a reporter was turned away on Monday.
Government records show that private companies have handled much of the detention center's operations in the past, but it's not clear if that is still the case.
In recent years, the Port Isabel facility has been the last stop before deportation for thousands of undocumented immigrants. From October 2014 to September 2015, nearly 37,000 people were detained in Port Isabel for some period of time, and 69 percent of them were later deported, according to data collected by Syracuse University.
Reports of problems with medical care, lack of access to lawyers and overall awful living conditions at the facility go back decades.
By the late 1980s, the former naval base had become a major part of what was known as the "South Texas Detention Project," according to the 1996 book "Other People's Blood." The book's author, Robert S. Kahn, worked as a legal assistant in four immigration detention facilities around that time, including Port Isabel.
Asylum claims in Texas were skyrocketing, and president-elect George H.W. Bush had decided to make some changes to Ronald Reagan's immigration policies — particularly for people fleeing civil wars in El Salvador and Guatemala.
Under the new rules, implemented by late 1988, asylum applicants from those countries could no longer get work permits or travel in the United States, as the Reagan administration had briefly allowed them to do. They would have to stay in the district where they sought asylum and if their claim was denied, they'd be locked up.
The facility at Port Isabel — which soon came to be known as "El Corralón," or "the big corral" — was the natural choice for a detention center, and the government quickly made plans to expand its capacity from 425 to several thousand. The compound sat behind a long driveway and "chain-link fence topped with television cameras and concertina wire," Kahn wrote.
By March 1989, 2,000 people were detained in El Corralón, Kahn reported. The plan was to interview 400 applicants a day and decide 95 percent of their cases within three hours.
Kahn wrote that beatings, sexual assaults, theft of detainees' property and inadequate medical care were widespread issues at El Corralón. He also said that detainees were often dissuaded from seeking legal help and told that if they wanted asylum, they might be locked up for a year or longer. Lunch for detainees was beans, bread and Kool-Aid.
In early 2010, detainees at the Port Isabel facility went on staggered hunger strikes for two months to protest what they claimed was a lack of medical care and legal help. That same year, a study released by the advocacy group Texas Appleseed alleged serious problems with mental health care in Port Isabel and other detention centers, and a former security guard published a memoir that detailed still more abuses, including guards raping female detainees.
"People Would Be Outraged"
Jennifer Harbury, an immigration lawyer based in the Rio Grande Valley who has clients in the detention center, said detainees are not allowed to touch each other because some of them have been charged with violent crimes. There are no private bathrooms, or even dividers between individual toilets, she said, and meals are often baloney and cheese sandwiches with fruit punch.
Another client got an infection in her leg that went untreated for so long that she eventually needed three surgeries, Harbury said.
Communication with the outside world — something that will be crucial for parents at Port Isabel who are trying to find their children — is also a big problem, Harbury said. If someone calls a relative in their home country, the person answering hears a recording that says, "'This is a call from a federal detention center. All calls will be monitored.' And people hang up," Harbury said. The library does not offer access to the internet, she added.
U.S. Rep. Diana DeGette, a Democrat from Colorado, said she spent about half an hour talking to 45 women at the facility on Saturday.
"Everyone was saying that they didn't know how they could find their children," she said. The women had been given a phone number to call, but they had to pay to make the call and most had no money. Those who did said "they couldn't get an answer," DeGette said.
"I hope they let the media in [to Port Isabel]," said Esty, the Connecticut congresswoman who visited the facility on Saturday along with DeGette. "Because I will tell you: If the American people saw what we saw, people would be outraged."
Brandon Formby and Claire Parker contributed to this story.
RELATED ISSUES