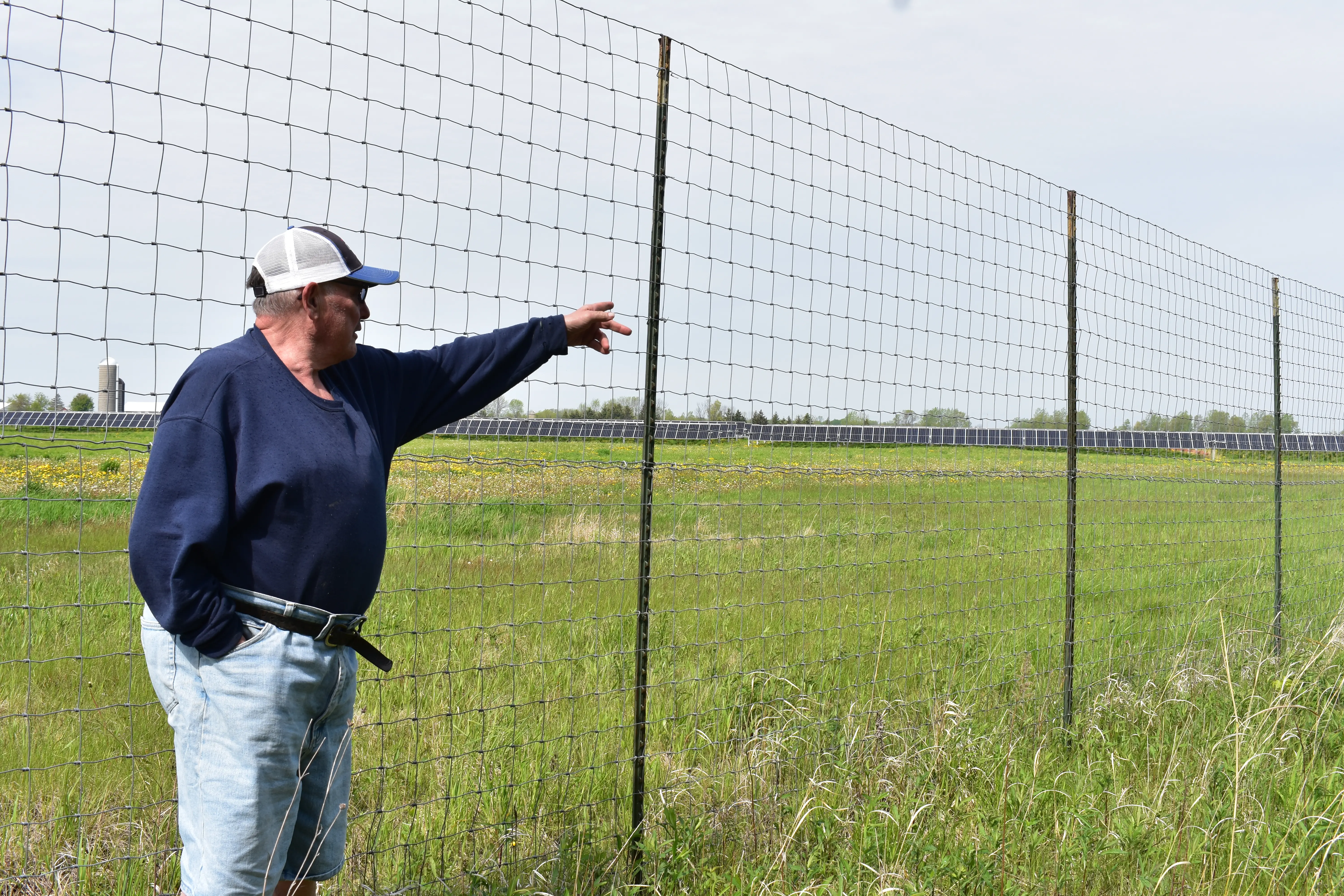 For decades in northeastern Wisconsin, two nuclear power plants made energy for the state. These plants are nestled in rural, farming communities.
My parents, former dairy farmers, have a massive transmission line running through their property to connect the energy coming from the plant in the small town of Two Creeks, Wisconsin, to the grid. I didn't find any of this unique until I moved away for college and work.
As I began my journalism career, the threat of climate change was increasing. As was the investment in renewable energy sources. Coming from an energy town, I paid attention.
On my visits back to my hometown in the past few years, I heard talk about the development of two large-scale solar farms. Years prior, when I was a kid, a wind farm was proposed for the area but never materialized.
As a journalist, I wanted to explore why Two Creeks was a sought-out location for energy infrastructure and how the residents felt about it. I also wanted to learn about their experiences spending a lifetime around the plant. I was especially interested in how energy development was intersecting with the other faction of the Two Creeks economy: agriculture.
Not everyone wants to live near energy generation facilities. Sometimes those folks are called NIMBYs, for "not in my backyard." However, energy infrastructure is expansive and does need to go in someone's backyard. In the case of my parents, quite literally.
In the summer of 2022, I traveled back to my small hometown to explore what the build-out of renewable energy looks like on the ground. I interviewed three farmers and the town chairman, also a former dairy farmer. Through these discussions it became clear to me that farmers have long been coexisting with energy infrastructure—that trend is likely to continue.
My father, Gerald Schleis, was a second-generation dairy farmer. He's lived his entire life in Two Creeks on Al & Vi Lane Farm. I interviewed my parents on background for this project.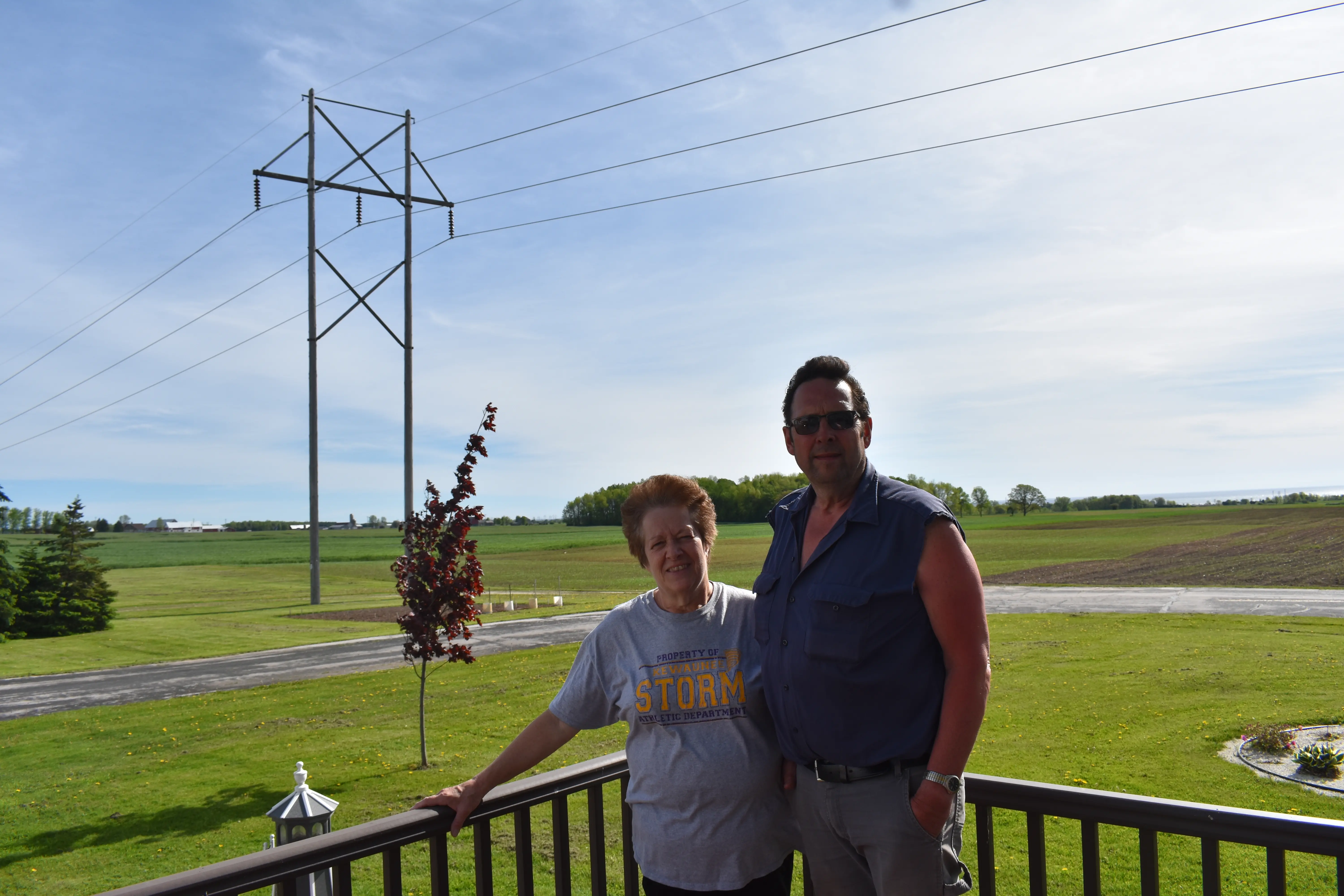 A massive transmission line has been running through the Schleis farm since the 1950s. It's 90 feet high and 73 feet from the farmhouse. Having this infrastructure nearby was normal for Two Creeks residents. Schleis recalled how as kids, he and his siblings got a thrill when the maintenance crews flew near the lines on a helicopter.
"We used to run out there, you could hear the helicopter coming in, and wave and the guys would tip the helicopter, they'd be waving back at us," he said.
Solar and wind energy take up more space than traditional, centralized energy production facilities like power plants. As energy companies seek to diversify production sources and build out renewables, they need access to what farmers have: land.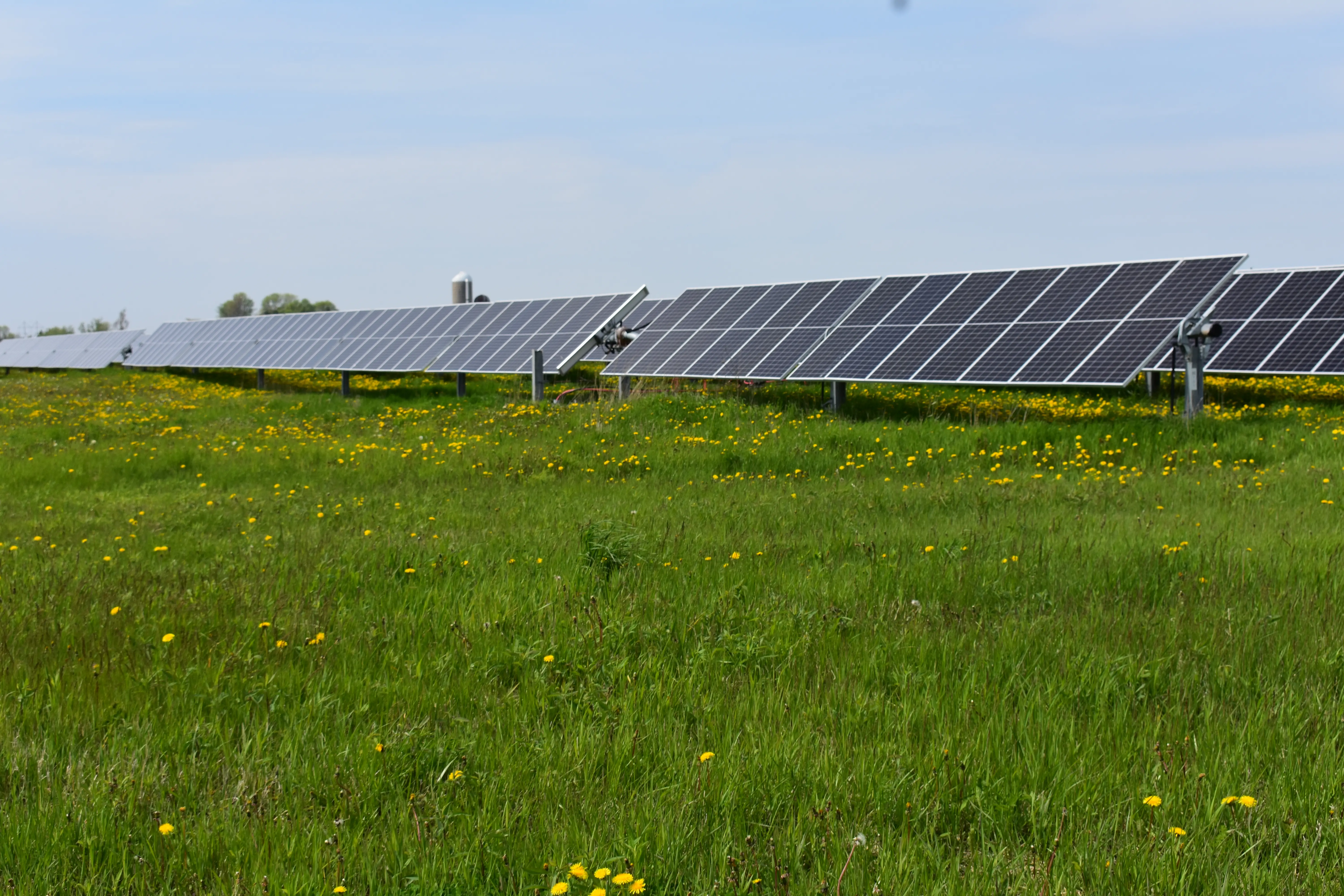 Through interviews with renewable energy experts and researchers I learned how the design of our current energy grid is one of the reasons towns like Two Creeks are sought out for new projects. Access to the existing transmission infrastructure is key to a successful facility.
James Tinjum studies renewable energy at the University of Wisconsin-Madison. Tinjum said modern renewable energy technology doesn't necessarily require the same transmission infrastructure large power facilities do. However, until there is a major overhaul of the electrical grid, renewable energy will need to be located where there is access.
"Our high capacity, high voltage transmission lines, really need an infrastructure push, because those lines are largely designed and located to move power from large, centralized locations," Tinjum said, "and [in] our new energy economy, those energy supplies are going to be more distributed."
While renewable energy is expanding, dairy farming has become more challenging. Wisconsin, America's Dairyland, is losing percentages of small dairy farms each year.
Farmers are adjusting by growing their operations or diversifying production. For retiring dairy farmers, that strategy is less feasible. I learned from my sources in Two Creeks that the ability to rent their land to host solar panels enabled them to keep the farm intact and provide a secure source of income upon retirement.
Like their neighbors, Ken and Rita Duveneck signed a 30-year contract to lease their land for solar energy generation. Ken Duveneck said it was mostly an economic decision.
"What their contract was is more than what you're going to make farming, you know, and at my age, it's an investment, for the future, for my kids," he said.
It was important to me to tell this story because the intersection of agriculture and energy generation is likely to grow.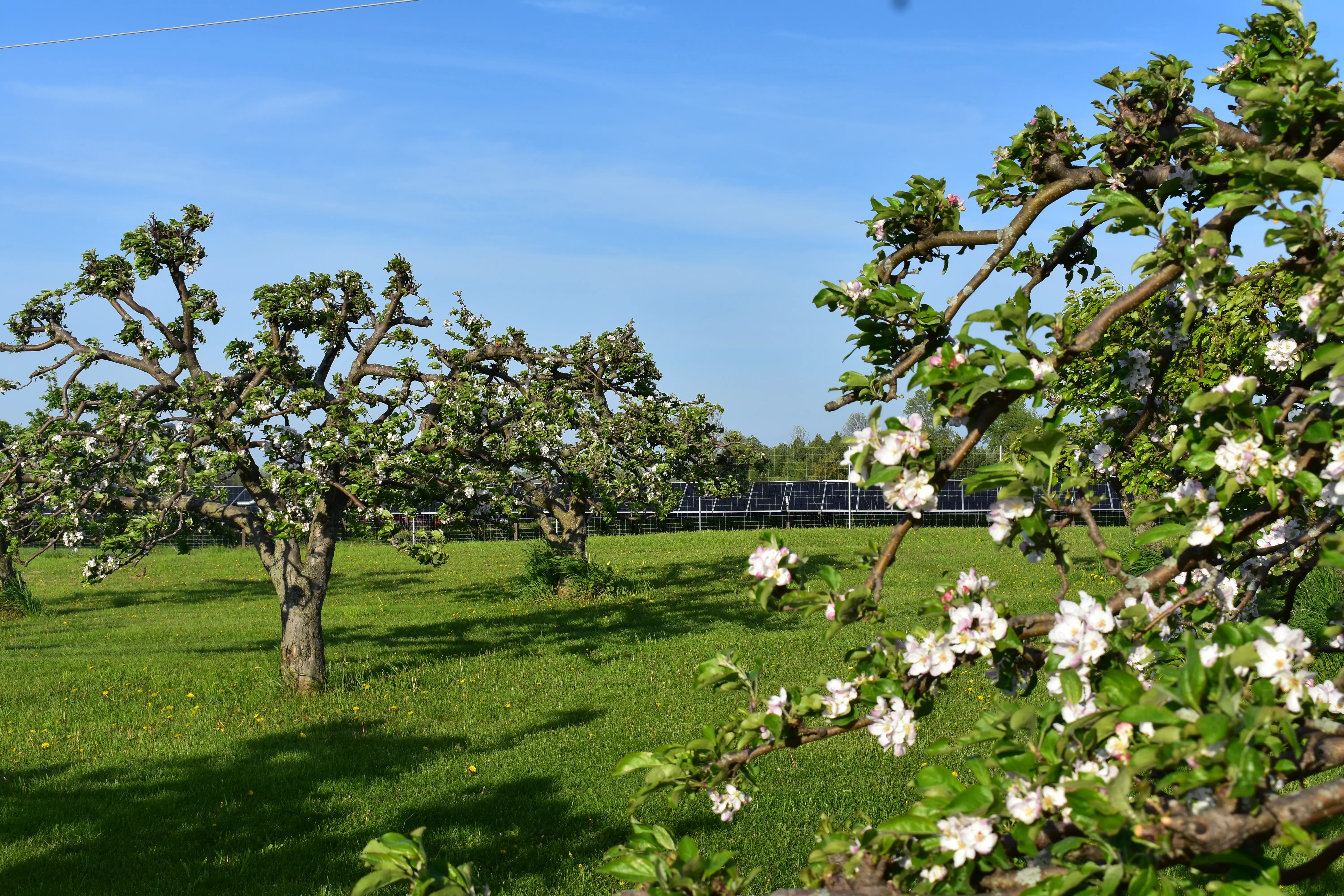 "These are technologies that do exist in Wisconsin, and there is probably a lot of potential for more of these technologies to exist," Mikhaila Calice, a PhD candidate at the University of Wisconsin-Madison, said.
Calice researches how individuals and communities understand and react to new and emerging energy technologies. She said Wisconsin agricultural communities are already adopting some of these energy technologies such as agrivoltaics—the coexistence of solar panels and crops—wind turbines and bio digesters.
"If the farmers [who] are hosting these energy technologies see an economic benefit from it, I would assume that that's probably one of the important factors," Calice said.
Wisconsin might not seem the most obvious place to capture sunshine. The Two Creeks solar farms are some of NextEra Energy's most northern developments. But experts are hopeful about the possibility of renewables in the north.
Tinjum thinks that in a climate like Wisconsin's, renewable energy technologies have the opportunity to complement each other. He likes to use the analogy of a Reese's peanut butter cup.
"I love peanut butter, I love chocolate, you put the two together, and you've really got something," Tinjum said.
Wind is the chocolate and solar is the peanut butter. Solar panels produce less in winter, when wind energy is strongest. Wind production declines in August, when solar is at its strongest.
"You just got this nice blend of resources. It's not perfect, but they really complement each other in a landscape such as Wisconsin," Tinjum said. "Wind and solar are really balancing each other to a great degree."
Local news is my passion. I'm committed to reporting on under-covered communities. Two Creeks fits that description. It was incredibly special to me to interview folks from my hometown and share their stories. The energy history, and future, of the community is just a small part of this town's story.
RELATED ISSUES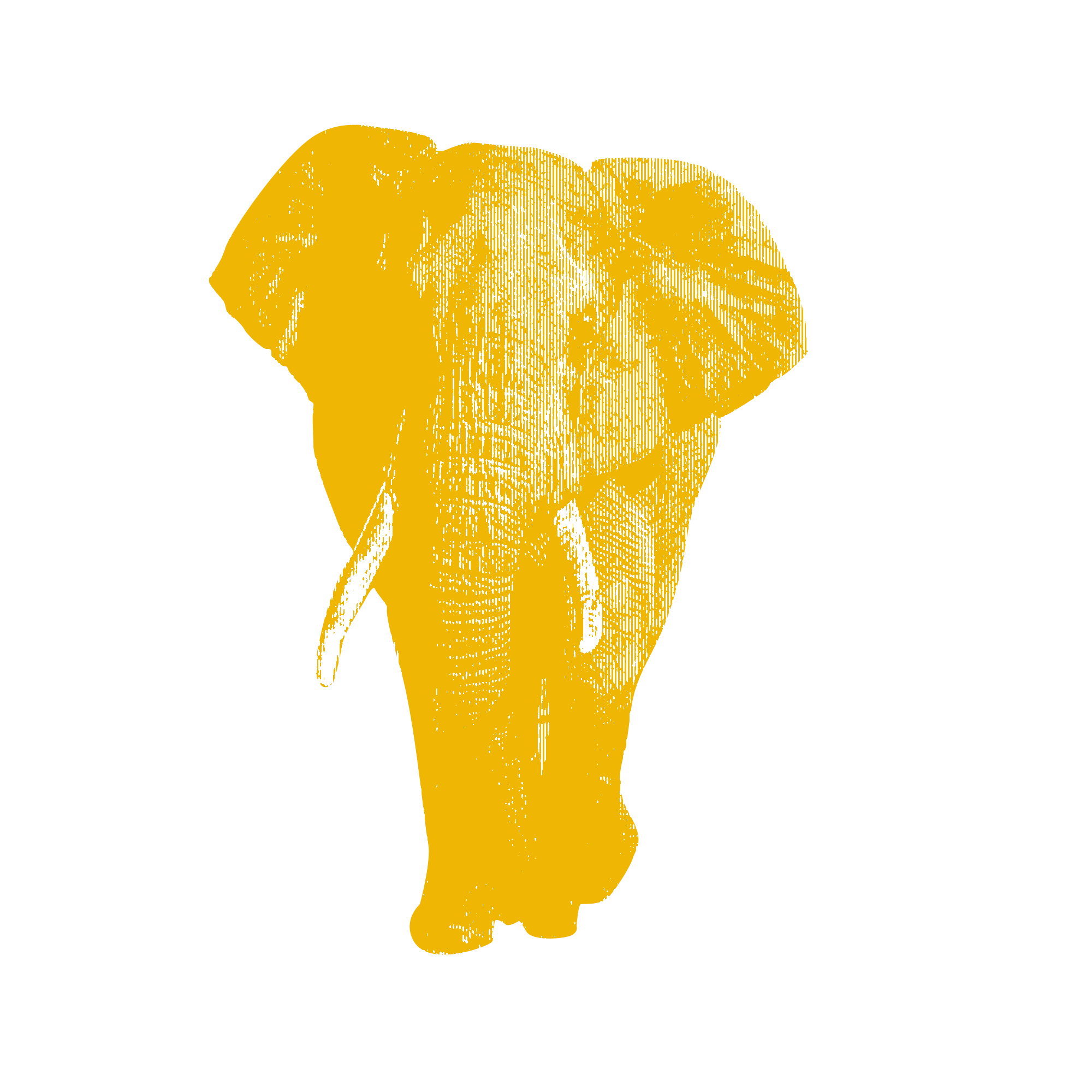 Issue
Environment and Climate Change
Environment and Climate Change

Governance