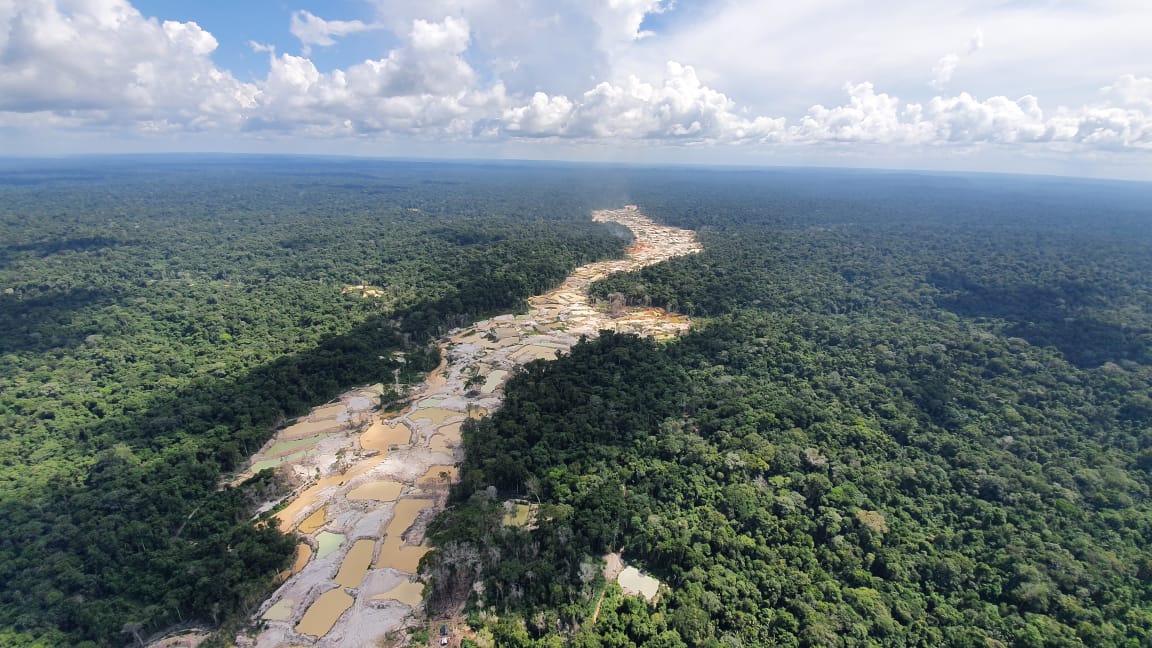 This story excerpt was translated from Portuguese. To read the original story in full, visit The Intercept Brasil.
Images recorded in the first week of December 2021, during an operation executed by the Brazilian Institute of the Environment and Renewable Natural Resources (IBAMA) in the Sai-Cinza indigenous land, in Jacareacanga, southwest Pará, show how illegal mining is rapidly advancing over protected areas in the Amazon. The "barranco" - as the area deforested for gold exploration is called - comprises almost four square kilometers, more than twice the area of the Ibirapuera Park in São Paulo.

The video was provided to the Pulitzer Center's Rainforest Investigations Network by an anonymous source, and shared with The Intercept for publication. The huge illegal mining operation recorded in the video took only two years to erode the huge area wedged into the middle of the forest.
Satellite images provided by Earthrise Media, a non-governmental agency in the United States, show that the first signs of this garimpo, or informal prospect mine, began to appear in July 2019. The area of the illegal garimpo was calculated from annual deforestation data surveyed by the PRODES system of the National Institute for Space Research (INPE). Between August 2019 and July 2020, the garimpo grew by 2.90 square kilometers. Since then, it has advanced and occupied another 1.07 square kilometers.
RELATED ISSUES
RELATED INITIATIVES