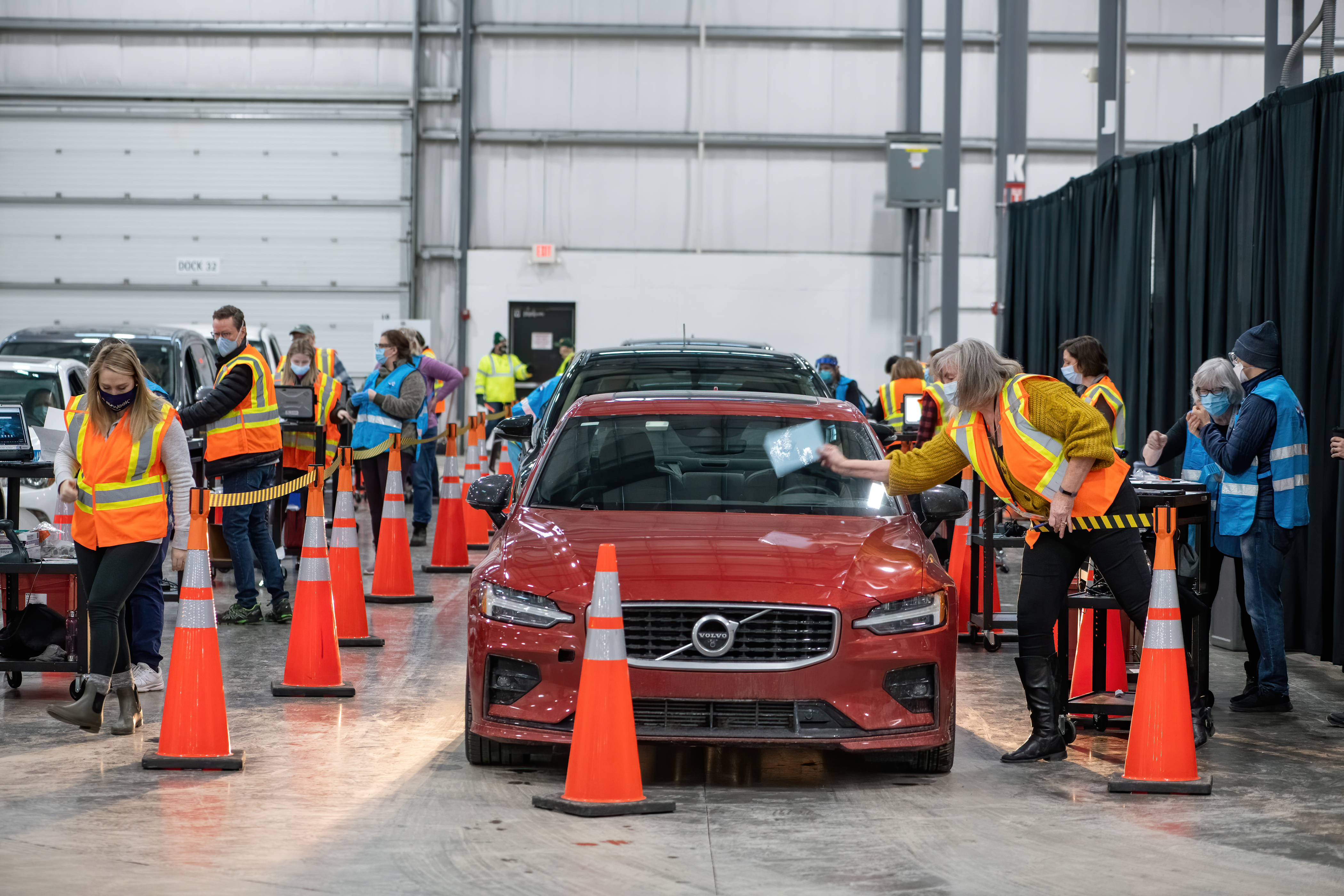 The vaccine rollout in Chicago and Illinois has only gotten more chaotic since it began three months ago.
Before millions more people become eligible for COVID-19 shots, WBEZ analyzed state and local data to determine how the vaccine rollout is going. In short, Illinois is still a long way from herd immunity, white people are still outpacing others in getting the shot, and the data has some hefty asterisks.
And as the state looks to expand eligibility, some fear that those who are in the most vulnerable communities — particularly Black and Latino neighborhoods — could continue to lag.
Nearly a quarter of Illinoisans have gotten one dose, but herd immunity is still far away

As of March 23, 23.8% of Illinoisans are at least partially vaccinated, and, of those, 14.1% are fully inoculated. (If you live in Chicago, you can find your own ZIP code's vaccination rates here. ZIP code level data for the rest of Illinois has not been made public.)
Still, a WBEZ analysis shows 6.8 million adults have yet to get a shot to protect them against COVID-19. There are also more than 2 million children not authorized to get vaccinated yet.
The bottom line: Illinois still has a long way to go before reaching so-called herd immunity and declaring the pandemic officially over. Scientists estimate herd immunity against COVID-19 might require between 70% and 90% of people to be vaccinated.
"We really need to have a high level of vaccination coverage in all of our communities," said Dr. Rachel Rubin, co-lead of the Cook County Department of Public Health. "You can't have one community that has 80% vaccinated and another community that's two miles away that has a 40% vaccination rate."
Illinois is not yet out of the woods. This week, Chicago officials expressed concerns about a slight uptick in cases of COVID-19, especially among those aged 18 to 39. Gov. JB Pritzker, too, has said that even as the pace of vaccinations has picked up, officials want residents to continue to social distance and wear masks, with the worry that spikes of the virus could still hit before everyone is able to get vaccinated.
More Black, Latino Chicagoans get vaccines, but still lag behind white residents
After one month of vaccinations in Chicago, data showed that doses disproportionally went to white residents, even though the pandemic has disproportionately hurt Black and Latino communities. Since Jan. 25, when the data was first disclosed, the numbers have shifted slightly. But as of March 19, 44% of vaccinated Chicagoans are white, 19% are Latino, 19% are Black and 7% are Asian.
Much of the improvement in vaccination rates among Black and Latino residents is due to a city-sponsored program known as Protect Chicago Plus, which creates pop-up vaccination sites in neighborhoods hit hardest by the pandemic. Shots are open to anybody 18 and older who lives in the community. The first weekend one of these sites opened in Belmont-Cragin, nearly 2000 residents got their first dose in just two days.
The city's public health department is also allowing residents of certain ZIP codes with high rates of COVID-19 to book appointments at the United Center mass vaccination site.
However, these efforts started two months after the first vaccines arrived and are only temporary. The vaccines distributed through Protect Chicago Plus only represent a fraction of all the shots shipped across the city. The distribution of vaccines by race still does not mirror Chicago's population, which is about one-third white, one-third Black, and one-third Latino.
"I'm a big fan of the Protect Chicago Plus program," said Dr. Paul Luning, Chief Medical Officer at PCC Community Wellness Center, a federally-qualified health center that serves the West Side of Chicago and western suburbs. "I think it infused a lot of vaccine into the neighborhoods hardest hit."
But Luning said planning just one of the pop-up clinics under Protect Chicago Plus was an enormous effort. And these efforts are only temporary.
"You cannot continue doing special programs forever," Luning said. "You have to build it into the make up of the entire health care system. It has to be part of the structure of health care to make sure those populations have access."
While Protect Chicago Plus will end by June, the city is looking to contract with health providers to target five regions with mobile vaccination sites for the rest of the year. The $10 million request for proposals will award up to five providers $2 million for each region: Northwest, Southwest, West, Near South and Far South. The contract would run from April 1 until Dec. 31, with a possible one year extension for 2022.
Chicago still vaccinating many from the suburbs
Chicago's vaccination progress has appeared to be lagging the rest of the state. It's true to some extent. About 11.5% of Chicago residents are fully vaccinated, while data for all Illinois residents shows 14% are fully vaccinated.
But these numbers are based on the address of the person who has been vaccinated, not the place in which they actually got a shot. When looking at how many vaccines have been administered from Chicago's shipment, a different picture emerges.
Chicago has administered more than one million doses to nearly 750,000 people. But more than a third of the vaccines administered in the city have gone into the arms of people who do not live in the city. Early on, more than 40% of the vaccines administered by Chicago providers were going to people who lived in the suburbs or downstate. The reverse is also happening, but not in as large of numbers. Data show about 20% of vaccinated Chicagoans got their shots outside of the city.
"There wasn't enough foresight to understand that Chicago has a lot of health care workers that work in the city, but live out in the suburbs," said Dr. Marina Del Rios, Associate Professor of Clinical Emergency Medicine at University of Illinois-Chicago. "And there's also a lot of people that get their health care in the city, because their specialists are at Rush or at [University of Illinois at Chicago] or University of Chicago or Northwestern."
Del Rios said big hospitals and corporate pharmacies, like Walgreens and CVS, can and should do more to target vaccines to those who need it most. At the very least, most have the ability to target patients within their own record systems.
The lag in vaccinations among Chicago residents has triggered some major shifts in how people can get vaccinated in the city. After more than 60% of appointments at the United Center went to non-Chicagoans — and the majority of those residents were white or Asian — government leaders allowed only Chicago residents to book slots.
The Chicago Department of Public Health also has announced that all city-run vaccination sites, like those at city college campuses, would no longer vaccinate people who work in the city but live in the suburbs.
Cook County prioritizes 32 communities
Living in suburban Cook County can certainly be confusing when vaccine eligibility rules are different for your nearby Chicago neighbors who, in some cases, live across the street.
There are 32 priority communities in suburban Cook County where any adult can get vaccinated at special county-run sites. For a while, residents of four municipalities — Oak Park, Evanston, Skokie and Stickney — only could use the Cook County mass vaccination sites if they worked in the county. But that guidance has now changed, said Cook County Health CEO Israel Rocha. People who live or work throughout suburban Cook can access those locations.
Those newly eligible in suburban Cook County include suburban residents who are at least 16 and have certain underlying medical conditions.
And any Illinois resident eligible for a vaccine can get one at Cook County's mass vaccination sites. More of these large sites are popping up in the region. The latest in Cook County opens Friday in west suburban Forest Park, where eventually up to 5,000 people a day could be vaccinated.
Equity is an issue across Illinois, but data is limited
Weeks after Chicago released data showing most COVID-19 vaccine doses were going to white residents, the Illinois Department of Public Health released high-level data showing the same was true for the entire state.
And the numbers have remained about the same since they were released, with 68% of doses going into the arms of white Illinois residents, 8.3% going to Black residents, 9.5% going to Latino residents and 5.1% going to Asian residents. The state's overall population is about 60% white, 17.5% Latino, 14% Black and 5% Asian.
The state provides some race and ethnicity data by county, but not in a way that makes it easy to compare. In many counties with the most fully vaccinated residents, like Adams County, which hugs the Missouri border and downstate Peoria, the majority of those immunized are white. That mirrors their populations, or, in some cases is greater than the percentage of their white population, according to a WBEZ analysis of state public health and U.S. Census data.
But many of the rules limiting vaccine access to those most vulnerable will soon be dropped. Come April 12, any Illinois resident will qualify for a shot. That won't apply in Chicago, which has its own timetable for residents, with everyone allowed to start booking appointments for vaccines starting May 1.
Opening up vaccinations to everyone is a big step, and some are worried about the impact it will have. Del Rios said officials need to make sure that communities of color and those hit the hardest by the pandemic are not left behind.
"This is very much like voting," Del Rios said. "Everyone, in theory, has the right to vote. And in theory, you have access to a ballot. But where you live is going to depend on how many polling places are available per population, is there the ability of voting early, voting outside of normal hours, and some communities do that better than others."
"Which is why I think that, as the state is moving towards rolling out [COVID-19 vaccines] to anyone over 16, that has to be paired with purposeful prioritization of communities that have been at high risk, and, yes, putting more resources in, you have to spend more money, you have to get more people to those sites to try to remove as many structural barriers as possible."
Luning, with PCC Community Wellness Center, which serves both the city and the suburbs, said the expansion to all for most of Illinois, but not Chicago, will likely create confusion. But he hopes there's enough vaccine to go around and the focus will remain on equity.
"Having worked in community medicine for 25 years, I have to say that I have been heartened by the focus on making sure the communities that I serve are getting the vaccine and getting the attention," Luning added. "Twenty five years ago, I'm not sure that would have happened."
Becky Vevea covers city politics and COVID-19 vaccines and Kristen Schorsch covers public health for WBEZ. Follow them @beckyvevea and @kschorsch.
COVID-19 Update: The connection between local and global issues–the Pulitzer Center's long standing mantra–has, sadly, never been more evident. We are uniquely positioned to serve the journalists, news media organizations, schools, and universities we partner with by continuing to advance our core mission: enabling great journalism and education about underreported and systemic issues that resonate now–and continue to have relevance in times ahead. We believe that this is a moment for decisive action. Learn more about the steps we are taking.
RELATED ISSUES

COVID-19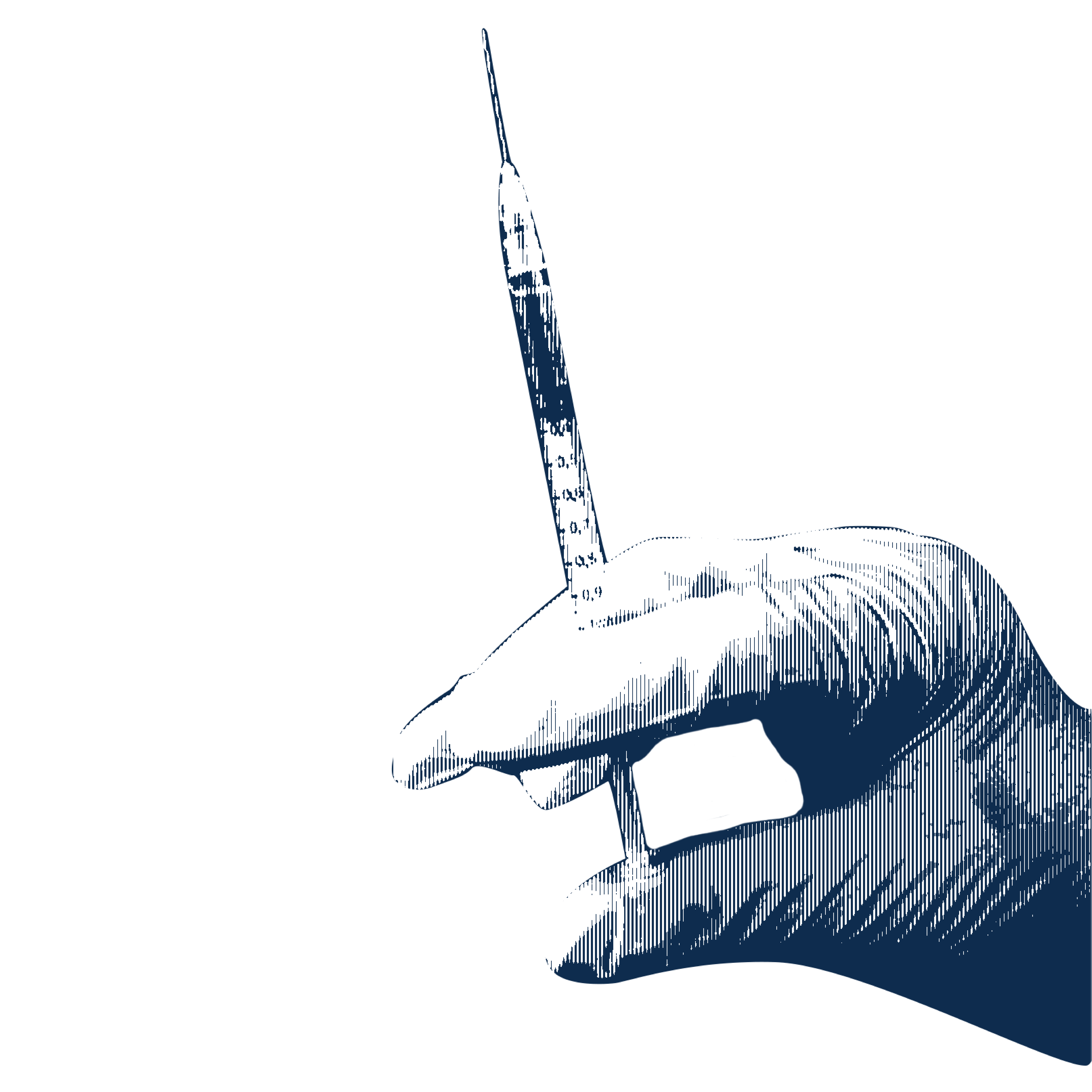 Health

Racial Justice