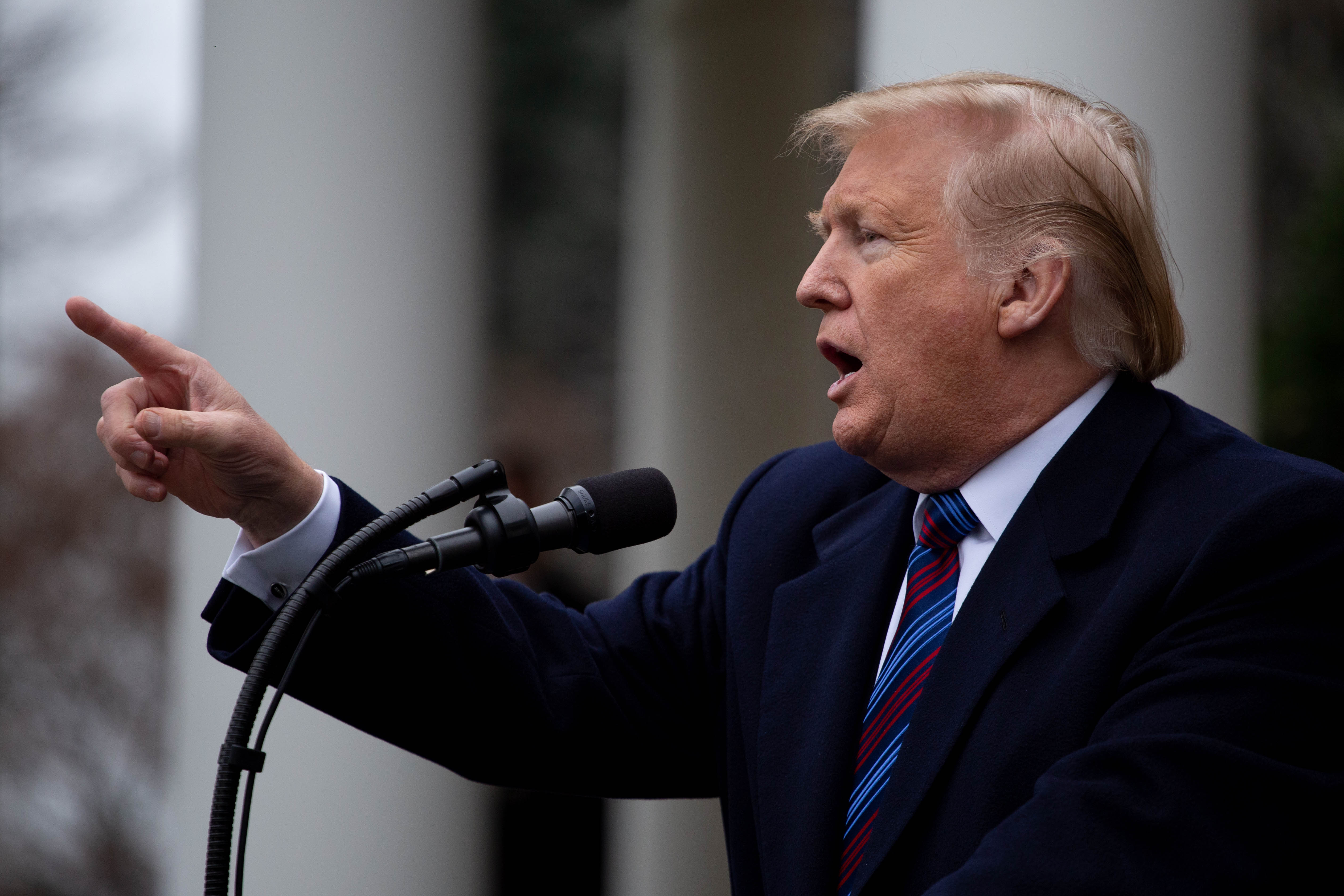 Belonging to groups is human. Like everyone, former Soviet Union immigrants living in the U.S. look for a common denominator over which to bond, particularly on social media. For many since 2016, it has been and continues to be Donald Trump.
Collectively battered and betrayed by the iron fist of a totalitarian state, hundreds of thousands of Soviets fled to the U.S. throughout the 20th century. Under the USSR, they had endured class reductionism and communal micromanagement, and had been conditioned to view democratic values as government control—as a threat to individualism. Thousands immigrated during the Ronald Reagan presidency, thanks to his push for it, and have only voted Republican since. The majority of Russian-speaking immigrants have voted red in general elections since 2000, according to Sam Kliger, director of Russian and Eurasian affairs at the American Jewish Committee. In 2016, that figure was between 75 and 80 percent, Kliger said.
As president, Trump exploited this fundamental fear of big government, putting out approximately 20,000 Facebook ads using the term "socialist" leading up to the last election, Facebook's ad library shows. He won Florida using the same scare tactics. It's a term Soviet immigrants need no reminding of.
"Everything is measured by this Soviet yardstick," said Maxim Matusevich, a historian and Soviet immigrant. "It's almost like the Cold War never ended."
This phenomenon is something Dina Birman, a professor of psychological studies at the University of Miami, calls the partial paradigm acquisition: One adapts to some parts of their new life, but their old ways of thinking creep back. "I would rather blame people's circumstances than people themselves," she said. "People are doing things that make sense to them."
The limitations of free speech
Pauly Gap [a screen name] is the founder of Russian Speaking Americans for Trump 2020, a group now removed from Facebook for violating its community standards. In the 1980s, Gap's parents arrived from Russia to New York, where he grew up. He runs his own events production company, Russian Empire Inc., which has been on hiatus since the start of the COVID-19 pandemic, he said.
Before Trump, none of his events were political. But when Trump came on the scene, Gap knew there would be a large Russian-American fanbase. So he did what he knew as an events organizer—he brought together a group.
Much of the content shared across Gap's Russian Speaking Americans for Trump 2020, before it was taken down, had a lot in common with other right-wing groups: conspiracies, mis- and disinformation, and often, hate speech. In August, it was averaging 1,700 posts a day and featured an events page with a schedule of pro-law enforcement and Trump rallies across various states. Between July and November, Gap's public group with more than 15,000 members was temporarily disabled by Facebook at least three times for violating community standards. The group administrators, foreseeing their own patterns of violations, created a backup group in case the original one continued getting restricted. As of October 31, neither appeared on Facebook.
Using CrowdTangle, a tool used to analyze social media, the Pulitzer Center analyzed 42 links that were shared across multiple public conservative Russian-American groups that received the most interactions in the past year. Not a single link belonged to a story from a major credible news organization.
Ten links led to Russian sites, three of which were established state-owned media outlets like RT, which was identified in 2020 by the Global Disinformation Index (GDI) as one of five sites that contain the most election disinformation. The GDI also identified The Epoch Times as another such site, whose links were shared at least four times in Gap's group during the past year. There were also incidents of cross-posting, including an instance of one account posting the same link across a dozen public Russian-American groups. The behavior is prohibited, per Facebook's guidelines.
Group administrators can see the actions Facebook takes against a group, including what content is problematic. They can also see a member's violation history and can take a number of actions to prevent future violations, including muting or removing a member. It's not that Gap and his moderators were unaware of the recurring problem; they didn't believe they were at fault.
"Socialists shut it down," one admin commented publicly on their profile after the original group was frozen. Another called it censorship of all pro-Trump groups. Both declined to be interviewed.
They aren't the only ones who see this as an issue of free speech. While Twitter pursued more rigorous regulation of political ads ahead of the general election, Facebook volunteered a laissez-faire stance, writing in a January 2020 blog post that given the lack of government regulation around its policies, "people should be able to hear from those who wish to lead them, warts and all, and that what they say should be scrutinized and debated in public." (Facebook did eventually block new political ads just before the election, though there were many hiccups.)
The company has honed this position over the past several years, repeatedly conceding to the Trump administration's baseless claims that the platform is biased against conservative voices while loosening its grip on content moderation. Facebook employees have alleged the platform's executives personally intervene on behalf of right-wing publishers and pages whose content gets flagged in order to dismiss fact-checkers' ratings, Buzzfeed News reported in August.
Facebook did not respond to a list of detailed questions for this story, including whether it monitors content inside private groups if it is not first flagged, whether administrators can appeal a ban on a group, and Facebook's policy on creating back-up groups to those that get banned.
Distrust and media illiteracy
Administrators of Gap's group are not the only ones who are enraged by what they call the platform's censorship attempts. Elena Prigova, who was a member of Gap's group, is a radio show host and a New York resident from Ukraine. She considers herself a "survivor" of the Soviet Union and its "corrupt, brainwashing" regime.
She distrusts Facebook's motives in taking down content, afraid it is driven purely by pressure from the left, and considers its fact-checkers biased against conservatives. Nonetheless, she was an active participant in Gap's pro-Trump group until its banning. Like him, she criticizes the group's shutdown and believes her rights to speech and thought—key freedoms she came to America for—are at risk of being taken.
"As a person who lived in socialism—never again," she said. "Freedom is the greatest thing a person can have. I will fight for my rights, while I still can." She regularly contributes conservative columns to Russian site Gazettco. Her latest, as of this writing, argues George Floyd was a "drug addict with a large criminal record," and bemoans the Black Lives Matter movement.
In October 2020, four disinformation and cybersecurity experts testified in a virtual hearing on misinformation before the House Permanent Select Committee on Intelligence. All four experts attested to how common foreign and domestic manipulation of content is—and the reality that, the longer the government waits to regulate, the more skilled these actors become at evading detection.
"We are seeing in real time the impact of an American information space cluttered with voices trying to mislead and manipulate," said Cindy Otis, former CIA officer and disinformation and cybersecurity expert, in her opening remarks. "Americans are losing trust in what they read and see online. We are desperate for information, but certain groups feel they cannot trust the traditional institutions upon which they used to rely, including the media."
This is especially true of former Soviet Union immigrants, for whom years of propaganda led to a disillusioned view of reality and a deep-seeded cynicism, said Vladimir Klimenko, a history teacher and a member of the Russian Americans Against Trump group.
"If the Soviet Union had had gradations of acceptable opinion then people would've learned to navigate the gray zone," he said in an interview. "They would've learned to pick and choose what they agree and disagree about. I think the culture would have developed a greater degree of tolerance for disagreement."
Older immigrants tend not to be savvy consumers of the media either, said Ioana Literat, assistant professor of communication, media, and learning technologies design at Teachers College, Columbia University. Many are unaware of the commercial motivations driving platforms, or their manipulative capabilities. They are thus more susceptible to finding fringe content, which Facebook's algorithms promote, legitimate.
Maxim Kharitonov was 21 when he arrived in the U.S. from St. Petersburg.
"Living here made me more liberal," he explained. "It made me more accepting of others, which wasn't necessarily an opportunity while living in the former Soviet Union."
His mother followed him to America, but settled near some of their more conservative relatives. Though she isn't the most active participant in U.S. politics, she voted for Trump in 2016. "And it's because of the influence of the immediate family and friends," Kharitonov said. "They're all together, they all talk about the same thing. They decide, and they convince each other."
His mother speaks little English, so her primary source of information is Russian, primarily Kremlin-backed media—a convenient fact of life for President Vladimir Putin, who has an extensive influence over Russians living abroad, but a serious dilemma for those combating disinformation within their own family.
Kharitonov began by teaching his mother to navigate the internet better and to seek out independent Russian news outlets. He encouraged her to discuss politics with him. Slowly, he began seeing a shift. His mother expressed regret to him about voting for Trump in 2016. The key to this exposure, Kharitonov believed, is helping older generations become more media literate and digitally savvy. Kharitonov passed away in February of a heart attack.
Power in organizing
In anti-Trump groups, things look a bit different.
Michael Yudanin, an immigrant from Novosibirsk, Russia, founded his Russian Americans Against Trump group shortly after Trump's inauguration while becoming alarmed by the uptick in violent and racist rhetoric in America.
Like Prigova, Yudanin had lived under the oppressive regime of the Soviet Union. To him, Trump was recognizable trouble. Authoritarianism had looked quite similar in Soviet Russia, Yudanin said. He wanted to "ring the bell" that "we've been there, we've seen it before."
The group, which has nearly 2,000 members, remains public.
"My iron rule is: Any incitement of violence, you're gone," he said.
Yudanin knew early on there would be an audience for his group, though likely a minority among Soviet immigrants. In its early days, some members seemed disenchanted, he recalled. They opposed Trump, but didn't see a viable path to resist him. Yudanin hoped the group would serve as a reminder that voting matters, that voices can be heard.
"We see ourselves more as a unit of resistance rather than just a platform of commiserating," he explained. "That also lifts people's morale."
Lifting people's morale was something that had long been on the mind of human rights and immigration attorney Olga Tomchin. A Soviet Jewish refugee from Belarus, Tomchin was a staunch defender of minorities' and undocumented people's rights—and equally opposed to Trump.
Around the time of Trump's election in 2016, Tomchin noticed calls to "collect your people" online, a phrase that refers to being an ally to racially marginalized communities. She had not yet seen a Soviet immigrant community online, so Tomchin founded Anti-Trump Soviet Immigrants, a private Facebook group with more than 4,000 members.
A background in community organizing and policy work "accidentally prepared myself to be able to do this," she said.
Many from the community might consider Tomchin radical. Hate mail and doxxing have been a regular part of her life, she said, particularly since 2016 and starting the group. But being a queer, liberal, civil rights attorney and opponent of Trump allowed her to immediately set the tone for her group and helped her "create a space that I'd feel welcome in," she said.
The group features a detailed code of conduct on its About page, honed by administrators over the years. From the get-go, this was to be a "non-a--hole place," Tomchin said.
Gap of the pro-Trump group, meanwhile, shows little empathy for those who get bullied online. In his mind, arguing on social media is simply not manly. True fights, he believes, should happen face to face.
After Trump lost the election, Gap started a new group on Facebook: Russian Speaking Americans For Trump 2020 Against Voter Fraud. Though it attracted only a few hundred members before getting taken down, like countless other right-wing groups it was rife with conspiracies and false claims, including Trump's, that Democrats stole the election. Gap thinks mainstream social media platforms' eviction of Trump since his defeat and groups like his own are proof of censorship against conservative voices.
"They take pride shutting down people or whatever entities are against them," he said, without evidence.
In any case, Gap has not bothered to moderate content thus far, and he's not likely to start now. He believes anyone who does so is infringing on the rights of others. Besides, he thinks, being politically correct is overrated.
"You don't have to like everybody," he shrugged.
Editor's Note: Dr. Literat's title was updated on April 15, 2021. She is an assistant professor of communication, media, and learning technologies design at Teachers College, Columbia University. This story was updated on April 14, 2021, to include the statistic on Russian-speaking immigrants who voted Republican in the 2016 election.
RELATED ISSUES

Governance

Issue
Migration and Refugees
Migration and Refugees