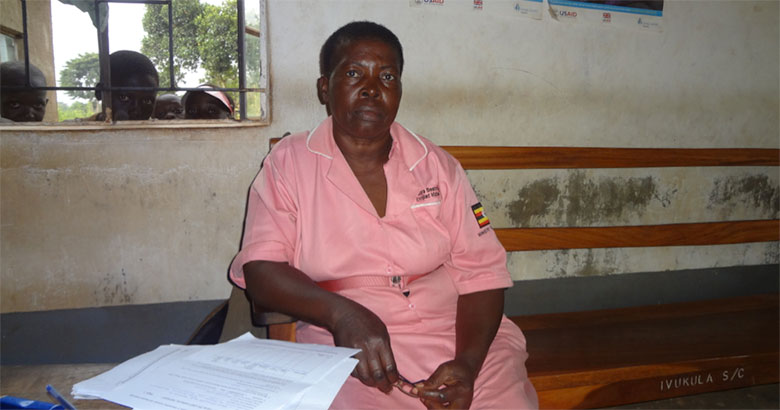 A muddy field separates the health center, a nondescript one-story concrete structure with a tin roof, from a dirt road in rural Uganda. It is located next to the trading center where people from a few surrounding villages come to sell goods, socialize, and charge mobile phones. Women dressed in colorful traditional clothes and men dressed in ragged secondhand Western clothes patiently wait outside on the verandah and on long wooden benches of the health center for the one person staffing the health center to attend to them.
Inside Uganda's Nangonde Health Center II, there is no electricity. The windows are very small and only allow limited light into the building, giving the interior a dark and grim appearance. There are three rooms in the building: a reception room where patients wait for and consult with the health worker, a small room for newborn delivery, and another small room for examination.
In the reception room, a health worker sits at a desk cluttered with papers and a few medicines. She talks to a patient on a wooden bench located adjacent to her desk. Other patients wait on the same wooden bench, listening and participating in the medical consultation.
Uganda's health care system is a hierarchical referral system. The community health workers, known as village health teams, refer sick patients to Health Center II's or III's, which are supposed to treat simple illnesses and provide antenatal care. In a complicated case, patients are referred to Health Center IV's, or referral hospitals.
Kirya Beatrice, a midwife, rides on the back of a motorcycle on a dusty dirt road everyday to get to work at the Health Center Level II. From Monday through Friday, she opens the office at 8:30 a.m. and closes it at 5:00 p.m. Usually, there are three people who work in Health Center II's, but in the case of Beatrice's health center, the registered nurse has taken leave for further schooling, and the nurse's assistant recently gave birth—leaving Beatrice to perform all tasks at the health center, serving almost 10,000 people.
Beatrice sees approximately 50 patients per day when there is medicine at the facility, but only about 20 when there is no medicine. The medicine is restocked by the Ministry of Health quarterly, and Beatrice reports that she does not recall a cycle during which her health center has not run out of medicine. The services are supposed to be free, but often there are no services to give.
When a pregnant woman came into the facility, Beatrice excused herself and took her into a back room. A new mother was sipping on a bottle of Coca-Cola while her newborn child was breastfeeding on the only bed in the room. Beatrice placed the expectant mother down on a mat on the dirty-looking cement floor.
After 20 minutes, Beatrice came out of the room and said, "You see a lot of things when you have been a midwife for 30 years, but a dead baby is always sad."
Beatrice delivers around 3 babies per day. When she sees complicated cases and there is nothing she can do with the equipment at the rural clinic, she refers patients either to the Health Center IV or the district hospital, both of which are over an hour away.
In the villages, it seems that every other mother had a child die from treatable illnesses.
"When it is not harvest season, no one here has money. They come and tell us to somehow go to the hospital, but it's hard for us," said Nairuba Mariam of Kigunda Village, while on a break from drying freshly harvested maize. "We are dying very often. We almost expect one of our children to die before they grow strong. We really need somewhere near that we can get health care any time."
The quality of health centers depends on the quality of the health care providers available. Speaking with frustration, Chapa Muzafalo of Jaluko village commented on the Health Center II near them, "The nurses complain that the government delays their salary. So they take out their anger on us and demand money for services."
Health workers who staff the health centers are supposed to be paid slightly over $100 per month, but often, the government does not have enough money to pay their salaries. This encourages opportunist providers to extort money from desperate and voiceless patients and their families.
Disappointment with the health care system is widespread among people in rural Uganda. It is very difficult to find a village in Namutumba District that is more than walking distance away from a health center, but the services that the health centers offer are often non-existent. People were promised medicines and health care with the construction of health centers, but often the health centers have nothing to offer.
Some health care providers, such as Beatrice, attempt to give the best quality care possible under the circumstances. Because her Health Center II is only open during business hours Monday through Friday, she runs a maternity clinic, which is always open. "I feel hurt when someone comes here and is sick, but there is nothing that I can do but to tell them to buy some drugs in a drug shop," she said. "And the people that we serve often do not have money to pay for it at the drug shop."
Beatrice added, "Mothers are watching their children die too often. There has to be a way for us to get more medicine and nurses here. I can't do my job properly when it's only me and I don't have medicine."
The health center is often the lone structure in the surrounding area that is not made of mud, yet one cannot help wonder if it is counterproductive to spend money on building construction when there are not enough resources to provide sufficient care.
RELATED ISSUES