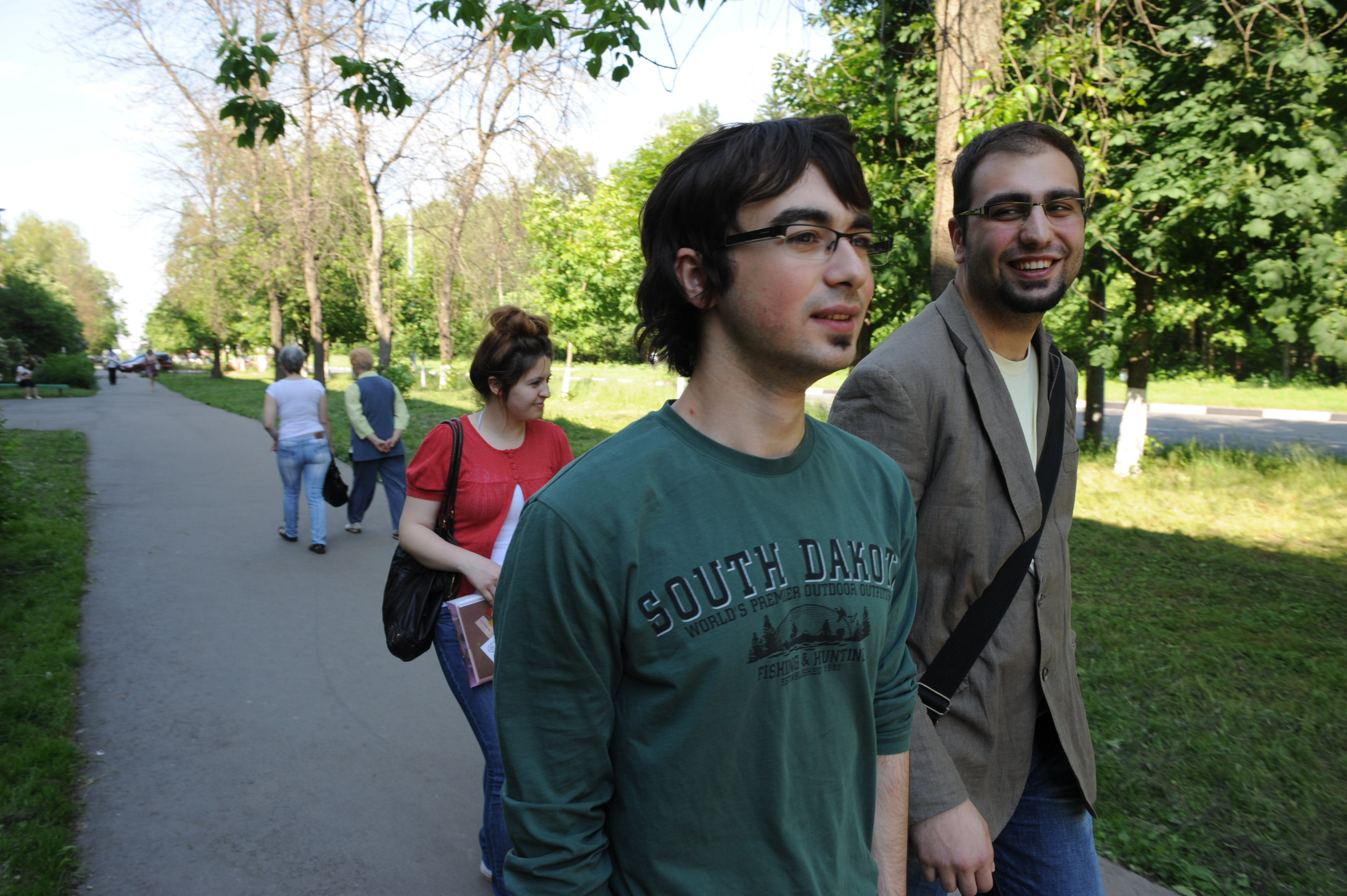 Last fall, a pilot group of Turkish students arrived in the forested "Science City" of Obninsk, a once-secret location for Stalin's nuclear program 60 miles outside Moscow. Sponsored by Russia's nuclear industry, the students are the first of some 600 Turks who will be brought to Russia in small groups over the coming years to enroll in a six-and-a-half-year program to learn Russian and earn degrees in nuclear power and engineering, embarking on a program that will help bring Turkey into the nuclear club of nations.

I spoke with some of these students over tea and strudel at a quiet café in Obninsk. They were relieved to practice their English after months of grueling Russian lessons and spoke of missing their families but also their bright futures in the nuclear energy industry. The Russians claim that more than 9,000 Turkish math and physics students competed for these first scholarship slots, which will guarantee employment at four Russian-built reactors slated for construction next year on Turkey's Mediterranean coast. With solid careers and good salaries ahead, they seemed more than willing to put up with freezing winters and Skype-filled nights.

"It's possible we will be the first group to open the gates of our country's first nuclear power plant -- our country is counting on us," says 21-year-old Gokcehan Tosun, who hails from the port city of Samsun on the Black Sea.

It's been a long wait for nuclear boosters like her. Turkey has been flirting with nuclear power since President Dwight Eisenhower's "Atoms for Peace" cooperation agreement with the country in 1955 -- a program of shared equipment and technology that sought to foster peaceful and transparent use of the energy resource, and helped build the first reactors in Pakistan and Iran. At the time, Turkey was just one of the many countries anxious to harness nuclear power. But even though feasibility studies into commercial scale reactors were first carried out in the 1960s, decades of efforts stalled. The reasons were myriad, but included the government's failure to guarantee financing, post-Chernobyl jitters, and a deadly 1999 quake in Turkey that underscored the country's dismal construction practices.

But with new legislation in 2007 easing multiple bureaucratic hurdles and a novel financing deal with Russia's state-controlled nuclear corporation, Rosatom, the "Akkuyu" site along the Mediterranean coast -- first licensed in 1976 -- is expected to soon be the home of Turkey's first reactors.

Nuclear suppliers from Japan, South Korea, China, and Canada have also sought deals in the new Turkish market. But Russia is first in line with an unusual and aggressive marketing plan they hope to spread to other nuclear "newcomers," as Rosatom execs like to call new-to-nuclear countries like Turkey: the "build-own-operate" or "BOO" model. In short, the reactors built under the program reside in a foreign country -- in this case, Turkey -- but will still be owned by Russia. The BOO model has been used in other industries worldwide, such as water treatment and telecommunications, but the Russian-Turkish Akkuyu deal is the first time the model has been used for a nuclear power plant.

"We are a country without a nuclear power plant," Turkish Energy Minister Taner Yildiz told visitors at the World Economic Forum on the Middle East, North Africa, and Eurasia in Istanbul in June. "However, we are determined to have nuclear power plants [with] at least 23 nuclear units by the year 2023." That's pretty ambitious, especially with the inevitable lengthy negotiations and construction times involved, and the first four reactors only expected on line by 2019 at the earliest. "It takes between 10 and 15 years from start to finish for one nuclear power plant," says Sharon Squassoni, director and senior fellow of the Proliferation Prevention Program at the Center for Strategic and International Studies. Her bet? They'll have "two by 2023."

Turkey has good reason to seek out new sources of energy. With a growing and energy-hungry population -- electricity demand has grown an average of 8 percent per year over the past decade -- Turkey finds itself importing more than 70 percent of its energy, primarily fossil fuels. As part of a larger plan to privatize and liberalize its energy market, the Turkish government wants to reduce gas imports and increase the share of renewable energy to 30 percent and nuclear to 10 percent of Turkish power by 2023, the 100th anniversary of the Turkish Republic. If they succeed, it could turn Turkey into "one of the most potentially lucrative and active nuclear markets in the world," according to a comprehensive report on the country's transition to nuclear power by the Istanbul-based Centre for Economic and Foreign Policy Studies (EDAM).

Turkey is also worried about its reliance on fossil fuels from neighbors like Iran and -- ironically -- Russia, which in 2009 famously shut off gas shipments through Ukraine over a pricing dispute, leaving Turkey and much of Europe shivering for several weeks in the dead of winter.

Yet many Turks are deeply uneasy with the nuclear ambitions of their government. There have been multiple protests, especially in the weeks and months following the Fukushima disaster. Residents around the planned facility are particularly upset. The Akkuyu site is in Turkey's Mersin province, a tourist region along the Mediterranean coast that locals fear could lose its allure and prompt residents to move out. "This is a touristic place and a plant there could make the region lose significant tourism revenue," says Necdet Pamir, chairman of the Energy Commission of the opposition Republican People's Party, which opposes the project over safety concerns and has tried and failed to block it in Turkey's Constitutional Court. The concerns are international as well. Worried about a potential catastrophe near their borders, Greece and Cyprus have called on the EU to scrutinize the project.

Earthquake risk is also a serious concern. In 1998 a 6.2 magnitude quake hit Adana, 110 miles away from Akkuyu Bay, killing 150 and causing an estimated $1 billion in damage. "Akkuyu is a dangerous location 20-25 kilometers away from an active fault plane and the license to build was granted before this was known," says Pamir. "Also, Turkey has other, safer indigenous energy resources," he says, that could be developed instead of nuclear, such as "clean-coal," hydroelectricity, solar, or wind. None of those sources would be as risky as nuclear in a seismically active country, says Pamir. (Turkish officials insist that the sites being explored for reactors have a low seismic risk and that the Akkuyu site has been designed to withstand a magnitude 9.0 quake.)

The lack of a nuclear track record also raises questions. "It's not clear that the Turkish regulator has the capacity to oversee the Russians building a Russian plant and operating this plant in its country," says Kevin Massy, associate director of the Energy Security Initiative at the Brookings Institution. He visited Turkey earlier this year to study its energy plans for a report published this week. With regulators answering to the Energy Ministry, the same entity that is promoting the project, Sinan Ulgen, a former Turkish diplomat and chairman of the EDAM think tank, is also concerned. "The full independence of the nuclear regulatory authority is a crucial element in ensuring a safe and secure transition to nuclear power," he says. "Many accidents, including at Fukushima, show that this is a core component of safe nuclear power."

With transfers of nuclear technology and know-how there is also the concern of proliferation. In the Akkuyu deal, points out American Nuclear Society blogger Dan Yurman, Turkey will avoid the most controversial parts of the fuel cycle which are linked to proliferation and bomb-building. "Keep in mind that with the Russians, Turkey is not going to develop enrichment or fuel-reprocessing facilities. If they do the same with their other two potential power stations then their hands are clean," he notes.

Washington has been largely silent so far. The State Department declined to comment on Turkey's plan for reactors or the Russian deal for this story and has not made any official or public comment. "You can hardly hear any open criticism from the U.S.," says Pamir. But, he adds, "If you flirt with the Russians it can be seen as a dangerous liaison." (In the late 1990s the Clinton administration sanctioned four Russian entities for allegedly sharing nuclear and missile technology with Iran. Those sanctions were lifted in 2004).

"We've never objected to Turkey pursuing civilian nuclear power options because they've not -- unlike Iran for instance -- been in violation of their NPT agreement," says former Ambassador to Turkey Eric Edelman. He says Turkey's solid track record has meant there's been little concern over country's goals. But, he adds, "That could all change with a nuclear Iran. In fact, I think it would change. My own judgment is that although for the most part I think Turkey is motivated by a genuine interest in developing civilian nuclear power, the context has shifted. You now have to consider their pursuit of reactor deals not just with Russia but also with South Korea as a potential long-term hedging strategy against a possible proliferated Middle East."

While Turkey is on record in opposition to a nuclear-armed Iran, Turkish Prime Minister Recep Tayyip Erdogan reiterated his support for Iran's civilian energy program earlier this year, saying that Turkey "has always clearly supported the nuclear positions of the Islamic Republic of Iran, and will continue to firmly follow the same policy in the future" -- prompting a thank you from Iranian President Mahmoud Ahmadinejad, whose controversial Russian-completed Bushehr power plant reached full capacity on Aug. 31.

Meanwhile, Russia is refining its sales pitch. It wants to sell reactors all over the world -- part of a plan announced by Rosatom chief Sergey Kirienko to double output at home and triple global sales by 2030. It's unclear where Turkey will turn next if and when it inks a deal for a second plant. But Brookings' Massy predicts any further plants won't be Russian. While the electricity from Akkuyu would be coming from a domestic source, "it's not really diversification from Russia if Russia is building, owning, operating and financing, their nuclear power plant," he argues.

Still, for now, Russia's nuclear package is a tough one to beat. During his first presidency, Vladimir Putin signed controversial legislation allowing Russia to import and permanently store another country's spent nuclear fuel. This is a deal vendors from other countries may not be able to provide, presenting a spent fuel problem that Turkey will eventually have to face and which nuclear opponents will likely stress going forward. Disappointingly for activists, the Fukushima disaster hasn't slowed Turkey's desire for reactors or Russia's aim to be the go-to country for the world's nuclear newcomers.

As Putin said less than year after Fukushima, "There's a rebirth, a renaissance of the nuclear sphere taking place right now," and Russia plans to be right there in the thick of it.

RELATED ISSUES