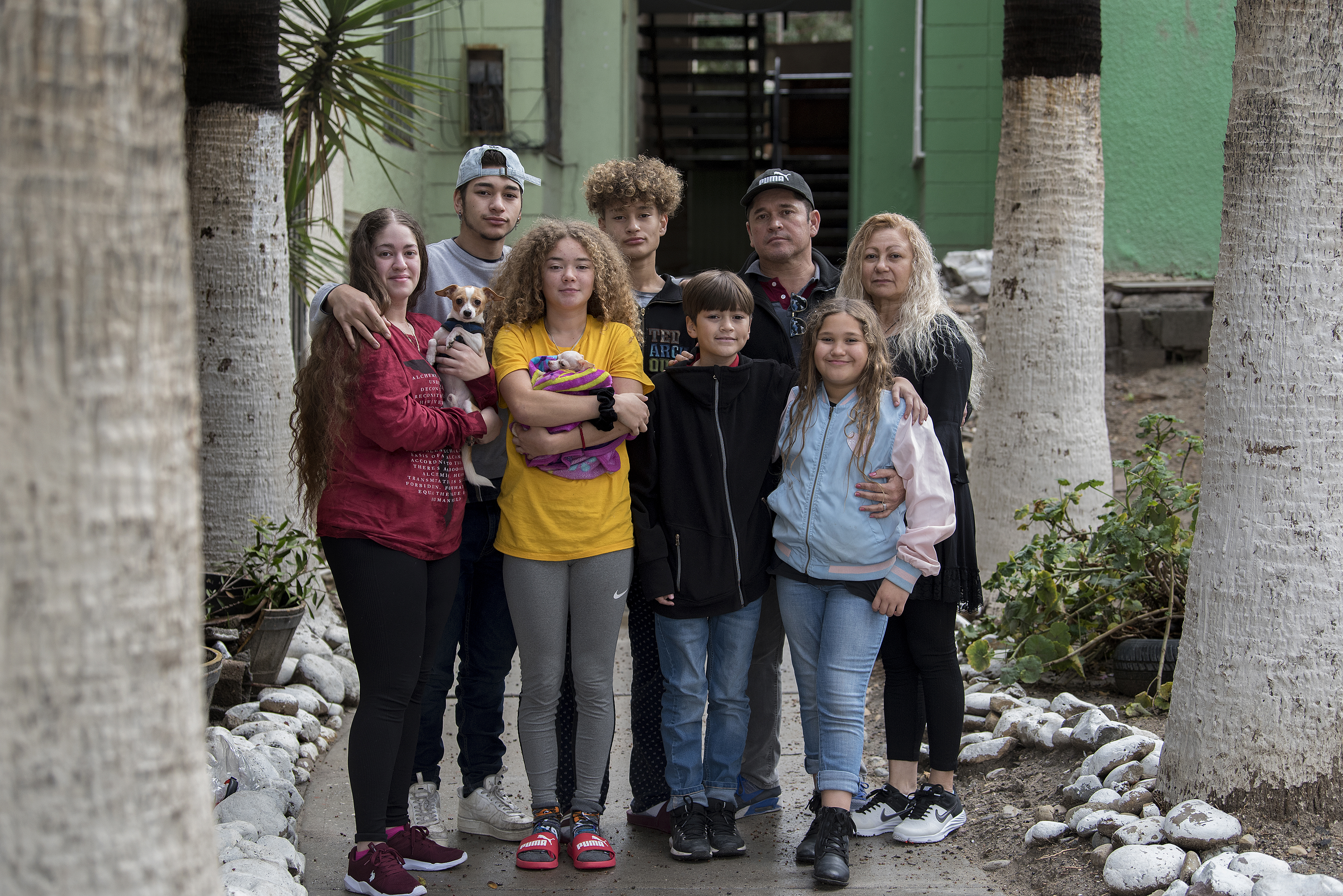 TIJUANA, Mexico — Ramon Flores mills around the crowded, tin-roofed cabinet shop located in Guerrero — one of the oldest residential neighborhoods in Tijuana, and today home to the middle class. When he steps outside, he can see the United States, where he lived for 20 years, in the near distance.
Stray dogs roam the streets, picking through trash in the gutters, stirred up from recent heavy rains.
Ramon's youngest son, Edward, 12, hovers nearby as he sets about his work. His children, U.S. citizens, often accompany him to work when they visit him in Mexico.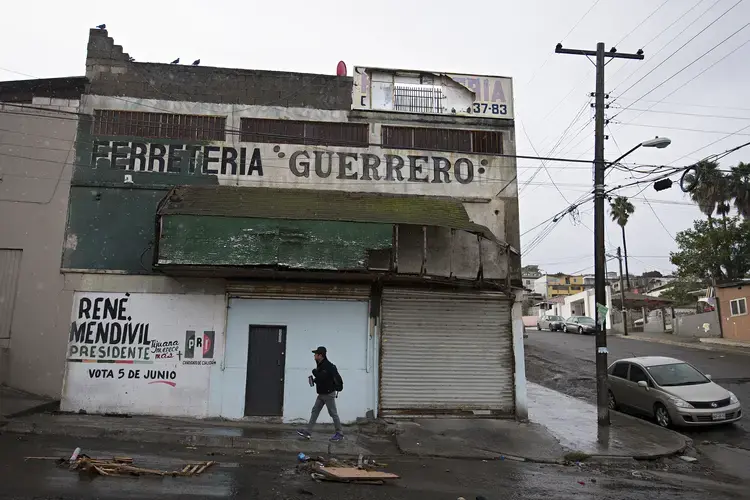 "I am not comfortable having them here … An accident could happen," Ramon, 46, says. "But it's the only time I get to spend with them."
The former Hazel Dell residents are separated by the border most of the week, all because of a routine business trip to Everett that changed the course of his family's American life.
'Baggage of ice'
Ramon runs compressed particle board, or as he calls it in his native Spanish, "melamina," through a machine to tape the rough edges, then places the finished pieces on a table behind him to be shaved. The finished pieces will go into kitchen cabinets.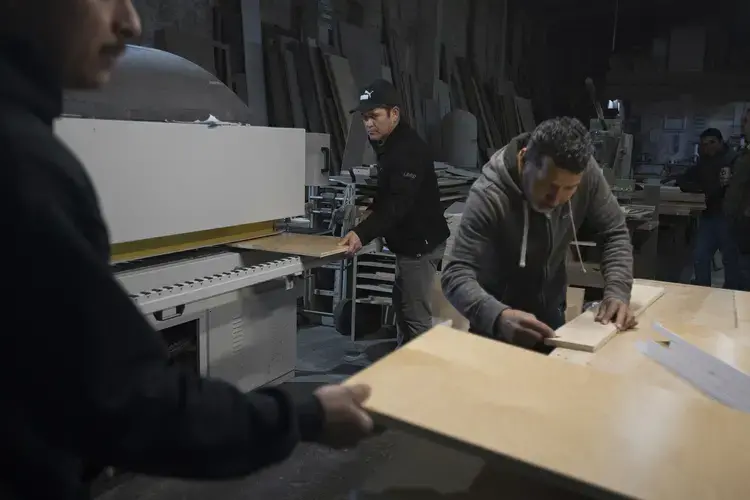 It took him three months to get the hang of his new cabinet-making trade. 
"I'm still learning," he said. "I never stop learning."
His new job is a big change from what he's used to. He spent decades working in the retail, wholesale and warehouse aspects of the grocery business, and in 2016, he launched his own full-time Mexican goods business in Washington.
He regularly traveled to Everett, where he served four clients. He often stayed at a Motel 6 there.
On Feb. 13, 2017, when Ramon checked in, nothing seemed out of the ordinary. But when he was ready to check out the next day, he noticed a black SUV in the parking lot and a man staring at him. He thought it was odd, he said, but he assumed the man was waiting for someone else.
"And I just left my key on the reception and walking back to the car, and the guy is still there in the same place, in the car," said Ramon, whose second language is English. "I drive my car to the street, and they follow me. And two blocks from (the motel), they stop me."
Ramon said another SUV came up behind him, and a handful of people exited the vehicles.
"I don't do anything. I don't drive over the limit. I don't pass any light, nothing. I get surprised why they are stopping me," he said. "When I see those people say ICE, I just felt like a baggage of ice. I still thinking about how and why they know that I'm here. Who told them?"
The ICE agents placed him in handcuffs and loaded him into an SUV. On his way to the Northwest Detention Center in Tacoma, he called his wife, Enedis.
"I just don't want to call her, but I know that she has to know. I told her, 'The thing that I has scared happen, happen. It happen,' " Ramon said, clearing his throat. "The scream that time she made, just feel like a knife in my heart."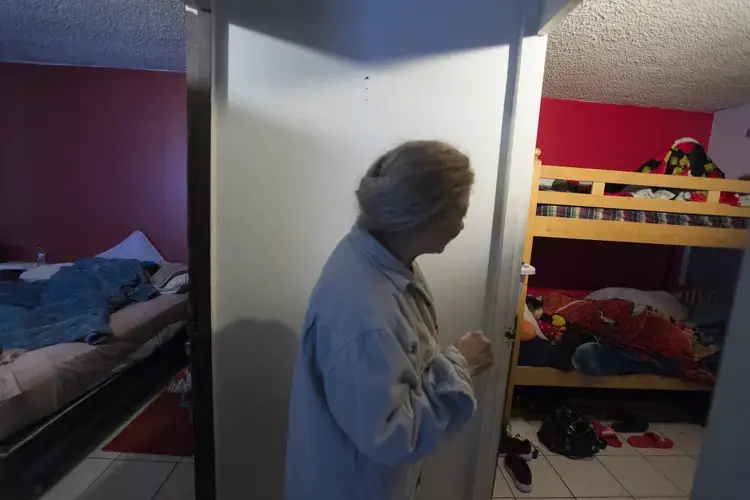 Enedis Flores, 54, said she was driving when she got the call. She pulled over and wept for a half-hour.
"I think, 'What I need to do now? What I talk to my kids?' " said Enedis, whose second language is English.
Over the next two days, she told the oldest children that ICE arrested their father, and instructed them to keep it from Edward and Rayma, now 10. That night, though, when Ramon didn't return home, Edward started asking questions. Enedis did her best to dodge them.
None of the children knew their father was living undocumented in the U.S.
"I just thought, 'Hey, that's my dad. He's been here for like, I don't know how long. He's just doing what he does all the time — goes to work, pays his taxes, all that stuff,' " said Leslie, now 23. "Immigration, in general, I never really took the time to actually look into because it wasn't such an issue in my family, or so I thought."
Ramon tried to adjust to detention.
"When I first arrive there, they treat you like you don't have any rights. They don't care that you're feeling. They don't care if you have kids, family," he said. "For the first three days, I don't eat. I don't want to eat. I just feel really bad. I never be in a place like that, in that situation. The time, minutes, hours, days, go too slow."
That weekend, Enedis brought the children to see him. They all sat opposite of Ramon, looking through a window and speaking over a phone.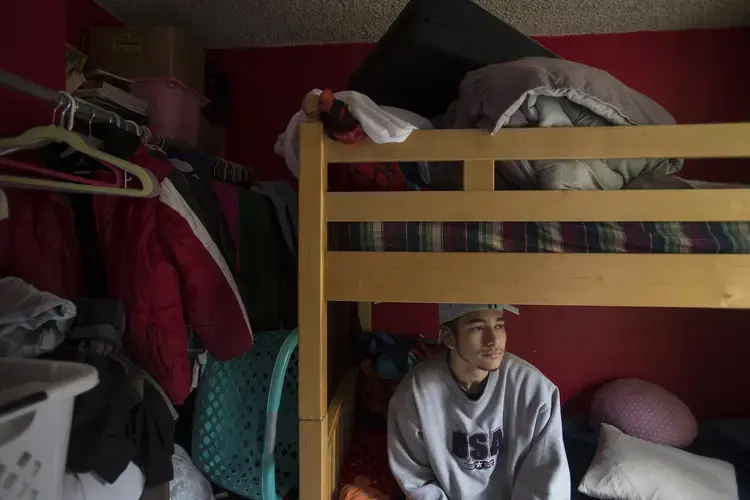 "It was the worst … As soon as I sat down, I started crying," Ramon's oldest son, Lennes, now 18, recalled.
The youngest children, Edward and Rayma, were confused.
"I was thinking, 'How did this happen?' Because I didn't know my dad was not supposed to be in the USA," Edward said.
"We thought he was like innocent and a good (person)," Rayma added.
The family visited every weekend. But at one point, Ramon asked them to stay home, because it was a burden on their well-being and finances.
"That doesn't mean I don't want to see them. I just want them to not sacrifice," he said.
Ramon sat in the detention center until his immigration trial in July 2017. He thought he had a shot at staying in the U.S., he said, because he had no criminal history and paid his taxes. He was a contributing member of society. His wife and children are all U.S. citizens.
"They don't give me any chance to stay there," he said.
The family spent nearly $15,000 on an immigration attorney — they sold a vehicle and used money set aside to pay business taxes — but it did no good.
After six months in detention, Ramon was deported Aug. 28, 2017. He was sent from Tacoma to New Mexico to Mexico City.
"It was just ridiculous, and it made me super angry," Leslie said of her father's deportation. "How can they possibly think it's OK to rip families apart?"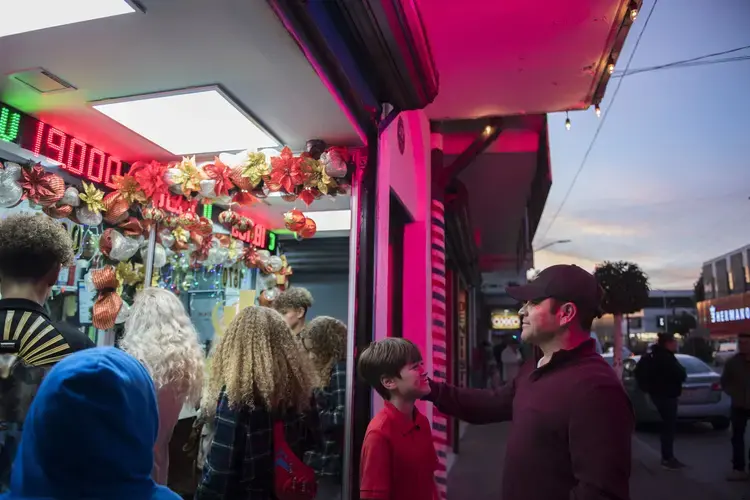 Seeking a better life
Ramon doesn't expect U.S.-born people to understand why he entered the country illegally, he said. But he hopes people can keep an open mind.
He hears people say, "Oh, well, you shouldn't have been there in the first place."
"They say that because I don't think they have the situation like me when I was young," Ramon said. "If we make a decision to do something like that, we don't do it to do something wrong or broke the law … The situation push us to do it … I don't think it's fair to treat us like criminals."
Ramon was born in Mexico's Jalisco state and raised in the small beach town of Bucerias, near Puerto Vallarta.
He said he had a pretty normal life there. He went to school and then started to help his father in agriculture and construction.
Although Bucerias is considered a resort town, traffickers operate in the area. Five of Ramon's friends who stayed have been killed, he said.
"If I live there and not left the area, maybe I'm not alive right now," he said.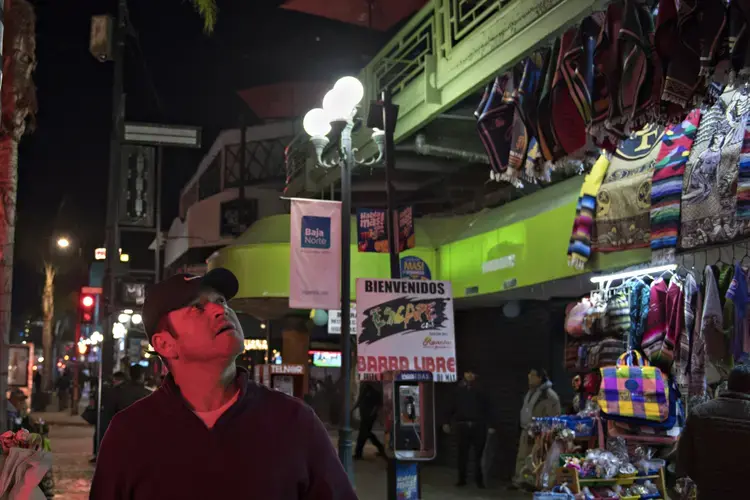 He tried to cross the Mexico-California border for the first time in 1995. He ran into trouble.
"We cannot do it, and we go back to my town. And then a few months later, we come back again and do it and cross," Ramon said. He thinks it was early 1996 when he successfully crossed with four other people.
"We pass a whole night in the hills, and I worry about snakes," he said.
They carried nothing but water and placed their trust in their guide, called a coyote.
"That's another risk because they can do, they can do a lot of stuff, bad things," Ramon said.
He returned to Bucerias a couple of years later to visit his parents. When he re-entered the U.S. in 1998, he was deported. Ramon managed to cross back within the year, he said.
It was around that same time his future wife won a visa lottery in Cuba and came to the U.S. with her son, Jeng-Li, now 30, and Leslie. (Jeng-Li has not lived with the family since he was 18.)
Ramon met Enedis in June 2000 at their workplace. They married three years later. The following year, Enedis passed the test to receive U.S. citizenship.
They talked about Ramon trying to do the same, but with his history of illegal entries, he worried he'd be separated from his new and growing family.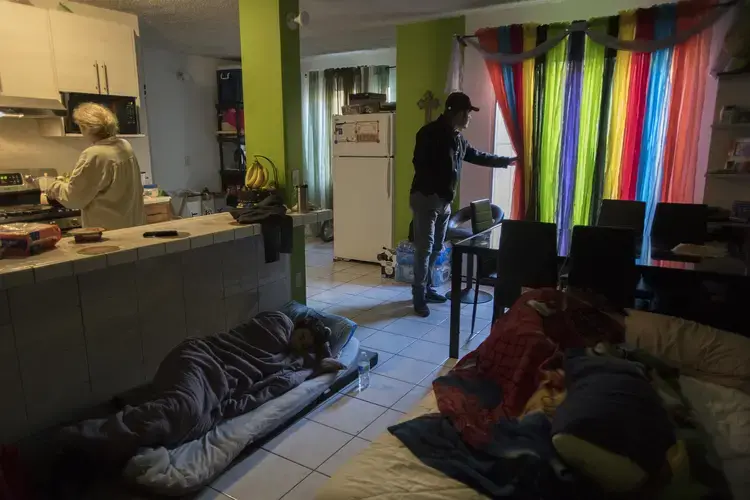 Five years and five children later, the family settled in Hazel Dell. They rented a two-story townhouse near Luke Jensen Sports Park. Those were the golden years, they agreed, especially after Ramon's business blossomed.
"The family was happy," Ramon said.
That all ended the day ICE agents detained him.
Starting from scratch
Now, Ramon makes 2,000 pesos, or about $110 U.S., per week. His rent is 2,500 pesos — $132 U.S. — per month.
"Compared with what I made in the U.S., it's ridiculous. It's a joke," Ramon said. "But for now, it's what I can get. I'm still looking for other income. For now, it pays the bills and rent."
His apartment building is older, and when he moved in, the walls were covered in mold. He refinished the front door, cleaned and painted the walls lime green, and built kitchen cabinets and a bathroom vanity.
Ramon moved to Tijuana to be as close to his family as possible, which prompted their relocation from Clark County to Chula Vista, Calif.
"I start over, start a new life with nothing. Zero. It was a big challenge," he said.















The first two months in Tijuana were the hardest. He lived in his car for a few nights, then slept on the kitchen floor of a friend's apartment for about a month. A friend in California connected him with a brother in Tijuana. The brother let Ramon stay in a little room in his house for a few months until he got his apartment. He's been there over a year.
"I was scared at the beginning. Everything I heard about the city was bad, and I was here by myself," Ramon said. "I still feel like anything could happen."
Finding a decent job in Tijuana has also proved difficult. A friend helped him get the carpentry gig.
When he thinks about his old life, it's not his business, nice home or money he misses most. It's his family.
"The most important thing is that we're all together, not divided," Ramon said.
He can't attend his children's sporting events, award ceremonies or high school graduations. The thought of missing so much makes him feel terrible, "like it's a really bad dream, but it's the reality now," he said.
On the weekends, his wife and children stay with him. During the week, with few friends and little money, he goes straight home after work, lonely and depressed, he said. 
When his wife and children visit his Tijuana apartment, they rarely go out, and instead hole up for the entire weekend.
But on this Saturday in November, they venture to downtown Tijuana.








"Zebras" — donkeys with painted stripes — are stationed on sidewalks for paid photo ops with tourists. A mariachi band plays across the street. Stretch limos cruise Avenida Revolucion, with teens poking their heads out the sunroof, celebrating a quinceanera. 
The family peruses the "artesanias." Enedis places a green, bedazzled sombrero on her head.
They mostly window shop, but Enedis and the children splurge on "crepas." Enedis grins as she takes a bite of bananas, strawberries, cream cheese and Nutella. Chocolate dots her nose. Ramon wipes it off with a napkin, teasing her.
Raymond, 15, begs his father for a chain necklace. Even though it costs nearly a half-week's pay, Ramon agrees to buy it as a late birthday present.
"I feel bad because I can't do the same like I'm doing before. And when I have the opportunity to give them something they want, I feel good," Ramon said.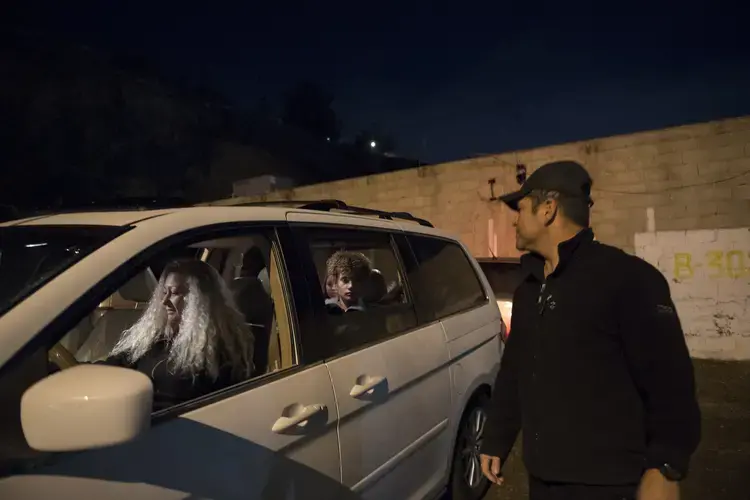 The drive 'home'
It's 10 p.m. Sunday, the end of the weekend. Ramon stands outside the gates of his apartment and watches his family drive away. Enedis yells, "Goodbye, Papi," as she waves out the driver's side window.
The soothing sounds of French pianist Richard Clayderman play as she navigates the dark streets of Tijuana. The roads are mostly empty — a stark contrast to the daytime when traffic largely resembles organized chaos.
Sixteen-year-old Kennedy, headphones on, was less than pleased to sit in the farthest back seat of the Honda Odyssey with Rayma and Edward. She occasionally snaps at the two youngest to sit still and be quiet. Raymond, seated in the middle row, watches a basketball game on his phone.
The line at the U.S. border is only an estimated 30-minute wait, according to a phone app. The family has crossed so many times that they know the best window is between midnight and 3 a.m. That makes for a rough start to a Monday morning for everyone, though. Tonight, the line moves more quickly than the estimate.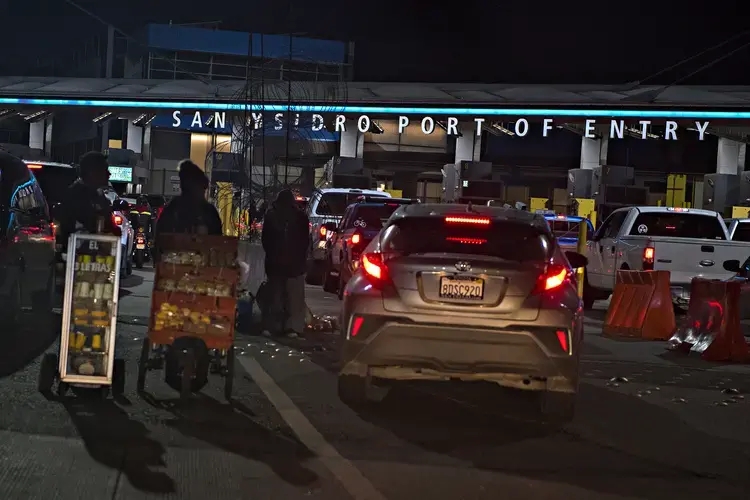 Street vendors approach the waiting cars. Some sell flowers or candy; one is holding a bouquet of sparkling balloons with animal faces.
When it's their turn, Enedis pulls the van up to the border agent, a younger woman. From her purse, Enedis produces the family members' birth certificates and a copy of her passport.
The border agent looks over the paperwork, takes roll call and then asks, "Do you have anything from Mexico?"
"No," Enedis answers. They left what matters behind.
Motel 6 Lawsuit
To learn more about the Washington Motel 6 lawsuit and settlement, visit www.atg.wa.gov/motel-6-settlement-claim-information. The information is also available in Spanish. To file a claim, visit washingtonmotel6settlement.com.
Those who believe they may be a member in the Motel 6 class-action lawsuit and settlement can submit a claim at www.motel6settlement.com.
The claims process in both settlements ends Dec. 31.
Claimants in the Washington settlement are eligible to also file a claim in the class-action settlement. However, class-action claimants waive their right to file their own lawsuit. Claimants may include in their submission how their family was affected by Motel 6's practices, which will be considered in distributing funds.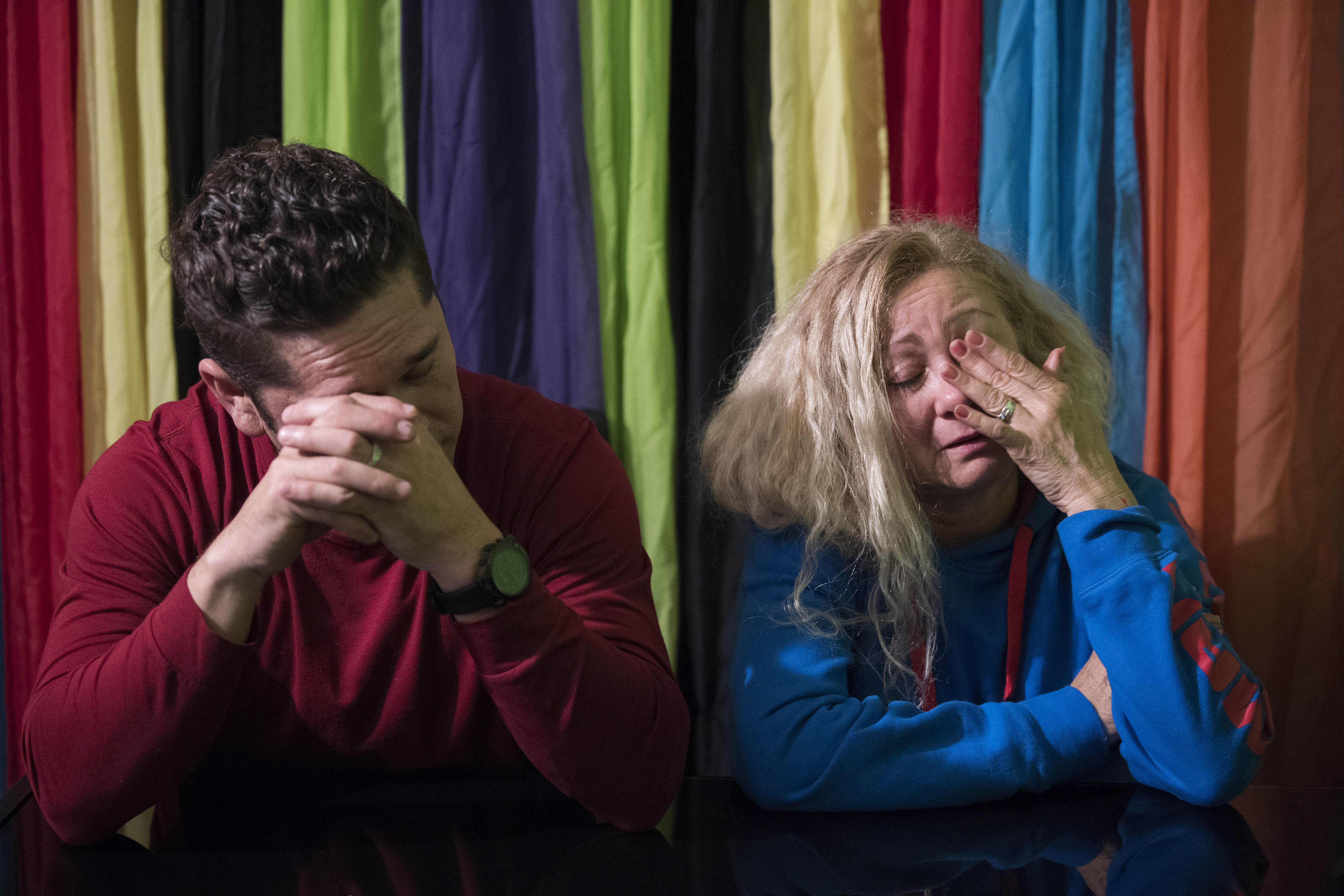 In 2017, the life of a family in Vancouver, Washington, was upended: Ramon Flores, an undocumented...
RELATED ISSUES