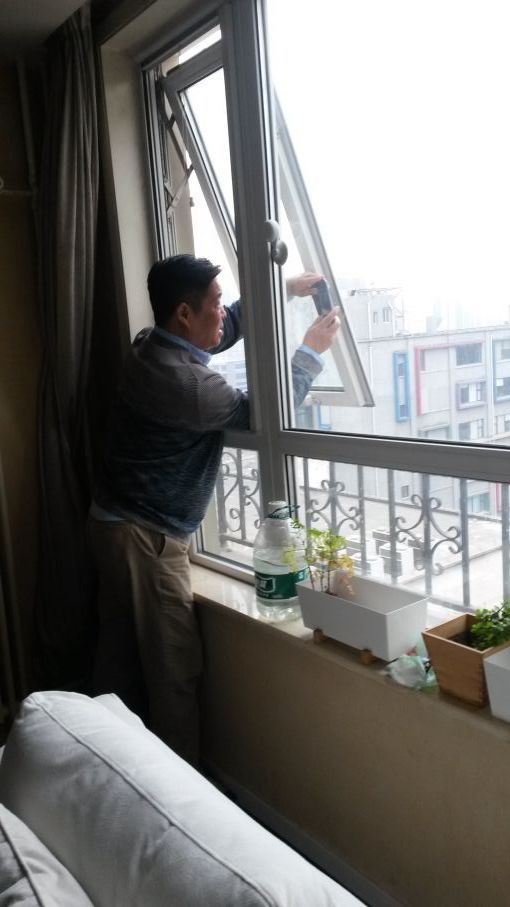 BEIJING, CHINA — Dirty air is part of life in China, unavoidable and in your face. It has inspired a tremendous boom in renewable energy, as the Chinese government begins to try to wean the country off coal. It has also inspired a level of citizen action that is unusual in an autocratic country.
And some of those active citizens are artists.
1. SMOG-WALKING, LIVE
Liu Bolin didn't set out to make art about polluted air, but the subject found him anyway. His bright, high-ceilinged studio sits at the end of an alleyway lined with brick buildings, on the outskirts of Beijing in an old industrial neighborhood now known as the 798 art district. He moved there after his previous studio was razed in one of the waves of redevelopment that have transformed the city.
The loss got him thinking about where individuals fit in modern urban life, and it led to a series of performance pieces in which he has sought to make himself disappear—a project he called "Hide in the City." In its latest iteration, he fixed 24 cell phones to a bright orange life vest—12 on the front, 12 on the back—and began live-streaming his walks around Beijing.
He meant it mostly as a meditation on the ubiquity of technology. It turned out to offer a disturbing perspective on the thick clouds of pollution hanging in the sky as he roamed the streets.
Suffering through the pollution, "I would feel very uncomfortable, I find it very difficult to breathe, and I thought 'This place is not a very good place to live,'" Liu says. The orange vest is on display behind him, on a mannequin made of phone charging cords. "I wanted to use this as a way to present my surroundings."
"Different people have different ways to express their feelings. Playwrights have their own ways, novelists have their own ways," he says. "This is just my way to express my feelings."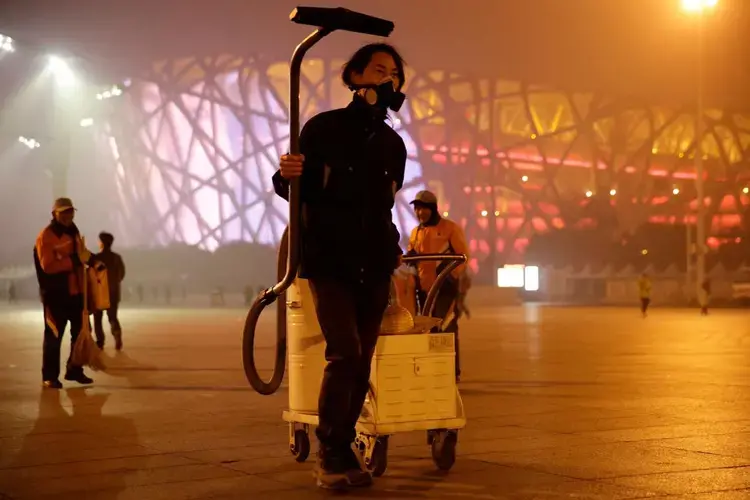 2. BROTHER NUT VACUUMS THE SKY
Jianguo Xiongdi—a pseudonym that means "Brother Nut"—was more explicit in his desire to turn air pollution into art. In fact, he did it literally. For 100 days, he lugged an industrial-strength vacuum cleaner around Beijing, sucking up the air and whatever it contained. When he was done, he had about 100 grams (3.5 ounces) of a dusty substance, which he mixed with clay to make a brick.
Some passersby took him for a street cleaner. Others "thought I was testing the air quality, and some people thought I was a food delivery guy. And there were others who stopped me and said, 'I have a three-bedroom apartment. How much would you charge for cleaning it?'"
His real purpose was more serious. He wanted to turn air pollution into something tangible and solid, to help people grasp the threat they live with. "It's a topic that affects all of us," he says.
He gave the brick to a man who was renovating a traditional Beijing courtyard home, and who incorporated it in the structure. "I put this one brick into the groups of bricks," says Brother Nut. "I see it as giving the individual back to the community."
In another work, he attached a long, orange tube to the tailpipe of a bus, and wound it around to pump the exhaust inside. Viewers were invited to don heavy-duty pollution masks and step in for a few minutes.
"The smell was really bad, even with a mask. Even the eyes hurt inside the bus," he says. "What I was trying to express is that we are destroying ourselves in the cities we've created. We are breathing the polluted air and we are causing the pollution. We are suffering the consequences that are caused by ourselves."
In an installation piece he titled "Starry Sky," Brother Nut filled a large room with 3,000 lights, representing the stars that residents of big cities rarely get to see. Audio sensors picked up viewers' conversations, and when they used positive words like "freedom," "tolerance" or "equality," the lights got brighter. Negative terms like "violence" or "pollution" darkened the skies.
"Most of my works reflect the issues that exist in the society I'm living in," he says. "Fresh air, bright sunlight, these are basic needs for our survival. We can't have them now, and this is my way to speak out."
3. WE-CHATTING THE AIRPOCALYPSE
Zou Yi is less an artist than a tech entrepreneur, but he has used images to make a point about pollution too. In January 2013, when eye-popping levels of the tiny, dangerous particles known as PM2.5 brought the word "airpocalypse" into Beijing's lexicon, Zou began taking a photo from his apartment window every morning.
He posted the pictures on Weibo and WeChat, China's biggest social media sites. Some days, the air looked clear; on others, the skyscraper just a few hundred yards away was barely visible.
"I just wanted to keep it as a record for future reference," he says. "I took the picture randomly and I just carried on."
He's still going, day after day, and he still shares the images online. He also groups them into year-by-year montages, big checkerboards of blue and grey, each box showing the view on an individual day. He has even teamed up with scientists from Nanjing and Arizona State universities to develop a method of estimating pollution levels based on photographs.
Zou has also set up a group called Beijing Air Now, building an app that allows users to submit their own pictures. He hopes the awareness of pollution that has grown in China over the past several years will help bring about change.
Liu, who live-streamed smog with his vest of phones, is less hopeful. "I'm not a politician or a soldier. I did what I can do as an artist," he says. Just as his parents' generation endured the upheaval and bloodshed of China's Cultural Revolution in the 1960s and '70s, today's Chinese must live with pollution, he believes.
"A lot of my friends give birth to their children in America or Europe and they ask me, 'Why do you want to have your children born here?' I answer, 'Well, this is their fate. This is their life, they have to go through it."
The Pulitzer Center on Crisis Reporting funded travel for this story.
Follow Beth Gardiner on Twitter.
RELATED ISSUES