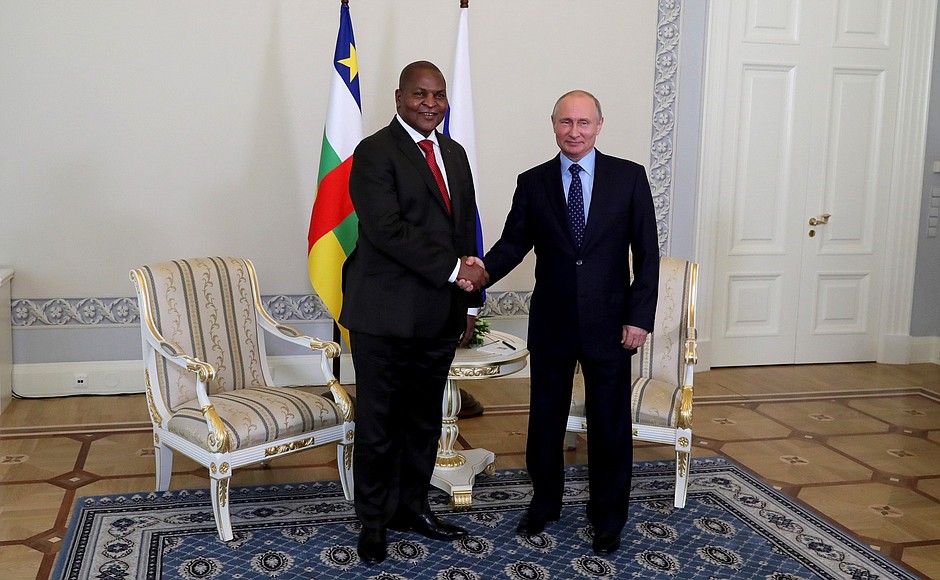 LONDON—Trucks pass through the remote rebel-held town of Ndele in the Central African Republic on a regular basis, carrying U.N. peacekeepers or goods for sale. But one convoy last month held a different cargo: Russians.
"We were surprised to see them," said rebel administrator Dhafar Adoum. "We didn't know what it was all about."
What Adoum saw was a sign of Russia's sudden interest in his war-torn nation, part of a wider push by Moscow to confront U.S. influence overseas. What started last year with an unusual arms deal has expanded to include military training and talk of mining exploration. And with this foothold, some observers believe, Russia is in position to expand its influence throughout the continent, unsettling Western countries who have supported the Central African Republic for years.
"They're all worried, but they don't really know what to do," said one U.N. official in the country, who spoke on the condition of anonymity to describe behind-the-scenes discussions. "France, the U.S. and E.U. … They didn't expect the Russians stepping in."
Conflict has gripped the Central African Republic since 2013, when a predominantly Muslim coalition of rebels called the Seleka overthrew the government and largely Christian militias known as the anti-Balaka rose up and fought back. Thousands died in ensuing sectarian violence. France sent troops to intervene, eventually handing control to a United Nations peacekeeping mission.
The election of President Faustin-Archange Touadera in 2016 was seen as a sign of progress. But violence broke out after a brief post-election calm and has escalated significantly in 2018. Nearly 700,000 civilians have been displaced by fighting, double the number from just over a year ago.
Outside of Bangui, the capital, Touadera's government wields little to no control. Armed groups control about 80 percent of the country, along with access to precious resources like gold and diamonds.
Meanwhile, U.N. peacekeepers are overstretched and under-resourced. Humanitarian appeals fare no better. And Western interest in supporting the Central African Republic has waned. Faced with an ongoing crisis, Touadera was forced to look elsewhere for help—and Russia saw an opportunity.
The first signs of a budding friendship emerged last October, when Touadera met Russia's foreign minister in Sochi. The two discussed politics, trade and "the considerable potential for partnership in mineral-resources exploration," according to Russia's foreign ministry.
Just two months later, Russia won an exemption to a U.N. arms embargo to donate small arms and ammunition to the Central African Republic's military. Moscow sent the shipment in early 2018, along with five military and 170 civilian instructors to train two army battalions.
While the arms-embargo exemption was by the book, what followed has been more opaque. Touadera now has a Russian security adviser and Russians in his presidential guard. Mercenaries from the same Russian company caught up in a recent Syrian clash are believed to be in the country. From the convoy in rebel-held Ndele to Russian emissaries flying around the country, it's unclear who exactly is doing business on behalf of Moscow in the Central African Republic.
Russia and the Central African Republic's government have also signed several bilateral deals,  but no one, according to Central African analyst Igo Acko, knows their contents or what issues they cover.
There are also concerns about whether Russia is attempting to play both sides of the conflict. Russian emissaries have met with several armed groups, but "we don't know what they talked about," Acko said.
If Russia wants to improve security, Acko said, it would be helpful, given the challenges facing MINUSCA, the U.N. peacekeeping mission, and the ineffective Central African army. Kenny Gluck, the deputy head of MINUSCA, acknowledged some "nerves" around Russia's efforts but called Moscow's arms donations a "very positive thing," along with their training efforts.
"We all have the same purpose here. We all want Central Africa to be a success," Gluck added.
But Moscow's intentions are still unclear.
"They come to help—and they can really help because there is a gap to fill," Acko said. "But on the other hand they are also coming for their business, and we need to know the nature of this business so we can say if it's really good for C.A.R."
Either way, Touadera continues to cozy up to Russia. The Central African president met his Russian counterpart, Vladimir Putin, last week in St. Petersburg, where Putin said he hoped to forge even closer ties.
It's too soon to say how or if Western nations will respond — much depends on how much value they place on maintaining their influence in Africa. But one senior diplomat based in the Central African Republic said that Russia's quick results have already embarrassed other delegations.
"Russia delivers, we talk," the diplomat said. "That's the impression. And it's not wrong."
For now, no one has publicly raised a fuss, but the diplomat warned that Westerners should pay attention. If Russia succeeds where they failed, the diplomat said, other countries seeking assistance will take notice.
"This could come down to a test of, really, traditional Western resolve, power and influence," the diplomat said. "If we cede C.A.R., we're ceding Africa."
RELATED ISSUES

Governance

Issue
Conflict and Peace Building
Conflict and Peace Building