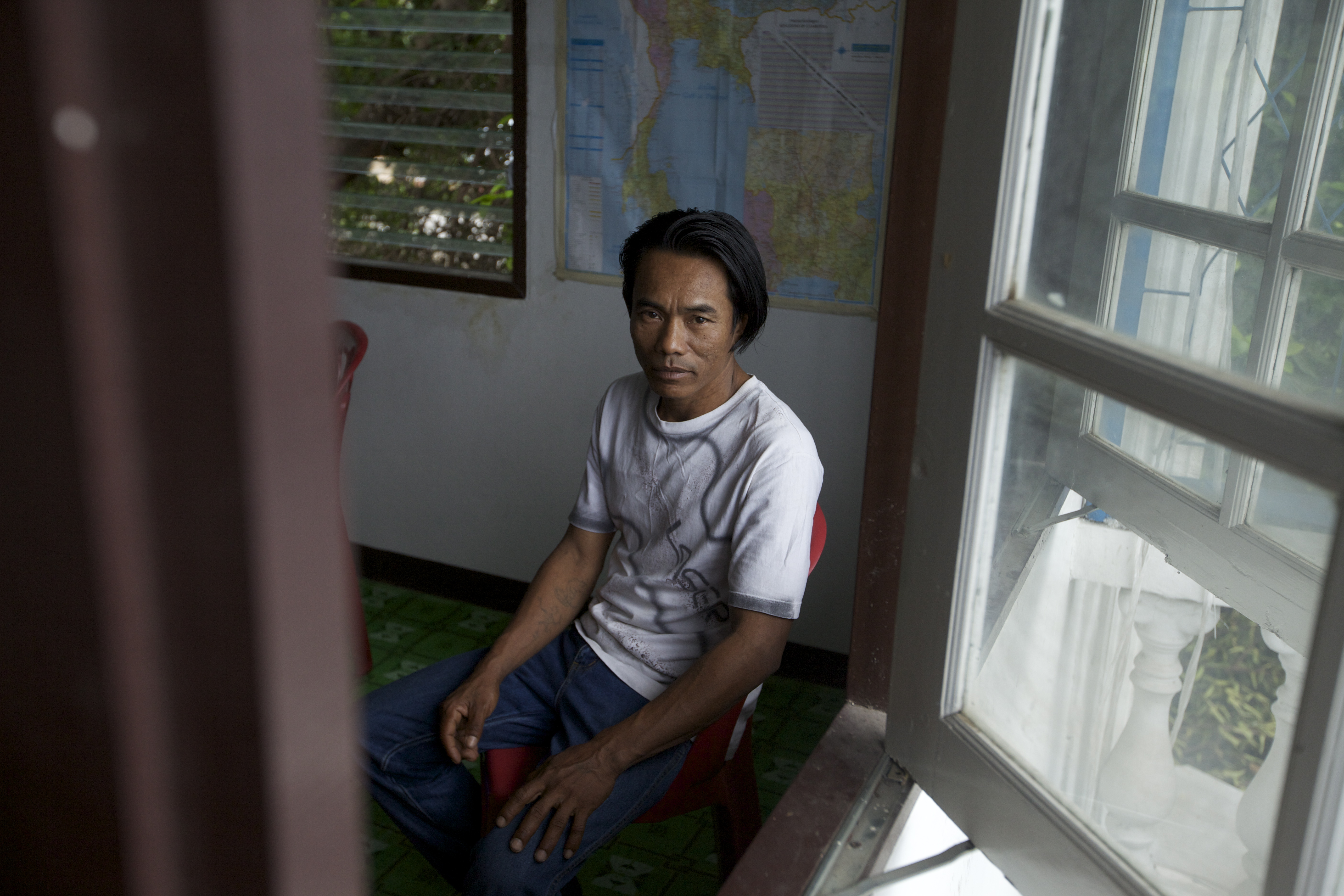 After more than 20 years as a poor rice farmer in western Burma, Mi Oo knew that taking a risk was only way to give his son a better life. Last year, the 46-year-old paid a broker about $500 in Thai baht to smuggle him into Thailand, with the promise of a job in an unregistered shrimp peeling factory. He'd heard through the migrant grapevine that good money could be made. Instead, he bought his way into a waking nightmare that he could never work his way out of.

Sold to a nameless back road factory in Samut Sakhon province, his bosses asked for his name on arrival; they never used it again. He was issued a number–14–along with a pair of gloves, rubber boots, apron and facemask, and a slice of floor to sleep on in a room packed with more than a dozen other workers. All of these expenses, he was told, would be deducted from his wages. But that was OK given that he'd been promised a salary of about $10 a day, roughly the same amount he earned each week slogging through the paddies.

The workday started at 4 a.m. and ran until 9 p.m.. Lukewarm meals of rice and vegetables were served just twice, for 20 minutes, the only breaks he was allowed. The rest of the time the workers peeled furiously with their heads down and seldom went to the bathroom. No one spoke to each other, so Mi Oo kept quiet. He started to take some pride in the speed with which he wielded the knife, soon peeling upwards of 15 kilograms a day. Despite the long hours, he looked forward to the time he could send a portion of his first check back home to his wife and young son.

At the end of his first week, his boss gave him a handwritten chit with a line-item list of deductions: $2 a day for lodging; $1.75 for food; 75 cents for equipment rental. He was even charged for showers and trips to the toilet. Mi Oo's take home, in the end, was about $30--equivalent to less than half the national daily minimum wage. At this rate it would take him more than a year just to pay back his debt to the factory. And that, he understood, was the idea.

Over the next six months, Mi Oo kept his head down and peeled seven days a week during while his co-workers were subject to rampant abuse. When someone slowed down with cramps or complained of numb hands, they were warned maybe once, he says, and then slapped by the boss who prowled the floor. If they refused to go on, they were held in a cell underground. He recalls how one woman, number 48, was hit in the head with a chunk of ice. Another who buckled on the floor in tears was repeatedly kicked. A man found to have a cell phone was promptly beaten. "(It) was like hell," said Mi Oo.

Although some more experienced peelers were allowed to leave for a few hours, Mi Oo said they knew they could not seek help because the bosses had confiscated all their documents and had ties with local police. Six months on, he was surprised when authorities raided the facility and hauled them away. Thai investigators found a hand-gun and a covered entrance to a dungeon-like room where workers were apparently held. The factory, known to some as Sundish, was shut down, though it's said to have re-opened under a different name. No one knows who owners were and where its shrimp are delivered.

Still in Thailand with a temporary work permit, Mi Oo will never go back to work in a peeling shed. "I would rather make less money than live like an animal," he says. He has since found work on a construction site in Bangkok, where he gets what's owed him and the labor is at least outdoors. He swears that he will go back to Burma as soon as he has enough money to cover the trip.
RELATED ISSUES