In Malaysia, each state manages its forests and land use. The state governments decide which forests will be preserved, logged sustainably, or cleared and developed.
Using 20 years of forestry data, environmental website Macaranga created a quiz for its readers to test their knowledge of the different forest management strategies across the country.
"The answers are likely to surprise most people and get them thinking about the many nuances that decide a forest's fate," said Macaranga's co-founder Yao-Hua Law.
State forestry departments shared with Macaranga their achievements in preserving forests over the past 20 years.
Selangor State, for example, said that the department "[m]aintained and increased reserve forest area in Selangor, in line with the state government's commitment."
Other states focused on numbers. Perak's department said it "recorded the second highest area of permanent reserve forest in Peninsular Malaysia, that is 987,165 hectares." 
In comparison, the size of New York's Central Park is 341 hectares. The state of Rhode Island is about 400,000 hectares. 
However, government figures, which are based on land allocation, don't always line up with independent analysis based on satellite imagery. The graphic below shows the difference between the two when it comes to forest loss between 2007 to 2019.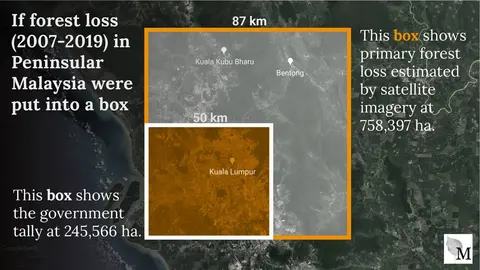 According to the government, Malaysia lost 245,566 hectares in those 12 years, but an estimate based on satellite data from Global Forest Watch puts the number at 758,397. That is a difference of half a million hectares or about one million football fields. (One hectare is about the size of 2.5 football fields).
Take the quiz on Macaranga's website to learn more about how different states governed their forest reserves. 
RELATED ISSUES
RELATED INITIATIVES