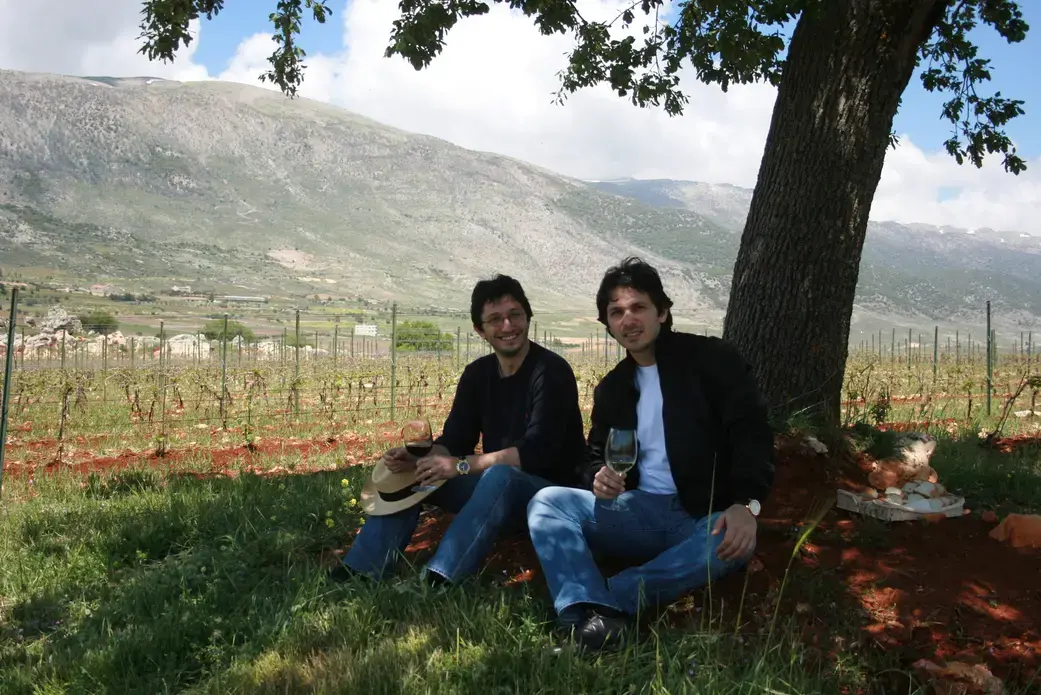 Once a year for the past six years, a box of grapes has made a most dangerous journey. Packed on ice, it is driven by taxi on a five-hour 125-mile journey from a vineyard in Syria across the Lebanese border to Beirut.
The grapes come from the Bargylus vineyard located close to the Syrian coastal city of Latakia, the only commercial vineyard in Syria. It is owned by Lebanese-Syrian businessmen Karim Saadé and his brother Sandro who taste the grapes at their offices in central Beirut to decide the optimum time for harvesting.
"It can take many taxis coming back and forth," says Karim Saadé. This is the sixth consecutive year the brothers have had to taste the grapes remotely; for safety reasons they have not been able to return to the vineyard for more than five years due to the conflict in Syria.
The perilous taxi journey of the grapes is just one of the many logistical challenges of producing wine in a war zone. "Sometimes the borders have been closed, that happened many times. That is also a big constraint but then we have to deal with it, we can't do otherwise," says Saadé.
The Bargylus wine is grown, produced and bottled in Syria, no mean feat in the midst of the world's worst conflict.
"Nothing is done outside Syria and that is the rule, otherwise it is not a Syrian wine. Some people have been asking us if we were to bottle the wine in Lebanon, but that would be heresy," says Saadé.
The Latakia province has seen fighting between government and rebel forces and, while the vineyard has mostly been spared, it has been impacted by the fighting.
"About three years ago, every six to eight months we had mortar shelling on the estate. We had some damages but it's part of life in this area of the world," says Saadé. Thankfully, although some vines were destroyed, there were no casualties. But, as the conflict continues, the vineyard could once again be threatened.
Political circumstance
For security reasons, Saadé does not divulge the exact route the wine takes out of Syria and the logistics involved. To make their wine, they first have to import the bottles, corks and labels into Syria "which is not easy. Sometimes it is by land and sometimes by sea, it all depends on the political circumstances", says Saadé. Once produced the bottled wine is exported "sometimes through Lebanon", he says. The brothers are in constant contact with their team in Syria. "It is something we are dealing with every day, every hour of the day sometimes. It is a real challenge, [but] until now we have been managing."
Even before the war, the brothers faced a big challenge – producing wine in a region that does not have a culture of wine. Over the past 10 years, Lebanon's wine industry has grown and now boasts around 30 well-know wineries but Bargylus is the first in Syria. Previously the only wine that was produced was by state-controlled wine producers but "it didn't fit the international standards", said Saadé.
A successful business exporting from Syria is something of an oddity given the devastating impacts of the conflict which began after a series anti-government protests in 2011 and has developed into a complicated multi-sided war. Syria was once home to a thriving middle class and strong industrial and agricultural sectors but its economy has been devastated.
The Syrian grapes that start their journey in the back of a taxi go onto be produced into wine that has become highly regarded internationally. In the 10 years since the Saadés started production, their wines have gained a reputation internationally and grace the wine lists of Michelin-starred restaurants in Europe and Asia including Heston Blumenthal's Dinner in London and Odajima in Tokyo.
It is sold in neighbouring Lebanon and internationally. This year, they have expanded into new markets including Dubai, Singapore and Japan. The brothers also own a well-regarded vineyard in Lebanon, Chateau Marsyas.
While the novelty of a wine coming from a war zone undoubtedly helped the wine's profile, it has gained a reputation for being a quality wine. "There is a big curiosity," admits Saadé. But he knows that if the wine was not up a high standard, it would lose interest. "This is how things started, but if you are not up to the level, it won't go far."
Beirut offices
It is not the brothers' first experience of doing business in a war zone. Their family company, founded by their father Johnny Saadé, which also boasts tourism and property interests, operated in Lebanon during that country's own wars. Not far from their sleek, modern offices in Beirut, buildings bear the pot marks of bullet holes and shelling, scars from Lebanon's civil war and more recent conflict in 2006.
"I was born a year before the civil war in Lebanon and my brother a year after and, as many Lebanese, we have learnt to adapt," said Saadé. "I think it [conflict] is in the blood, at some point you get used to it. It's not good to get used to it but we have no choice."
Despite the challenges, the brothers haven't considered stopping production and are committed to continuing their business. "We had some damages but it is part of life in this area of the world. We are from here, we are from Syria and Lebanon," said Saadé. "We choose to remain here and we will just cope with the challenges."
The Bargylus wine has been dubbed the most dangerous wine the world. It is certainly one of the most challenging to produce and perhaps the only one where the threat of mortar shelling is one of the growing conditions. Saadé appears to relish the challenge.
"Given everything that is happening, it is a simple case of perseverance despite the odds."
RELATED ISSUES