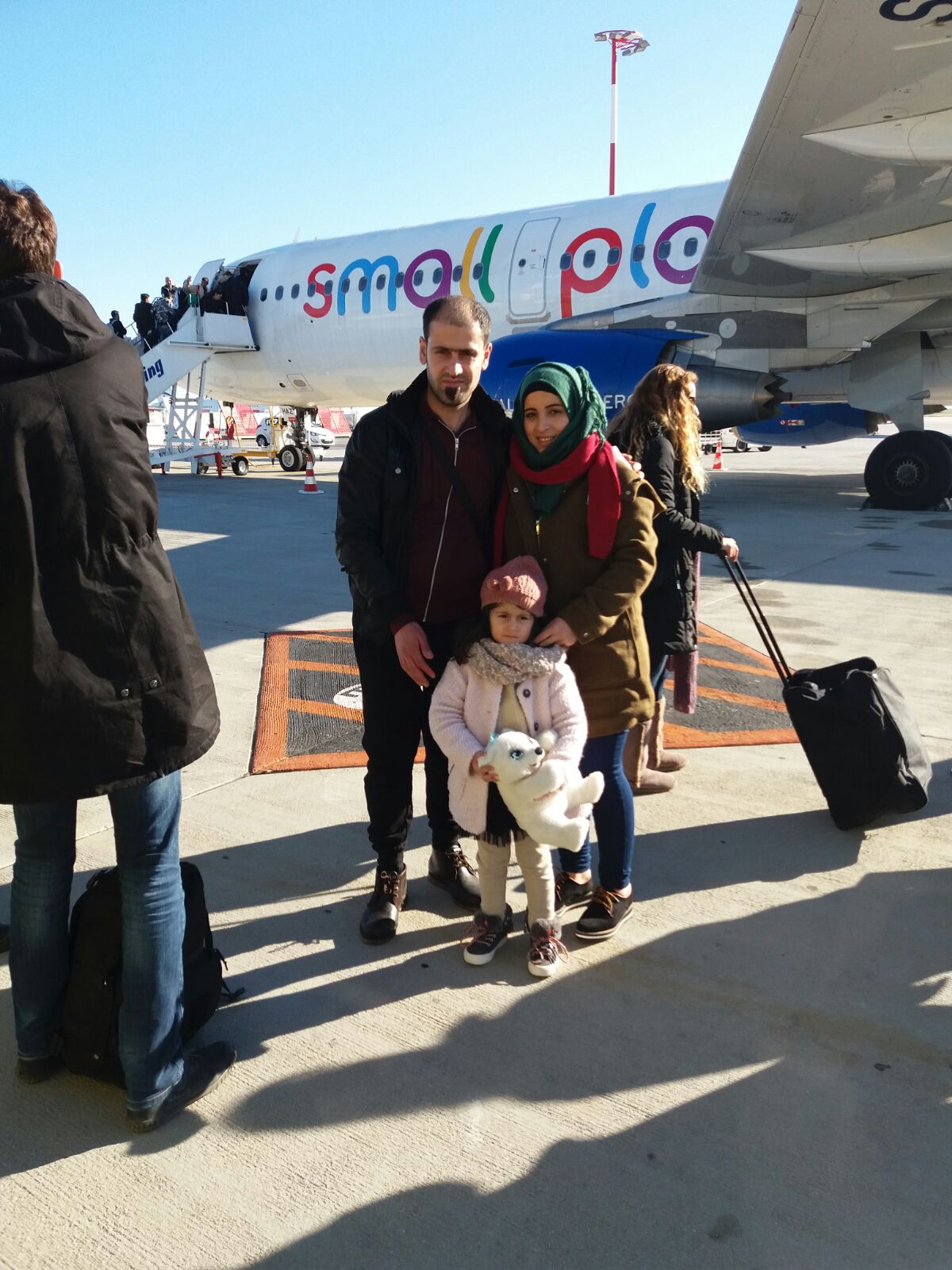 "Can I ask your advice?"

It was a late November evening in Thessaloniki, Greece. I had just hopped in a cab with TIME's Arabic translator, Abeer Albadawi. We had spent the day interviewing a young couple from Syria that were at the center of Finding Home, our year-long project about pregnant refugees giving birth and raising children in Greek refugee camps. Now, we would return to one of those same camps — one where Abeer, too, had once called home.

Like the women we were profiling, Abeer was a refugee. She and her husband and daughter had made the perilous overland crossing from Syria in 2015, eventually boarding a rubber dinghy in Turkey that would take them to Greece, and, she hoped, onward to Western Europe.

Not only did Abeer, 22, speak a fluid English picked up as a student in Aleppo, she also had a reporter's instinct for detail and a knack for asking hard questions at exactly the right time. When she asked one woman what it was like to share a 100-square-foot tent with four kids, her husband and her husband's second wife, we were granted rare insight into the complications of polygamous marriages. I knew from that day forward that she would be a vital member of our reporting team.

About three weeks later Abeer was summoned to Athens for her second asylum interview, the one that would reveal where exactly in Europe she and her family would be sent. Refugees' entire lives in Greece revolve around these interviews. They take months—for many they will likely take years—to materialize. They offer the first glimpse of a settled future for families that have been living in limbo, relegated to tents on the fringes of society.

Because the asylum process is confidential, Abeer's asylum officer couldn't tell her beforehand which country was offering to take her. She would only find out in the interview, at which point she would have a choice. She could accept the offer, or she could reject it and claim asylum in Greece instead. Either way she would have to decide immediately. She really wanted to go to Ireland because she spoke English. But she suspected she would be offered Germany, because all the other refugees that had interviews at that time were all being sent there as well.

Abeer is a go-getter, fearless and sociable. Within months of arriving in Greece she had managed to find a patron who put her family up in an apartment, instead of the tents that most refugees get. When I met her, she had just been offered a full time job with a humanitarian organization worth 1300 euros ($1360) a month — a fortune for a newly arrived refugee. Then the local university offered her a scholarship for a new masters degree program in Refugee Studies. She was starting to put down roots.

But Abeer was torn. Her husband had no job, and the prospects were dim in economically crippled Greece. Abeer wasn't sure she wanted her daughter going to school and learning Greek at the expense of English. As our taxi sped along the darkened highways towards the refugee camp, she asked me for my advice on a decision that would dictate the rest of her and her family's lives.

We discussed the pros and cons at length. I was confident that whatever Abeer chose, she would land on her feet. I wasn't so sure about the future for her husband and daughter though. Nor was she.

At that point our taxi driver, a 23-year-old named Nico, interrupted. "I am sorry to jump in," he said in flawless English. "But I am hearing this conversation, and it's the first time I've ever heard something like this, and I must say something." He launched into an impassioned speech about how much he loved his country but, he concluded, "There is no future for the young here. There are no jobs, there is no hope." He looked at Abeer through the rearview mirror. "Maybe you have a job, but your husband won't find one, and what future is there for your daughter? I am proud of my country, so I am ashamed to say this, but you must choose Germany. At least there you have a future for your family."

He apologized again for breaking the taxi driver pretense of deafness, and stayed silent for the rest of the journey. So did Abeer. Three days later, she texted me as soon as she got out of her interview. "I am going to Germany," she said. "I hope it is the right choice."

Abeer and her family arrived in Munich on December 15, and then moved on to a small town near Bielefeld, in northwest Germany. For the moment she is staying in a crowded hostel with other refugee families, but she will be given her own accommodation in a few weeks. Her husband and daughter will shortly start German lessons, and she is already looking for a job. "Here it will be difficult," she told me over WhatsApp. "I don't speak German, so I can't find a job. But I will start." Meanwhile, the Greek university is still honoring the scholarship offer, and letting her take the course online. "I like working with refugees, and I want to do that in the future."

Four days after she arrived, a cargo truck plowed into a crowded Christmas market in Berlin, killing 12 in what is thought to have been a terrorist attack. German authorities suspect that the perpetrator may have been a Tunisian immigrant who was already under suspicion of terrorist links, but they have not caught anyone yet. Abeer frets that whoever is behind the attack, there will be a backlash against refugees. "Oh my God. I am worried," she told me over the phone. "I think after that attack, people will be angry now at the migrants. Every person who already hates refugees will hate them more."

Already, she is starting to wonder if she should have stayed in Greece. "Maybe they don't have opportunities there," she says. "But at least they were friendly to the refugees. Here no one even smiles at us."

To watch a video about Abeer, visit Time.com.

See the full TIME multimedia presentation here.
RELATED ISSUES

Issue
Conflict and Peace Building
Conflict and Peace Building

Issue
Migration and Refugees
Migration and Refugees