The aerial photographer Alex MacLean began flying in the early nineteen-seventies, while studying architecture and urban planning at Harvard's Graduate School of Design. He realized that with a relatively inexpensive 35-mm. camera and a plane he could demonstrate spatial relations between downtowns and suburbs, between transportation networks and housing, between built and open space. Later, when he began his career as a photographer, he used his aerial perch to showcase otherwise unseen worlds, such as rooftop gardens and spas, and military-aircraft junkyards. He photographed patterns, such as farmland tillage lines, shipping containers stacked in tiers, and geometrically arranged beach umbrellas. Many of his photos—some more subtly than others—are made out of environmental concern. A series he shot in 2014 drives home the awesome scale of tar-sands strip mines in Alberta, Canada. An ongoing project documents no-till farming, a practice that reduces soil loss and slows global warming.
Last month, with funding from the Pulitzer Center on Crisis Reporting, MacLean and I rented a Cessna 172 four-seat airplane in Nashville, where a pilot he knows gave us a good deal. MacLean flew us from there to southeast Texas. A month had passed since Hurricane Harvey had made landfall. The aftermath of the storm—expected to be the costliest natural disaster in U.S. history—had been photographed exhaustively, with images of residents canoeing down flooded streets and sorting through the wreckage of their water-logged homes. Alex wanted something different: by photographing the region from above, he wanted to capture what had made Texas so vulnerable, and why disaster planners, in preparing for future storms, can't ignore the changes that climate scientists say global warming is bringing.
Our first stop was Beaumont, on the Gulf Coast. The crew at the airport there suggested that we fly over the nearby city of Vidor, where piles of debris still lined entire residential blocks, awaiting removal by contractors. We passed above a rising mountain of debris west of Beaumont, where trucks were delivering materials they'd carted away from the insides of houses in the nearby suburbs of Bevil Oaks and Northwest Forest. Nearly every house there required gutting.









We flew low over Barker Reservoir on our approach to West Houston Airport. Pools of water still glistened in the normally dry basin. Barker was designed to retain storm water, protecting Houston from flooding. During Harvey, it didn't work as expected. Too much water flowed into the basin, flooding subdivisions on the area's periphery. Then, fearing that levees might be breached, water managers sought to prevent even more disastrous flooding by opening Barker's spillway gates, inundating already sodden neighborhoods downstream.
After Houston, Alex flew on without me to Rockport, where Harvey first made landfall. Wind, not water, had caused most of the damage there. A-hundred-and-thirty-mile-per-hour winds and swarms of tornadoes had ripped roofs off buildings and knocked over mobile homes. Alex saw worrisome signs for the future of development on the Gulf Coast. By chance, he'd arrived at high tide—and at an unusually high one. In the wealthy neighborhood of Key Allegro, seawater was lapping near the doors of the expensive homes.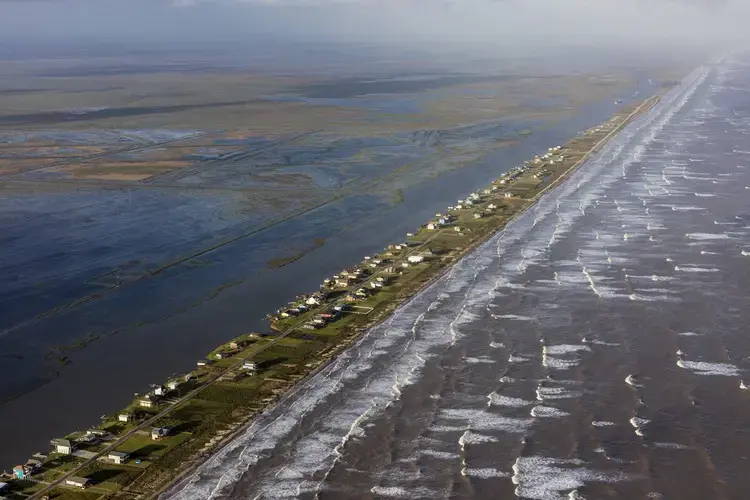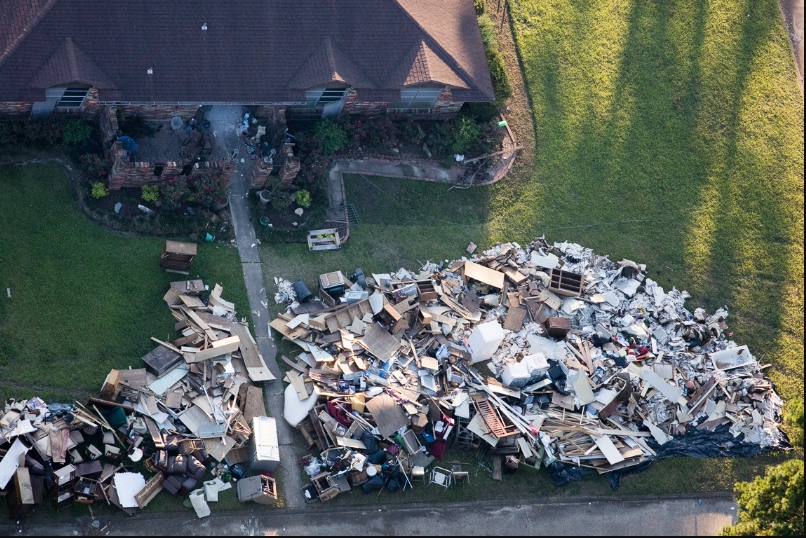 After Hurricane Harvey aerial photographer Alex MacLean and journalist Daniel Grossman flew across...
RELATED ISSUES