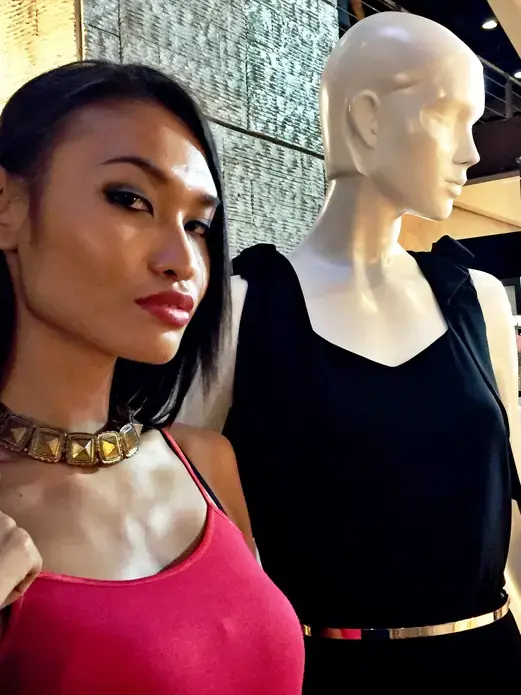 Boonhor has not undergone any surgical procedures. This isn't uncommon in Thailand, despite the prevalence of plastic surgeons who specialize in the complicated procedure. Dr. Greechart of Yanhee International Hospital says he has seen a decrease in the number of native Thais undergoing sex-reassignment surgery, perhaps because of increased costs and/or familial pressure. Image by Julia Boccagno. Thailand, 2015.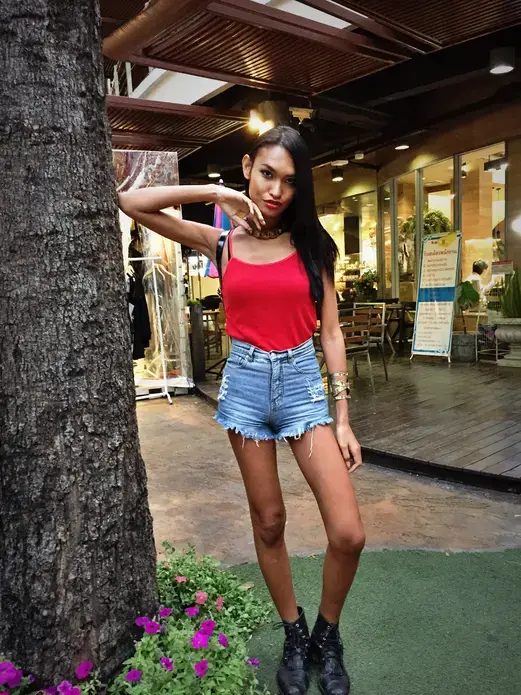 Kritchaya "Lolita" Boonhor doesn't allow negativity to weigh her down. "If someone doesn't like me, well good to know," she said. "If someone likes me, well come talk with me!" Image by Julia Boccagno. Thailand, 2015.


As a naïve kindergartener, Kritchaya "Lolita" Boonhor—now 24—dreamed of the day she could become a superhero. And, in a sense, she has become one, particularly to the thousands of people who struggle to accept their true gender identity.

Boonhor knows the struggle because she has lived it. Throughout her childhood and adolescence, friends and family members mocked and targeted her for not conforming to the male prototype. Instead of partaking in rambunctious physical activities, such as sports, Boonhor found solitude in more reserved activities, like painting and drawing.

"Can you just be a boy for one day?" her father asked.

Her father began observing his only born son with eyes like a hawk. Feeling pressured, Boonhor attempted to downplay her naturally effeminate disposition. Despite a valiant effort, she couldn't act like a man. As a result, her father took matters into his own hands.

"The reason why my father decided to take me to a boy-only school was to let me be a soldier [like him]," she said in Thai. "My father thought this [my gender identity] can be changed, but it can't. The truth is, it can't be changed. It is something deep from my heart."

For Boonhor, enrolling in boarding school was a blessing—a way to escape her father's verbal and physical abuse. Every weekend, though, she would become the target of her father's explosive behavior.

"There was one time he found my girl clothes and saw a picture of me dressing like a girl on my phone," Boonhor said. "He took my phone and saw my pictures inside. He was angry. He told me if I don't stop acting like this, he would kick me out of the house. His words hurt so much. I actually ran away once."

She continued, "My father prefers physical assault as he is a soldier—slapping, squeezing my neck. He was very bad tempered. He attacked me, and I hated him so much when I was a child."

The abuse didn't end there, eventually seeping into her daily life at boarding school. The place where she would escape the wrath of her father was no longer the safe haven it once was.

"When I was in M.2, it was the first time I got raped by seniors," she said. "They were hall monitors. Sometimes I would get summoned to these hall monitors' room and get locked in. Other senior students knew too, but they helped each other out."

Boonhor says sexual assault became more prevalent when she began taking birth control tablets, which are non-prescribed medications in Thailand, in M.4—the U.S. equivalent of 9th grade. Convinced by a friend, she began taking female hormones in hopes of developing breasts, a smoother complexion, and, overall, a more feminine appearance.

After a month, Boonhor noticed results from the hormones. Despite the pain she felt in her chest from growing breasts, she says she felt "good" and continued taking the pills for additional results.

"I felt that maybe I should go on transforming myself as I am quite slender, quite like a girl," she said. "So I keep on taking birth control pills—even though I'm still in this school."

Her new appearance, though, posed problems at school. She would go to great lengths to conceal her female physique from teachers and students, but the communal style of living created obstacles. Boonhor says she would not only shower at odd times to avoid ridicule and humiliation—she would also bind her developing breasts, which were particularly obvious under her white uniform.

But, she wasn't alone. After eight years of boarding school, Boonhor cultivated trustworthy friendships with a few fellow students. These sidekicks became her family, her protectors.

"Some nights there was someone that I didn't know who it was, and he jumped into my bed," Boonhor said. "It was a shared dorm, and it was dark. He tried to touch my body, to feel what my breasts were like. It was scary, but my friends helped take care of me. It was a very deep relationship between me and my friends. Sometimes my friends [would] sleep with me in my bed to prevent someone else [creeping] in."

Boonhor channeled her energy into her studies—studies she wasn't passionate about—in order to prove herself to her father. After she decided against her father's wishes not to take an exam that would enroll her in cadet school—to become a soldier like him—Boonhor chose the science-math track in high school and majored in Food Science at Phranakhon Rajabhat University.

While attending the university, Boonhor says she felt more comfortable in her skin—as a girl. She was no longer required to abide by boarding school rules, which forced her to wear the male uniform. She also developed a serious relationship with a man named Andy from Cardiff, Wales, whom she met on the Internet. After dating for about two or three years, Boonhor says they knew each other from the inside and out. What happened next, however, was something she never foresaw.

During their last year of dating, Boonhor says he began acting differently—became frequently angry, and always asked for private time. Thinking he was cheating on her, Boonhor confronted Andy and his change in behavior.

"He took me to see his safe deposit box," she said. "He opened it. The first thing I saw were girl clothes, wigs, make-up. He told me they were his own. I was confused."

This was Andy's way of telling his Boonhor that he was making the transition—at 26 years of age—to female.

Boonhor says she found herself in an odd situation, in limbo. On one hand, she wanted to support his transitioning, especially as someone who had gone through it. On the other hand, this was a person she trusted and loved. Everything she thought she knew no longer held true. Nonetheless, Boonhor decided to support her ex-boyfriend. She would take her shopping, advise her on which hormones to take, and accompany her to the bars as a transitioning woman.

"I consider it as a life experience, which makes me become stronger," she said. "I don't find it more difficult to trust other people. I'd like to see it [the experience] as the way to understand life and move on."

The strength she acquired from her past experiences—the physical and emotional abuse from her father, the sexual assault at boarding school, and the relationship with her ex—has not only allowed her to survive the competitive, ruthless modeling industry, but also to break the "glass ceiling" for transgender models worldwide.

In the fall of 2014, Boonhor, on her way to her waitressing job, caught the attention of a European photographer, who appreciated her "look" and invited her to a shoot. The image he took went viral on social media and enchanted Apple Modeling Management, which, in November 2014 was pioneering its transgender modeling division. Boonhor says about 100 transgender women were invited to the casting, but only ten were offered five-year contracts with the agency.

"I've been in this career for not even a year, just about seven months," she said. "Now that I entered this career, I got featured in four magazines, and participated in two big fashion shows."

Boonhor—the quiet, reserved child who had dreamed of becoming a superhero—transformed into a confident and outspoken model, one who aspires to walking a Chanel runway in New York.

An increased awareness of the transgender identity in the U.S. has made it possible, now more than ever, for Boonhor to one day strut down a high-fashion runway. Following Caitlyn Jenner's public debut, Apple Modeling Management announced its decision to open a transgender modeling division in Los Angeles. Cecilio Asuncion, the director of the Los Angeles branch, says having a "third gender" category facilitates an open and inclusive environment within the industry.

"There have been transgender models in the past," he said in a phone interview. "However, because of the stigma of society, they would have to be under stealth mode because they would lose jobs. So, the importance of it is for model development. When you go to work and you have nothing to hide, and you are proud and celebrated for who you are, you can focus on being the best model possible."

He continued, "What I love about her is she's not the victim. It's so refreshing. You want to root for her, and that's what makes her amazing."

One of those people rooting for Boonhor is her father, who has become his daughter's number one supporter.

Getting to that point took some doing. Thirsting for her father's approval, Boonhor committed herself to academics and personal growth. The shift in attitude, she says, came when teachers spoke of her intelligence and artistic talent.

"My father was shocked when I first [wore a] girl's uniform, but he understands now because I always have good grades…I've always been a good person, so my father accepts me that, at least, I'm not a bad person.

"Being a model makes my father proud," she says. "He's a soldier, but he's now learning about fashion…I must be true to myself, that's what my father said. He's cute. He's very cute now."
RELATED ISSUES