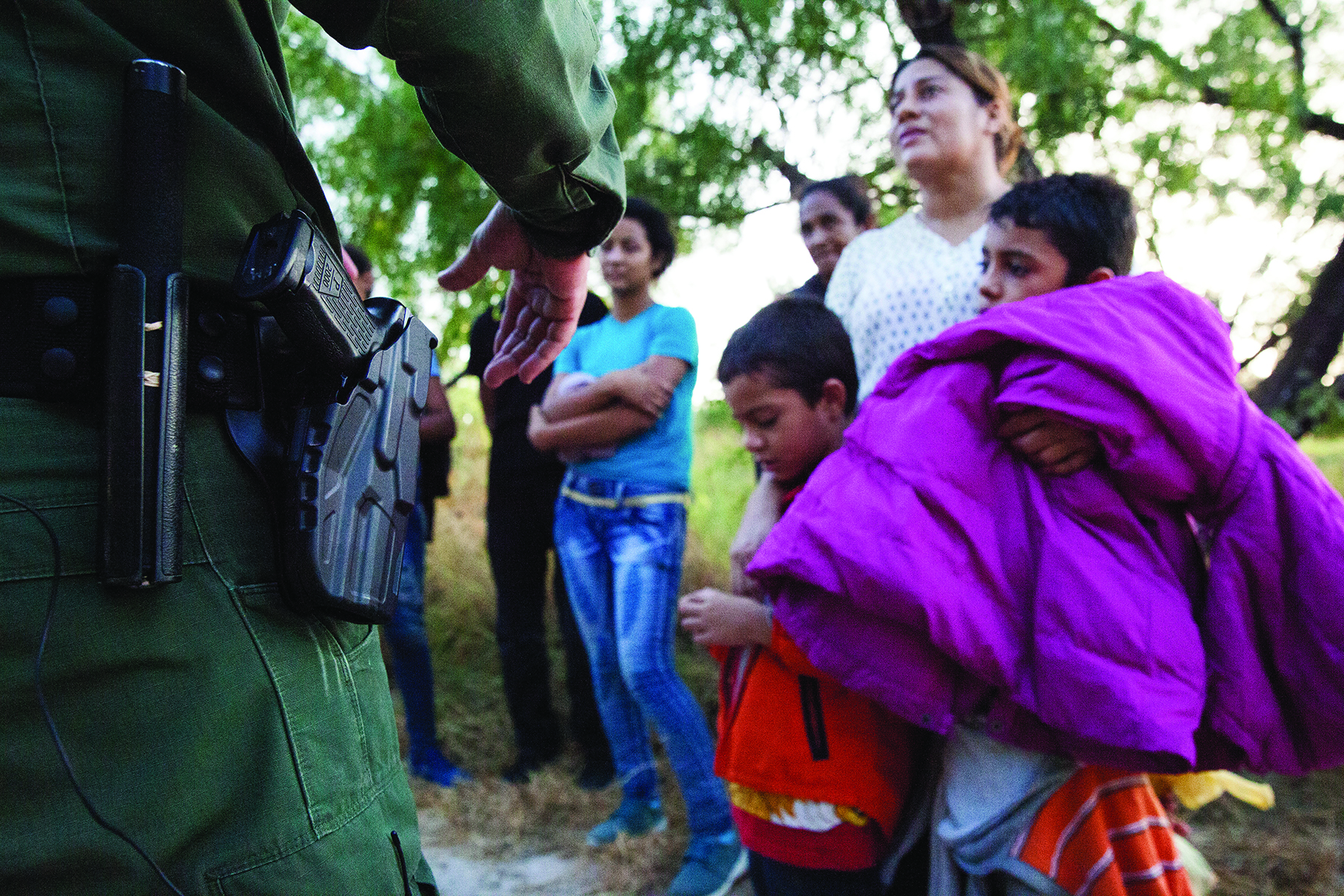 EL PASO, Texas — When a 6-year-old Indian migrant girl named Gurupreet Kaur was found dead in the Arizona desert by Border Patrol agents in June, the tragedy surprised many — mostly because of where the girl was from.
While many of the physical dangers faced by immigrants at the southern border are widely known, public attention has focused on the surge of Central Americans. But Customs and Border Protection says they've seen a recent rise in crossings by people from many nations, apprehending migrants from 50 countries, including India, China, Bangladesh, Egypt, Romania and Turkey.
Migration from India in particular has risen dramatically along the U.S. border. Immigration attorneys say they've seen an increase in clients persecuted for their political affiliation, religious beliefs and caste, or social status. While Indians made up just 1 percent of the total apprehensions in 2018, their rise in sheer numbers over recent years has been striking.
Between 2007 and 2018, the number of Indians apprehended rose from 188 to 9,234 — an increase of more than 4,811 percent, according to CQ Roll Call's analysis of CBP data. The greatest jump was along the southern border, where Indian apprehensions in the same time period increased from 76 to 8,997.
With other Indian immigrants, Gurupreet and her mother crossed from Mexico into a remote part of Arizona but quickly got lost in the desert. The group went back and forth across the U.S.-Mexico border for days hoping to flag down a Border Patrol officer, helicopter or passersby. As Gurupreet struggled in the heat, her mother went searching for water and left her in the care of the others. The girl died of heatstroke during her mother's absence.
Gurupreet and her mother came to the United States to reunite with the girl's father, who was waiting in New York with a pending asylum application.
All three were among a religious minority facing persecution "from all sides," says their lawyer, Gurpal Singh.
"We wanted a safer and better life for our daughter and we made the extremely difficult decision to seek asylum here in the United States," the parents later said in a statement. "We trust that every parent, regardless of origin, color or creed, will understand that no mother or father ever puts their child in harm's way unless they are desperate."
But the journey itself is only one of the risks for non-Spanish speaking migrants.
A lack of language services, translated materials, appropriate religious accommodations and, in some cases, targeted prejudice has eroded any semblance of due process, advocates say, and makes these migrants even more vulnerable to reprisals while in detention.
While the demographics of who's coming to the border have changed dramatically, the institutions processing these migrants have been much slower to adapt.
Migrants apprehended by Border Patrol are transported to a CBP processing facility where a contracted translations company is supposed to connect officers with interpreters in a three-way call.
A 2011 report from the Brennan Center for Justice found that more than 85% of the people appearing before the nation's immigration courts have limited proficiency in English. The immigration court system, which falls under the Department of Justice, uses contractors when it needs accredited translators, either for scheduled hearings or last-minute ones where the court realizes it suddenly needs these services.
But attorneys, judges and advocates say a lack of interpreters who can assist with non-Spanish and indigenous languages is straining an already overwhelmed immigration court system that faced a backlog of more than 1 million cases as of Sept. 1, according to the Transactional Records Access Clearinghouse at Syracuse University.
Desperate Measures
Ajay Kumar became so frustrated by the treatment he and fellow Indian migrants received in detention in southern New Mexico that he protested the only way he felt he could — he went on a hunger strike. His ordeal started when he complained, among other things, about the lack of translated reading materials in languages he and his fellow detainees spoke. Kumar also objected to the mixing of vegetarian food with meat, which as an observant Sikh he did not eat.
He was soon sent to an El Paso detention center where a group of nine migrants — mostly from India — had recently been force-fed under court order. When Kumar arrived, he was placed in medical isolation and labeled a troublemaker, his lawyer says. At one point, a guard took away his mala, or Hindu rosary, saying it would be returned if he started eating. When he continued his strike, he was held down and forcibly given food and water. He was told resistance would bear negatively on his immigration case, he told his lawyer.
On Sept. 17 — 72 days into their strike — Kumar and another hunger striker were moved to an acute long-term care facility. In a statement scribbled in Hindi and speckled with a few English words, Kumar asked to be released on bond while his asylum case is decided.
"USA is a very good country and there is no other country as helpful and strong as this," he wrote from a hospital bed. "I only hope for my freedom and I hope for help from the people of El Paso." (Kumar was recently released from custody.)
Kumar's account mirrors the stories of thousands of migrants coming to the border who do not speak Spanish or English and languish in detention, waiting for their day in court.
On April 2, a coalition of immigrant rights' and South Asian civil rights groups held a congressional briefing to raise awareness of the myriad issues facing Sikh and other South Asian detainees. A day earlier, one of the organizations — the Sikh Coalition — filed a complaint asking the Department of Homeland Security's Office of Inspector General to investigate.
The advocacy group complained that key materials, such as the National Detainee Handbook that outlines immigrant rights during detention, were not provided to Punjabi-speaking detainees — sometimes even when a translated version was available. Nor were competent Punjabi translators deployed, according to the complaint.
The group noted that detainees were denied religious accommodations. They said observant Sikhs were denied proper vegetarian food, religious garments such as Sikh turbans and religious bracelets known as karas. Some complained of being forbidden to congregate for prayer.
"Access to due process, religious accommodations, medical care, and language assistance is not an immigration issue; it's a basic human rights issue," the organization's senior staff attorney, Cindy Nesbit, said in a statement at the time. "Our government has a responsibility to make sure that every person being detained is treated fairly under the law, and we have an organizational responsibility to hold our government accountable."
The coalition also expressed concern about prolonged detention, denial of parole, and high bond for South Asian detainees. Many of these issues are related to a widespread perception among immigration officers and judges that asylum claims from South Asia aren't legitimate, advocates and attorneys say. They say some immigration officials end up hearing too many similar accounts and assume the migrants have been coached by smugglers.
"That [perception has] generally been the case across administrations," says Lakshmi Sridaran, interim co-executive director of South Asian Americans Leading Together (SAALT), whose organization has worked with members of Congress to shed light on the issue. At best, there's a lack of understanding of the conditions in South Asia that drive migration, she says; at worst, it is another form of discrimination.
"At the end of the day, you hope that an independent arbiter will look at the facts of the case," says Linda Corchado, legal services director at the El Paso-based Las Americas Immigrant Advocacy Center, which has represented several Indian migrants.
"For the Indian migrants I have represented, it seems they don't get that opportunity."
Taking Flight
Globally, India ranks at the top as the source for migrants. Religious minorities are over-represented among the people leaving the country, according to the Pew Research Center. Many Sikhs and Muslims, as well as members of certain political factions, hope to escape being targeted by federal or regional governments in power. Socioeconomics are also a factor, with families fleeing extreme poverty due to crop failure, drug epidemics and, in some parts, stringent social norms.
Similarly, while absolute numbers from Bangladesh pale in comparison to the tens of thousands of total border crossings, the number of migrants from that nation grew from 36 to 1,203 between 2007 and 2018. At the U.S. southern border alone, they increased from 23 to 1,198.
In many cases, migrants from South Asia will fly to a country in South America — say Colombia — and then trek up to the U.S.-Mexico border with the help of a smuggler.
"A lot of times the person running the smuggling ring is from that part of the world," says Jessica Vaughan, policy director for the Center for Immigration Studies, a think tank that favors lower levels of immigration. "They have a language commonality, they have contacts in their home country. . . . If they're specializing in Indians, it's usually someone who is Indian doing it, and they know people back in whatever part of India they're from."
The Trump administration's recent hardline crackdown on asylum seekers hasn't deterred many of the people hoping to cross into the United States. Most of the time, news about the policy changes haven't reached migrants in their home country, Vaughn says.
Another reason why migrants pick the path they do — it's the path people before them chose.
"One thing about the geography of migration is that people are typically following people who had past successful experiences," says Jeremy Slack, an assistant professor of geography at the University of Texas at El Paso.
"They want to make sure that 'social capital,' the idea of who do you know who has done this before, is a really big determining factor in which way you go."
Crossing the Equator
From South American countries, a record number of Portuguese-speaking Brazilian migrants also are making the strenuous journey to the southern U.S. border in recent months compared to previous years. In fiscal 2013, there were 355 Brazilians apprehended. But a recession that year led to an inflation hike and high unemployment — and a spike in migration, according to a report released in August by the Migration Policy Institute. In fiscal 2018, there were 1,634 Brazilians apprehended at the U.S. border.
One big reason for the dramatically high migration flow this year, MPI researchers say, may be the "stop-start nature" of policies implemented by the Trump administration.
"This uncertainty seems to have generated incentives for more children and families to come before the door closes and the U.S. government settles on enduring policies that will withstand legal challenges," the researchers write in the report.
Many Border Patrol agents stationed at the southern border have adopted makeshift strategies to respond.
Carlos Ruiz-Morales, an agent based in the Texas Rio Grande Valley, says he and his colleagues sometimes use Google Translate to get basic information from migrants they encounter at the border who do not speak either Spanish or English. Or, they scramble to contact other agents who might be familiar with the language spoken.
"There's definitely more people than just Central Americans that come. We have people from all over the world," he says.
Communication Breakdown
Funding for immigration courts has increased exponentially over the years, from $199 million in fiscal 2003 to $347.2 million in fiscal 2015, resulting in additional immigration judges and court staff, according to the American Immigration Council.
But that hasn't completely eased the immense pressure immigration judges have been under since former Attorney General Jeff Sessions enacted a quota system in early 2018 requiring judges to hear at least 700 cases a year to help lessen the backlog.
In March, the Justice Department ordered judges to use more translators by phone rather than have them appear in person, says Ashley Tabaddor, president of the National Association of Immigration Judges.
Some judges and lawyers say telephone translations in immigration court hearings are hindered by poor cellphone service or other technical difficulties that result in postponed hearings and concern over rulings by judges who may not have heard information critical to the case.
In July, the Justice Department went a step further and rolled out an initiative to replace in-person interpreters at the initial immigration court hearing with recorded videos briefing migrants facing deportation of their rights.
Immigration judges say they were not warned about the video initiative and those who've had the new system implemented in their courtrooms have already seen problems, primarily with migrants understanding the instructions and guidelines outlined in the recordings.
"They have found it interferes with their ability to run their courtroom the way that they should be. It's very, very problematic," Tabaddor says.
As migrants from Guatemala, Honduras and El Salvador arrive at the border in record numbers, attorneys who work in border cities say there is a particular need for interpreters who speak indigenous languages from Central America.
Nicolas Palazzo, an immigration attorney with Las Americas based in El Paso, says he represents many indigenous asylum seekers from Guatemala. Some of his clients have spoken rare languages like Xincan or Q'anjob'al, making it difficult to find interpreters.
Palazzo says sometimes courts have to hire two relay interpreters where a certified interpreter translates an indigenous language to a more common one like Spanish — and then the other interpreter translates that into English for the judge.
"You're looking at a longer court process," he says. "Many times, you'll have a situation where if someone's asking for a rare language interpreter, they're going to be given a court date several months out. And even that is not guaranteed."
Experts fear the lack of interpreters can impair the ability of migrants to understand their due process in immigrant court and may lead to them making decisions without fully understanding the consequences.
"There is a complete lack of oversight on this issue," says Aaron Reichlin-Melnick, a policy analyst at the American Immigration Council. "The fact is, non-Spanish speaking migrants are at a disadvantage in the court system."
Demand for interpreters at a particular immigration court ebbs and flows depending on the location, who's coming to the border and the judge's discretion. Supply is far less elastic.
Interpreters say it's hard to recruit for the job long term. While immigration court interpreters typically have legal status, most also live in immigrant communities. With several protections for immigrants on the chopping block under the current administration, interpreters for certain languages have disappeared.
"Recruiting is down for [Temporary Protected Status] languages — everyone has gone underground," a court interpreter, who was not authorized to speak publicly, tells CQ Roll Call. "Interpreters aren't always islands."
One easy fix would be for Congress to provide more money for additional in-person interpreters in immigration courts. It's not clear if there's enough will for that, but even if there were, "we don't think more money will solve the problem," says Margaret Vega Brown, volunteer coordinator for Advocate Visitors with Immigrants in Detention.
More funding only provides a Band-Aid on a deeper problem, she says.
"Things that were funded to improve aspects of detention didn't have that effect at all," she adds.
Many experts fear additional hunger strikes and protests if the administration does not address the various issues in the courts and within detention centers for non-Spanish speaking migrants.
So far in 2019, detained immigrants have orchestrated at least seven hunger strikes in different detention facilities across the United States.
Against the backdrop of all the recent moves the current administration has taken to dismantle access to asylum and to bolster the immigration detention apparatus, SAALT's Sridaran also expresses skepticism that simply improving translation services and religious accommodations would be enough to improve the system. Instead, she and other advocates increasingly believe the entire processing pipeline — from the border to the court — requires a complete overhaul to make it fairer and more humane.
"Those things to me are more about the fact that this is an inherently flawed system that needs to be dismantled," Sridaran says.
Misra reported from Washington; DeChalus and Hernández reported from El Paso, Texas.
RELATED ISSUES