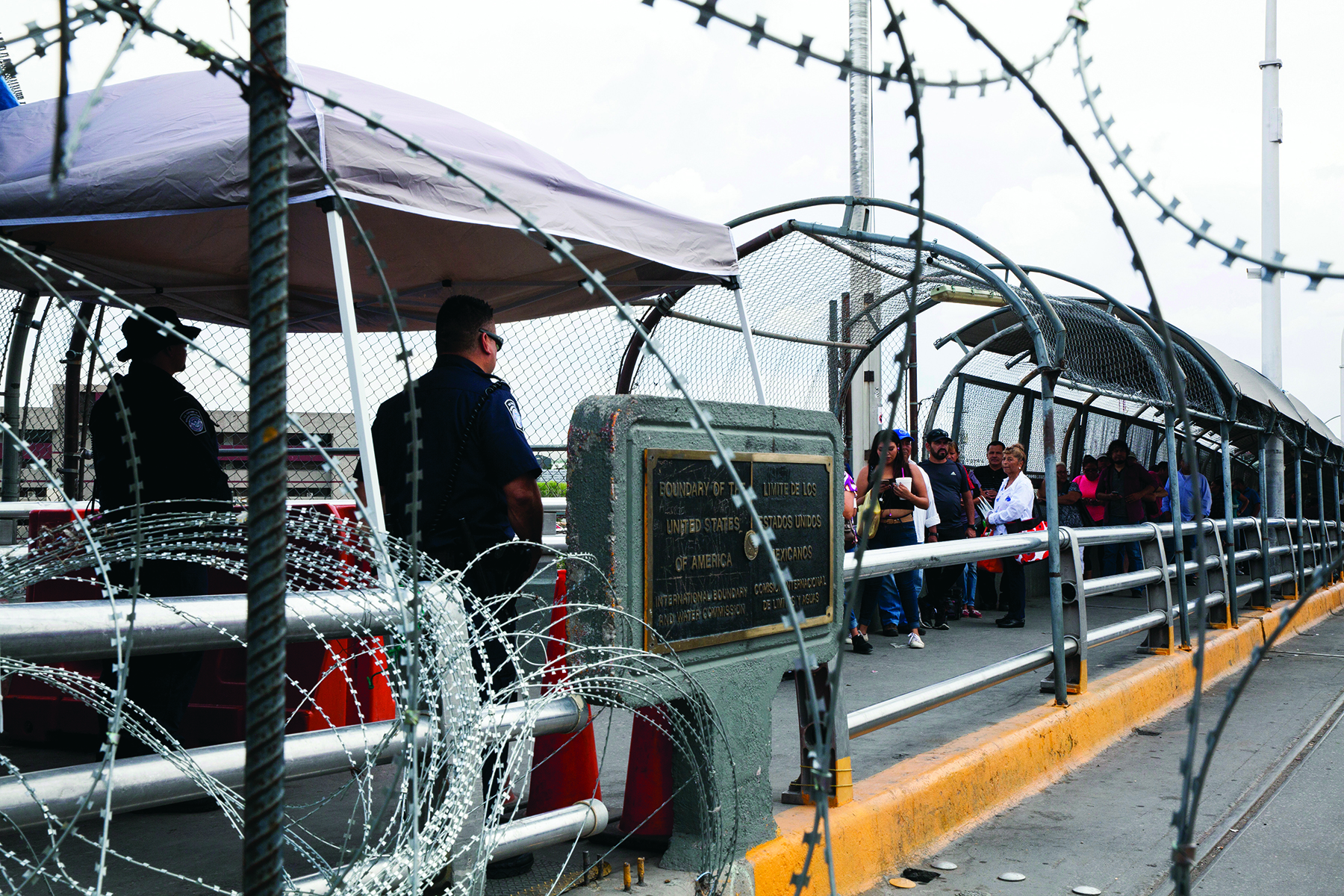 JUAREZ, Mexico — Carlos and his 17-year-old son sit in a migrant shelter run by the Mexican government here, their days tethered to ever slimming hopes that their appeals to the U.S. for asylum will somehow give them passage to a better life across the border.
On July 1, they fled what Carlos, 41, describes as an untenable life in Nicaragua, hounded by gangs who beat them and attempted to extort money. He left his job in a gold mine, and his wife and seven other children remained back home as he and Carlos Jr. struggled over the next month making their way north.
The journey became perilous in Mexico, where they were kidnapped and held for ransom, although they had no money. Carlos feels it's a miracle that they were released, and his son chokes up when his father describes the sacrifices in their quest for a fresh start in the United States.
They hoped U.S. border authorities would be sympathetic to their tale and their appeal for asylum, and that they would be able to work in the U.S. to send money back home while their application was pending.
But when they arrived at a port of entry near El Paso in early August, they were quickly swept up in the Trump administration's Migration Protection Protocols program, also known as the Remain in Mexico program. Established in January, the MPP program ushered in a host of changes to U.S. immigration rules, none approved by Congress.
Had the father and son made their journey pre-Donald Trump, they would likely have been interviewed by immigration officials and, if sent to a U.S. detention facility, there would have been regular meals and educational opportunities for Carlos' son. They might have had better access to free legal counsel, and even been given temporary permission to live in the U.S. and work while their asylum request moved forward.
Instead, they are waiting out their case with 500 other migrants in a windowless former clothing factory on the desolate outskirts of Juarez, guarded by Mexican military. Meals have been regular, but are not assured in these facilities, and although officials say they offer classes, none of the children interviewed by CQ had attended or heard about them. Carlos and his son sleep on thin cots, using blankets as pillows. They have no contact with immigration officials who might answer questions, and the Mexican location makes it difficult for advocates from the U.S. to help. Without money and, for now, no chance to earn more, Carlos approaches his Nov. 26 court hearing in El Paso, Texas, unable to afford a lawyer. The hurdles seem daunting to him. Had he known it would be this difficult to get into the U.S., he says, they would have sought asylum in another country.
"I don't know how I'm going to make it," Carlos said in Spanish during an interview at the detention facility in August. CQ Roll Call is not publishing his or his son's full names because they fear retribution. "It's pretty hard, but I don't know what hope I have left."
Carlos and his son are among some 48,000 asylum seekers waiting in Mexican border cities this month under the MPP program, according U.S. government figures. They might be waiting for months, or far longer.
Another 6,000 migrants, not part of the MPP program but tagged through a "metering" process, are waiting in Juarez to apply for asylum, living in housing wherever they can find it. Under metering, U.S. border authorities decide how many people can be processed at the border each day and send the others back to Mexico.
The impact of the Migrant Protection Protocols, metering and other rule changes have dramatically altered the way people seeking asylum are treated at the border. Immigrant rights groups who work along the border to help asylum seekers navigate the new rules are discouraged.
Marisa Limón Garza, deputy director of Hope Border Institute, an immigrant advocacy group operating in Texas and New Mexico, says she and other advocates believed the Trump administration's family separation policy last year was the low point in anti-immigrant tactics.
"We thought, 'Well, how can he make it worse?' " she says. "We don't say that anymore. It just seems like this may be the end of asylum in this country."
During a seven-day trip to the El Paso/Juarez area and the Rio Grande Valley borderlands of East Texas, CQ Roll Call observed the impact of the MPP and metering programs, which has upended the previous border process for immigrants:
Tens of thousands of migrants and asylum seekers are living in uncertain and often dangerous conditions in Mexican border cities where they face anti-immigrant backlash from Mexicans, plus exposure to gangs, extortion and other criminal activities.
Under the MPP program, shelter and food is not guaranteed by Mexico and many migrants in the program cannot lawfully work there, giving them no income to support themselves or their families. Many are barely getting by.
Decisions about who goes into the MPP program, who is "metered" and required to wait to make an asylum claim, and who is allowed to cross the border to enter U.S. detention seem inconsistent;
Communications — with U.S. authorities managing the court process, and with U.S.-based attorneys trying to help asylum seekers — is significantly more difficult now, in part because many migrants are living as transients in shelters or other marginal and temporary housing in Mexico;
Many attorneys representing asylum seekers in the MPP program fear traveling to meet with their clients in often dangerous Mexican cities, where cartels who profit from illegally trafficking people across the border see the lawyers as competition and a threat. Many U.S. lawyers now refuse to take MPP cases.
The backlog in U.S. immigration courts, already high at 1 million cases, is increasing rapidly from the influx of people in the MPP program. The United States is now setting up temporary tent courts along the border where the press is denied access.
U.S. immigration judges are being pressured by the Department of Justice to move faster and rule on more cases more quickly, leaving advocates to worry that speed may be taking priority over fair judgments.
The delays and rule changes under Trump are creating incentives to bypass the legal asylum process and encouraging illegal crossings, say lawyers working along the border.
'This Is Frightening'
Carlos and his son are fairly typical of people in the MPP program. Most are families from El Salvador, Guatemala, Honduras and, increasingly, Nicaragua. And most asylum seekers held in the Mexican detention facilities have not been given permits to work legally in the country.
In some ways, the situation is worse for those waiting outside of those facilities for their immigration cases to move forward.
Like many other Mexican border cities, Juarez is plagued with escalating violence and criminal activity, exposing migrants to extortion by local gangs, or worse.
A report by the Human Rights First organization identified at least 241 publicly reported cases since January of rape, kidnapping, sexual exploitation and violent assault involving asylum seekers who were returned to Mexico to await processing of their cases.
"Most of the people that I've met, they don't leave their hotels or their houses [in Mexico] — they're terrified," says Nicolas Palazzo, an immigration attorney based in nearby El Paso who works with Las Americas, a U.S. nonprofit organization that provides legal services to low-income immigrants.
In many cases, Palazzo says, the goal of immigration attorneys is to just get their MPP clients into U.S. Immigration and Customs Enforcement detention rather than have them waiting in Mexico.
"This is frightening to me," Palazzo says, "the fact that we're trying to help people get into ICE detention. That's where we're at right now as advocates; we're fighting to get people into prison, into ICE detention. Most of the people we come across would rather be in detention centers [in the United States] than in Juarez."
Jeremy Slack, an associate professor at University of Texas at El Paso who studies migration trends, says many Central American migrants living in Mexican border cities are also experiencing an anti-immigrant backlash.
"A lot of people don't have the resources to get a safe place to live. Other people are finding a lot of discrimination in terms of being able to apply for jobs, either being short-changed and paid less or denied work," he says.
While many advocacy groups argue that the program is causing more harm than good, U.S. anti-immigrant groups say it's necessary to regulate the movement of people across the border. The problems in Mexico, they say, are up to the Mexican government to fix.
"The fact is the Remain in Mexico policy is already more than what we should be doing and we're constrained by Mexico's internal politics. If people are facing problems in Mexico then it's Mexico's responsibility to enforce order in its own country," says Mark Krikorian, executive director of the Center for Immigration Studies (CIS), a group that promotes restricting U.S. immigration.
Barriers for Lawyers
Under the new asylum program, the disconnect between immigrants and lawyers to represent them is creating serious hurdles.
Lawyers, who often work these cases pro bono, can spend hours and significant expense traveling to Mexico to meet with clients. The high crime in the Mexican border towns is another deterrent.
Taylor Levy, a private immigration attorney based in El Paso, says that because the lawyers are pursuing legal entry, it runs afoul of the cartels' efforts to profit from running people across the border illegally. Fearing they'll be targets or encounter other criminals, some lawyers are now too afraid to take on the cases.
"The shelters are in very dangerous neighborhoods, there's constant kidnapping of migrants, we're driving around migrants, we could get kidnapped at the same time," she says. "So all this fear is there. "
A 2016 study by the American Immigration Council found that among immigrants in U.S. detention, those with representation were twice as likely as unrepresented immigrants to obtain relief in asylum claims.
According to court data analyzed by Transactional Access Records Clearinghouse, a nonpartisan research group at Syracuse University, only 1.2 percent of MPP migrants had legal representation as of June.
Levy is soldiering forward with cases despite some of the risks because, she says, "it's a moral imperative . . . you know, help the least among us."
Under guidelines issued in 2018 by former Attorney General Jeff Sessions, immigration judges are under pressure to complete 700 cases each year. As judges attempt to comply with that requirement, as well as work faster to prevent asylum seekers from waiting longer than necessary in Mexico, there are unintended consequences. The pressure to decide quickly can be unfair to their clients, lawyers say, when issues of asylum can mean life or death to some asylum seekers.
Constance Wannamaker, a private immigration lawyer, says that immigration courts have always prioritized cases of individuals being detained, but now all MPP cases get that attention.
The quicker hearings can also leave lawyers with insufficient time to gather evidence for their cases, she says. And migrants living transient lives in Mexico may be harder to track down and notify if their court dates are moved up.
"It's a Catch-22," Wannamker says. "I want to try to get an early date as I can. But I also need time to adequately prepare for the case."
The Transactional Records Access Clearinghouse at Syracuse University reported that the immigration court's active case backlog reached 1 million at the end of August.
Cases of people in the MPP program are a relatively minor share of the total case backlog, but they are growing month by month. As of the end of August, a total of 38,291 MPP cases had reached the courts, making up almost 10 percent of the new cases filed in fiscal 2019, which hit 384,000.
However, among new cases recorded during July, nearly 1 out of 4 — 22.3 percent — were cases involving people in the MPP program, according to TRAC.
Lumped Together
Lawyers say they increasingly are seeing people put into MPP who probably shouldn't be in the program.
Unaccompanied minors, Mexican nationals and individuals who are classified by the U.S. government as being in vulnerable populations — people with health issues, non-Spanish speakers, pregnant women and people who identify as LGBTQ — should technically be exempt from the MPP program. But attorneys say that as the program significantly expanded in June, they began to see a noticeable uptick in those people being put in it and sent to stay in Mexico.
Since many asylum seekers are coming from countries where they learn not to trust local law enforcement because of corruption or other reasons, it is often harder for them to disclose to authorities if they are pregnant or identify with being LGPTQ, says Palazzo.
"What I think is really happening is, you know, these people are coming from situations of trauma and fear," he says.
Mexico's Problem Now
The MPP policy has been steadily growing since it was first implemented on a trial basis in January at the San Diego-Tijuana corridor in California. Since then, it has expanded rapidly to the border towns of Calexico in California and El Paso, Brownsville, Laredo and, most recently, Eagle Pass in Texas.
To be sure, with the monthly arrival of 100,00 migrants and asylum seekers at the border last spring, the Department of Homeland Security felt it had to do something to regulate the flow. U.S. Customs and Border Patrol said it could not accommodate all the migrants seeking asylum. And Congress has resisted proposals from the administration to expand the number of immigration detention beds in the United States.
The Remain in Mexico policy was the result.
In a sense, CBP exported the U.S. waiting list to Mexico.
Now when migrants arrive at a U.S. entry point, or cross into the United States without inspection, they are often placed into the MPP program unless they are not eligible.
Migrants designated to be in the MPP program are given a "Notice to Appear" — a document telling them that the government is initiating deportation proceedings against them — and then returned to Mexico. The notice may or may not set the date of the first court appearance, when they have to come back through a port of entry to the United States.
If an individual expresses a fear to return to Mexico to await their immigration case, they can request a "non-refoulement" interview and potentially be exempt from MPP, but immigration attorneys say the chances of migrants passing such interviews are very slim. "Non-refoulement" in immigration law refers to the right of an asylum seeker not to be forced to go to a country where they could be in danger.
U.S. Citizenship and Immigration Services says their immigration officers have conducted approximately 1,661 non-refoulement interviews for people expressing fears to return to Mexico as of July 28. Of those, the agency approved 243 cases, or only about 15 percent.
No End in Sight
Despite legal cases opposing MPP, negative publicity about it, and the tens of thousands of asylum seekers waiting in Mexico border towns for hearings, the MPP program seems destined to continue.
The U.S. Supreme Court has generally been allowing Trump immigration rule changes to go forward as legal cases move through the lower courts. The high court in September allowed another new rule that would require migrants to first seek asylum in any country they go through on the way to the United States. That means people from Central America will first have to seek asylum in Mexico.
The Homeland Security Department recently reached deals with El Salvador and Honduras requiring migrants traveling through that country to seek asylum there first. The administration made a similar agreement with Guatemala in August. However, it is still unclear when these agreements will go into effect.
And as the 2020 presidential campaign gets into full swing, Trump is likely to cite his rule changes as achievements in detering migrants from even attempting to enter the U.S. Experts say the policies haven't been in place long enough to gauge whether they're having that effect.
The number of migrants coming to the southwest border had a recent historic peak in May 2019 at 144,000, but has been falling since. In August the number was 64,000. Still, these numbers are higher than in the peak Obama years of migration when the high was in May 2014, at 68,000. The numbers always drop during the summer.
Some immigration experts say that as legal avenues for asylum become more restrictive, migrants could be more motivated to enter the U.S. illegally, where they might live without detection for an extended period rather than risk months or a year waiting in Mexico.
"For so many people, they have waited months and months to just be told they have to wait more months, it's really bad and it puts people in an uncertain position and pushes people to cross between Ports of Entry," says Aaron Reichlin-Melnick, a policy analyst at the American Immigration Council.
"MPP is actively discouraging people who are requesting asylum to come to the U.S. legally," Reichlin-Melnick says.
Timeline: The Rise of MPP
Jan. 25 - The Department of Homeland Security announces it will implement the Migrant Protection Protocols (MPP), also known as the Remain in Mexico program, in the San Diego sector.
March 12 - As of this date, Customs and Border Protection officials have returned 240 migrants to Mexico as part of the MPP program, according to DHS.
April 8 - A federal court in California blocks the MPP program.
May 7 - A federal appeals court rules the Trump administration may continue implementing the MPP program.
June 26 - 1,300 asylum-seekers have been sent back to Mexico as part of the MPP policy, according to Randy Howe, executive director of field operations at Customs and Border Protection.
Aug. 23 - More than 30,000 migrants have been returned to Mexico under the program, according to CBP.
Sept. 5 - More than 48,000 migrants have been returned to Mexico under the program, according to CBP.
Tanvi Misra and Jinitzail Hernández contributed to this report.
RELATED ISSUES