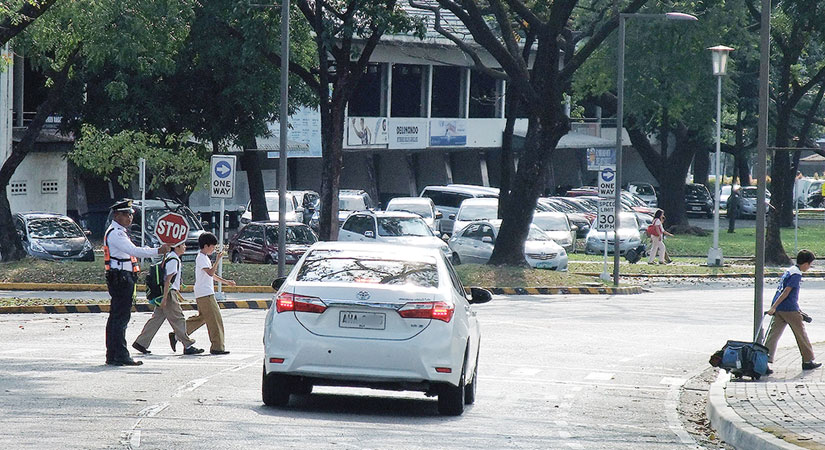 First of two parts
How long will it take you to read this story? Let's say 10 minutes. In that time, about 20 children will have been killed or seriously injured in a road crash somewhere in the world.
That's 3,000 children every day, says the FIA Foundation. The charity supports an international program of activities promoting road safety. Road traffic injury is now the leading cause of death among children aged 5-14 and among young adults aged 15-29, according to the World Health Organization's (WHO) 2018 Global Status Report on Road Safety.
In the Philippines, about two children die on the road every day. That's more than 700 children in a year. Data from the Philippine Health Statistics and from the Philippine Statistics Authority in 2015 show road traffic injuries were the third leading cause of death among children aged 10-14 and the fourth among those aged 5-9.
The good news is that there are steps that families and communities can take to stop this global killer of children. Below are WHO's 10 strategies that have worked in several countries, from Australia to Zambia.
1. CONTROL VEHICLE SPEED.
What is a safe speed on roads where cars and pedestrians, cyclists, or other vulnerable road users converge? It's 30kph (20mph), says WHO in a document.
Some ways to reduce speed are enforcing a maximum speed limit of 30kph on roads used by many pedestrians, and by installing road features that limit speed, such as traffic lights, roundabouts and speed humps.
Success story: In the United Kingdom, nonprofit group 20's Plenty for Us set 20mph zones around schools and homes. It helps communities implement "20 is plenty" zones by installing speed humps and chicanes — features creating extra turns in a road.
"Children 0 to 15 years have benefited since the introduction of these zones, by a 46% reduction in deaths among pedestrians and a 28% reduction in deaths among cyclists during the period 1987 to 2006," according to a WHO report.
2. USE HELMETS FOR CHILDREN WHO RIDE BICYCLES AND MOTORCYCLES.
"For children, wearing a helmet is the single most effective strategy for reducing the risk of injury to the head while riding bicycles or motorcycles," according to WHO. Strategies to increase helmet use for children include enforcing helmet laws that specify the type and fit of motorcycle helmets by age group, and putting in place internationally recognized manufacturing standards for motorcycle helmets, which ensure that they are suitable for children.
Success story: Only 18% of children in Vietnam's three major cities wore motorcycle helmets in 2011. In 2014, the government launched its National Child Helmet Action Plan. As of May 2016, child helmet wearing rates in the country's three major cities had increased to 57%, reports the AIP Foundation.
3. RESTRAIN CHILDREN IN VEHICLES.
Car seats or child restraints are designed to reduce the risk of injury during a crash. They keep kids from being thrown against the car interior, from hitting other car occupants, or from being ejected from the vehicle.
These restraints dramatically increase a child's chance of surviving a road crash. "If correctly installed and used, child restraints reduce deaths among infants by approximately 70% and deaths among small children by between 54% and 80%," according to a WHO fact sheet. Strategies to boost the safety of child passengers include mandating and enforcing child restraint laws for all private vehicles, putting in place internationally recognized manufacturing standards for child restraints, and ensuring the availability and affordability of child restraints and parental training.
Success story: In the US, child restraints have made safer the journeys of many little ones. The use of car seats cuts the risk for injury in a crash by 71% to 82% for children when compared to seat belt use alone, said the Centers for Disease Control and Prevention. The use of booster seats lessens the risk for serious injury by 45% for children aged four through eight when compared with seat belt use alone.
In the Philippines, drivers of private cars may soon be required to secure child passengers aged 12 and below in child restraints. A bicameral committee approved in November 2018 the Child Safety in Motor Vehicles Act.
4. IMPROVE CHILDREN'S ABILITY TO SEE AND TO BE SEEN.
Strategies include using reflective strips on clothing or backpacks, deploying crossing guards, making sure that streets are "uncluttered," and enhancing street lighting.
5. ENHANCE ROAD INFRASTRUCTURE.
Strategies include introducing school safety zones which count in speed reduction measures, car-free zones, and safe drop-off and pick-up points, and investing in safe public transport.
Success story: The students of Justin Kabwe Primary School in Lusaka, Zambia, used to dread crossing the dangerous road in front of their school. Every day, 4,700 vehicles pass the school entrance; yet the school lacked footpaths and a pedestrian crossing. In 2016, four students were injured on the busy road.
The situation led nonprofit group Amend and the community to work with the International Road Assessment Programme (iRAP). They used iRAP's Star Rating for Schools app to record the conditions on four locations around the school and found that its main entrance intersection rated one star, which is the least safe, while the nearby corner rated two stars.
These low ratings spurred the installation of a pedestrian crossing, footpaths, fencing, and a school zone warning. As a result, the ratings of the intersection and the nearby corner both improved to five stars, which is the safest rating. In November 2017, the students' walk to school became a five-star journey.
To be continued.
This story has been produced with the help of a grant from The Global Road Safety Partnership (GRSP), a hosted project of the International Federation of Red Cross and Red Crescent Societies (IFRC).
RELATED ISSUES