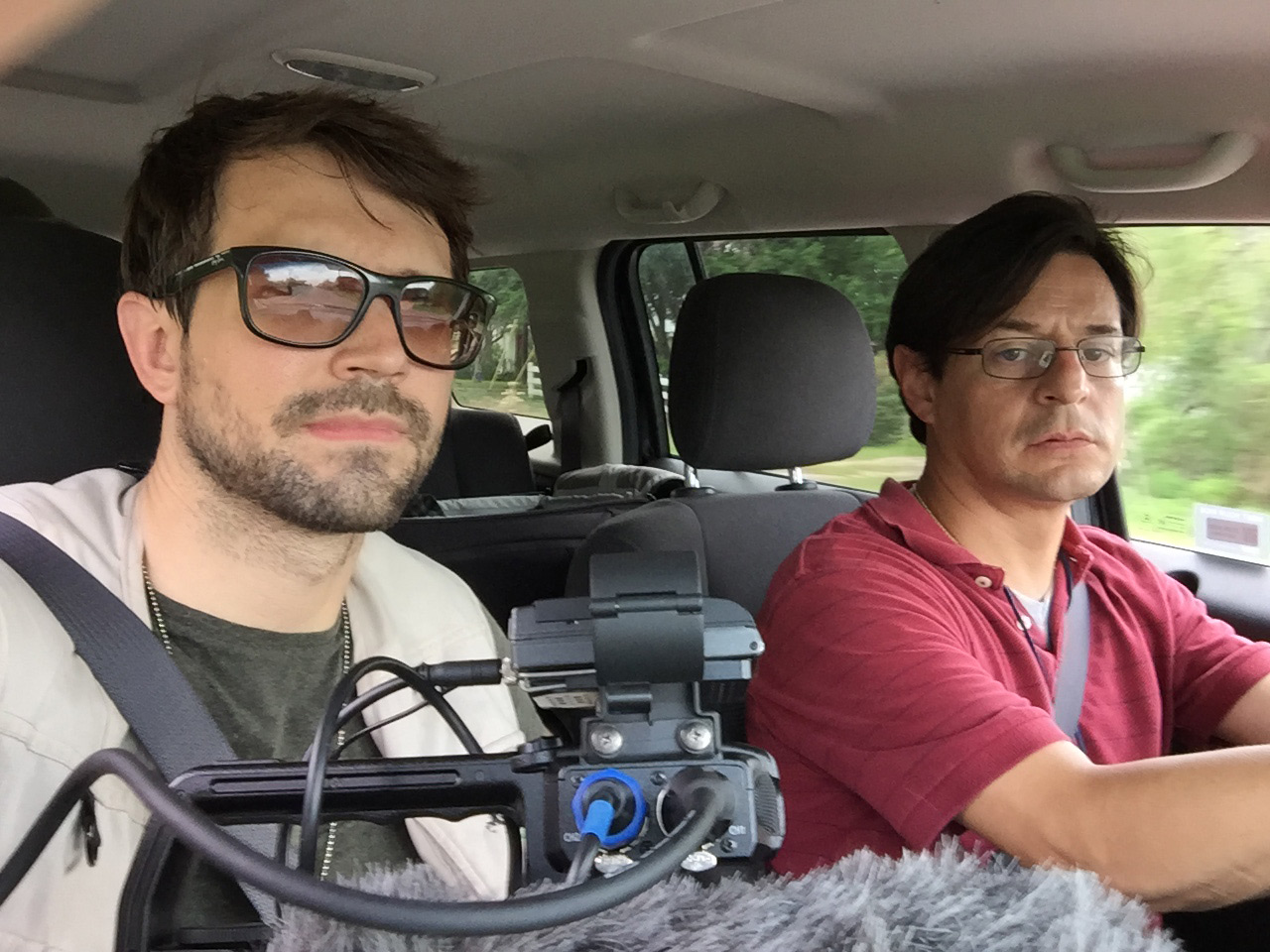 I drove the 350 miles down to Brownsville in a rented Jeep with reporter Julián Aguilar and photographer/drone operator Martin do Nascimento in August. Julián and others had done the reporting legwork that narrowed our focus more or less to a road near the Rio Grande called Oklahoma Avenue, and he had a few tentative interviews lined up.
I had been asked to bring a multimedia element to The Taking project. We talked about 360 panoramas at various spots along the border fence (which would have involved hoisting tiny cameras on 50-foot tripods), and there was a big push to have interactive maps with clickable links to court documents and video vignettes.
In the end, we settled on a more straightforward documentary-style format, but managed to keep some of the important elements from the other proposed approaches so we could capture the geography of the border and immense length of the fence while creating kind of a guided tour of a particular South Texas road where the fence affected every resident.
It was sweltering the entire time. I was drinking water constantly. My eyes were stinging with sweat. We walked for miles up and down Oklahoma Avenue in the sun (I got sunburned). I'm only 34, but the question crossed my mind more than once: Why didn't I send someone else to shoot this and then just edit it later from the comfort of an air-conditioned office?
Due to the conspicuousness of three sweaty out-of-towners with video equipment in rural Brownsville, we ran into minor problems with the Border Patrol almost right away. We'd pull over along the side of a dirt road to get some images of gaps in the fence, and before our camera lenses had stopped fogging up long enough to shoot, BP was on us.
They were nice enough but understandably skeptical, given the rampant smuggling and drug-trafficking in the area. They'd seen plenty of news-types running around as well, so once they learned we were reporters they generally let us off with a warning.
We were unclear about the legality of flying a drone along the border, so when Martin took flight a handful of times with his DJI Mavic we felt pretty anxious. We often pulled over and let Martin operate from the car while we cringed at the drone's loud swarm-of-bees sound and scouted for Border Patrol. I'm glad we took the risk because the drone footage wound up being a crucial part of the project.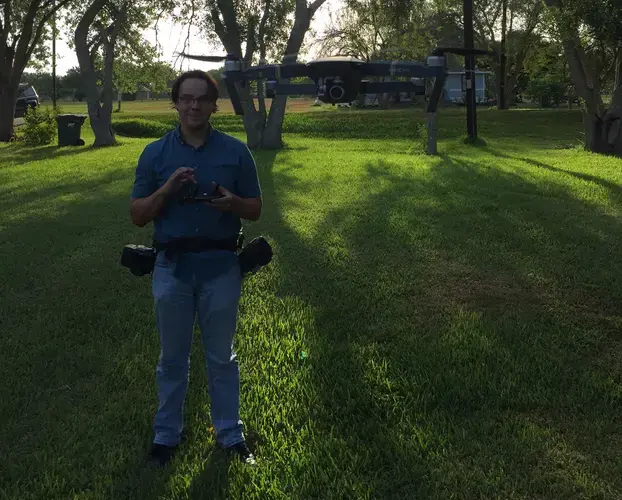 Getting drone footage turned out to be much easier than getting footage of people.
No one we met in Brownsville wanted to give an interview. They'd dealt with the media snooping around their property before, asking questions about their personal business. It may have been amusing at first, but had grown old after 10 years. Some spoke to us reluctantly, others bluntly declined.
Juan Cavazos was sheepish on camera and worried about being "seen on TV," but at the same time, he wanted to tell someone his story. He felt wronged by the government for diminishing the value of his land (which was bisected by the fence) and called his several acres that was now trapped between the fence to the Rio Grande "wasteland" that no longer had any value. "We got screwed by the government," he said, with almost a smile. It seemed like a small act of rebellion, as if telling the media was the closest he'd get to telling the government.
Melissa Solis reluctantly warmed up to talking about her connection to the fence, which runs 40 feet from her house — yet she wasn't compensated for any losses because the fence didn't technically intersect her property. She wanted to tell us how she felt about it, but not on camera. I had to ask her three or four times before she relented. She opened up eventually and even let Martin launch his drone from her lawn — then insisted we take some guavas from her tree, about 20 feet from the fence.
We found one person who was happy to talk to us. Pamela Taylor, the delightful British ex-pat who has been living in the same house in Brownsville since the '40s, was very gracious with her time. We interviewed her on her porch for over an hour about the fence and immigration and her long life. She was surprisingly tough and spry for being nearly 90 and living alone in rural Texas for decades — and she could handle the weather a lot better than us. We didn't use her interview in the final documentary, but spun her off into her own video for the Day 2 story.
Once we had our footage, I needed a way to weave the interviews together. That's where a virtual tour of Oklahoma Avenue came into play. Starting from space, we zoom down into Texas, then Brownsville, then Oklahoma Avenue, then the individual properties. This would serve as the narrative device to take the viewer through the piece.
I decided to couple Martin's drone footage with map videos I created in Google Earth Pro, a free mapping application that has a built in movie-making feature. I looked for opportunities to transition from map to drone and then to ground level footage I had shot in the field. I thought it would help orient the viewer before seeing the interviews, providing some important context. I also used Adobe After Effects to animate on top of the maps to show the names of streets and rivers as well as occasionally showing legal documents.
I took some extra care to create a tone and mood for the video. I opted for a recurring bed of ambient music from my favorite rights free music library, FMA. I tried a natural un-newsy approach to the voice over narration and let the segments and edits breathe. I'd seen a cable network's story on the fence, shot in the same area, and it felt rushed and graceless to me, so I wanted to tell the story in a different way. It's an approach we're free to do as a web-only organization, not beholden to the constraints of broadcast television.
I'm happy with the way the project came out, and hope that people see it and gain some insight into Texas's history with the border fence, especially as the threat of more land seizure looms in the Trump era. I'm thankful for the opportunity to work on the project alongside some very talented people from the Tribune and ProPublica, and feel fortunate we had the resources to tell the story we wanted to.
RELATED ISSUES