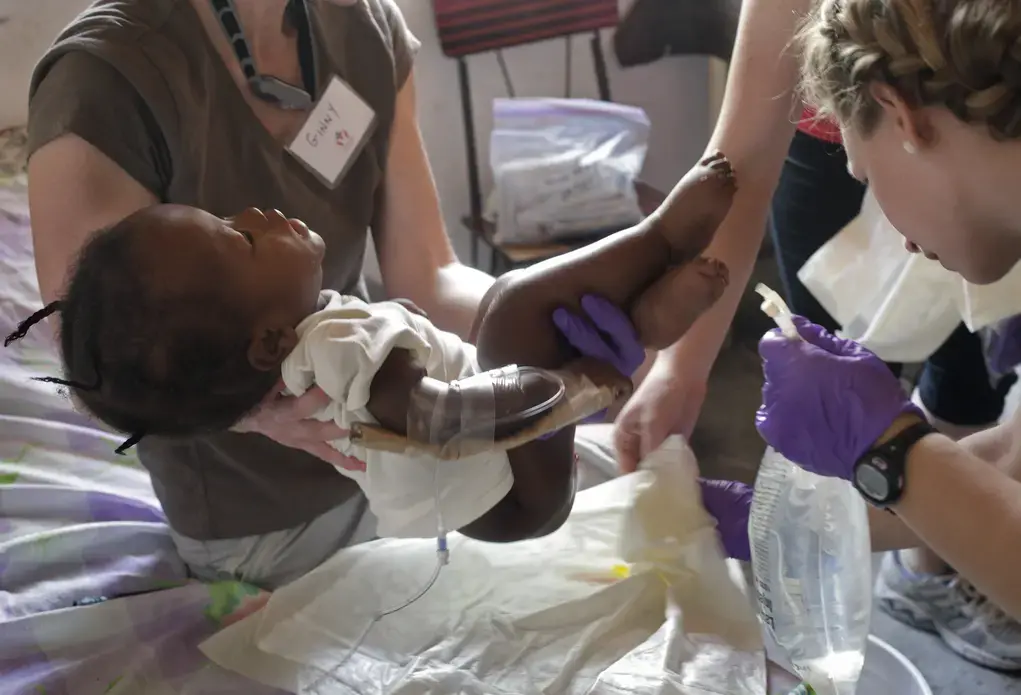 University of Iowa physician Ginny Ryan Buresh lifts patient Caleb Blane as nurse Casey Panko slides a sterile fabric beneath him. Caleb, who has spina bifida, was suffering from a dangerous infection to his leg. The Iowa team cleaned the wound, started him on intravenous antibiotics and paid to send him and his mother to a hospital hours from their mountain home. Image by Mary Chind. Haiti, 2013.


FONDAL, HAITI — The little band of American volunteers sat under a tree, panting and sweating from a taste of daily life in the poor rural villages of Haiti.

The group, made up mainly of Iowa doctors, nurses and other medical professionals and students, had spent an hour and a half climbing a winding dirt road up a mountain to this remote village. On the way, they'd seen Haitians making the trek while bearing heavy loads of water, fruit, chickens, firewood and homemade charcoal.

When the volunteers finally arrived in town, scores of villagers were already lined up under the hot March sun, waiting for the rare chance to share their health concerns with a doctor.

Casey Panko, a University of Iowa nurse helping lead the team, briefed her exhausted colleagues about the ailments they would treat in the small stucco building that would serve as a clinic.

"The chief complaints you'll hear are, 'I get tired after walking up the mountain. I get chest pain,' " Panko said. "And I'm like, 'Yeah, no kidding.' "

The others laughed, then gathered themselves to start preparing to ease the aches and physical complications of a crushingly difficult way of life.

Haiti is known as a place where countless aid agencies provide billions of dollars in services, especially since a 2010 earthquake devastated the nation's capital and brought a flock of TV news crews to the scene. The world's attention has moved on to other disasters since then, and skeptics contend the flood of aid barely put a dent in the problems stalking the country's 10 million people, who are the poorest in the western hemisphere.

Leaders of the Iowa group have worked in Haiti for years, and they've seen that most assistance fails to reach rural areas, where half of Haiti's people live. They believe slow progress is possible, especially if basic medical care helps people avoid the chronic ailments that can sap their energy and steal their hope.

By midmorning in Fondal, the clinic doors were open, and patients started filing in. Three doctors, each with an interpreter, worked at stations in a single room. The sounds of Creole and English bounced off the concrete floor, walls and ceiling, filling the air with a din of health care discussions.

Here was a 4-year-old boy with a swollen belly who suffered nighttime fevers. He apparently had malaria, a mosquito-borne disease that can be deadly to little children but can be treated with pills.

Here were people with chronic diarrhea, probably caused by worms they picked up in tainted water. Here were people with constant stomachaches, muscle pain, skin rashes. All were given medicine and instructions on how to use it.

Here was a girl, about 1 year old, weighing just 18 pounds. A measurement of her skinny upper arm confirmed she was malnourished.

"Oh man, this really kills me," Dr. Chris Buresh said as he examined his tiny patient.

Buresh, 37, whose regular job is as a physician in the University of Iowa's emergency department, is the Iowa team's main organizer. He held the girl on his knee, smiling and laughing with her as he asked her family about her life. He offered the girl's family a special edible paste, similar to peanut butter, that is packed with calories and vitamins. He asked them to be sure to bring her back when the team returns in June.

"We really need to set up a nutrition program up here," he said after they left. Then he turned to his next patient.

Doctors find rough conditions

People from surrounding villages had walked up to two hours on steep mountain paths to attend the clinic. Many waited quietly for hours outside the building. Some sought the shade of a homemade tarp fashioned from heavy white plastic bags that once carried donated rice from Thailand, the United States and the World Food Program.

On this day, the team would see about 150 patients. Most had familiar problems: malaria, diarrhea, stomach pain, anemia, rashes, vaginal infections, depression, eye problems, muscle strains.

The most complicated case involved a 3-year-old, Caleb Blane, with a brain deformity called spina bifida. The disorder causes fluid to build up in his head. The Iowans previously paid for Caleb to be taken to an urban hospital, where a shunt was implanted to drain the fluid into his abdomen.

But now he had developed a raging infection in his leg. If the bacteria reached the lower end of the shunt, the infection could race up to his brain and kill him. Buresh and his wife, U of I gynecologist Ginny Buresh, cut away the infected flesh, cleaned the wound and packed it with sterile gauze. They started an intravenous line to deliver fluid and powerful antibiotics, and they arranged for the boy and his mother to go to a hospital.

In a nearby gazebo, a Haitian dentist hired by the Iowa group set up for a long day's work in rough conditions. Wind blew dust through the open structure. Turkeys and goats gobbled and bleated nearby. The clinic lacked electricity, so the dentist, Dr. Emmanuel Ebenezer, could use only hand tools. As he pulled teeth from a patient lying on a cot, he had an audience of more than a dozen other people awaiting his services.

One of the prospective dental patients was Benius Pierre, who lives in a village on the next mountain, several miles away. He and his friends have heard that foreign aid has poured into Haiti since the 2010 earthquake, but they've seen little of it.

Pierre, 37, said people from his village routinely walk an hour just to get water. The village also lacks a school, he said, so children must walk several miles to attend classes. Most quit at about age 12. Adults' main source of income is to chop wood for charcoal so they can sell it in a small city at the base of the mountain. Sometimes they also buy large amounts of rice, corn or plantains, and then peddle the wares to individual consumers.

"It's very hard. It's a dog's life," Pierre said through an interpreter. He expressed disdain for his country's leaders. "A good government would realize something about the poor and give something for a good life."

He added that he would like to see the government hire poor villagers to help stabilize mountainsides. They're prone to mudslides because they were denuded by decades of harvesting for firewood. Pierre said he wishes the trees were still there, but people had to cut them down for fuel. They had no choice, he said, "because of the misery."

Goal is to work in solidarity

Chris Buresh figures he's traveled to Haiti 20 or 30 times since 2003, when he impulsively agreed to join a team headed there from North Carolina, where he was a medical resident. Like most Americans, he only vaguely knew where Haiti was.

After he arrived, he was stunned to see that people were starving in a place that is only a 90-minute flight from Florida. But he also was amazed by Haitians' perseverance and decency.

He knows fate could have put him in their place instead of allowing him to grow up in a comfortable home in Marion, Ia. He wonders whether he could have handled it as well as most of them do. He tells new members of his team that he sees their efforts not as charity but as an act of solidarity, working with people who want to improve their lives.

"I see how Haitians do so much with so little, and how they really struggle every day, but they're so grateful for every new day," he said. "They're able to get by and find hope and meaning. They're able to endure so much just to withstand everyday life — not to mention things like hurricanes and earthquakes and famines and gas shortages — and they do it all with grace."

Three days before the earthquake hit in 2010, he and other members of the Iowa group had just finished a trip to Haiti. He and several colleagues rushed back to assist in the rescue efforts.

Several others among the 17 members of last month's team also served in Haiti during those frantic weeks.

Shari Peters of Clinton, an emergency department nurse at the U of I, got her first taste of Haiti soon after the quake. She and her daughter, who also is a nurse, served in a makeshift hospital where American medical teams were dealing with the crushed limbs and shattered lives of Haitians injured by collapsing buildings.

Peters didn't mind working 20-hour shifts. But she was frustrated by the lack of organization, and embittered by the arrogance she saw among some U.S. doctors. They seemed intent on gaining reputations as medical saviors instead of providing lasting help to Haitians.

Peters, 52, said she broke down in tears and vowed never to return. But she kept hearing about Buresh's efforts. He's a co-worker, and she decided to join the team that went to Haiti last month. She was thrilled at the chance to work side by side with Haitians, helping them tackle the chronic health problems that weigh down their lives.

"This is what it's really about," she said. "This is day-to-day, trying to make a little difference. It's not flying in here for a few days and trying to be a hero."

Biggest issue: Chronic conditions

The team's organizers hope that someday, their services won't be needed in these villages. Someday, Haiti will have more than one-tenth as many doctors per capita as the United States has. Its babies won't be eight times more likely to die. Someday, its residents will have untainted water to drink and enough food to eat.

In the meantime, the Iowans will keep adjusting their methods and searching for what works. When the earthquake hit, they'd been serving regularly in the city of Leogane, west of the capital of Port au Prince. Leogane was near the quake's epicenter, and it was devastated.

The Iowa group continued working there for a while, but members decided to pull up stakes, partly because the area was inundated with other aid groups that wound up tripping over one another. The Iowans moved north, to poor mountainous areas that weren't heavily affected by the quake but rarely received assistance.

Buresh recalled how he and his partners traveled around, showing up in a village, setting up a one-day clinic and handing out pills to severely ill people. Then they'd move on to the next village.

"It was tons of fun, but it wasn't efficient," he said. "We'd never see the same people twice."

Catastrophes bring piles of bodies and operating rooms full of injured survivors. Those things make for dramatic TV coverage, but they aren't the main health problems in poor countries.

The main problems are chronic issues, requiring regular follow-up. One of the most surprising problems is rampant high blood pressure, which can cause heart attacks and strokes.

In the United States, high blood pressure is often associated with people who weigh too much and rarely exercise. Rural Haitians tend to be lean people who spend their days working in farm fields and carrying heavy loads up mountain roads. Their high blood pressure could be due to heredity plus a stressful life, experts speculate. To control it, they need a steady supply of medication, plus regular monitoring.

The same goes for diabetes, which also is fairly common. Other frequent health problems, such as intestinal parasites, are due to dirty water, which can't be addressed by a drive-by medical team.

These are the reasons the Iowa group, now called Community Health Initiative, decided in 2011 to set up shop in one corner of rural Haiti and return there four times a year. The team keeps track of its patients with standard green cards containing basic medical information, plus a simple electronic database that includes the patients' photos and records of past diagnoses and treatments.

By entering the records on laptop computers, the team can track how individual patients are doing and can see overall whether their methods are working. For example, Buresh said, they'll be able to track how many people's blood pressure has improved with treatment. In a week last month, they saw more than 1,000 patients, many of whom already had cards from previous visits.

Drawn by Haitians' needs, spirit

The team also is helping villagers construct safe latrines, with concrete pits to keep waste from escaping into nearby streams.

The team wanted to hire a Haitian company to drill wells for safe drinking water, but the road into the nearby village was too rutted for the big well-drilling truck.

So last month, the Iowans paid to have 33 truckloads of gravel dumped on the worst portions of the road. Village residents used shovels to spread the gravel to make way for the truck. Their families soon should be able to fill buckets with clean water instead of dipping them into polluted irrigation ditches.

The group's efforts still face limits. Members don't provide childhood vaccinations because the vaccines are expensive and need constant refrigeration. The group also hasn't routinely tested for the AIDS virus. No programs have been available in the area to provide infected people with the lifetime of regular medication they'd need. But a U.S. government program has started paying for such treatment in a nearby hospital, so the Iowa group plans to at least start testing pregnant women for the virus in an effort to prevent infections of babies.

Buresh knows many Americans are discouraged by poverty's stubborn hold on Haiti. He gets frustrated, too.