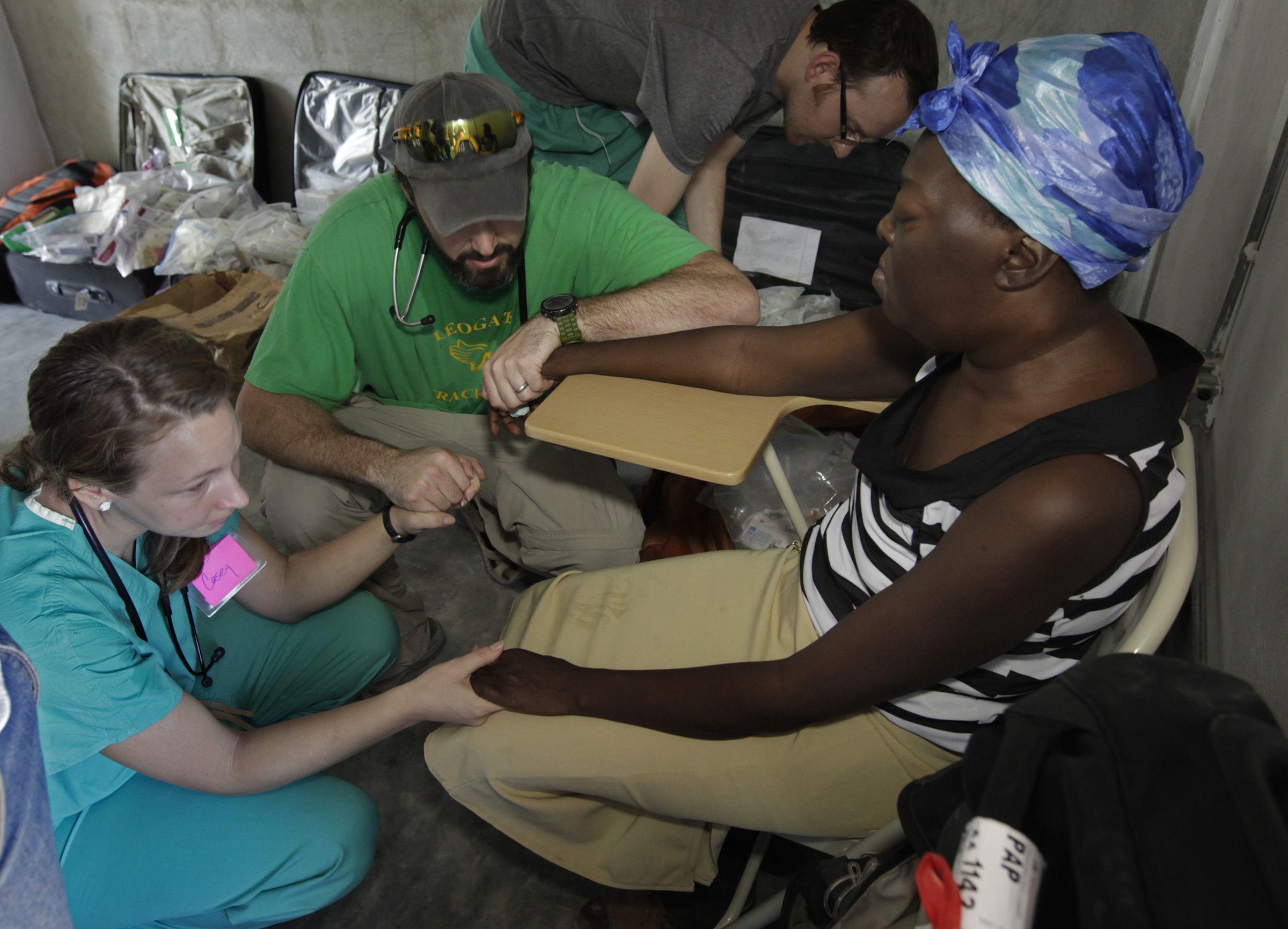 ARCAHAIE, HAITI — Some days, even the most experienced volunteers in Haiti can have their hearts ripped out by the limits on what they can accomplish.

Casey Panko, the 27-year-old nurse who helps lead the Iowa team, took one look at a patient in a blue head scarf and immediately feared the worst.

The woman, Cedamise Belvert, was 48 but looked like she could be 60. Her neck and face were grotesquely swollen, and her eyes were bulging out. She took a chair in a cramped clinic near the coastal town of Arcahaie, where the Iowa team spent most of its time. Panko gently touched Belvert's face and neck, where the nurse felt ominous lumps.

The patient could barely speak, but her family relayed that the swelling began months ago and had recently started to interfere with her breathing and hearing.

"She can't sleep at night with the pain," they said through an interpreter.

Panko didn't tell Belvert, but she suspected an advanced case of lymphoma, a cancer that is difficult to beat if it gets a running start.

She called over Dr. Chris Buresh, and asked his opinion. He also feared it might be cancer, but he speculated that the problem could be a clogged gland, causing a backup of fluid. If that was true, he said, maybe they could remove the blockage and fix the problem. He told the family that his team hoped to bring a head-and-neck surgeon to town in June.

"She can't wait until June," a family member said. "She is in pain now, and she can't eat."

The doctor and the nurse led the woman into another room, where they used a portable sonogram machine to look inside her neck and face. The lumps were unmistakeable. Panko had been right. It was lymphoma.

Buresh knelt in front of his patient, who was seated in a folding chair.

"I've got to be honest," he said. "I don't think there's anything anybody can do. Not here. Not in Cuba. Not in America."

He told Belvert that she had cancer, and that it would keep growing.

"We have pain medicine, but there is nothing that anybody can do to make this smaller," he said of the swelling. He told the interpreter: "I think that pretty soon, this is going to kill her. She's going to die from this."

The interpreter relayed the news to Belvert, who looked resigned. She said doctors at a local hospital also had told her they couldn't help. She said she appreciated that the Iowans were willing to take a look.

"She says she's going to pray," the interpreter said.

Buresh said his clinic lacked a priest, but if Belvert wanted, he and Panko would pray with her. She closed her eyes as the doctor and the nurse knelt before her, holding her hands.

Buresh is unaccustomed to praying publicly, and he fumbled for words. But then he began: "Dear God, we're thankful for this woman, for the life that she's had, and the three children that she's brought up. We know how hard it is to raise children well, and to be a loving mother. We're so thankful for everything that she's been able to do. We ask that you bring her comfort and peace, and bring peace to this family, and be her strength in the difficult days ahead. We know, God, that you're a loving God, and that things happen according to your will. And even though we don't understand it, please give us the grace to accept it."

Buresh prescribed pain medicine, which Belvert would receive from team members running a temporary pharmacy next door.

"Tell her we'll be thinking about her," Panko told the interpreter. "She'll be in our prayers."

The patient hugged the nurse, then stoically walked out with her family.

Buresh quietly cursed as he watched her leave.

"If she'd been born in the United States, this would have been caught a year ago, and she'd be fine," he said. He guessed that his patient had a few weeks left before the tumors strangled her.

Other patients were still lined up outside the clinic. The doctor and the nurse returned to their stations, and soon they were caught up in health problems they were equipped to combat.