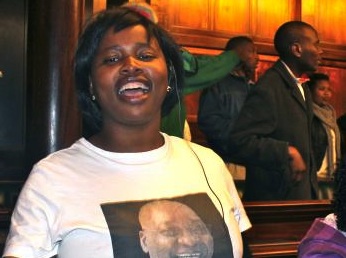 "I know that people today think being single is nice. It's actually not right. That's a distortion. You've got to have kids."
These were the comments South African president and traditional Zulu leader Jacob Zuma made in an interview for a South African television program "People of the South." His remarks aired during the show's weekly broadcast on August 19, 2012, the same day U.S. Representative Todd Akin's controversial opinion on "legitimate rape" was posted online, adding to the outrage expressed on social media around the world.
President Zuma was responding to a question about his daughter Duduzile's recent marriage. He expressed his happiness at the union and offered his opinion on the importance of marriage and pregnancy. "I was also happy because I wouldn't want to stay with daughters who are not getting married," Zuma said. "Kids are important to a woman because they actually give an extra training to a woman, to be a mother."
While President Zuma is known for being a traditionalist, adhering to Zulu custom and representing conservative values, the comment about being single garnered media attention and caused many feminists to express dismay at their country's patriarchal leadership.
Kubi Rama of Gender Links, a women's rights NGO, told The Guardian "How does the president feel about women's empowerment and gender issues? He's pigeonholing women into the traditional role of motherhood, nurturing and marriage. We all know the world has moved on. Marriage is now a choice."
She added that the statement causes citizens to question his commitment to equality, which he has expressed publicly.
Rhoda Kadalie, another well-seasoned soldier in the fight for women's rights as well as former human rights commissioner, professor and current director of the South African non-profit Impumelelo, offered another opinion:
"I hate it that we jump up and down about every stupid utterance he makes when I am sure he did not mean it in the way he expressed it. That is not to say he is not conservative and traditional," Kadalie said.
She explained that Zuma's native language is traditional Zulu, which can make it hard to express certain feelings in a secondary language.
While Zuma is responsible for upholding South Africa's liberal constitution, which outlaws domestic violence, sexual assault and rape and grants women equal rights, his personal life often defies the state law.
Zuma, a polygamist with four current wives – Gloria Bongekile Ngema, Thobeka Stacy Mabhija, Nompumelelo Ntuli and Gertrude Sizakele Khumalo, has been married six times. In 2010 he fathered a child out of wedlock with the daughter of a close friend and paid "damages," a customary exchange when a girl is impregnated while unmarried. He also was accused of rape in 2005 and went on trial in 2006, but was ultimately acquitted.
Writing in The Daily Mail & Guardian, journalist Verashni Pillay said "Zuma has long been the target of feminist criticisms. But he also presides over a government with enviable gender parity and representation of women at all levels: a longtime ANC priority. It is a contradiction that has marked the president's time in office. While he publicly advocates gender equity and actively employs women in his own Cabinet, he is often tone deaf to gender sensitivities."
The contradiction Pillay refers to has been seen time and time again. His personal life and remarks anger feminists but his political decisions have favored the advancement of women's rights: He has supported the Gender Equality Bill. In July 2012, Zuma's ex-wife, Dr. Nkosazana Dlamini-Zuma, became the first woman to lead the African Union Commission. And a month later, on Women's Day remarks in Pretoria, the president applauded moves toward gender equality: "While we still have a lot of work to do, we are satisfied with the progress made thus far in improving the status and quality of life of women in only 18 years of freedom."
However, after Zuma's comments about the importance of having children were made public, the Democratic Alliance (the major political opposition to President Zuma's political party, the ANC) filed a complaint against him with the Commission on Gender Equality. Zuma's own political party's women's league, the ANCWL, defended Zuma, saying his comments were "grossly" taken out of context, adding that he was simply expressing happiness at his daughter's marriage and his own desire for grandchildren.
Zuma's office also released a statement in the aftermath of his remarks: "The comments of the President are informed by the need to strengthen the family as an institution." The statement argued that the cause of many problems plaguing South Africa – illiteracy, gender inequalities, absent fathers, domestic violence and high numbers of orphaned children – is the state's weakening family structures.
RELATED ISSUES

Women

LGBTQIA Rights