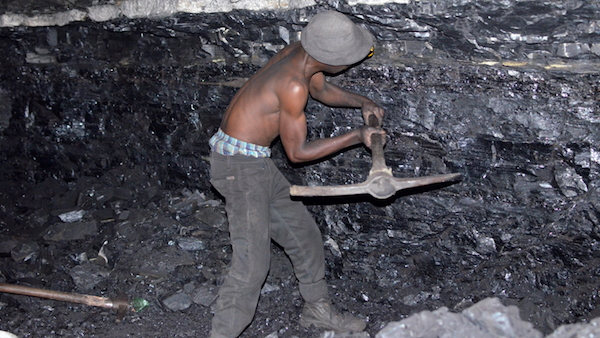 JOHANNESBURG – It has been more than a decade since the accident, but Vincent Mashinini can't forget the moment his underground world collapsed. 
His right leg still bears the scars from the rocks that fell and temporarily pinned him underground, his livelihood nearly becoming a death trap.
Mashinini spent 15 years as a small-scale illegal miner, toiling in the abandoned coal mines that pockmark Ermelo and the surrounding Mpumalanga countryside. Along with agriculture and tourism, coal mining sustains the town's economy as it feeds the nearby power stations generating some of the country's electricity.
"We've lost brothers and sisters and mothers," Mashinini said. "But there is no employment. If you want to put food on the table, you must come here."
The traditional coal majors that have dominated the sector for decades are looking to leave South Africa as uncertainty surrounds Eskom contracts and the world slowly moves away from fossil fuels. As a result, the country's coal industry is welcoming more and more junior miners who rarely complete environmental or social rehabilitation, causing a proliferation of abandoned mines around towns such as Ermelo.
Xavier Prevost, a senior coal analyst with the mining consulting company XMP Consulting, said Eskom's policies of signing long-term contracts and buying only from 51 percent black-owned companies were pushing large mining houses away.
"Most of the majors are not investing in coal due to the current government politics. Another reason for their retreat is their inability to negotiate new agreements with Eskom," Prevost said, adding that many of Eskom's contracts with large miners would expire by 2020.
BHP Billiton spun off its South African coal and other lower-value assets to South32 in 2015. Anglo American is also in the process of disposing of "lower-margin, shorter-life assets", including some South African coal, the company's media team said in a statement sent to The Star.
"In terms of Anglo American's Eskom-tied mines, the company has initiated a process to exit its Eskom-tied mines (Kriel, New Denmark and New Vaal). We believe these assets would be better served under new ownership that can provide more focused capital and management to continue to create value," the statement said.
The growth of alternative energy sources has also affected South African coal by shrinking certain export markets.
The US's Energy Information Administration predicts renewable energy production will increase worldwide from 22 to 29% between 2012 and 2040. The predictions see coal concurrently falling from 40 to 29%.
In many cases, new solar and wind projects are cheaper than coal. South Africa, the world's sixth largest coal exporter, was beginning to feel the impact of this trend, Prevost said.
"Environmentalists have affected coal heavily. The biggest example is China. The change in policy in China has caused havoc in coal. China, the largest importer of coal in the world, suddenly changed its policies and is stopping importing," Prevost said.
The price of coal rose from less than R300 per ton in 2000 to more than R2000 a ton in 2008, which in part caused a surge in applications for mining and prospecting rights. The coal price is now down at least 40% from its peak, and smaller miners who entered the industry looking for a quick profit have in some cases abandoned their operations.
Several Ermelo coal operations where Mashinini once laboured were abandoned during this period. Owned by Golfview Mining, a subsidiary of the Anker group based in the Netherlands, the sites are worked by small-scale miners, while unrehabilitated waste dumps and remnants of mining infrastructure sit derelict.
One partially rehabilitated portion lies in the centre of Johan Vos's farm. "They're getting away with murder," Vos said of Golfview, which rented his land and guaranteed rehabilitation.
"I didn't sell the land to them because they were just going to mine that one piece. They mine the piece, they rehabilitate and then I can go on. That was the whole idea. It didn't happen," Vos said.
Several years after taking a plea agreement and fine for its environmental practices, Golfview submitted a business rescue plan in 2015.
The company's plan estimates the cost of rehabilitation at R29 million but reveals that only R5m is held in trust funds specifically for that purpose. Additionally, at the time the plan was submitted, the company owned more than R622m in liabilities, meaning additional funds for rehabilitation would be extraordinarily difficult to procure.
With no legal power to deny mining on his property, Vos has a second coal mine on his farm that feeds the nearby Camden power station. 
He has not seen any rehabilitation at a third mine since operations abruptly halted six months ago, while a fourth mine is set to begin operations on his property, as contract details are being finalised.
Only 10 years ago, six companies accounted for 90% of South Africa's production and eight collieries mined more than 60% of the country's coal. While 93 coal mines produced all of South Africa's coal in 2016, that number increased 59%, to 148 mines, by 2016. Production, however, increased by only about 10%, indicative of a trend towards smaller mines.
But with smaller mines and shorter lifespans, mining companies are targeting new areas for coal mining.
Although some grasslands and wetlands in the Mpumalanga Highveld have gained legal protection in recent years, companies continue to lodge mining applications. More than 60% of Mpumalanga falls under applications for rights to either mine or prospect. 
According to the Department of Environmental Affairs, by the end of 2013, prospecting rights already covered 25.4% of Mpumalanga's wetlands, 32.2% of its freshwater ecosystem priority areas and 41.8% of its grasslands.
Documents emerged last month showing that the ministers of environmental affairs and of minerals and energy had signed off on a coal mine within the Mabola Protected Environment near Wakkerstroom, part of a strategic water source area in Mpumalanga.
Koos Pretorius, director of the Federation for a Sustainable Environment, said high-potential agricultural land often coincided with coal deposits, and the mining industry encroaching on these lands was creating concerns for food security.
"The soil gets destroyed from the opencast mining, and much of it is opencast. The reason for that is simple. If you do an underground mine you leave roughly 35 to 40% of the mine, so they tend to do as much opencast as possible," Pretorius said.
Recent periods of drought and sporadic weather patterns, likely attributable to climate change, have also had an impact on agriculture.
It is estimated that South Africa's operational and abandoned coal mines together can release greenhouse gases equalling the warming effect of more than 4 million tons of carbon dioxide per year, roughly the same as consuming 1.8 billion litres of petrol.
Proper rehabilitation could minimise the release of these gases.
The Star recently obtained documents from the Department of Mineral Resources that shed light on the money held in financial provisions for rehabilitation. As of 2015, R45bn was held around the country in these funds.
While Mpumalanga and Limpopo – the country's two most important coal mining provinces – refused to hand over their data, KwaZulu-Natal and Free State – two other provinces with coal mines – did release theirs.
Free State holds more than R5bn in financial provisions for rehabilitation, but the largest 5% of funds accounts for 99% of the money. 
This means smaller operations, which are more likely to close or be abandoned than large sites, have an average of less than R60 000 in their funds.
KwaZulu-Natal is a similar story, with the largest 5% of funds holding 80% of the money.
Thulani Mnisi is a ward councillor in the Wesselton township in Ermelo. With so many residents living in poverty in the township and surrounding informal settlements, he said, mining could be tolerated if it brought jobs and some semblance of environmental responsibility.
Instead, the Imbabala Coal Mine sits abandoned and adjacent to the township. 
Mine tunnels extend under the community, and illegal miners chip away at the underground pillars supporting the mine. Numerous people have died during cave-ins. "Those miners, after they mined, they just left the place like that," Mnisi said.
RELATED ISSUES