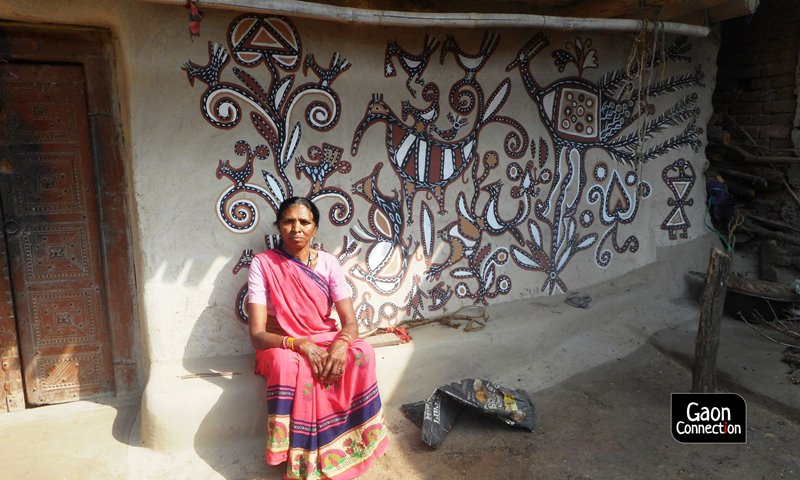 Hazaribagh, Jharkhand.
It is a hot, humid and sweaty day and the narrow lanes of village Oriya are brown and dusty. But in all that heat and dust, there is startling beauty. The walls of the mud houses in the village are like a canvas, bursting with flowers, birds, squirrels and fantastic animals in red, white and black colours.
This is Sohrai art, practised by many tribal communities in Jharkhand, and others too. The women paint their walls as a celebration of the harvest and as a thanksgiving to Nature.
Sohrai is prevalent in about 13 villages of Hazaribagh district. These include Bhelwara, Lukaiya, Purninano, Isco, Ango, Oriya, Kharanti, Saheda, Purnapani, Jarwadhi and Jorakath.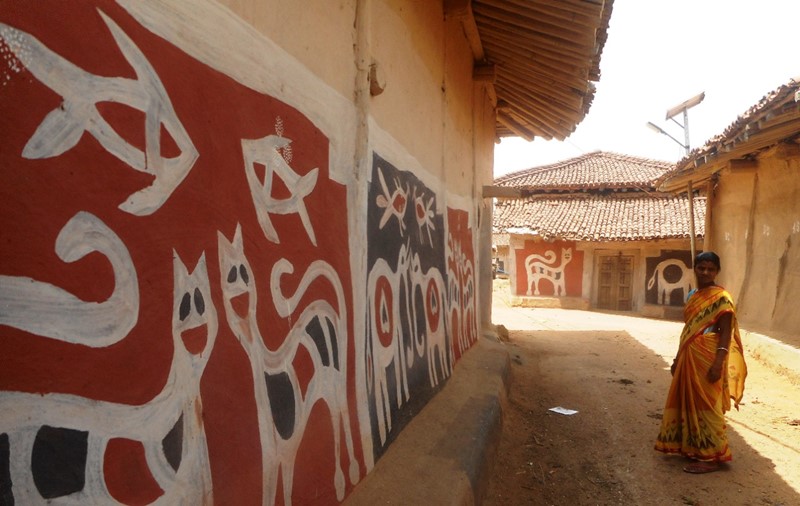 "The adivasis do the Sohrai paintings after January. But in our village, women paint the walls during Diwali or just after it," Duryodhan Mahato, from Oriya village, told Gaon Connection. Oriya is dominated by the Mahato community; its women have drawn inspiration for their wall paintings from the adivasis, he added. 
The walls bear paintings of elephants facing each other, fishes swimming past, a preening peacock with its feathers unfurled and fluttering birds. It is like looking at a giant picture book of magical creatures, staring out of its pages. 
Some of the paintings are on a black backdrop, or on the natural colour, on the mud walls. Red, black and white are the predominant colours used. The women first draw the outlines in white and fill up the figures with black and red.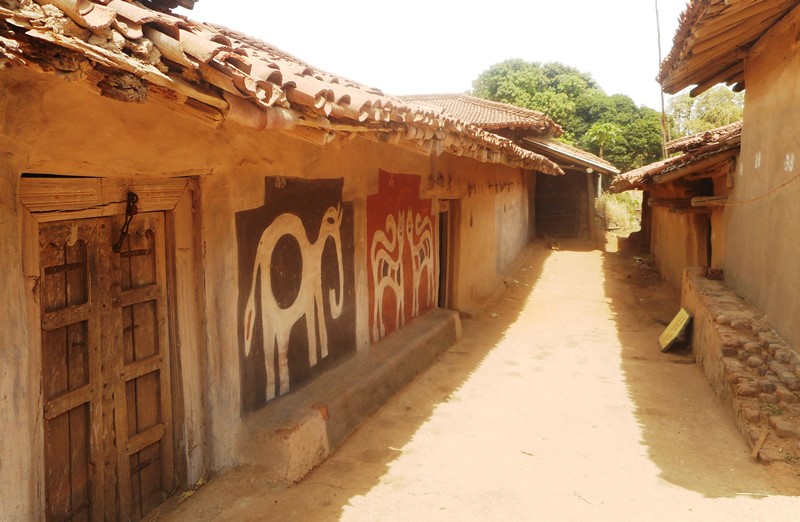 Earth colours 
Most of the colours used for the paintings are derived from mud. The red is derived from iron oxide and the black comes from a manganese-rich clay found in certain hilly areas. The creamy white colour is kaolin and called dudhi matti. 
The red colour is often found in the ore form. It is crushed and ground and the pigment is extracted. Nirasu Ranjan Bharti mixes each of the three colours in a separate container with water, till she has the right consistency. "Whenever women are free, they paint. But as we have a lot of household chores to finish, we hardly get time," the 35-year-old artist told Gaon Connection. The women usually paint early in the day before they go to work, or after they return from the fields.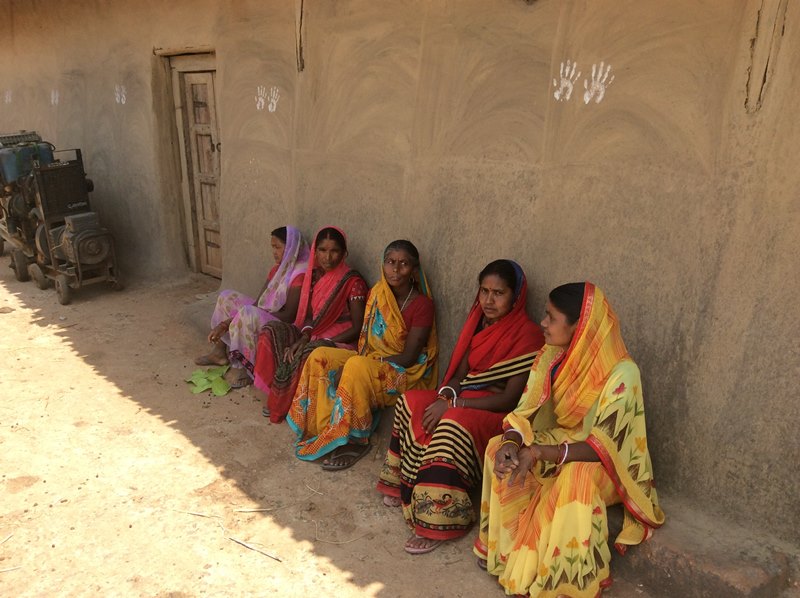 It is a time consuming labour of love. Each wall can take up to two hours to finish. "How will I find time for the painting? I am a single woman overburdened with work," Tileshwari Devi, a 40-year-old artist, told Gaon Connection.
Yet, almost all the homes on either side of the dusty lane of Oriya village proudly bear these wall murals.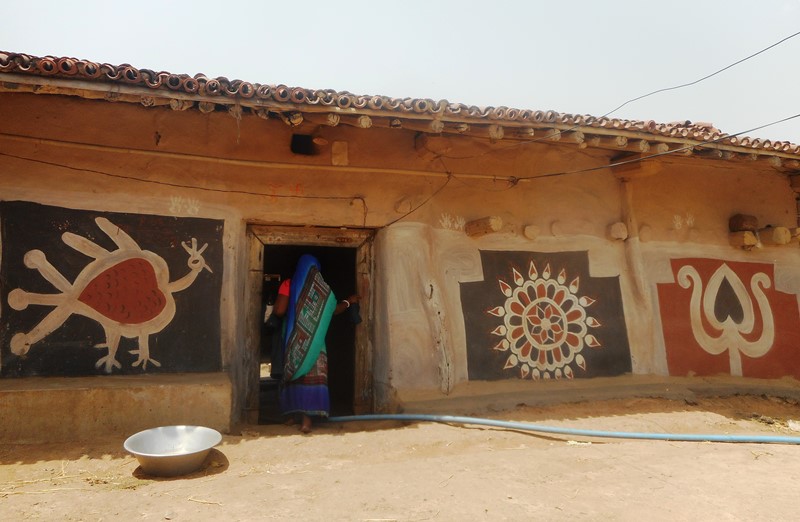 Dhaneshwari Devi learnt Sohrai art from a neighbour, she told Gaon Connection. She has been creating murals for almost five years now.  She wished she had the colour yellow to use in her paintings. "Many villages use it and it looks so attractive, but we in Oriya do not have it," she rued. 
The walls in a Santhal village
About five kilometres away from Oriya, in the Santhal dominated village of Purninano, in Hazaribagh district, Sohrai paintings are made mostly in the months of November and December.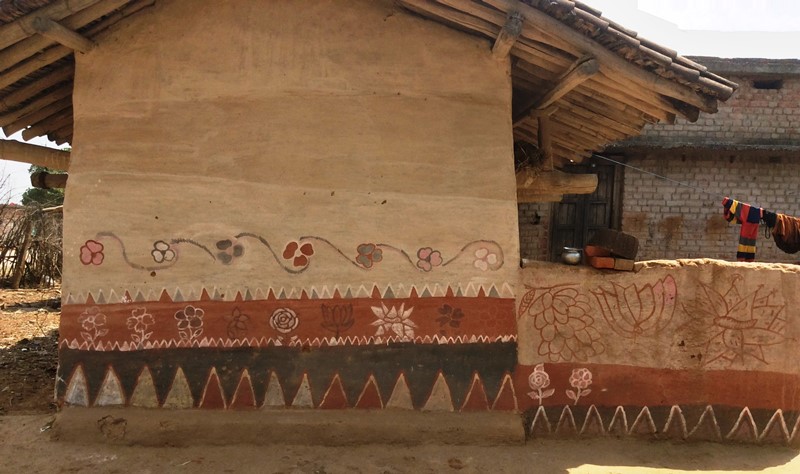 "Even a few years ago all the houses in the village had colourful wall motifs," Manju Devi of Purninano, who is in her 40s, told Gaon Connection. "It all depends on how much time the women can spare for the art," she said.
But, the construction of cement houses, under the Pradhan Mantri Gramin Awas Yojana (in 2018-19), aimed at providing cheap houses to the rural poor and has adversely impacted Sohrai art, Manju added. "The paintings look beautiful on mud walls and they do not look the same on walls of brick and cement." Also, she added, the women in the village faced a shortage of colours.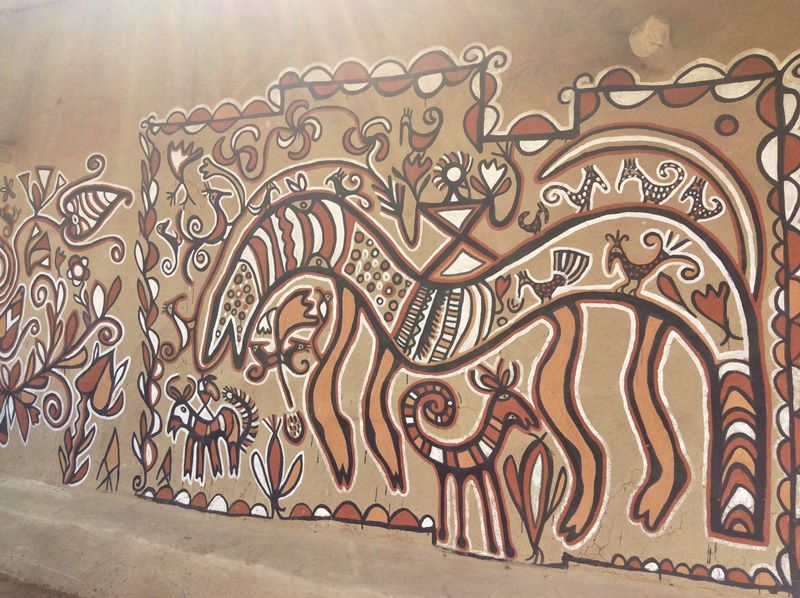 Sourcing the colours from Nature is time consuming. For instance, some of the colours are obtained from minerals found on river beds and it is tedious business getting it. The red colour is obtained from hematite or iron ore that comes from the mines of Noamundi in West Singhbhum district. 
While women do go into the forests in groups to forage for the colours, it is a lot of hardwork. With their other chores at home, including repairing their homes, etc., it is time they can sometimes ill afford to spare.
GI tag for Sohrai
Sohrai art as practised by each community and village is distinct. For instance, in Purninano, the motifs are very different from the ones found on the walls in Oriya village. Most walls here have horizontal narrow bands of flowers and geometric shapes adorning the lower parts of the walls.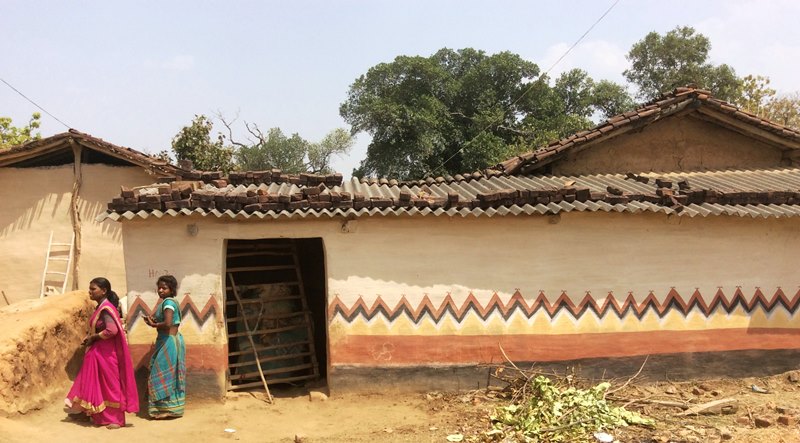 "Last year, on May 13, Sohrai received the GI [geographical indication] tag," Justin Imam, who has been working on the conservation and promotion of Sohrai paintings for several years across the villages of Hazaribagh, told Gaon Connection. A GI tag is given to products that have a specific geographical origin and possess qualities of a reputation that are due to that origin.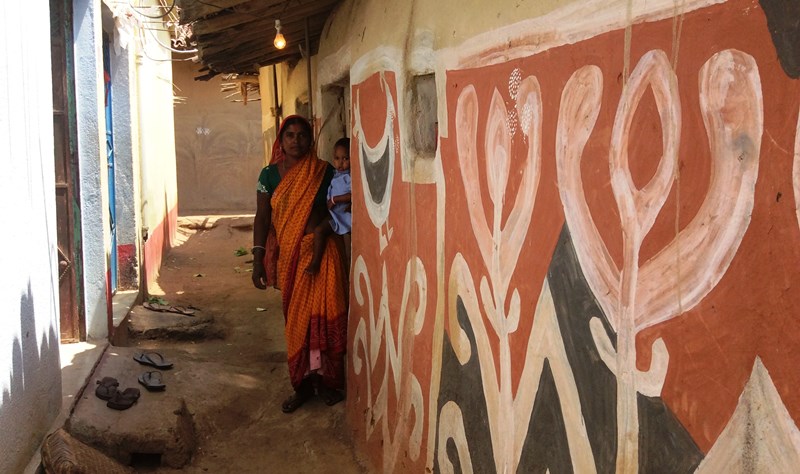 Imam, who is the secretary of the Hazaribagh-based Virasat Trust that works with the conservation of Sohrai, said, "In 2008, nearly fifteen thousand square feet of walls across Jharkhand were painted by the women." These included paintings in the state capital of Ranchi and the platform and reception area at the Hazaribagh town railway station before Prime Minister Narendra Modi inaugurated it in 2015. 
The prime minister even made a mention of it in his radio programme, Mann Ki Baat. These women also painted the walls in public spaces in Delhi, Gurugram and NOIDA, and exhibited in art galleries, Imam informed Gaon Connection.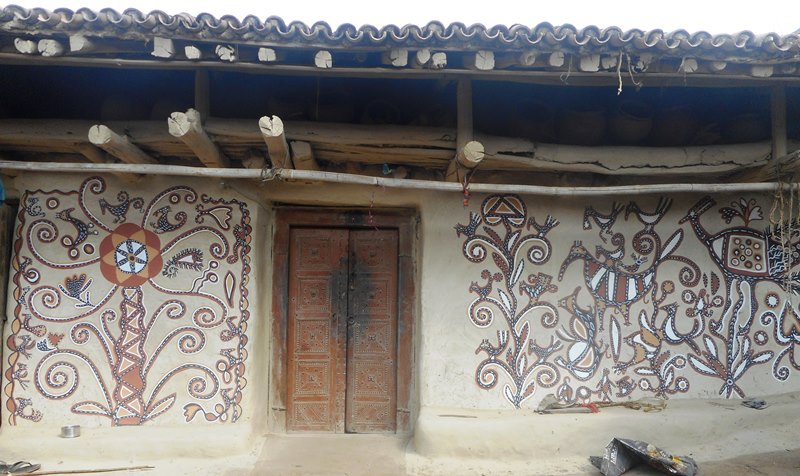 Reviving a fading art
According to Imam, Sohrai was beginning to languish and dwindle. "The women needed motivation to keep the art alive, besides the colours to use," he said. Sohrai has many variations, said Imam. In some villages, a broken comb or a twig from a neem tree is used as a brush, in others, like it is in Oriya, cloth is dipped in colour and used as a brush on the walls. 
Along with his wife, Alka, who travelled across the villages, meeting and talking to the artists, Imam procured the colours for them so that they could continue the age-old tradition. A series of exhibitions also helped spread awareness about the art. "Alongside walls, women artists have also been encouraged to paint on handmade paper and canvas," Imam added.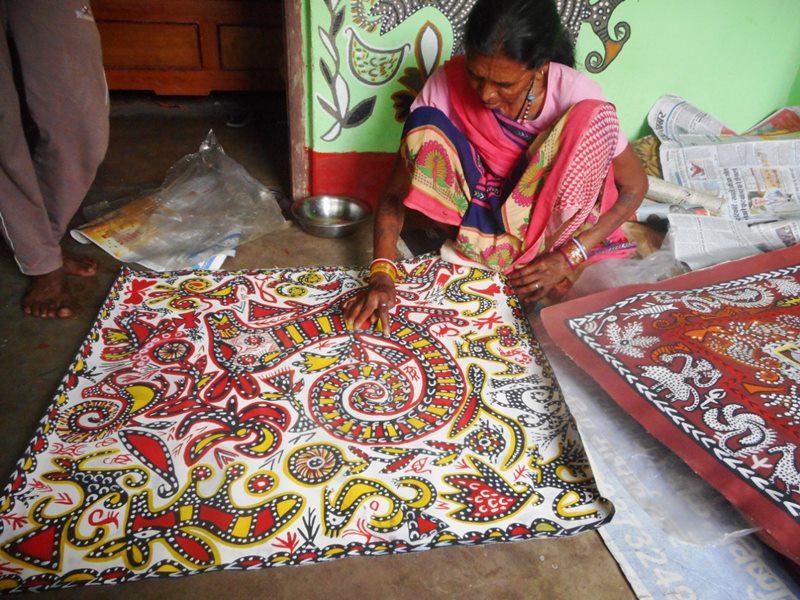 In 2013, there were 70 houses in four villages of Hazaribagh that bore these paintings on their walls. Women artists were given incentives such as sarees, wall clocks and blankets to continue painting. In 2018, the Sohrai Kohvar Mahila Kala Vikas Samiti, a cooperative body comprising women artists, was formed in Hazaribagh. The cooperative today has over 300 members.
It is hoped that this art survives the ravages of time.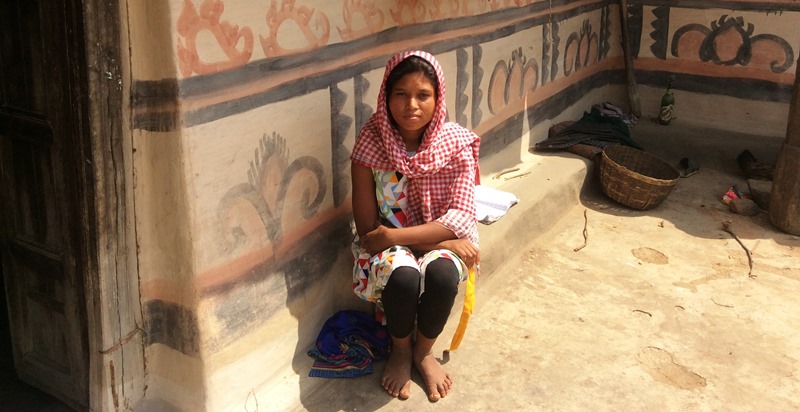 This photo feature series was produced in partnership with the Pulitzer Center on Crisis Reporting.
RELATED ISSUES

Issue
Indigenous Communities
Indigenous Communities

Women