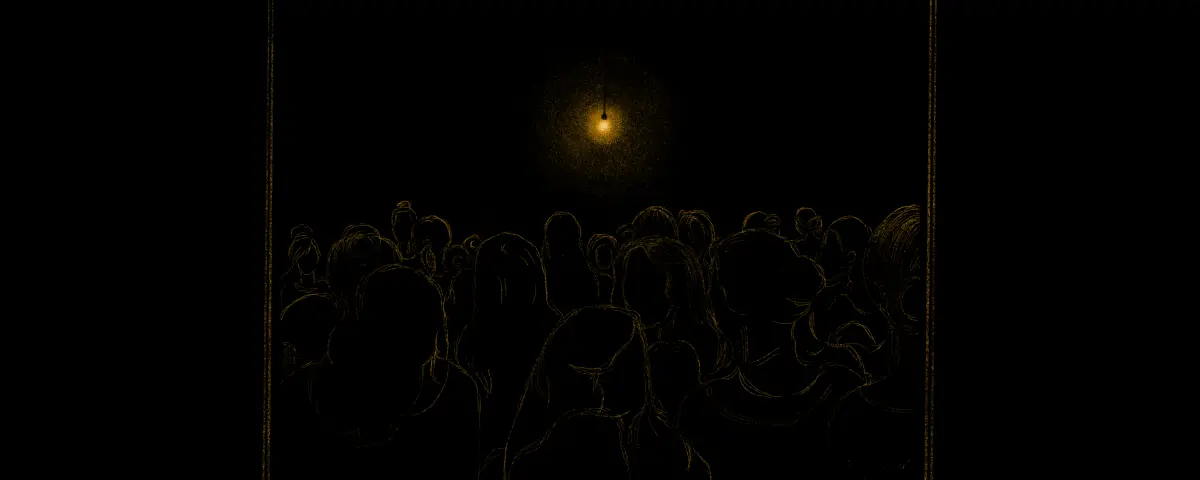 To fit 45 women in a room so small that it needs only one bulb and a fan, says Aparajita Bose, the authorities at Presidency Correctional Home in Kolkata came up with a plan: measure the women's bodies and assign a sleeping area just that size.
Most conversations with people who have spent time in prison featured a common complaint – the complete lack of privacy. "There was never any silence. I used to crave silence, or a moment when I felt like nobody is looking at me," Meena* says. She spent four years in the Shahjahanpur district jail in a dowry-related case, later dropped.
"You know the buzz of a mosquito in your ear? Imagine that, but with the sound of grief. People crying or complaining, or staffers scolding prisoners … that's all there was to hear most of the time."
There was a dry period in 2003, Meena continues, during which water in the prison was extremely limited. "It was peak summer but we couldn't bathe more than once in four or five days. And even then, three of us would share one bucket of water. Nothing was your own there — not even your bathing time."
During her four years in prison, Meena says she had visitors only twice, both in the first year of her imprisonment. "My son was also in jail, in the same case. My daughter came once and my brother too. But it was very far for them, and an expensive journey. From our village to come and visit me, they would have to travel for seven hours by bus."
Because there are fewer women's prisons in India, women prisoners are often incarcerated far away from their homes, so journeys like that of Meena's daughter and brother are not uncommon.
Imprisoned women also bear the brunt of a stigma — they are seen as legally but also morally deviant — which means they are often abandoned by their families.
Rani Dhavan Shankardass, secretary general of the Penal Reform and Justice Association and president of Penal Reform International, writes in her book Of Women 'Inside': Prison Voices From India (2020),
"Prisons may classify prisoners according to their legal offences but a prison's social grouping, especially in a women's prison, is not all about legal offences: it's about them having crossed the barriers of social and moral taboos set out over the ages by custom, tradition and often religion, and are expected to be a stronger sanction than the law."
In addition to the regular lack of privacy, Leela* recalls, there was a time when the authorities at Byculla prison decided to go a step further and install CCTV cameras inside the women's barracks.
"Several of us prisoners opposed this move — we said if you want to install CCTV cameras, you should do it in the officials' offices, that's where violence against prisoners and any exchange of money [as bribes] takes place," she says. "We were fine with the cameras in the outside areas and the corridors, but not inside the barracks. It would get very hot in the summers, so we often slept with very few clothes on."
The authorities saw Leela as the "instigator" of this protest and moved her to solitary confinement to punish her. After five days, however, the issue got the press's attention. "And so a judge came to inspect the jail, and the authorities quickly removed the piping and other preparations they had installed for CCTV cameras within the barracks."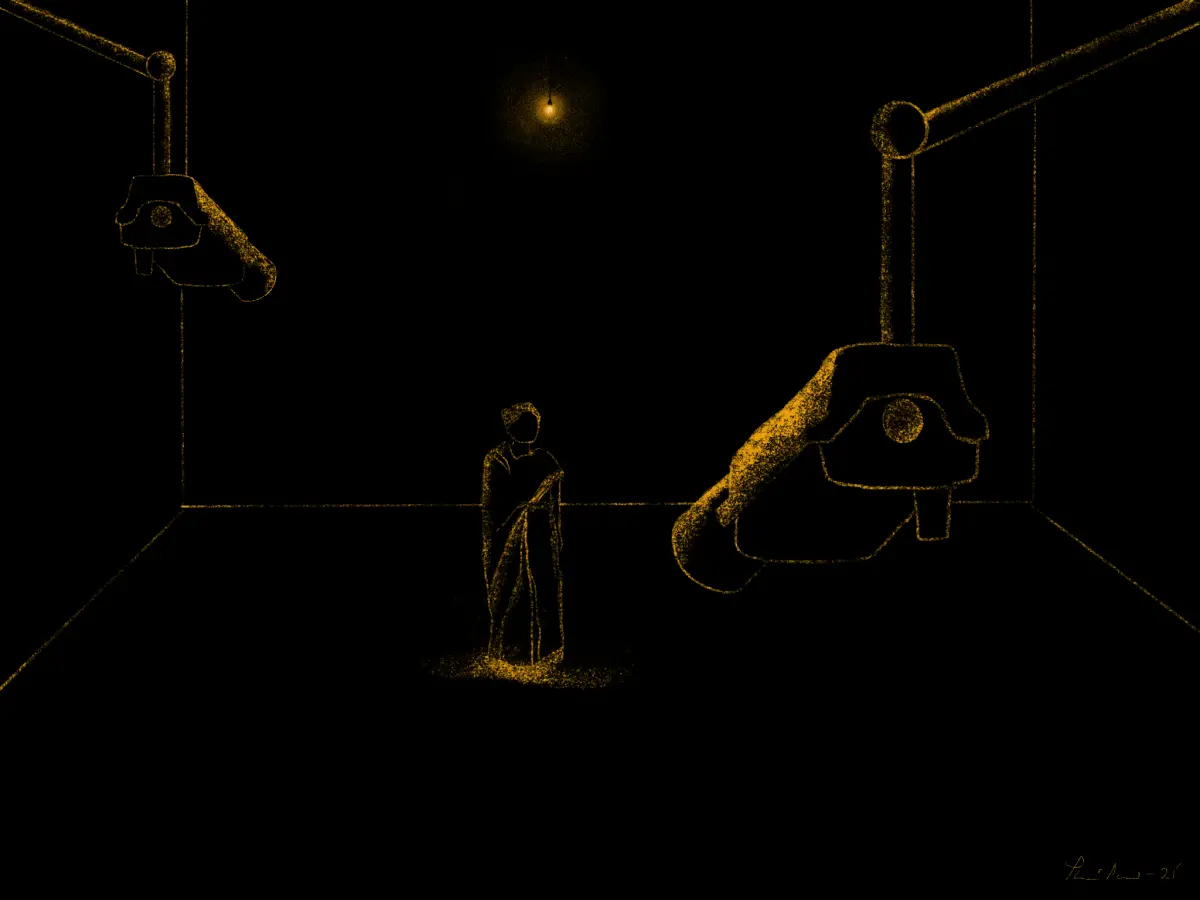 It isn't just that people are always watching you in prison, women prisoners tell The Wire, it's also the feeling that you have no control over how your body will be treated. "Every time we get back from one of our court dates," Meena says, "we had to strip completely in front of the women guards, and they would put their hands everywhere you can think of. And there's nothing you can do. You feel completely powerless."
"It didn't even matter if women were on their period," Leela says. "They would be asked to take off their underwear, to spread their legs."
---
Aparajita Bose spent 13 years in jail – from 2000 to 2013 – after her husband was murdered, only to be acquitted later by the Calcutta high court and the Supreme Court. In the Presidency jail, where she spent the first eight years of her incarceration, the women's enclosure is within a larger men's prison.
Of the 1,350 prisons in India, just 31 are reserved for women, and only 15 states and union territories have separate women's jails. Everywhere else, female prisoners are housed in smaller enclosures within men's prisons — a prison within a prison, so to speak.
The women's-only jails have an occupancy rate of 56.09%, according to the National Crime Records Bureau (NCRB) data for 2019. This is an anomaly because India's jails are notorious for overcrowding. The country's 410 district jails, for example, have an average occupancy rate of 129.71%. In December 2019 — the latest data available — women's jails had the capacity to house 6,511 female prisoners, but actually housed only 3,652. The occupancy rate for women in other prisons is higher, at 76.7%, but still gives the impression that women prisoners don't really have a space problem.
The numbers start to look very different in the state-wise break-up. Facilities in many states are actually very overcrowded — and the national average obfuscates this reality.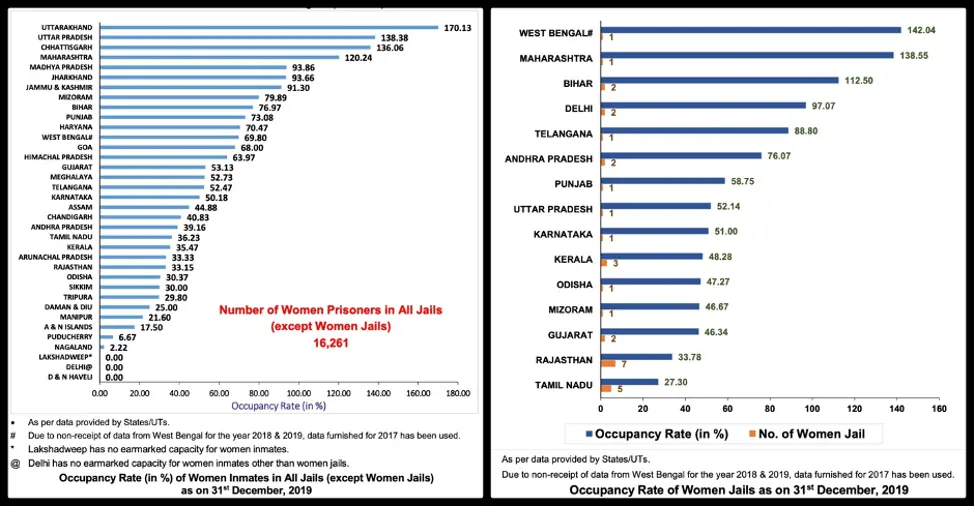 Incarceration is supposed to be a punishment in itself, and the Indian prison system also claims to focus on rehabilitation. But overcrowding as well as many other issues come in the way of prisoners' right to live dignified and healthy lives.
"We were only given blankets to sleep on — two each in the summer and six each in the winter," Bose says. "But my skin was allergic to the material of the blanket, so I had to sleep on the floor directly. Prisoners weren't allowed any sort of mats or mattresses from the outside — that was seen as too much of a privilege."
Between 2000 and 2008, Bose was a prisoner in Kolkata's Presidency Correctional Home (West Bengal calls its jails "correctional homes"). In 2008, she was moved to the Alipore Correctional Home, where she stayed until her release.
In Presidency, the toilet was inside the room she shared with 44 other prisoners. Not surprisingly, one big issue was the lack of hygiene and sanitation.
"People regularly threw their sanitary napkins into the toilet instead of the dustbin," she says, and adds nobody cared enough to try and fix this problem. Each month, menstruating women were given just 12 sanitary napkins. "If your flow was heavier and you needed more, they just gave us gauze bandages and cotton and we had to make our own napkins with that. For disposal, there was just one bag, and it wasn't properly cleaned out every day."
Their menstrual hygiene was one of many things the women prisoners couldn't control. Because the women's section of the Presidency jail was enclosed within the larger men's prison, the women had no say in food provisioning and cooking either.
"The food was horrible in Presidency," Bose remembers — and not just the taste. Over the years, she says, "we found insects in the brinjal and caterpillars in the rice." She thought the food in Alipore Correctional Home was a lot better. "There, prisoners told the superintendent that we want to eat this or that, and food was made accordingly by a special organisation that had been hired."
According to the NCRB, prisons spend half of the money they get on food (in 2019, this fraction was 47.9%). The Model Prison Manual of 2016 has notified the number of calories each prisoner must get per day: men, between 2,320 kcal and 2,730 kcal per day, and women, between 1,900 kcal and 2,230 kcal per day. The manual also makes special provisions for pregnant and lactating women, who, it acknowledges, "need more proteins and minerals than [others]".
The food to be served itself is left to the states, since prisons are a "state subject" in India. But prisoners frequently struggle with both the quality and quantity of food they're provided.
On December 26, 2011, undertrial women prisoners in Mumbai's Byculla prison decided to do something about the watery servings they were getting every day. "The Maharashtra prison manual indicates that women prisoners should get fewer rotis (bread) than their male counterparts," Leela, one of the women who participated in a day-long hunger strike and protest inside the jail, says.
"For some the quantity was okay — but for others, it wasn't. And how can the rules discriminate like that?"
At the time, there were a number of Bengali-speaking Muslim women lodged in the prison; according to the state government, they had crossed over illegally from Bangladesh. "They didn't want to eat rotis, they were very used to eating rice," Leela says. "So our demand was also that they should be given enough rice to eat. Many of them also had their children with them and they also needed an adequate amount of rice."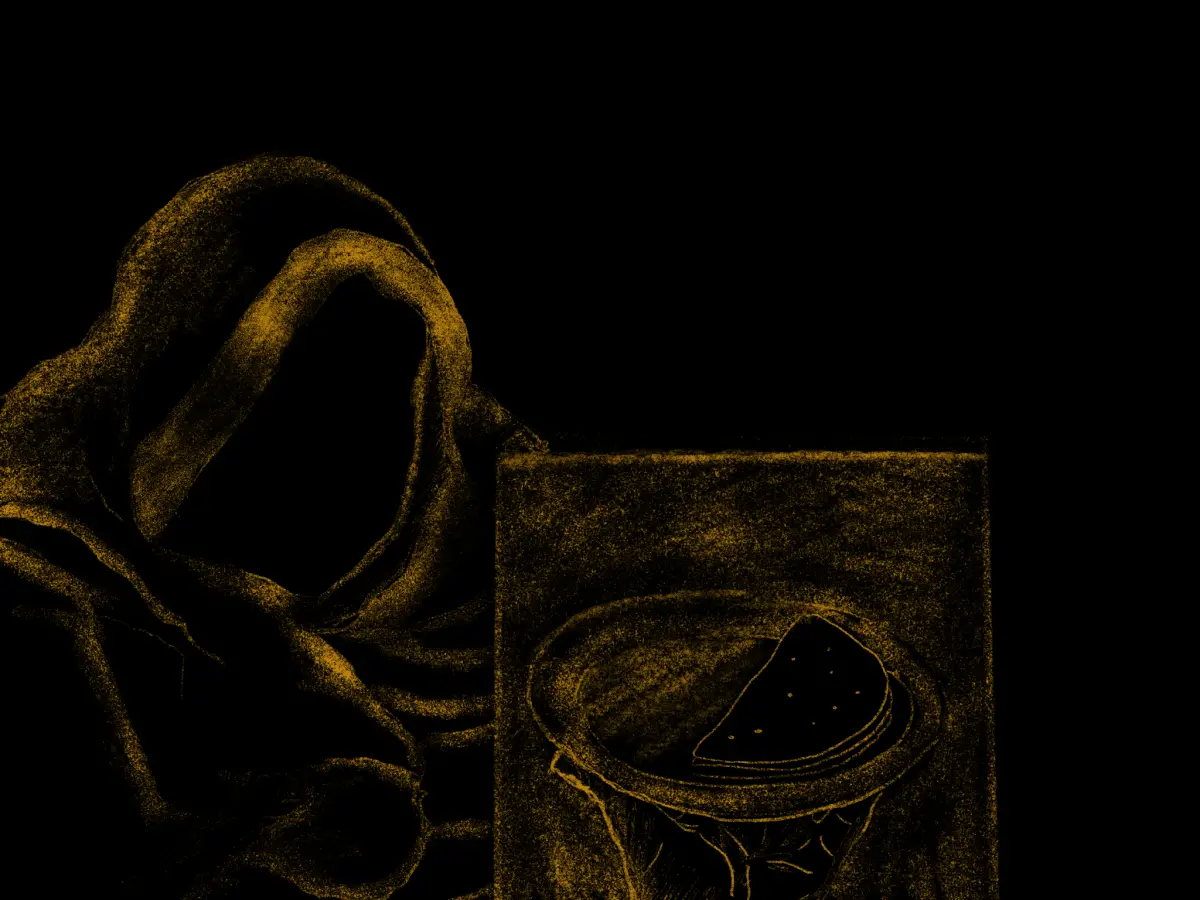 The medical officer at the Byculla prison was given a test plate every day, to determine whether the food that had been cooked was fit for prisoners to eat. According to Leela, however, the prisoners quickly realised that the food the officer tasted wasn't the same as what they were being served. "Unke plate ka khana toh bohot acha lagta tha, ekdum ghar ke khaane ke jaise (The food on her plate looked really good, like a proper home-cooked meal)," Leela says. "But by the time the food reached prisoners, it was basically just water" — that's how diluted the meals were.
Their one-day strike in December 2011 was successful, since almost all the women in the Byculla prison participated. And for a few days, Leela says, the quality of food really did change for the better. But she also says there continued to be pushing and pulling around the issue for the rest of her time there, until she was released in September 2016.
---
Aparajita Bose was in jail for 13 years after being falsely implicated in her husband's murder, allegedly because of her in-laws. But in some ways, she still counts herself to have been one of the luckier ones.
"I had a very good lawyer," she says, "and it was only because of Jayanta Narayan Chatterjee that I was acquitted."
But while she was inside, Bose found many women who had been there for decades — and the state seemed to be showing no signs of preparing for their release. So after she got out and got a job at the Human Rights Law Network (HRLN), an NGO that provides free legal aid and promotes legal literacy, she decided to focus on just these women, and try and make sure they were able to rebuild their lives once they got back out.
The women needed help in the first place because the sole focus of the prison system's rehabilitative efforts, Bose says, is a vocational training programme that taught women to sew. But for many life convicts, their families and society weren't accepting of them. "If you don't even have a roof over your head after being released, what use is vocational training?"
"I became very attached to some other prisoners, and I know they too [were] falsely implicated like me," Bose says. Chatterjee, her lawyer, is currently working with HRLN in an attempt to  have women prisoners serving extremely long sentences released.
A closely related issue is the freedom to move around inside prisons. "At least for men, there is a provision for open prisons," Bose tells The Wire. "If they have served their 14 years [the minimum duration of 'life imprisonment' in India] and shown good behaviour, they are allowed to live in ways that provide some semblance of normalcy. But nothing like that exists for women" in West Bengal.
India has had a small number of open prisons in one form or another for almost a century now. There were 86 functional open jails in 17 states  in 2019. Of these, only four — Jharkhand, Kerala, Maharashtra and Rajasthan — had women housed in open-jail facilities at the end of 2019. The first open jail for women, at Pune's Yerwada Central Prison in Maharashtra, was inaugurated only in 2010. The earliest such facility for men opened in 1953.
Open prisons are meant to allow prisoners a near-normal life while also restricting where they're allowed to live. "Near-normal" includes access to more personal liberties, like the right to work. In semi-open prisons, prisoners work in designated areas inside the prison complex, but their living arrangements are often less like barracks and more like houses on the outside. Open prisons give prisoners the right to live with their families and go to work as long as they are back in their allotted quarters by a fixed time. States make their own rules about who is eligible for these facilities.
When Sunil Gupta, who worked as the law officer for Delhi's famous Tihar jail for more than two decades, retired in 2016, he decided to challenge the same gender inequality that Bose confronts. Tihar had open-prison facilities for its male prisoners but no such thing for the women.
"When I worked at Tihar, I thought open prisons for women would be a logistical nightmare, because of the safety concerns," he says. "After I retired and started working as a lawyer in the high court, though, it became clear to me that that wasn't the right lens through which to look at this."
Gupta filed a case in the Delhi high court saying the government had a duty to treat all prisoners equally. The high court also expressed displeasure at this inequality, and the government subsequently agreed to expand the system, inaugurating a women's semi-open prison in Tihar in 2019.
The Madras high court heard a similar case after an advocate named K.R. Raja filed a public interest litigation saying the state's decision to not extend open-prison facilities to women was discriminatory and illegal. The court once again agreed with the petitioner; the bench said the state's "Prison Rules," which barred women prisoners, transgender prisoners, prisoners who had any other case pending before a court and political prisoners from accessing open prisons, was "unconstitutional."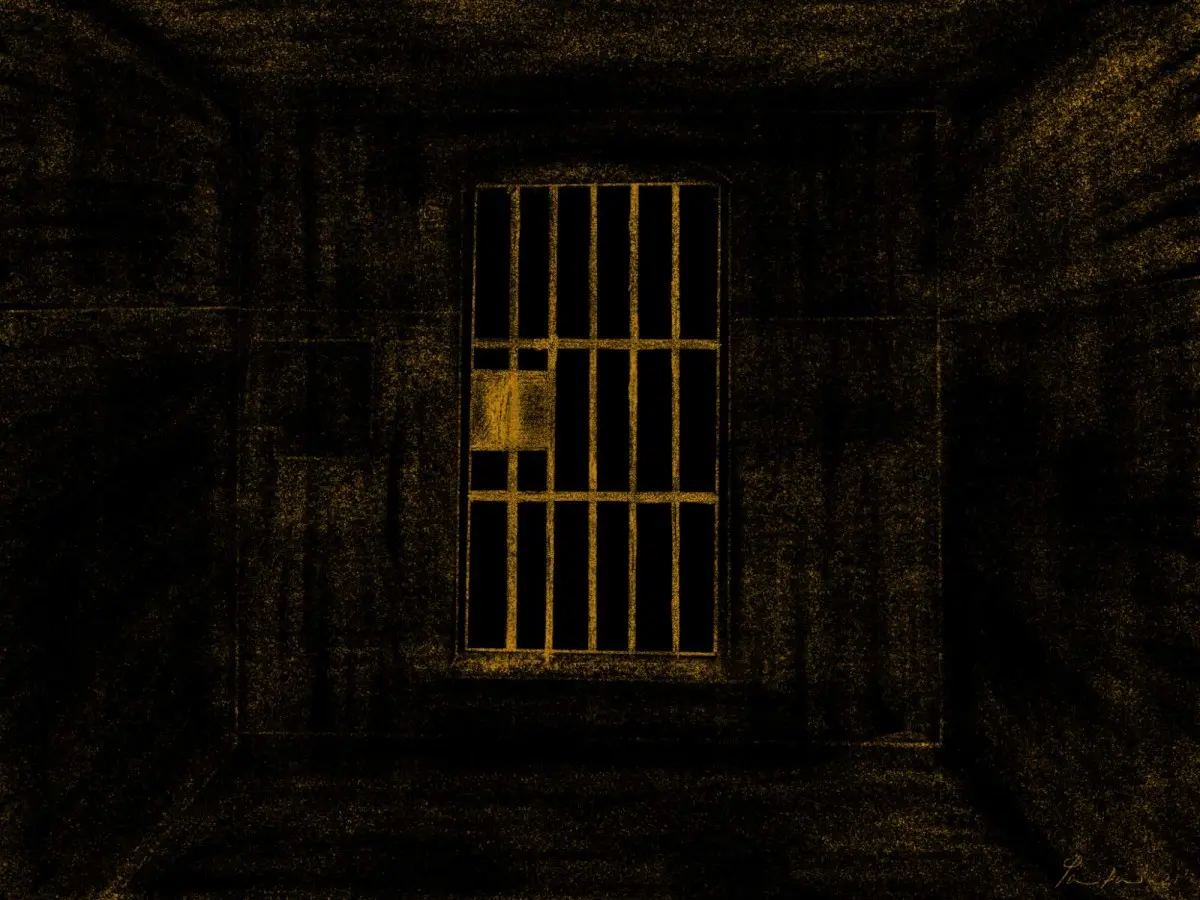 According to Gupta, the rules seem to suggest on the surface that women prisoners have more freedom than their male counterparts. For example, at Tihar, men need to be in their cells from 12 pm to 3 pm every day; women on the other hand are allowed to remain in open areas even at these hours.
"Par choot tab bhi men's section mein zyaada hai (But actually there is more freedom in the men's section)," Gupta tells The Wire. The spaces are larger, there are more people and there are more physical activities to engage in, like a game of cricket. "For women, activities are usually kirtan karna (chanting) or making papad."
Bose and Leela echoed this point, saying that in the guise of their "vocational training," prisons also reinforced gendered notions of the sort of work women "ought to be" engaged in that they faced on the outside.
"If you ask any prisoners in the women's section, they will say they would prefer to be imprisoned in the men's section," Gupta says. "And it's the same with the staffers — they would rather work in the men's section than in the women's one."
Leela says some women's prisons have a rather sombre mood — but ironically, these prisons also provide more space to women, as there are fewer prisoners. "In the Byculla prison," she recalls, "something or the other was always happening — new people would be coming in; someone would have a court date; someone would have a mulakat (meeting); there would be singing. Even when people were crying, it was a loud event."
Her time in a Nagpur prison flowed slower. "The space was much larger, but the mood was very different. The atmosphere of hope that was visible in Byculla, because the women were largely undertrials, was missing with the convicted women prisoners in Nagpur."
Another visible contrast, Leela says, reflected the unequal development in India. Mumbai is a big city; the women imprisoned there are more aware of their rights and more willing to be vocal about them. In Nagpur, most prisoners are from nearby small towns and villages, and the prison staff also reinforced restrictive societal norms. "In Byculla, you'd never hear the staff telling the prisoners that we couldn't wear this or that. But in Nagpur, women weren't allowed to wear jeans on prison grounds."
"I remember one time in Nagpur," Leela says, "one of our fellow prisoners had a court date. She usually always wore saris, but that day we encouraged her to wear a salwar-kurta, because she really wanted to. But before she was supposed to leave, the prison officials sent her back into the barracks to change."
---
That authorities don't treat all prisoners equally is common knowledge in India. There have been numerous reports over many years of how prisoners who have money and/or political clout are treated better. Women's prisons are no different: class, caste, religion and nationality have a big say in the women's potential prison experience. As The Wire has reported, caste hierarchy is so deeply ingrained in Indian prisons that it is written into states' prison manuals, on how work in prisons is to be distributed.
When Leela was in Byculla prison, one of her fellow prisoners for a time was Jaya Chheda, known for operating a matka gambling ring (somewhat like a lottery) after she was arrested for murdering her husband. And while Chheda was in the women's prison, Leela says, she practically ran it.
"Both the staff and the other prisoners treated her differently because they knew she could get things done," Leela says. Other prisoners would "serve" her, including massaging her body. The staff allowed her to travel out of the prison regularly, either to the hospital on the pretext of medical care or for her court dates. And she did help them in return, Leela says — from posting bail for women who couldn't afford it to using her phone (which prison authorities let her keep) to get messages out for others.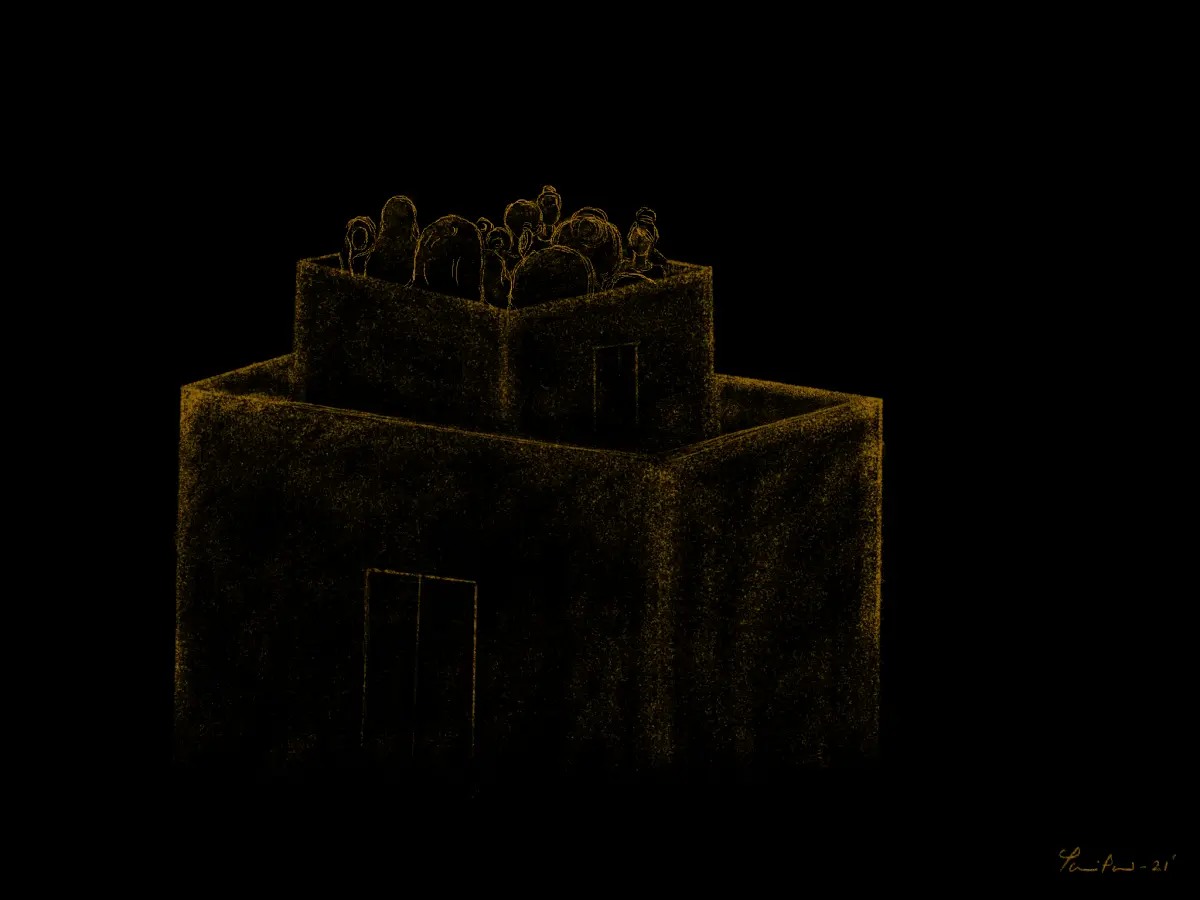 On the other end of the spectrum from prisoners like Jaya Chheda are prisoners like Beena.*
Beena was alone in her room on December 10, 2020, when she heard a commotion outside. She could hear her neighbours — many of them sex workers like her — running, and someone yelling that the police were raiding the area.
The police arrested 81 women from Nagpur's Ganga-Jamuna area, the city's "red light district." Beena says she was pulled out of her room by the police, in spite of her protests that she was two months' pregnant. While taking the women away, many of them alleged, the police used both their sticks and their insults liberally.
"While at the police station, they kept saying 'Yeh randi khana nahi hai [This is not a brothel]' and referring to us as 'randi' [a derogatory term used for sex workers]," one of them said. "They didn't care that we were leaving all our belongings unattended, they didn't care how they treated our children or the elderly," another woman added.
After spending two nights in police custody, the women were taken to a COVID-19 quarantine centre, where they would remain for three weeks. "The staff at the quarantine centre were very rude," Beena remembers. "They kept saying we were too dirty — but they had one bathroom with three cubicles for all of us! What did they expect?"
In women's prisons in India, one particular form of segregation is mandatory: women arrested under the Immoral Traffic Prevention Act (commonly known as PITA), 1965, India's anti-prostitution law, are to be housed separately because these women — those making the rules believe — could be a "bad influence" on others.
This "rule" is also written into the Ministry of Home Affairs' 2016 Model Prison Manual – and which serves as an example of best practices in the prison system for state authorities. Clause 20.04 (iii) of the chapter on women prisoners reads, "Habitual offenders, prostitutes and brothel keepers must also be confined separately." In colonial India, the British government had classified certain indigenous tribes (now called "Denotified Tribes") as "criminal by birth." While the Government of India legally removed this "criminal" label, the Habitual Offenders Act, which replaced the Criminal Tribes Act, is still regularly used by the police to target and stigmatise this marginalised group. In India, most sex workers too come from oppressed castes – and thus the fact that even the "model" prison manual calls for the segregation of both sex workers and "habitual offenders" points to the criminal justice system's continuing caste discrimination.
PITA doesn't outlaw prostitution per se but makes keeping and using a brothel, living on an income earned from prostitution, pimping, soliciting, prostitution in a public area, etc. illegal.
Beena and the others arrested with her were charged under PITA as well as under the Protection of Children from Sexual Offences (POCSO) Act. This, the police say, was because they "rescued" eight 17-year-old girls from the area. Lawyers, however, have rubbished the charges: POCSO can be applied specifically against those who have been found to be sexually abusing minors, not against an entire neighbourhood.
"You can't say a child was found here, so everyone in the area is guilty under POCSO," Nagpur-based advocate Nihalsing Rathod told The Wire. "This is really an absurd case."
But absurd or not, 81 women including Beena found themselves in police custody, and then in a COVID-19 quarantine centre. And ten days after she was brought to the centre, Beena began feeling a sharp pain in her abdomen. She tried to tell the staff members at the quarantine centre, she says, but they ignored her.
In a couple hours, she was bleeding. Her fellow prisoners, who knew she was pregnant, also knew she needed immediate medical attention. "We were calling for the guards but nobody was coming. There was a CCTV camera in the room where we were being kept, so finally all of us stood in front of that, waving for help," one of the other women who was kept with Beena tells The Wire.
Finally, when help arrived, all the guards did was give Beena sanitary napkins to staunch the bleeding. "I was so weak," she says, "I couldn't even argue. I kept asking them to take me to a doctor, but they gave me the sanitary napkins and left the room. The others had to take care of me, bringing me water and trying to make me comfortable."
The next day, some 24 hours after Beena first began reporting her pain, three policewomen took Beena to a medical centre nearby. The main doctor wasn't present because it was a Saturday. Junior doctors performed "a sonography there and said I had lost the child. They didn't give me any other medical care, I was taken back to the quarantine centre. The policewomen said I would be taken for another check-up when the main doctor was present, but that never happened."
After her miscarriage, Beena spent a few more days in the quarantine centre and then shifted to the Nagpur Central Jail. Keeping with the Model Prison Manual's rules, the sex workers were lodged in two rooms away from the other prisoners. "We weren't being judged for our 'crime.' We were being judged for our profession," Beena says, both sad and angry. "It didn't matter to them that I was pregnant, because the child of a sex worker doesn't count. We don't fit their definition of what a woman should be like and our children don't deserve the same concern."
Indian prisons have a documented paucity of adequate medical facilities. For women prisoners who need regular appointments with gynaecologists and other specialists, this is a compounding problem. The 2016 manual says each women's prison ought to have medical facilities with at least one female gynaecologist, but many districts are yet to  implement this.
A 2018 report from the Union Ministry of Women and Child Development noted this problem and said, "Despite rules laid down in respective State manuals, the physical and mental health of prisoners often suffers. In many cases, female wards in hospitals and lady Medical Officers especially gynaecologists are not available."
And as in many other locations in India, where attention to physical health is bad, attention to mental health is worse. Incarceration and societal shunning can have serious effects on all prisoners, especially women prisoners who also contend with stigma, but the state has done little to help. If anything, prison authorities treat all prisoners as if they are mentally well.
There was a woman imprisoned with her, Leela says, who suffered from what looked like dementia. "All day and all night, she would be crying and cursing – she couldn't understand what was going on. But the staff would respond by hitting her because they thought she was being insubordinate. Lekin maarne se kya hota? Woh toh neend mein bhi gaali deti thi (But how would hitting her help? She was cursing even in her sleep)."
---
A decade ago, the UN General Assembly adopted the "Rules for the Treatment of Women Prisoners and Non-custodial Measures for Women Offenders" – commonly called the Bangkok Rules. They explain why treating female and male prisoners the same way doesn't demonstrate "equality." They also highlight the importance of taking the circumstances in which the alleged crimes were committed and the socio-economic backgrounds of those being imprisoned into account. To the extent possible, the rules say, there is a need for alternatives for both pre-trial detention and post-conviction sentencing, since imprisonment is usually found to be both ineffective for and damaging towards women.
Though India claims to have a "rehabilitative" criminal justice system, it's yet to explore these alternatives.
If women are sent to prison, the Bangkok Rules impose some regulations and safeguards – like adequate healthcare, humane treatment, preserving dignity during searches and protection from violence. Although India was one of the 193 countries in the UNGA that unanimously passed these rules, its treatment of women prisoners falls far behind what the international standards recommend.
Aparajita, Leela, Meena and Beena come from very different backgrounds, and their experiences of imprisonment vary as well. But there's also common ground – of being a woman prisoner in India, of having their basic human rights curtailed, of being relegated to a forgotten and shunned part of Indian society.
Until stories like theirs are not only heard but also taken seriously, discussed and used to change how women prisoners are both perceived and treated, it's unlikely that the Indian criminal justice system will be able to live up to its rehabilitative ideals.
*Name changed to protect identity.
RELATED ISSUES

Criminal Justice

Women