GASTON
Tractor-trailer trucks carrying timber arrive one after another at a factory in Northampton County, where logs are piled up to 35 feet high in rows as long as two football fields. Still more trucks come, carrying sawdust and wood chips from lumber mills or from shredded limbs and small trees those mills won't buy.
The logs and chips will be ground up, dried and turned into cylindrical pellets about as big around as a pencil. Every day of the year, barring any breakdowns at the plant, a truckload of these pellets leaves about every 24 minutes for the Port of Chesapeake in Virginia, where they're loaded onto ships bound for Europe to be burned for heat and electricity.
John Keppler, the CEO of the mill's owner, Enviva, calls this an environmentally friendly solution to climate change, and he's not alone. Ten years ago, the European Commission directed its member countries to derive 20% of their energy from renewable sources by 2020 and said the burning of biomass such as wood pellets was one way to meet that goal.
The European Union declared that burning wood won't add to the amount of climate-changing carbon dioxide in the atmosphere because the trees will eventually grow back, reabsorbing the CO2. But that Renewable Energy Directive and its designation of wood pellets as carbon neutral have come under increasing criticism since its adoption in 2009. Scientists and ecologists point out that burning wood pellets releases more carbon dioxide than burning coal and that it may take decades for replanted trees to reabsorb it.
Still, that directive essentially created an industry, one that has thrived in North Carolina. People in New England and other cold places had been buying bags of wood pellets to burn in stoves since the 1970s. They were motivated in part by the environmental movement — the first Earth Day was in 1970 — then by the OPEC oil embargo in 1974, which quadrupled the price of oil.
But power plants in Europe need pellets by the shipload, and Enviva and other companies geared up to meet the demand.
They found much of the wood they needed to make those pellets in the southeastern U.S. From Virginia to Texas, landowners were already growing trees for lumber, furniture, cardboard and other products, but a decline in demand for newsprint and other paper had created a glut in the supply of low-grade wood that could be used to make pellets.
Enviva Bought Pellet Mills in Mississippi
Enviva bought two small existing pellet mills in Mississippi in 2010 and built its first in Ahoskie the following year. It now has eight plants throughout the Southeast, including four in North Carolina, with plans for additional plants along the Gulf Coast. In addition to Chesapeake, it owns or uses storage and loading facilities at ports in Wilmington, N.C.; Panama City, Fla.; and Mobile, Ala.; with plans for a new port in Mississippi.
Based in Maryland, Enviva has emerged as the world's largest producer of wood pellets, capable of making 4.5 million tons a year, all for export. More than half of Enviva's pellets are made in North Carolina, where the company opened a plant in Hamlet this summer and has won permission from the state to expand two others, in Sampson and Northampton counties. Because of Enviva, North Carolina creates more wood pellets than any other state, according to the U.S. Industrial Pellet Association.
In its annual report to the Securities and Exchange Commission, Enviva reported net revenue of $563.7 million in 2018, a near doubling since 2014, when it brought in $290.1 million. And sales continue to rise. On Oct. 30, Enviva reported third-quarter net revenue of $157.4 million, an increase of 9.2% from the same quarter last year. Enviva's stock price rose nearly 33% in 2019.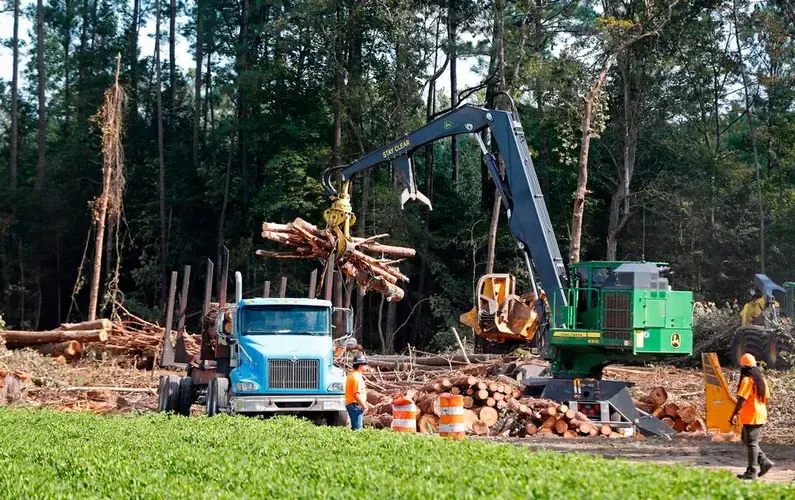 Enviva's size has made it a prominent target for people who say taking trees from the U.S. to burn in European power plants will only put more carbon dioxide into the atmosphere. The Dogwood Alliance, an environmental group based in Asheville, has for years argued that wood pellets are "dirty energy," and has focused recently on urging N.C. Gov. Roy Cooper to stop any expansion of the wood pellet industry in the state. The group's Cooper campaign website is stopenviva.com.
The Cooper administration's Clean Energy Plan, released in September, states that wood pellets are not carbon neutral and won't play a role in the state's official strategy for addressing climate change. But at the same time, Cooper's Department of Environmental Quality has granted the permits Enviva needs to expand its North Carolina operations. Anything beyond regulating emissions from Enviva's mills, the administration says, would require action by the General Assembly.
Enviva says the critics get it wrong. Every ton of wood burned in a power plant, the company says, means a ton of coal and the carbon it contains can remain buried in the ground. Emissions of other pollutants, such as mercury and lead, are lower with wood and wood produces far less ash than coal — and the ash isn't toxic.
Enviva insists that by providing a market for low-grade wood, it gives landowners more incentive to keep growing trees, maintaining forests on land that might otherwise be used to grow corn or cotton or to build houses.
"What do you think happens to private forest land if there are no markets for trees? What does it turn into?" asked Tim Punke, a spokesman for the company. "It's not going to be forest land, I'm guessing."
Why Loggers Clear-Cut Forests
Enviva's defense of the wood pellet industry begins in forests like the 24 acres that Jason Tew and his crew were clear-cutting for a Wilson County farmer earlier this fall.
Tew's company, Neuse River Forest Products of Princeton, finds buyers for timber, then cuts and delivers the logs or wood chips. Enviva is one of his biggest customers.
From this patch of woods, a mix of pines and hardwoods bordered by broad fields of peanuts and soybeans, Tew says he's selling logs and chips to eight companies. Those include sawmills, plywood makers and International Paper's Riegelwood plant, which now produces "fluff" used in diapers and other products. He pointed to two large red oak trees lying on their sides and said they'd probably be used to make furniture.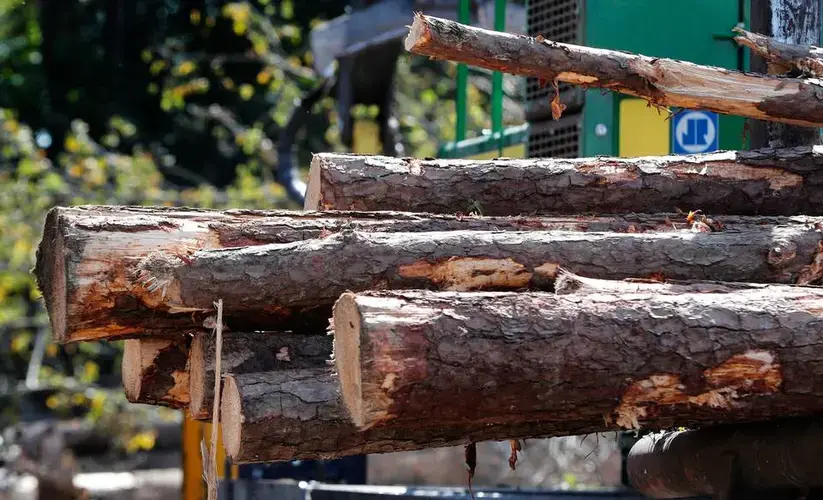 Tew said Enviva will get about 25% of the wood from this site. He'll send the company small trees or the branches and tops of larger ones, but also trunks that a sawmill would turn away because of knots and kinks in the wood.
Fifteen years ago, much of this low-grade wood would have gone to a paper mill, he says, but the mills in Eastern North Carolina have either closed or been converted to other products. Without Enviva around, these scraps might have been left on the ground.
"You look behind that skidder," he said, as a tractor pulled a pile of limbs, bushes and small trees toward a chipping machine. "It's trash. Enviva takes that stuff and turns it into a useful product."
Tew estimates this stand is 30 to 40 years old and says he can see old skidder ruts from a previous cut. Next summer, he said, after the tract has been cleared, he will plant loblolly pine and not return for a decade or more to thin. Hardwoods will grow between the pines, he said, producing a mixed stand like the one he's cutting now.
"It's going to grow hardwood," he said. "There's very little you can do to stop it."
N.C. Has 18.3 Million Acres of Forestland
The Dogwood Alliance, The Rachel Carson Council and other environmental groups contend that natural forests cut in Eastern North Carolina are often replaced by plantations of loblolly or yellow pine, which grow faster but don't take up as much carbon dioxide. Tew said pine plantations take work to maintain and are usually something done by large timber companies — not the thousands of farmers and small-scale forest landowners who replant trees and may thin them once in 25 or 30 years.
According to the N.C. Forest Service, the state has 18.3 million acres of forest, about 57% of the total land mass. Almost 14 million of those acres are privately owned, spread among an estimated 300,000 landowners.
Enviva depends on a healthy forest products industry, says co-founder Thomas Meth, the executive vice president for sales and marketing. Without sawmills and chip plants to buy the more lucrative wood, the cheap stuff that Enviva buys wouldn't be around, he said.
That wood is available because of the decline of the paper industry, says Meth. North Carolina, like other places in the Southeast, has that combination, he said: an otherwise strong forest products industry without paper companies to compete for the lowest grade wood.
"We see it now in different places in the Southeast, where the landowners, the loggers, are desperate for us to come in, because they just don't know what to do with that wood," he said. "Wood's getting harvested, whether bioenergy exists or not. It's just a less efficient job for the logging crew, for the landowner, and the likelihood that this is going to get reforested is lower, because you don't quite have the markets that you used to have."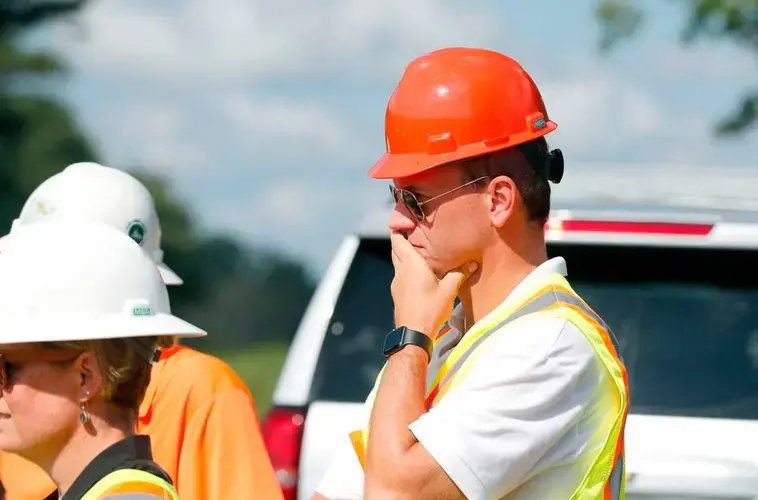 Each of Enviva's eight plants draws from the surrounding 50 to 75 miles; any farther and the shipping costs outweigh the low prices the company pays for the wood. Tew said he'd have to haul 10 loads of the wood that's going to Enviva to earn what one load of even the lowest-grade log products can bring.
Mixed hardwood sawtimber — logs suitable for cutting into boards — was selling for a little more than $26 a ton on average in North Carolina in the third quarter of 2019, according to TimberMart-South, an industry publication that tracks timber prices. A ton of pine sawtimber was selling for about $27.40. The pulpwoods that Enviva buys sold for a fraction of those prices: mixed hardwood pulpwood for about $5.50 a ton and pine pulpwood not quite $9 a ton.
Still, landowners and the buyers and harvesters who work with them have welcomed Enviva. Even if the prices aren't great, landowners would rather sell the low-grade wood and get it off the land, making replanting easier.
"For timber growers, Enviva has been a godsend," Ashley Faircloth, a forestry consultant from Jacksonville, said at a hearing in Sampson County this summer. "The plants came in at a time when we needed more markets and more competitive rates. They are taking our products and giving us the ability to manage our forests more effectively and efficiently."
Selling Wood and Clearing Land
John Willoughby of Harnett County owns timberland in Duplin and Pender counties and spoke at the same hearing as Faircloth. Willoughby said the wood pellet market helps make growing trees profitable.
"In the last 20 years, we replanted every tract we cut, and I hope that I can leave all these tracts still in timber for my children," he said. "And this is one tool we can use to ensure it's easier to maintain timberland, that you don't feel like you have to sell it off."
Parker Lumpkin of Louisburg, who owns large tracts of timber and farmland in Franklin and Wake counties, says landowners not only benefit financially when brokers sell low-grade wood to Enviva, but they also save money when that wood is cleared from their land.
"It can cost us anywhere from $100 to $300 an acre to do site prep to get it cleaned up enough so you can get in there and replant another crop of trees. That's real money," said Lumpkin, a past president of the N.C. Forestry Association.
"You know how we used to do that?" he continued. "We piIed it up and burned it. Now that's good for the environment, isn't it. There's a lot less of that."
A Shift to Pellets
The world's largest wood pellet maker didn't start out making pellets. The company was called Intrinergy when Keppler and Meth founded it in Richmond, Va., in 2004. They had been students at the University of Virginia's Darden School of Business when they came up with the idea for a company that would make energy from waste materials. One of its early customers was a wood pellet manufacturer in Belgium.
Intrinergy acquired Enviva, another European pellet maker, and the company's mission began to shift from building power plants to providing the materials to burn in them. In 2010, Intrinergy won a contract to supply 480,000 metric tons of wood pellets a year to a Belgium-based utility company. That same year, the company sold its power generation unit and changed its name to Enviva.
Turning wood into dried pellets makes it easier and cheaper to ship long distances, Meth said. The trees that arrive at the company's plants contain as much as 50% water. After being heated up to 900 degrees, they leave as uniformly-sized pellets with only 4% to 10% water, depending on the customer's preferences, a more concentrated form of carbon that's more economical to move.
In Europe, the pellets are ground into powder and burned with coal or alone in coal-fired power plants. Meth said as Europe develops more solar and wind energy, wood pellets help provide the baseline power and heat for "when the wind doesn't blow and the sun doesn't shine."
For now, European countries consider wood pellets a renewable energy, akin to wind and solar, and encourage their use through subsidies or taxes on coal. The European Commission issued a second energy directive last year that sets a new goal of deriving 32% from renewables by 2030.
A similar set of goals and policies will create a new market in Japan, notes Seth Ginther, executive director of the U.S. Industrial Pellet Association. In June, Keppler announced that Enviva planned to nearly double its exports to 7.1 million tons per year by 2025, largely driven by increased sales to Japan and South Korea.
Another growth area, Ginther said, will be overseas manufacturers of products such as steel, chemicals and concrete that use a lot of energy.
"High-heat industries are becoming very interested in this as a sustainable commodity," he said.
No U.S. Power Plants Burn Wood Pellets
There are 178 power plants in the United States that burn wood and other organic material, according to Biomass magazine, and none of them burn wood pellets, Ginther said. At least three plants in North Carolina — in Roxboro, Southport and New Bern — burn wood often mixed with coal or poultry waste to produce electricity. Duke Energy buys about 200 megawatts of power from plants that burn wood waste, the equivalent of one-third of a typical natural gas power plant, said spokesman Randy Wheeless.
Ginther said these biomass plants don't burn pellets because their fuel is nearby; the extra energy and effort needed to create dried pellets only makes sense if you're shipping the wood overseas.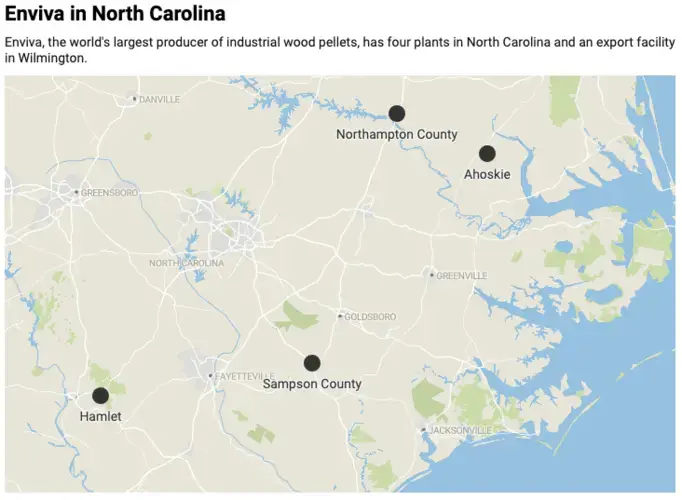 Meth also notes that unlike Europe, the U.S. has plentiful supplies of cheap natural gas that utilities are using to replace coal. And he said the federal government hasn't created the kind of incentives that countries in Europe and Asia have to meet climate change goals set by the Kyoto Protocol, the 1997 treaty the U.S. signed but that was never ratified by the U.S. Senate.
Though Enviva says it creates clean energy that can help with climate change, almost everything about the company is controversial. Where the company says its use of low-grade wood encourages people to grow more trees, critics talk about the state's forests being chopped down to feed power plants overseas.
The company says it has created nearly 500 jobs with relatively high wages in counties that have struggled economically; critics say the company deliberately locates its plants, with the truck traffic and air pollution, in areas where residents are disproportionately poor and people of color.
Meth says Enviva's size makes it a target, though he and other company officials are quick to point out that the company consumes a relatively small portion of trees cut in North Carolina and elsewhere. Barry New of the N.C. Forest Service says 84% of wood harvested in the state goes to sawmills or pulp mills, 9% is used for "veneer products and other industrial uses," and 7% becomes biomass, including pellets.
At public hearings in Sampson and Northampton counties this summer, New also said the state's forest cover has remained relatively unchanged since the early 2000s and the state's forests are now growing more wood than is being harvested.
Jennifer Jenkins, Enviva's chief sustainability officer, says if you listen to the critics it's clear they don't believe trees should be cut at all, whether to make pellets, lumber, paper or cardboard.
"Biomass is a convenient target," Jenkins said. "But they're clearly opposed to the entire forest products industry."
Pellet Industry Polishes Its Image
With all the attention they've drawn, Enviva and the pellet industry as a whole work hard to burnish their image.
At the public hearing in Sampson County this summer, over whether the company should get a new air pollution permit that would allow it to expand the plant by 22%, it brought in several people to act as character witnesses. They included local politicians and chamber of commerce representatives, the fire chief of Faison and the head of Habitat for Humanity of the Sandhills, which the company supports.
Enviva has also put $5 million into a conservation fund that has helped nonprofits and the state preserve bottomland and wetland forest for natural areas and game lands.
What people think about Enviva often depends on whether they believe creating and then burning wood pellets is good for the environment. And that claim, too, is increasingly questioned. A group of scientists and environmentalists from several European countries and the U.S. have sued the European Commission over its latest energy directive, arguing the climate crisis is too dire to burn wood now and wait decades for the trees to grow back.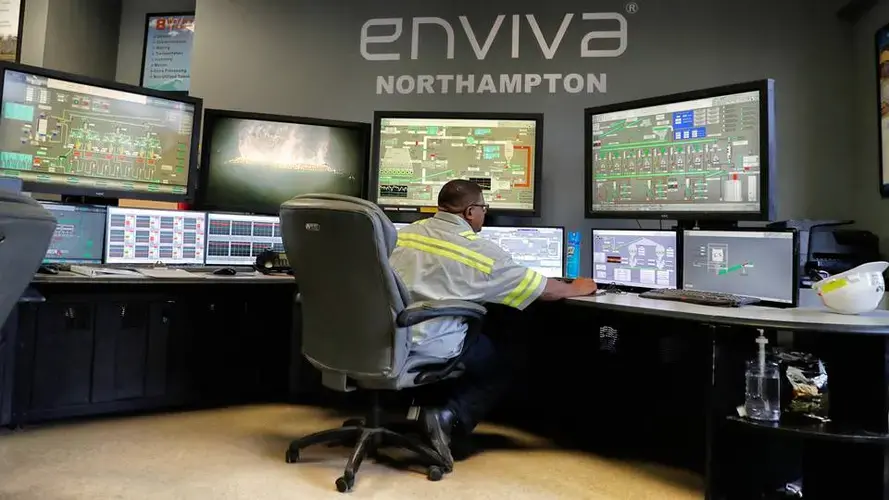 Those in the pellet industry say most plans for reducing carbon emissions include a role for burning wood and other biomass. They cite in particular the Intergovernmental Panel on Climate Change, the United Nations group that assesses the science related to climate change, though the IPCC does not designate biomass as carbon neutral, citing, among other things, the emissions from processing and transportation.
"Climate change is such a massive issue that we have to use the commercially available solutions that we have today. And we have to hit them all," Meth said. "That includes wind; that includes solar; that includes geothermal. And that does include bioenergy."
Enviva's growth in North Carolina has made the state a focal point for the escalating clash over wood pellets. While pleased that Gov. Cooper's Clean Energy Plan condemns the use of North Carolina forests to help "foreign markets' carbon reduction goals," the Dogwood Alliance and others are still pressing the state to stanch the pellet industry's expansion here.
Michael Regan, Cooper's secretary of the Department of Environmental Quality, is caught in the middle.
"It's hard for anyone to say that they are thrilled with our natural resources being used to power another country and trees being that resource," Regan said in an interview. "So it's hard to be enthusiastic about that."
But more stringent regulations would mean changing the law, he said. "You'd have to go to the legislature. These are legislative and policy changes that are much larger than the secretary of the DEQ or the governor just issuing a moratorium."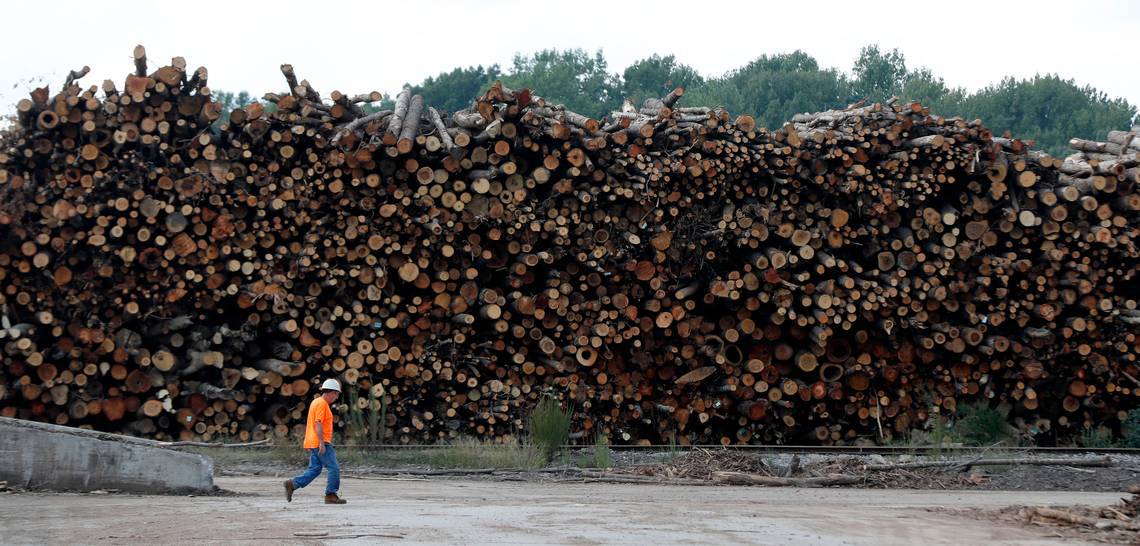 In this Meet the Journalist video, Justin Catanoso discusses how policies intended to rid the world...
RELATED INITIATIVES