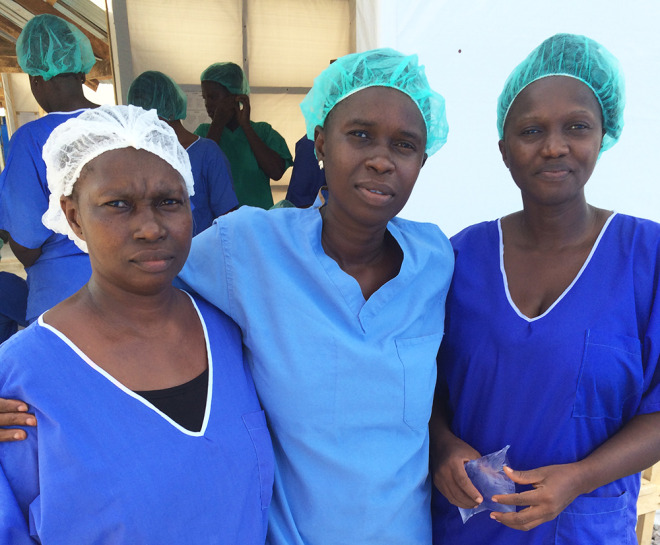 For three nurses, an Ebola treatment center at Magbenteh Hospital here in northern Sierra Leone is the one place they feel at ease.
Here, the nurses—survivors of Ebola themselves—can hug and touch each other, and laugh with their colleagues, who accept them.
Their job—inserting intravenous lines into patients' veins to deliver hydration and medicine—carries a high risk of exposure to Ebola through patients' blood. But the survivor nurses, wearing full protective gear, are thought to be immune to re-infection with Ebola, so they've taken on this potentially dangerous task.
"We want to save lives as they did to us," says Mariatu Kargbo, 31, who was infected in September after inserting an intravenous line into the vein of an Ebola patient.
But at home, their neighbors avoid them. All their possessions are gone, destroyed while they were sick to avoid contamination. They feel shunned, even as they work to save others.
"We always feel happy when we are here," says Kanko Marah, 27, an Ebola survivor nurse who now works at this Ebola treatment unit in the city of Makeni. "But at home—it's difficult."
Health agencies and aid groups see Ebola survivors as an invaluable resource and are enlisting many in the fight against the disease, which has claimed more than 6,000 lives, 1,669 in this country alone. But survivors themselves face a difficult road; many have lost jobs and family members, are viewed with suspicion by their communities, and are still recovering from their own battles with Ebola.
"People still don't believe that they will not transmit the disease," says physician Bailor Barrie, who is working with the Boston, Massachusetts-based non-profit Partners in Health to organize support for survivors. "There is a kind of fear."
Marah became infected with Ebola in August after helping to treat an administrator at a hospital where she worked in Makeni. Though he was vomiting blood, she and the others treating him were told that he had an ulcer—not Ebola.
Marah herself was diagnosed with Ebola on Aug. 20; the next day, she was transported by ambulance to a treatment center in Kenema, about 200 miles from here. While she was gone, her neighbors drove her one-year-old son out of her house; her sister had to come to collect him, she says.
And when her younger sister became infected with Ebola, the neighbors refused to let her use the communal water well. Altogether six people in Marah's house were infected and one—the son of her husband's brother—died.
She no longer feels welcome in her community, but doesn't have enough money to move right now.
"Where we are living, they stigmatize us," she says. "We are trying to move from that place."
"We have no support," agrees her colleague, Zainab Fofanah, 34, another survivor nurse.
And though the nurses love their work, it forces them every day to relive their own traumatic medical ordeals.
Fofanah was infected in August after treating a pregnant patient with red eyes and vaginal bleeding. The patient lied, saying her that her eyes were red from crying, because her husband had died—from tripping over a nail, not from Ebola.
Fofanah was diagnosed with Ebola and survived, but her husband died on the same day, Sept. 17, that she completed her treatment.
When she left the treatment center in Kailahaun, 300 miles away, Fofanah was given 1,500 leones, about 30 cents, for transportation and some clothes to replace those that were burned while she was in treatment.
Now, when Fofanah enters the red zone, the area of the center where patients are treated, "I feel sad," she says. "When I see a patient in severe condition, I refer my memory back to where I was. I have empathy for that patient," Fofanah says.
"Sometimes, when I am in PPE (personal protective equipment), I shed tears," Marah agrees. "When I see patients suffering, I think about myself: 'This is the way I lay down when I was sick."
"I say, 'I was like you,'" she says.
As Marah counts the number of colleagues lost to Ebola—10 nurses at one hospital, 6 at another—it's clear that she and her colleagues here at Magbenteh are among the lucky ones.
Still, "Things are hard for us survivors," Marah says. "We thank God for this life, but it's not easy."
RELATED ISSUES