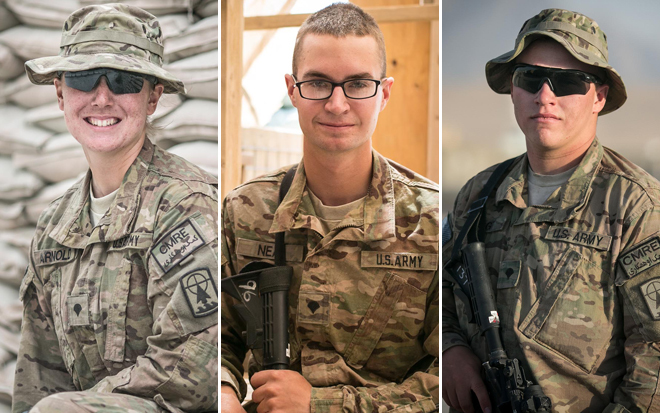 Forward Operating Base Fenty, Afghanistan — Samantha Arnold stood when the Dodgeville High School band played the Army fight song at its spring concert in March.
So did Louis Neal. And Tom Sigg, too.
It was the first time the three 2013 Dodgeville High School graduates participated in the traditional honor for service members and veterans during a medley of fight songs for all military branches. The song had deep meaning for the trio of teenagers; they were soon heading off to war.
The three enlisted in the Wisconsin National Guard within weeks of each other during the spring of their junior year. They went through basic training together at Fort Jackson, S.C., that summer, returned for their senior year and then completed advanced training at Fort Leonard Wood.
The three have been practically inseparable since a National Guard recruiter visited Dodgeville High School shortly before Christmas their junior year. They're still together, in a way, here in Afghanistan.
"Some people don't know how rare it is for three of us to be here," said Arnold, 20, a heavy equipment operator in the 829th Engineer Co., which arrived in Afghanistan in early June to tear down bases and pack up equipment.
Neal and Sigg had been friends since middle school; Arnold became part of their group after seeing them at the National Guard recruiter's meeting and then visiting an armory together.
Arnold and Neal went to prom as friends; he wore a suit, she wore a coral-colored strapless dress with a jewel neckline. Two months later they were doing push-ups at basic training.
Though the three were in separate platoons, they saw each other often and boosted their friends' spirits through the arduous basic training.
"It was nice knowing we were all going through it together," said Neal, 19, a plumber in the military.
After enlisting in the guard, the trio was together almost all of the time — in their high school classes, hanging out at the Dodgeville McDonald's to talk about the military, their training and the jobs they were interested in. They drove to Florida for spring break. Neal and Sigg hunted together.
The three were together when they got word about deploying to Afghanistan. They're in the 229th Engineer Co. and missed going to Afghanistan when their unit served here in 2012-'13 because they were still training but got another chance when the 829th was mobilized.
Sigg's phone rang while they were traveling in his car. After he was told he was going to Afghanistan, his first thought was of his friends.
"I said, 'Hey, what about Neal and Arnold?' and they said 'Yeah, they're deploying. I need to call them next,'" said Sigg, 19. "I said, 'They're here,' and handed my phone to them."
At the time Sigg was working for a farmer, Neal was studying business at the University of Wisconsin-Stevens Point and, after jobs at Lands' End and Kwik Trip in Dodgeville, Arnold was in Wisconsin Dells working as a cocktail waitress.
"We were very excited. Obviously no one wants to deploy, but it was an adventure and we're young. It's better we go than people with families," said Sigg.
Since the three serve in different platoons, they're at three bases in Afghanistan. But they stay in touch through Facebook and send emails at least once a week asking how their buddies are doing. When one soldier posts something on Facebook, the families of the other two get word about their loved ones.
"We talk about who has the worst heat, the worst jobs. I never thought I could sweat so much and look like I just came out of a lake," said Arnold, taking a break from helping dig a trench for electrical wiring at this base in Jalalabad, Afghanistan.
In March before they left for training at Fort McCoy and then Fort Bliss, Texas, Arnold, Neal and Sigg were at home in Dodgeville getting ready to put their lives on hold for the rest of the year.
Arnold got a text from her former band teacher — she played French horn — six hours before the spring concert. He said the band wanted to honor the three '13 graduates who were leaving in a few days.
"The most amazing thing was seeing my whole city standing up, crying and applauding," Arnold said. "I thought 'Wow, I don't have just a family behind me, I have the whole community behind me.'"
RELATED ISSUES

Issue
Conflict and Peace Building
Conflict and Peace Building

Governance