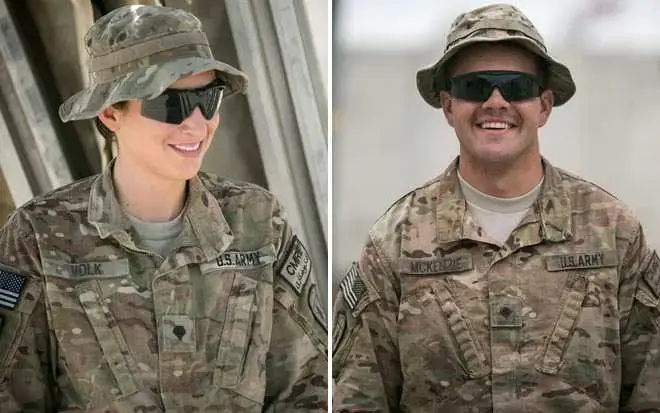 Ashlee Volk and Seth McKenzie, who got married in April, are both in Afghanistan with the Wisconsin National Guard but in different platoons stationed in different places. Images by Meghan Dhaliwal. Afghanistan, 2014.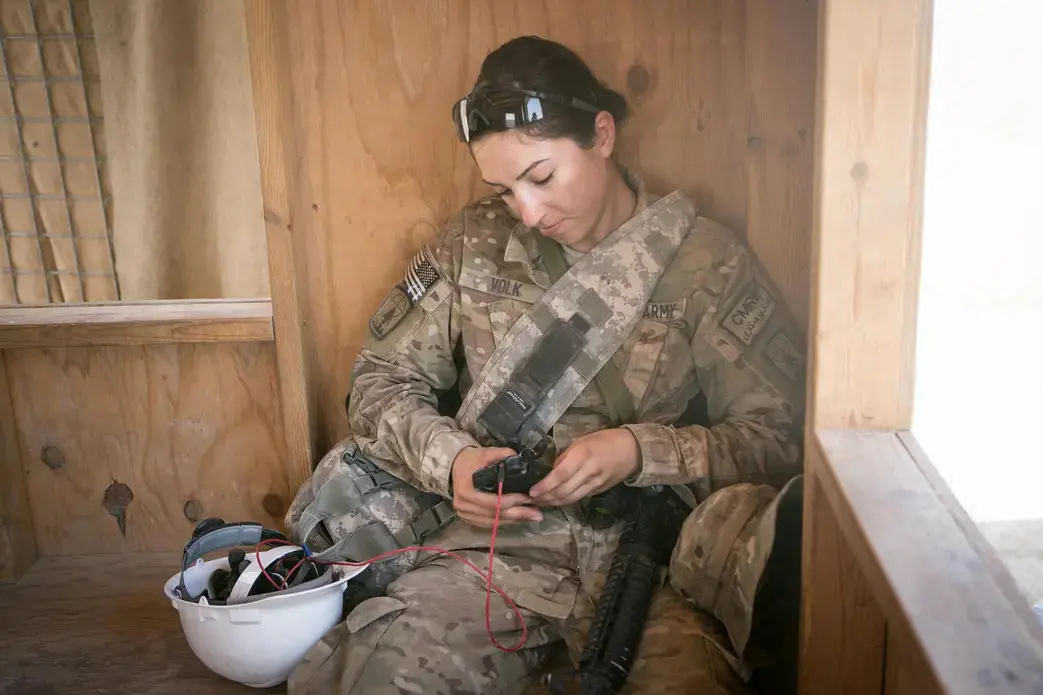 Ashlee Volk, a member of the Wisconsin National Guard's 829th Engineer Co., primarily uses her cellphone to stay in touch with her husband, who is stationed at a different base in Afghanistan. Image by Meghan Dhaliwal. Afghanistan, 2014.



CAMP MARMAL, Afghanistan — It's difficult for couples to separate during overseas deployments, and it's no different for Ashlee Volk and her husband, Seth McKenzie.

They last saw each other in June, shortly after they got hitched. They text and communicate via FaceTime on their smartphones just like other married couples coping with the separation of loved ones during wartime.

The only difference — Volk and McKenzie are both in Afghanistan. The newlyweds are serving in the Wisconsin National Guard's 829th Engineer Co. but because they're in different platoons stationed in different places, Volk and McKenzie might as well be half a world apart.

They're not complaining — that's just the way things happen in the military. Volk said she doesn't worry as much as she might if she were back in Wisconsin because she knows McKenzie is doing the same job and she knows they're both in relatively safe areas of Afghanistan. And truth is — if it weren't for the Afghanistan deployment of the 829th Engineers, the pair might never have found each other.

McKenzie, 23, belongs to a different National Guard unit but volunteered for this mission. He noticed Volk at a drill weekend in November; she didn't notice him.

In December she was exercising at the Eau Claire YMCA when McKenzie stopped her as she walked from the weight room to do some cardio work.

"He said he remembered me at drill and thought I was kind of cute. I didn't remember him and thought he was kind of creepy," Volk recalled.

McKenzie's recollection is pretty much the same.

"I saw her and I was like, 'Oh my, gosh,'" he said in a separate interview at Forward Operating Base Fenty in Jalalabad. "When I saw her running at the Y, I thought — great, she works out. I thought — here's my chance."

Love quickly bloomed.

On Facebook, McKenzie asked Volk if he could car pool with her to their next drill weekend in Richland Center, a 2 ½-hour drive. He said his tires were underinflated.

"His car is pretty crappy, so I can believe that. But I found out later it was a lie, there wasn't anything wrong with his tires," she said during a break while dismantling an aircraft maintenance hangar at this base near the northern Afghanistan city of Mazar-i-Sharif.

McKenzie's 2002 Saturn had been in a couple of accidents but he concedes there was actually nothing wrong with his car, he could have driven to drill weekend on his own.

They got to know each other while traveling to the armory in her 2005 Corolla as the unit prepared for deployment. She told her friends McKenzie talked too much and was annoying; they told her — he's good for you.

The "I think I love this guy" moment happened when he called her at 10 one night in February and asked her to come over, she drove 1½ hours and they talked for hours about nothing. Then he accompanied her on a trip to California to drop off her Corolla with her dad, whom McKenzie wanted to meet.

His "I think I love this woman" moment came during that California visit when they stopped to sightsee along the way, adding a couple days to the trip and getting to know each other.

"I never got sick of her. I loved her," he said.

McKenzie never actually proposed marriage. They just sort of decided to get engaged and picked out a small ring, nothing fancy, at a mall in Eau Claire. That was shortly before they shipped out to Fort Bliss, Texas, to finish pre-mobilization training.

They didn't see each other during the day while they were training but were able to meet in the evenings.

"It was great to know I had her to talk to every night. It helped me get through the day," McKenzie said.

Then, on the spur of the moment and because they were heading into harm's way within days, they decided to get married on the four-day pass given to everyone in the 829th at the end of training in late May.

The couple took a taxi to El Paso, Texas, bought a marriage license, found a judge and got married. Volk wore a floral print sun dress, McKenzie wore clean khakis and a polo shirt "which is dressed up for him," she said.

They didn't have time for photos. The judge was their only witness. They celebrated by eating dinner at a Mexican restaurant and then returned to Fort Bliss.

Once the 829th Engineers arrived at Bagram Air Field, Volk and McKenzie went to different bases with their platoons. Being in the same country, yet unable to spend time together, is hard.

"The day I had to leave him at (Bagram) was difficult. If I left him at home for nine months somehow it seems like it would be better," Volk said.

Though there is housing at Bagram for married couples, because Volk and McKenzie are in different platoons they were split up. Another married couple also deployed with the 829th, but they returned to the U.S. for family reasons.

Volk and McKenzie plan to have a wedding reception when they go home. They want to take a cruise somewhere warm. And they plan to dress up and get their pictures taken by a professional photographer.
RELATED ISSUES

Governance

Issue
Conflict and Peace Building
Conflict and Peace Building