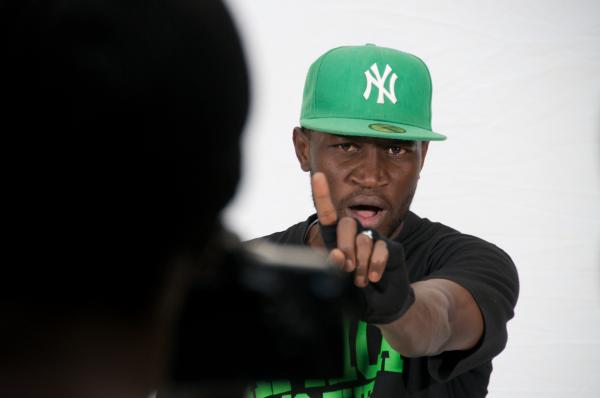 Listen to Upfront Africa's interview with Ricci Shryock beginning at the :43 mark.
Senegalese rapper "Red Black" sits in a stark room at the country's Socialist Party headquarters as he raps lyrics to what has become the country's opposition anthem.
"Put your hands up if you want the elder to leave, the current government to leave," he sings as he translates the chorus from Senegal's most widely spoken language, Wolof, into English.
His lyrical anger is directed at Senegal's current President, Abdoulaye Wade, who is running for a controversial third term re-election despite the Senegalese constitution's two-term limit.
"Red Black," whose real name is El Hadj Dia, is a skinny and soft-spoken 30-year-old from the south of the country who has discovered new fame – and threats from Wade supporters – because of his popular song.
The song, "Na Dem," was blasted loudly through speakers hoisted onto campaign trucks and cars by numerous opposition figures at protest and campaign events in the run-up to the first round of presidential elections on Feb. 26, 2012.
Wade won 34 percent of the vote in that round, while challenger Macky Sall won 26 percent, which means the two will face each other in a second-round race this month.
Dia said he supports Sall and hopes the song will continue to be the rallying cry against Wade.
Perhaps the most obvious moment of the song' s influence came in first-round voting when Wade entered a polling station to cast his ballot. The crowd surrounding his booth spontaneously began chanting the chorus to the song as the leader walked past them, yelling at him to "go away." Dia said he wrote the song after Wade decided to run for a third term, despite the Senegalese constitution's two-term limit.
"It was very hard for me to see my people suffering, to see the president do whatever he wants," said the rapper. "They did not respect people, they did not respect our laws, our constitution."
Though Dia is not part of the Senegalese opposition group of musicians and journalists, known as Y'en a Marre (Enough is Enough), which has been a driving force behind opposition movements, the rapper said he is aligned with their cause and will continue his efforts to unseat Wade. "The best way now to communicate with people is music, and so my music was good to communicate with people that the president has to leave."
Wade's camp has expressed confidence they will win the second round and he contends that because the two-term limit was introduced after he began his first term, his third term bid is legitimate.
RELATED ISSUES