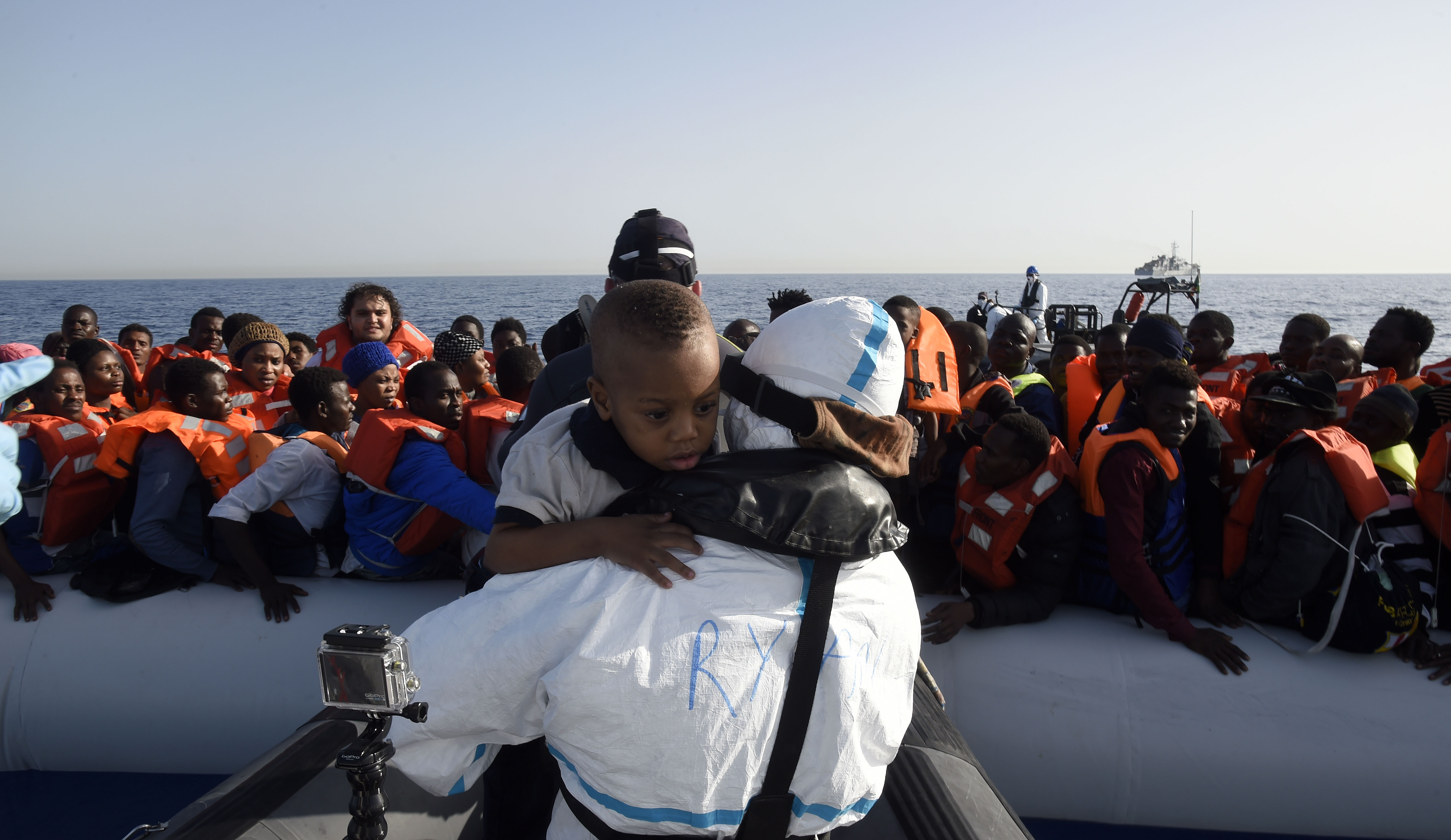 TRIPOLI, Libya — At 7:42 a.m. on May 10, Sea-Watch, a German aid organization that conducts search-and-rescue operations in the Mediterranean just outside Libya's territorial waters, got word of a migrant boat in distress. The crew aboard the 100-foot rescue vessel sprang into action, dispatching speedboats to bring life jackets to the more than 350 migrants who were packed into a rickety wooden boat. But just as aid workers were preparing to begin the rescue operation, a battleship commanded by the Libyan navy cut their vessel off, narrowly avoiding a high-speed collision.
Upon reaching the migrant boat, the commander of the Libyan battleship, Abujella Abdul-Bari, cocked his pistol and pointed it at the migrants in a scene that was captured by a German film crew on board. Rescuers from Sea-Watch disengaged immediately, afraid that the confusion could lead to migrant deaths, as had happened in a similar incident between Sea-Watch and the Libyan coast guard in October 2016. Had things played out only slightly differently that morning, the roughly 400 migrants on board the distressed boat would have been on their way to Europe; instead, they were headed back to the country they had risked everything to flee.
The confrontation on May 10 was one in a string of troubling incidents in which Libyan authorities have clashed with nongovernmental organizations attempting to rescue migrants at sea, highlighting in the realest terms the heated political and moral debate over whether search-and-rescue operations encourage reckless departures from Libya or simply prevent unnecessary deaths. That debate began after a series of deadly migrant shipwrecks in 2013, when Italy launched a $156 million search-and-rescue effort called Operation Mare Nostrum. But it has boiled over in recent months, with critics accusing organizations like Sea-Watch of actively colluding with smugglers — and at least three NGOs, including the medical charity Médecins Sans Frontières, suspending their search-and-rescue operations because of threats from the Libyan navy.
The first indications that saving migrants at sea might have unintended consequences came almost as soon as the effort began. In a little over a year of search-and-rescue operations, the Italian navy had rescued more than 150,000 migrants. European policymakers soon began to fret that Mare Nostrum constituted a "pull factor," encouraging migrants to make the risky voyage across the Mediterranean. Migrants would be less likely to board boats departing from Libya if there were fewer ships waiting offshore to bring them to Europe, or so the theory went. And so in 2014 Mare Nostrum was replaced by Operation Triton, a slimmed-down mission run by Frontex, the European Union's border agency, that carried out fewer rescue operations.
Yet the number of migrant departures from Libya continued to rise, and documented deaths along what experts call the "Central Mediterranean route" skyrocketed from only a few hundred in 2013 to more than 3,000 in 2014. Amid public outcry in Europe — over migrant deaths in left-wing circles and continued arrivals in more conservative circles — the EU launched Operation Sophia in 2015, which aimed to disrupt smuggling and trafficking networks in addition to saving migrants at sea. At the same time, NGOs like Sea-Watch and Médecins Sans Frontières launched their own search-and-rescue operations.
"When the NGOs save one boat, the smugglers send more boats knowing they will be saved."
While Operation Sophia has succeeded in saving lives, according to a recent report by Britain's EU external affairs subcommittee, its efforts to break the business model of smuggling through arrests and the destruction of migrant boats have failed. Part of the problem is that smugglers in Libya have simply adapted their business models in response to European rescue operations, placing migrants on cheaper, less seaworthy vessels, knowing that they no longer need to travel 160 nautical miles to reach Italian waters but a mere 12 nautical miles to where search-and-rescue ships sit waiting just outside Libya's territorial waters. "Operation Sophia has become like a taxi," said Ashraf al-Badri, a Libyan coast guard official who blames Western NGOs for incentivizing migrant departures.
Some critics have gone further, accusing NGOs of actively collaborating with smugglers in Libya. In March, Italian prosecutors launched a task force to look into who was financing search-and-rescue NGOs, although they later conceded that there was no proof that they were linked to smugglers. Still, NGOs like Sea-Watch are regularly accused by critics on both sides of the Mediterranean of colluding with smugglers. "I don't have proof of communication between the two, but I have my theories," Badri said. "When the NGOs save one boat, the smugglers send more boats knowing they will be saved."
But experts who study the issue say it's unfair to blame the search-and-rescue operations of NGOs for encouraging migrants to attempt the voyage. They point out that NGOs are responsible for only a fraction of the total number of rescues that take place at sea, with Operation Sophia and rescues by merchant vessels carrying out the vast majority of maritime interdictions. The deadly Mediterranean crossing, moreover, may not even be the most dangerous part of many migrants' journeys.
"The Mediterranean crossing is only the last leg of a very long journey for most of them and probably not the riskiest: Crossing the Sahara and surviving even just a few weeks in Libya are by far more dangerous," said Mattia Toaldo, a senior policy fellow at the European Council on Foreign Relations. "If dying in the Mediterranean was a deterrent for crossings, the number of departures from Libya should have gone down after 2016, which was the deadliest year on record. Instead, flows in the first semester of 2017 were 18.7 percent higher than last year."
A recent report by the Forensic Oceanography project at Goldsmiths, University of London, titled "Blaming the Rescuers," reached the same conclusion, arguing that accusations that NGOs are "colluding with smugglers" and constitute a pull factor do not withstand empirical scrutiny.
As for the events on May 10, both sides maintain that the other was acting illegally. "The Libyan navy went to rescue people, but Sea-Watch was interfering," Omar Balaman, the commander of the Libyan coast guard, told reporters gathered at the port in Tripoli. "We told them they were intruding in our job and that they risked jeopardizing the rescue mission," he continued. "They have a lot to answer for."
Sea-Watch offered a completely different version of events. "It is ridiculous," said Theresa Leisgang, a communications officer for the organization who was on board the boat that morning, when asked about accusations that Sea-Watch tried to interfere with the Libyan navy's operations. "A collision is the last thing we want."
Sea-Watch has also provided videos and still photos to demonstrate that it was the first to arrive and that the migrant boat was 20 nautical miles from the Libyan coast and therefore well outside the territorial waters in which Libya has sovereign rights. Returning migrants to Libya, a country where migrants are systematically mistreated and abused, Sea-Watch argues, violates the principle of nonrefoulement, enshrined in international law, which bars countries from forcing asylum-seekers to return to countries where they would face persecution.
When the migrants finally arrived at the port of Tripoli after the altercation on May 10, they were hungry and thirsty, but, more than anything, they were devastated. Many had drained family savings and endured months of hardship, including torture and abuse, for a spot on the boat they boarded that morning. Technically, they had been rescued at sea, but the looks on their faces suggested otherwise. As they disembarked from the Libyan battleship, a harsh reality washed over them: They were back in Libya, a country they had risked everything to flee.
"We saw the Europeans and thought they would take us," said Sidi Dembélé, a visibly shaken young man from Mali, referring to the ship operated by Sea-Watch. He had hoped to find agricultural work in Europe but was now steeling himself for what he knew would be a harsh period of detention. "We know Libya is very dangerous and that those who are captured suffer."
RELATED ISSUES